After an epic first week on St Brandon's, what did the second week have in store?
The next group was made up mainly of repeat guests, everyone's expectations were high. Added to which we were expecting good weather and some interesting tides to savour the incredible fishing for Bonefish, Indo Pacific Permit and monster GT's which the atoll has built its reputation on.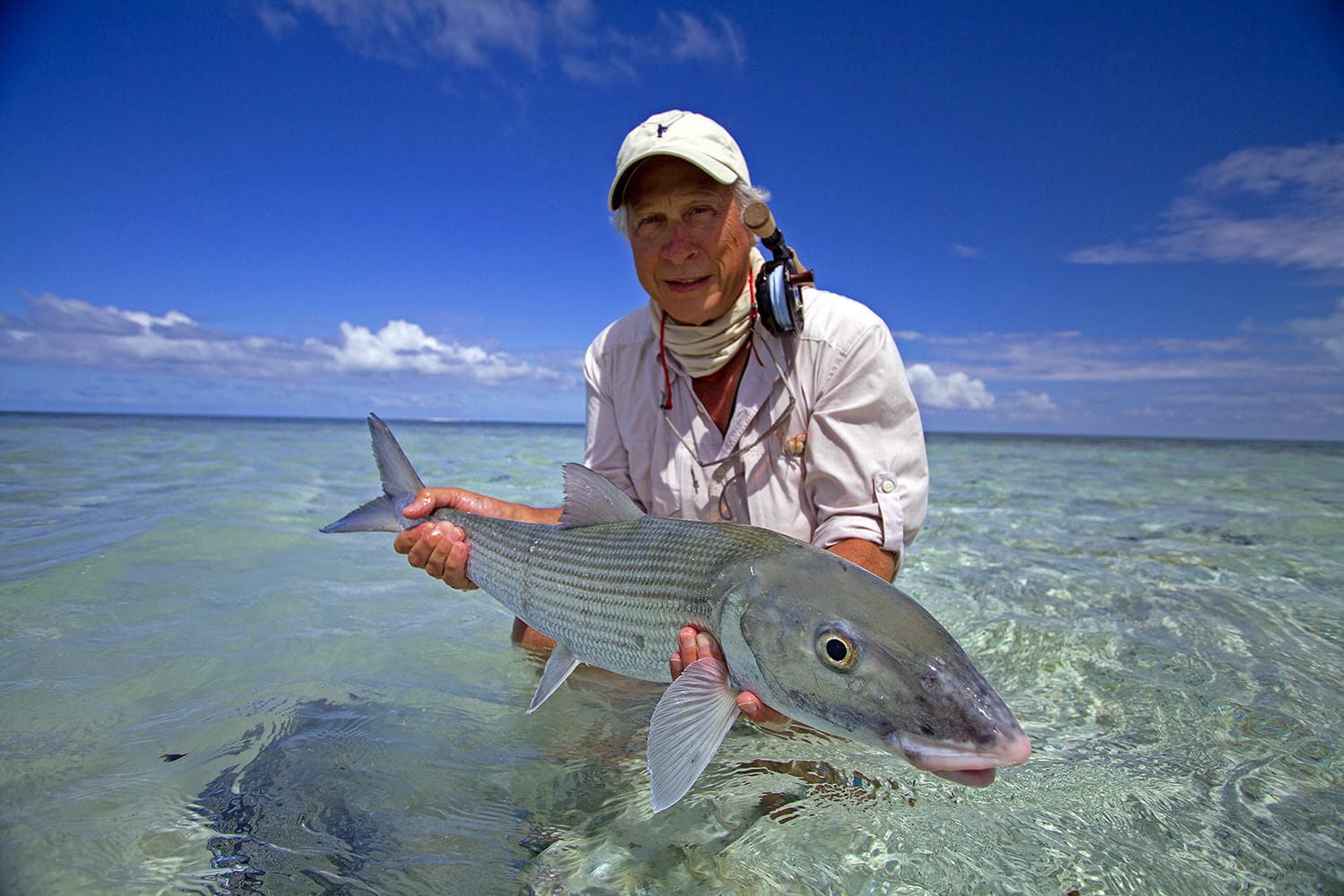 Our first day out and getting stuck into some bus Bones was the order of the day. By the end of the day the group had tasted Bonefishing unlike any other. We had large shoals, we had singles and doubles and best of all we had BIG fish, with Tim and Jim wasting little time in landing some great 8lbs and 9lbs specimens. Needless to say the tone for the week had been set!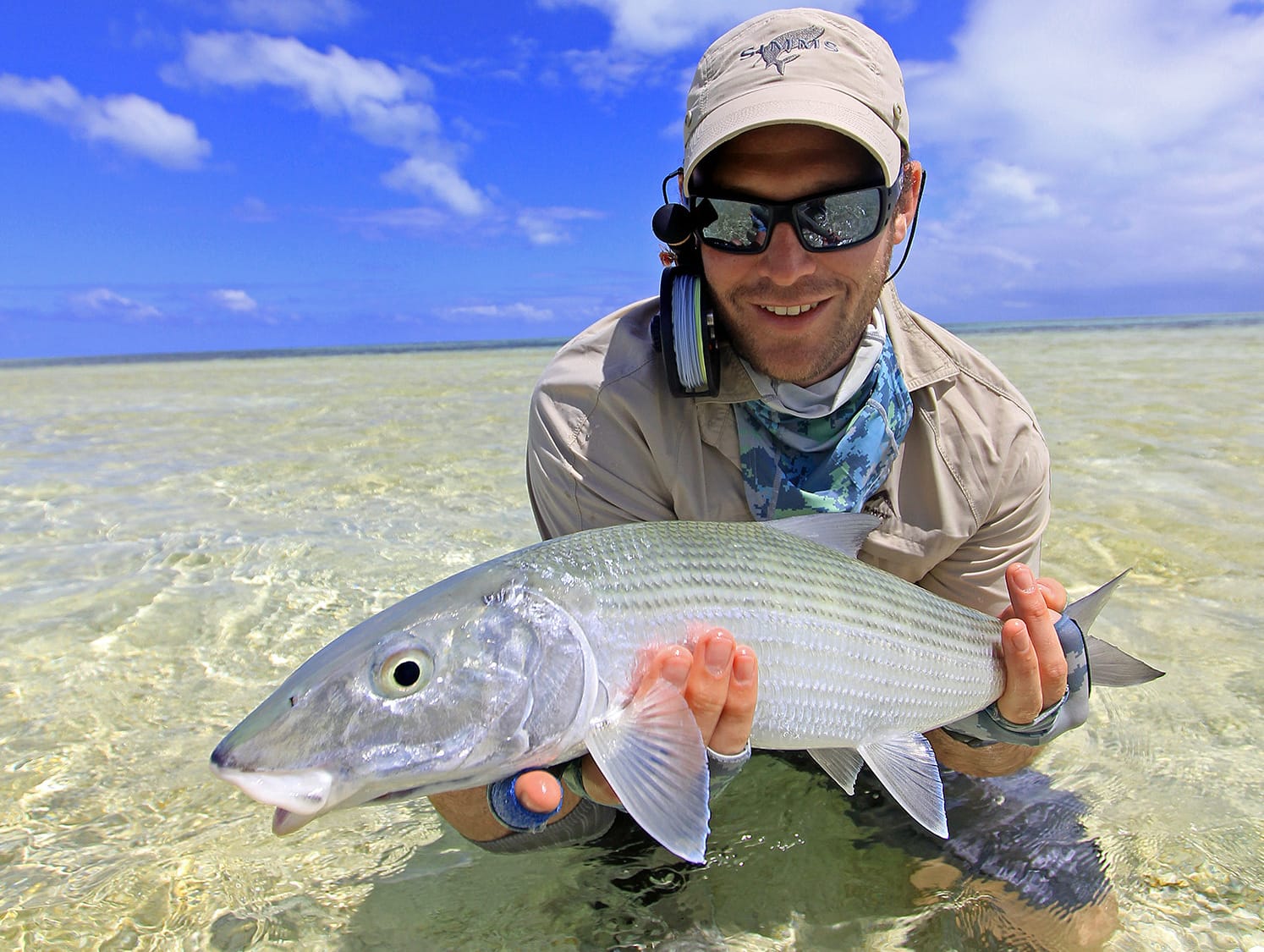 Father and son, Simon and Marcus, had however come with their hearts set on GTs and Permit. The 'Kracken' quickly reinforced its reputation once again with the duo getting a number of big Bluefin and Marcus landing his first ever GT on the flats. Each GT is special no matter the size, however to land a 90cm a 10wt rod is cracking achievement. The Permit were however doing what Permit do…being full of #%$@#&. We were seeing plenty of fish, now we just needed to be patient and take our opportunities when the right ones gave us the right shots! With the events of the previous day our hunt for GT's and Permit continued. Well we had to take another quick look at the "Kracken". Yes another St Brandon's trophy GT was landed, this time a fish of 100cm by Tim! But could the day get any better?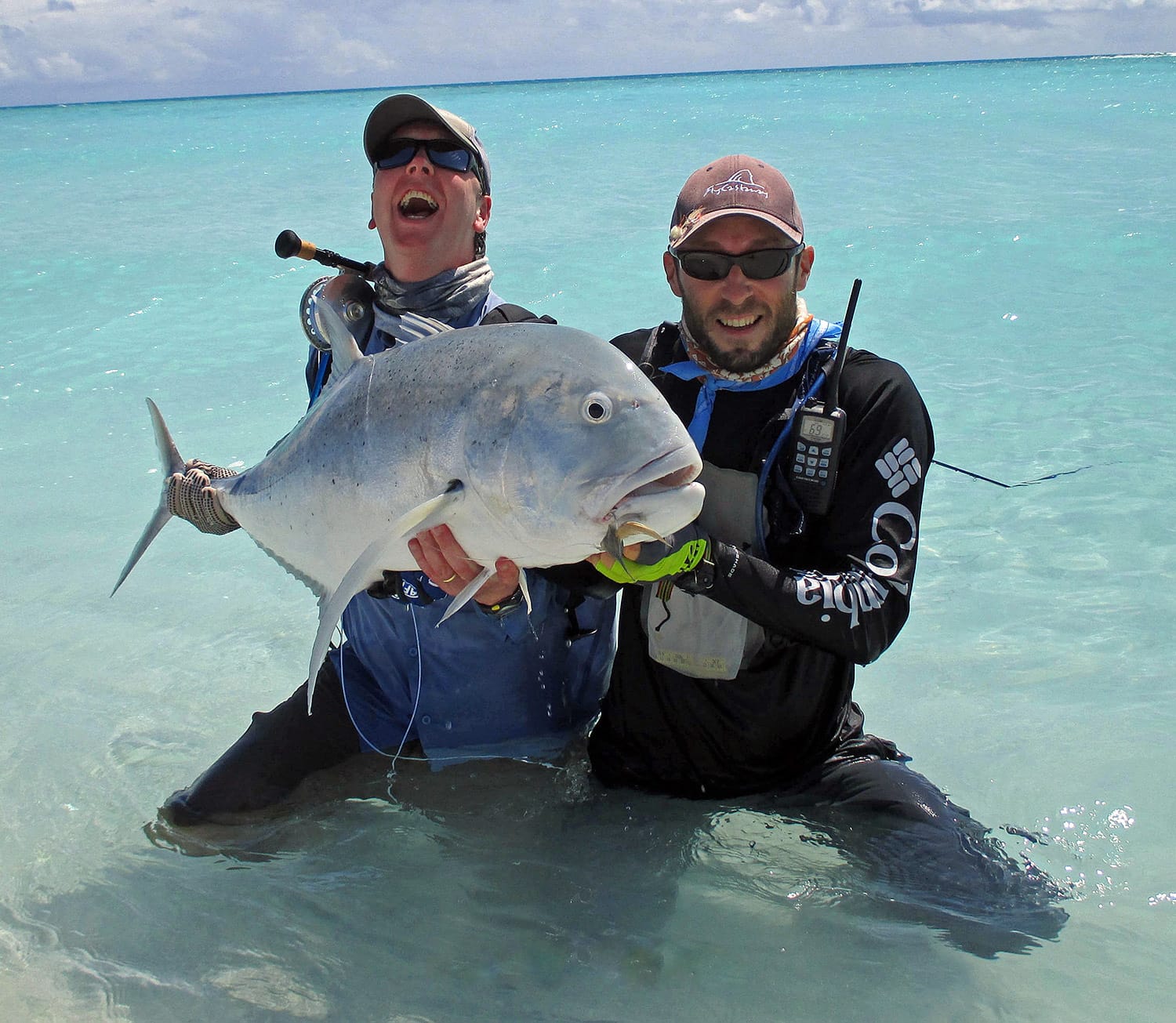 Every now and again we get to share someone's birthday out on the flats which in itself is super special. But would you wish for? Well how about a first Indo Pacific Permit. Yes…that would be nice! Well Marcus got what he wished, a gorgeous fish which weighed 10lbs on the nose and cemented a truly epic birthday out on the water.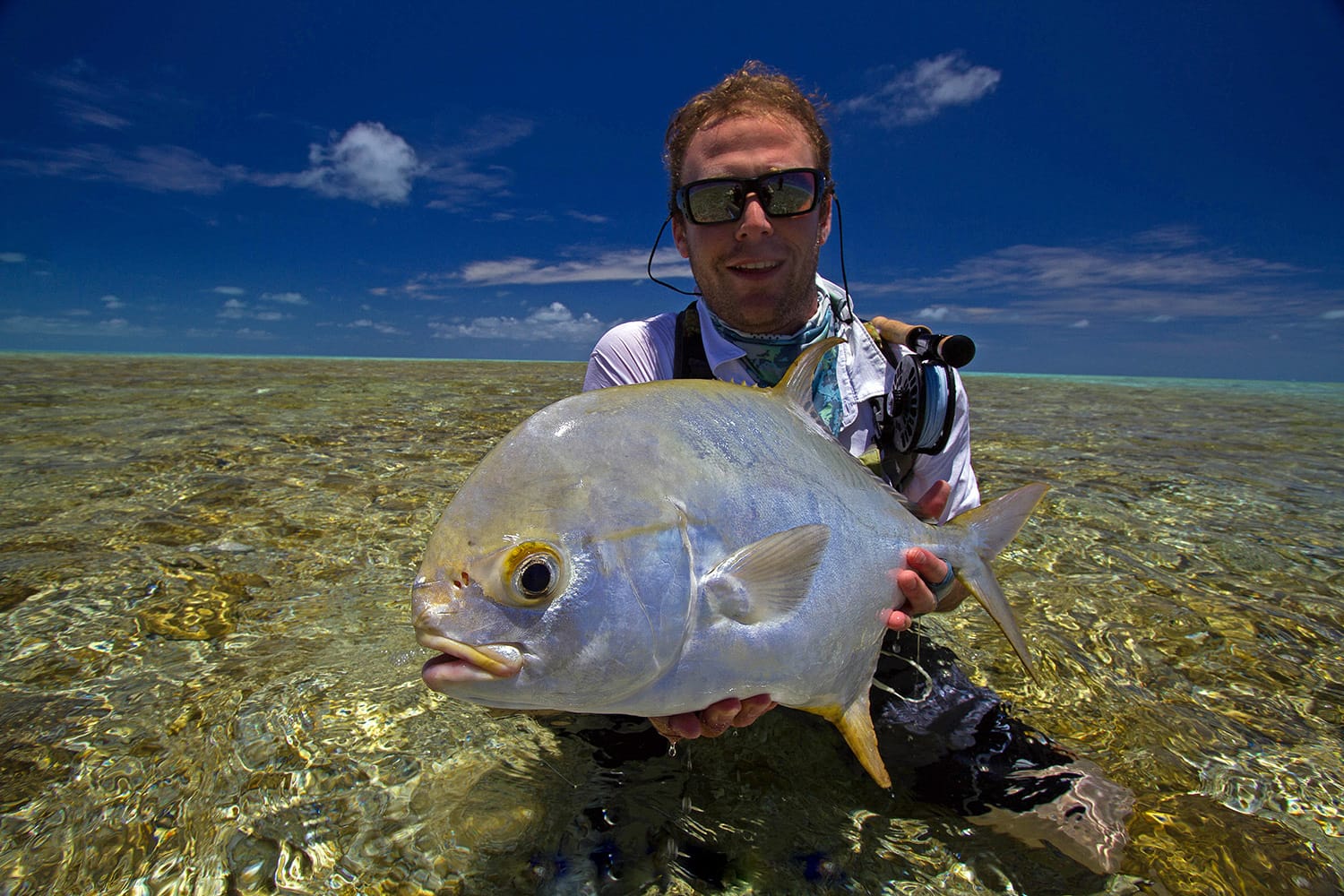 The Bonefish fishing had been pretty tricky by St Brandon's standards during stages due to a lack of wind, but at times it's good to remember how many 7lbs plus fish most well-travelled angler land in their lifetime. However as the week developed we had an increase in wind, which brought cooler water and with it some truly big Bones. On one day, Peter fished well and took this opportunities by landing 2 Bones over 10lbs, one of which was just shy of 11lbs. Two awesome fish! On the same day Stephen landed a small Permit and Tim redeemed his previous misfortune by landing a 105cm GT. GT number three for the week and another cracking day on the atoll.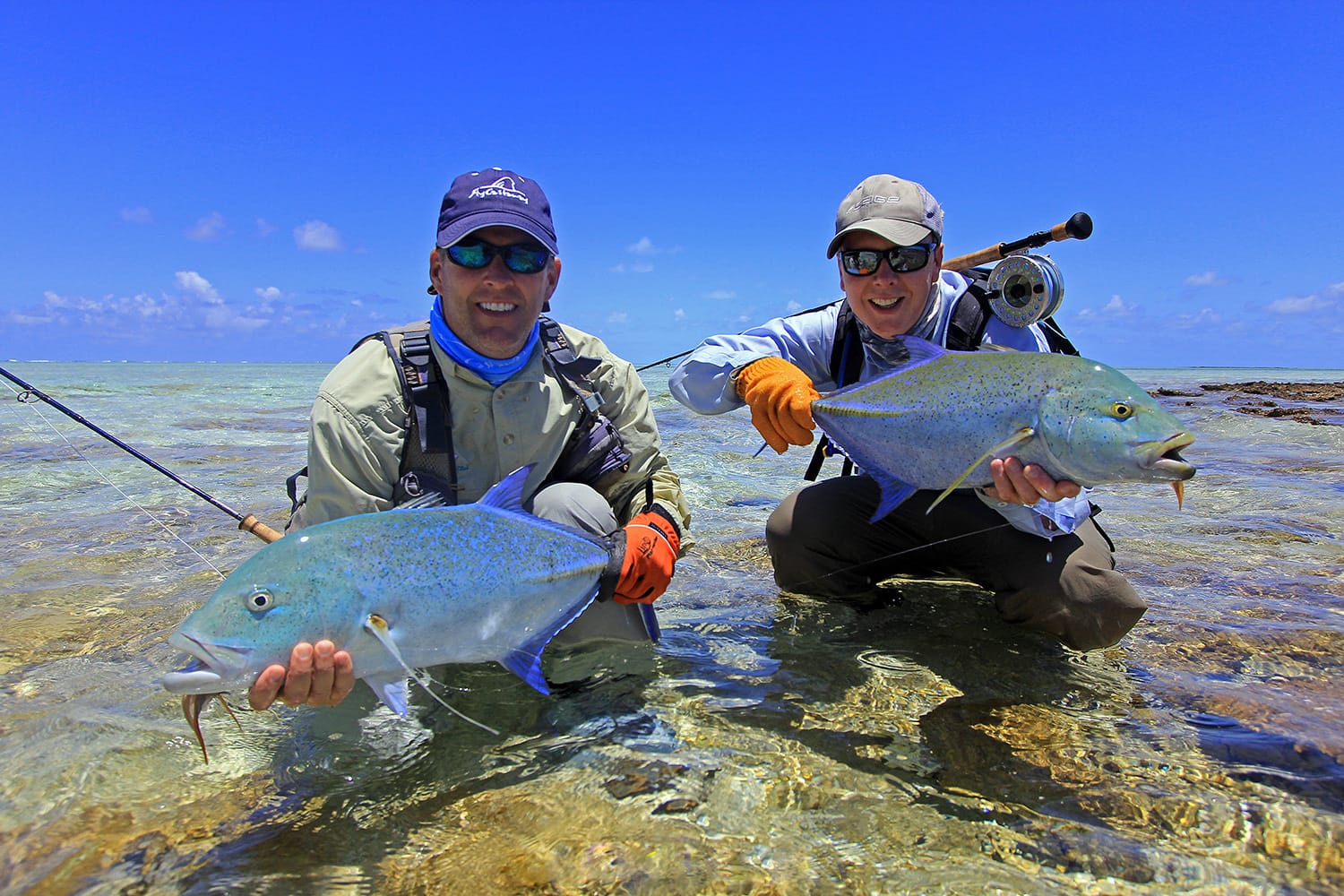 The last day eventually crept up on us but an early morning pushing tide and cold water meant only one thing, tight lines. The reels were screaming for most of the morning with some big Bones and Ivan landing a good 10lbs Golden Trevally. Simon and Marcus continued their good fortune ending the trip with a GT a piece. Simon fish measured 101cm and Marcus's measured 100cm, his second for the week. What an amazing week, 5 GTs in total (3 over a meter), 2 Permit and 2 Bonefish over 10lbs with countless others between 6-9lbs. As everyone gathered around the TV on-board the Gryphon to watch the slideshow of the pictures taken during the week, one could only reflect back on the great fishing had by all and what an incredible experience St. Brandon's is. A big thanks to all the guests, it's always a pleasure guiding such amazing people.
Until next time.
Cheers
The FlyCastaway Guides
For more information please contact us or call us on 01980 847389.