With the Indian Ocean season underway, and our Northern Hemisphere days getting darker, damper and chillier, trip reports like the following from St Brandons, Mauritius have us dreaming of escaping the gloom and being out on the flats ….
We could not have asked for better group of anglers to start the much anticipated 2013/2014 season. Our good friends Dick and Ron from Hawaii along with their friends Camillo, Juan and Jeronimo from Columbia had booked the Gryphon for an extended 10 day trip and we were determined to make sure we gave it our all.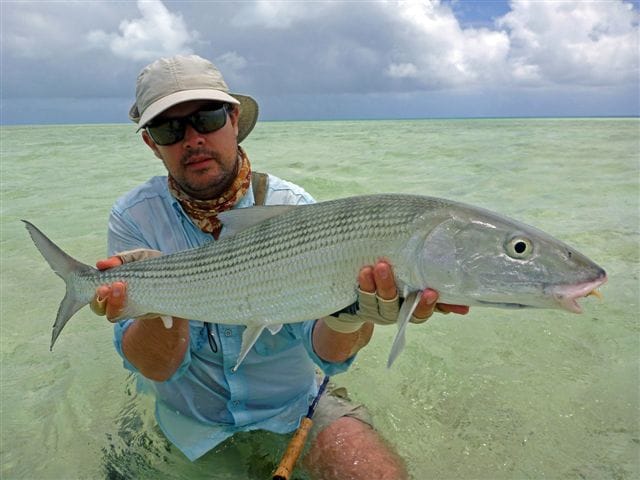 Day one was spent sampling some of the incredible Bonefishing St Brandon's is so renowned for. Fish after fish poured onto the flats as the tide slowly surged forward and by the end of the day it was clear we were going to experience some special fishing. We had only just started and had already landed fish up to 9lbs….this sort of fishing can only happen on St Brandon's. The GTs too also made an early appearance. Dick managed to hook three monster fish in one brief session, sadly though luck was not on his side and all three escaped prematurely. Although not renowned for large numbers, this atoll produces fish of enormous size and we are really starting to get a handle on their movements and where to expect them.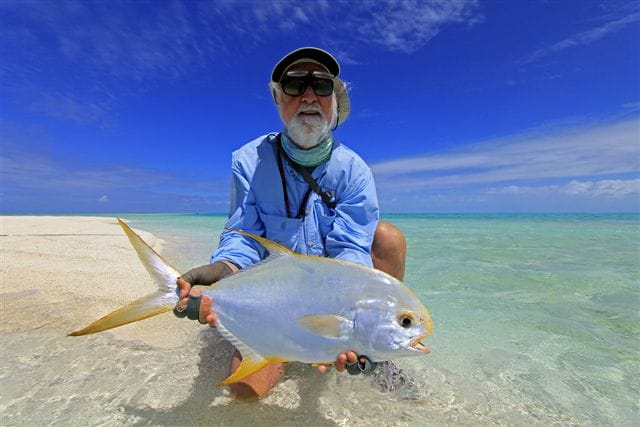 Now St. Brandon's is widely accepted as THE Bonefish destination however the world class Permit fishing is often undervalued. Guests eager to accept this species' challenges can have multiple shots each day on St B and so we were eager to accept the challenge when the group said Permit was high on their bucket list. At the end of each day, over an icy cold beverage, chatter amongst the guests and guides revolved around Permit. Tailing Permit, cruising Permit, shoals of Permit, fly patterns, leader material, fly placement etc….it seemed everyone on board had been struck by 'Permit Fever'. The question was, would lady luck smile on us?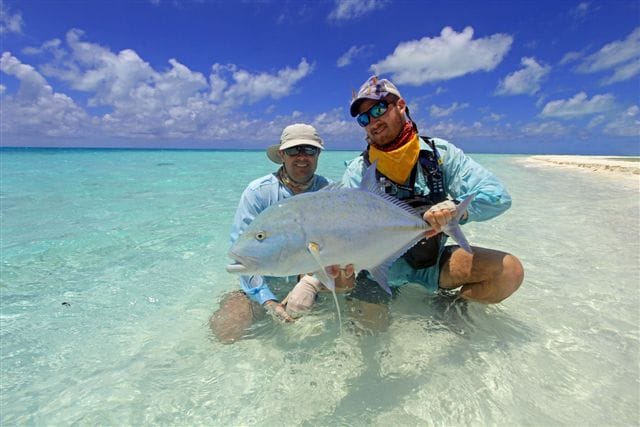 Dick was the first to reach fly fishing nirvana by hooking and landing his first St Brandon's Permit, a gorgeous fish of 15lbs which put up an extremely impressive fight. Congrats Dick! Juan really stepped up the following day with an absolutely magic cast and set the hook on a fish which would have weighed between 15 – 20lb. Sadly though after an impressive fight and the fish near beaten one final mishap and everything went quiet… guide and angler were speechless! Dick quickly picked up morale by landing a nice fish, nothing monstrous but after 30 minutes of changing position and fly patterns, valuable none the less.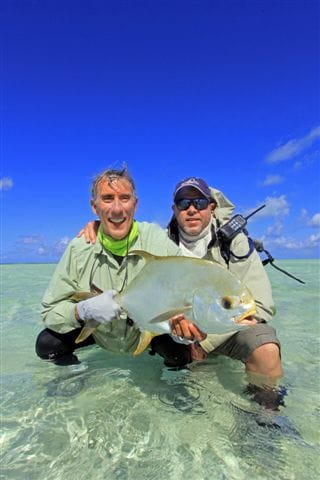 But we were far from done and Jeronimo reinforced why St Brandon's is such a special destination. His tally on one day included some Bones, the biggest weighing 9lb, a Yellow Dot Trevally, a Bluefin Trevally, a Golden Trevally and to top it all off a monster 17lb Indo Pacific Permit. What a day…congrats Jeronimo!
The 'Boneyard' was also firing big time and due to the numbers of Bones present, we kept bumping into some monstrous GT's looking for a sizeable Bonefish snack. Now if you call a tan brush fly a snack, you were in luck. Camillo had exactly that and landed a trophy 100cm GT. Well done Camillo! A day later Juan hooked an absolute brute of a GT and after fighting it with precision for 30 mins we thought we had it beat. Sadly with one final effort the fish tore off and the 130lb parted. It felt like someone had just ridden over my dog. We were gutted but what a fish and what a fight!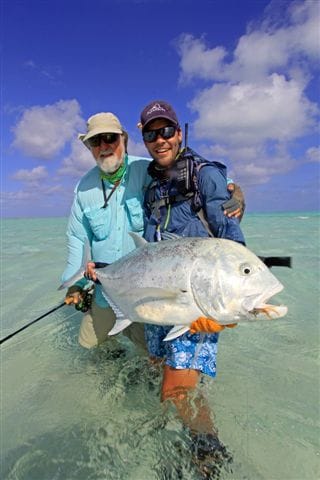 Each morning we continued to cast to and land Bones up to 9lbs in ankle-deep water, later turning our attention to the Permit and then the GT's and the very large Bluefin which were present. Ron showed the pulling power of his 9wt and landed 3 Bluefin during the trip, the biggest reaching the 15lbs mark…a truly special fish!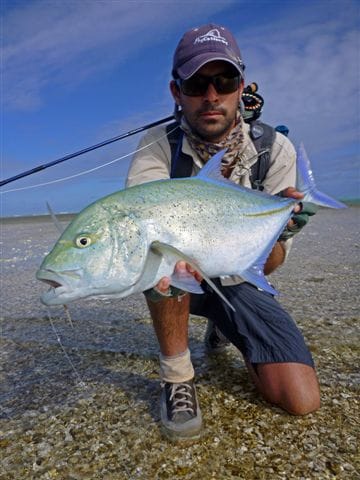 Our last day arrived and with it one final opportunity for something special. Jeronimo opened the score card with a 10lbs Bone, a fish he had been searching for the entire week. Camillo then decided it was his turn. After an inch perfect cast and some truly steady nerves his Permit ate and the battle commenced. 10 minutes later both guide and angler sighed with enormous relief. It had been the culmination of some great determination throughout the trip as his 11lb slab of gold slid into the net. These are the moments which reinforce why we do what we do!
Sadly however our first week had come to an end, but what a way to start the season. Permit, GT's, Bluefin, Goldens, Greenspots, Yellowdots, plenty of monster Bonefish and best of all great memories with some truly special clients and friends. A huge amount of thanks must go to Dick, Ron, Camillo, Juan and Jeronimo for an awesome first week of our season.
Cheers, Brad
For more details please contact us or call us on 01980 847389.