Adventures of The Grypon
In search of the Katenge-Yankie-Zulu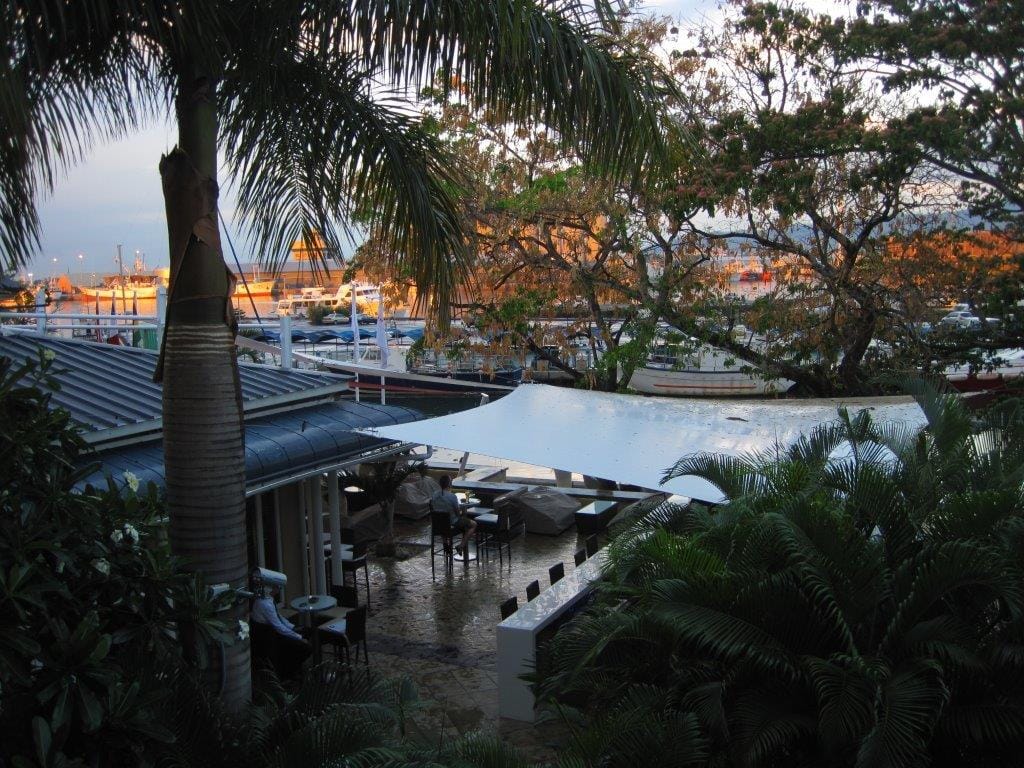 I have been reading and watching reports from St Brandon's atoll in Mauritius for some time and the pull to travel there and experience it in person has been growing. For many and varied reasons, it just didn't pan out but then the call did come this October, and the dates for November did work, there had to be a snag.  The proviso was that I needed to find someone willing to share my cabin and an angler happy to be photographed.  First to be called was Gordon who moved things around to make it work.
Gordon Richmond is one of our consultants and based in Glasgow.  He is more often found traipsing through jungle in pursuit of unusual freshwater species but is no stranger to fishing the flats and was one of the earliest anglers to fish Cosmoledo.
In short order, flights were booked, more lines and more flies were purchased and we rendezvoused at Heathrow ready for a great fly fishing adventure.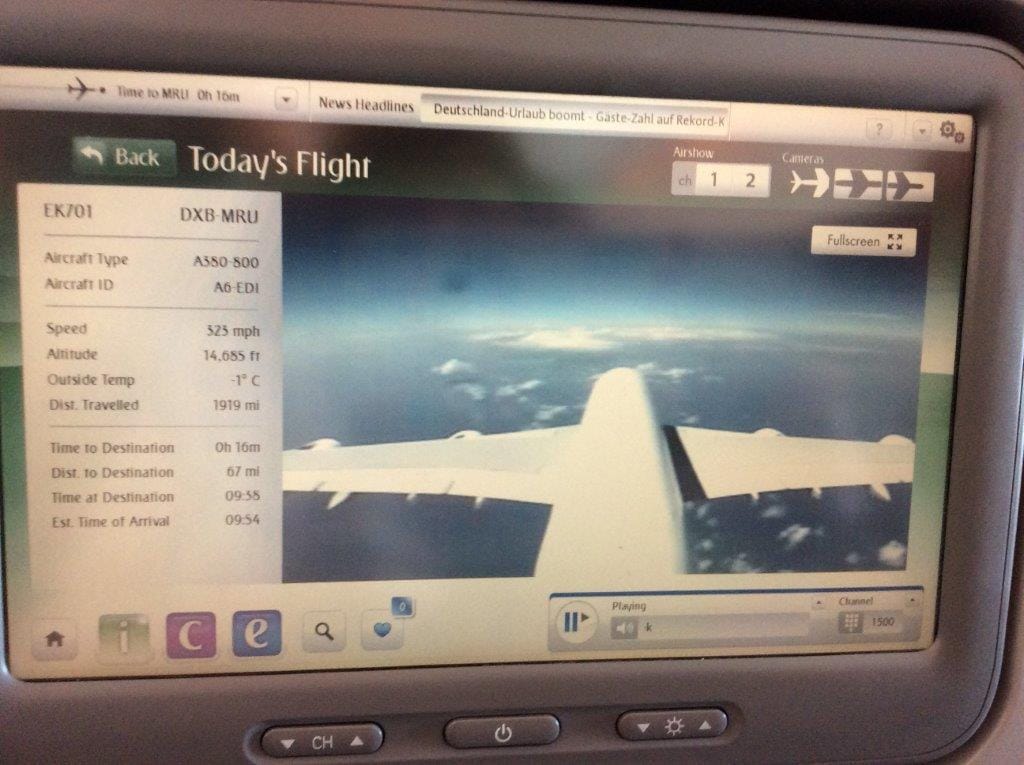 Where were we headed? Firstly to Mauritius and from there by boat from Port Louis on to St Brandon's atoll which lies to the north-east of Mauritius. With a sailing time of between 24 and 28 hours, you have plenty of time to get to know your fellow anglers on the way out.
There were several aspects of this trip that, prior to leaving, definitely pushed my comfort zones … much to the amusement of the rest of the team in the office.  I've spent plenty of time in boats, but never as my sole base for an extended period of time; I wasn't sure if I would suffer from seasickness but loaded up with pills just in case (I also heeded Ryan Hammond's sage advice not to board The Gryphon with a hangover); I'm not keen on small spaces (primarily as I am not exactly small myself) and would the cabin be tiny and cramped; how challenging would the fishing environment be?
Having said all of that, you could rightly wonder why I was so determined to get there. Easy to answer; I love travelling. I want to visit new places. I like to push my own boundaries and see what happens. The attraction of St Brandon's for me is several fold.  It is wild.  It is remote.  It has big fish. Oh … that's enough for me.
There are direct flights from the UK to Mauritius but we opted to go via Dubai in order to arrive one day early and have a night in Port Louis to see the hotels and nearby restaurants. That all worked smoothly and we were met by our very efficient ground handler and driven across the island to Port Louis. Allow an hour for the drive but it is normally a little less and without wasting too much time, we were settled into our rooms at the hotel, and not too much later into a very welcome G&T.  There was no pressure to do anything; the hotel had decent wi-fi connectivity and we knew we didn't need to board the boat until the following evening so we kicked back, relaxed, worked as needed and by chance met two of our trip companions, Chris and Ralph, who had flown in from the US earlier in the day.  After a relatively early dinner, with a potentially injudicious choice of the seafood special, we called it a day and had an early night.
The following morning didn't start well for me; walking into breakfast, I gave Gordon a welcome whack to the back of his head only to be confronted with a rather dazed and  confused chap who looked nothing like Gordon and who took my abuse in very good form.  Muttering apologies, I retreated to drown my shame in a cooked breakfast.  Later on during the morning, Gordon knocked on the door to say that he had met Craig, one of the guides, in the lobby and they were going to take the bags over to the boat.  Joining him, we walked down to reception and the ground opened up around me for the second time that morning as the guy I had whacked at breakfast turned out to be Raimer, another of our fishing compatriots who understandably flinched when he saw me. Heading to the boat late afternoon, we all boarded and just as the ropes were readied to cast off, Ralph left the boat as business called him back to dry land and away from a week of fishing and so we became the Magnificent Seven for the week.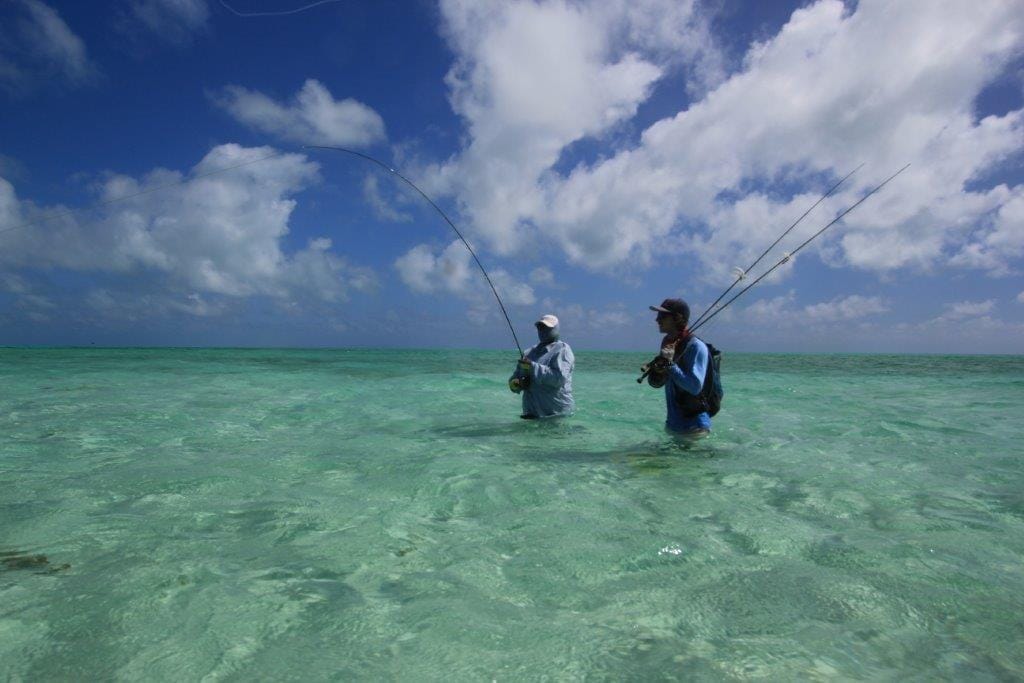 Christiaan, the head guide, and Chase had stayed behind on St Brandons while James and Craig had motored back to Port Louis with the previous group so we were looking forward to meeting them 24 hours on.  An early dinner was over and done with before we cleared the tip of Mauritius and we settled down for the ride out to the atoll.
So far I had been disabused of two of my worries: the boat was much roomier than I had imagined with the cabins having ample space for people and luggage. The bathroom was spacious enough with a tiled shower, more storage room and with a marine flushing loo (rather than a manual pump). Small spaces then was crossed off my list.  No two ways about it the ride was bumpy and you needed to take care moving around but either I don't suffer seasickness or had taken enough drugs to counter it, I was fine.  My top tip though – as tested thoroughly by Eugene – is get under the duvet as they are slippy and you lying on top you may find yourself sliding towards the opposite bed pretty sharpish.  Everyone was early to bed, some looking more comfortable than others but it was an uneventful if rocky night and it didn't seem too long before we were above deck once more for breakfast. Eventually the Captain deemed it mild enough to put the big rods up and we had two moments of frantic activity that resulted in a wahoo lost and a dorado landed which went straight into the kitchen.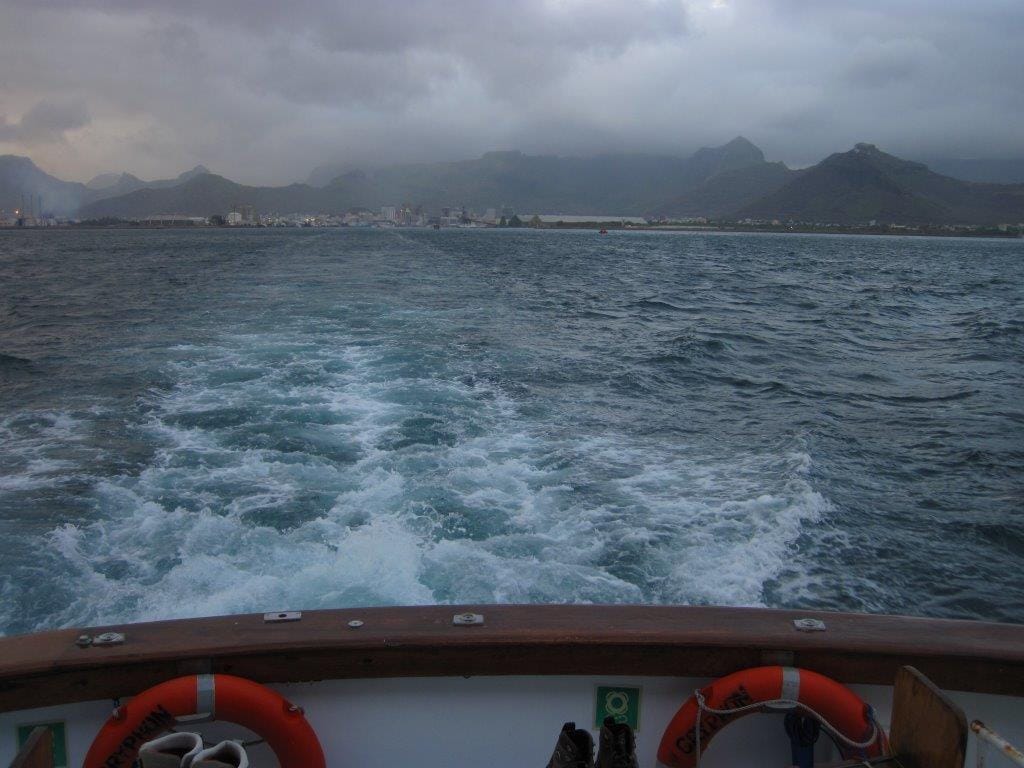 We made reasonable time on the sail and met up with the Chase and Christiaan who had a fantastic surprise waiting for them on board in the shape of Christiaan's father. Willem was a last minute addition to the trip and Christiaan had no idea he would be on board.  Having collected the guides and the skiffs, we moored up. The 'real' adventure was about to begin and the cast of characters consisted of the following:
Team Aardvark; Gordon Skycamo Richmond (aka Oupa) and Charlotte
Team Bone Collector: Willem (take me to your leader) and Raymer
Team US: Oliver and Chris
The Lone Ranger: Eugene
Having to contend with us were our four guides for the week, Christiaan, James, Craig and Chase, who I have to say looked slightly concerned about deciphering Gordon's Scottish accent but soon got to grips with it and a steady flow of banter soon ensued.
Day One – the adventure begins
Dawned bright and clear with a healthy wind and a cooked breakfast to set us up for the day.  We set off for our first day on St Brandons with Chase … and the step.  This became known during the week as the 'lady step' and was a godsend in the deeper water as I am not exactly nimble. We started off at the Boiler at which I had a bonefish on first cast and one off first cast. Third cast lucky saw a nice 5 lbs bonefish in the net for me; such a relief to get the skunk out of the boat early.  At Snake Spit three yellow dot trevally that I initially thought were big individual bonefish were strolling down the edge of the flat. Having cast, and loudly encouraged by Chase with strip, STRIP FAST, the lead trevally hit the brakes, tail up and head down he was on and running having inhaled my Spawning Shrimp. Unfortunately it didn't last. He slipped the hook and was off running in short order.  Chase shouted that they were coming around again; I recast and the remaining three came back up onto the flat, hit the brakes and the tail went up, head went down and this time the line was screaming out of the reel. It ran into the backing in short order and after a short but hard battle, I had my first yellow dot trevally in the net.
Not long after that, Gordon had his first bonefish of the day and his reel sung, so mine joined in the duet and we landed our first double up on bones for the day – pretty much the same size and the competition was on.  In the main the bones weren't hanging around for anyone. As we advanced, so they retreated.  We both managed to break off two nice sized bones, snapped off just above the knot. Two stunning permit swam in front of me, ignored my fly and swung around behind us.  They were pretty sizeable but they weren't interested. After a little longer spent chasing distance keeping bones, we set off in search of more amenable fish.  Gordon's last flourish before we moved off towards the boat was a beautiful silver three spot pompano or Wave Garrett. Generally considered a nuisance fish alongside blue spangled emperors, he was much less enthralled that I was.
While Chase got the boat we fished out over the edge as the bones were technically hanging around there. Something took my crab, tore line off the reel and then dived for cover and we had a wee bit of a Mexican standoff. Meanwhile Gordon was wrestling with a twisting needle fish and Chase probably thought I was hooked on coral.  With the needlefish wrestled into submission and no blood shed by Gordon despite being nipped, he was about to leap into deeper water to rescue my fly, when my sneaky coral hiding fish gave it back. Defeated, it was time to move on.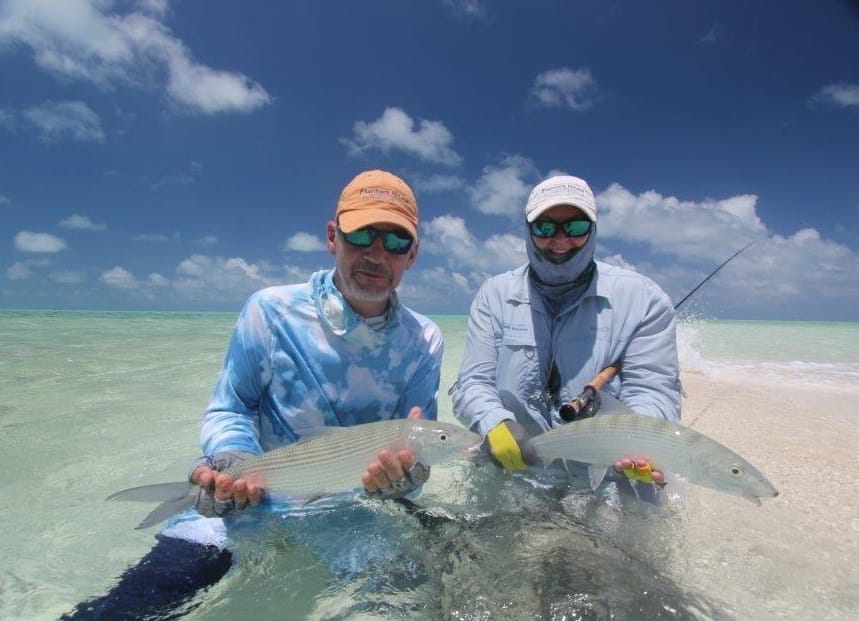 With the step used to best effect, we headed off to our third spot of the day, Isle Paul, for lunch. My efforts to tempt batfish had proved fruitless to this point and just to add insult to injury, they swanned past in a big school while we were lunching. The pursuit of the bones continued as did the pursuit of two big golden trevally who kept teasing us with their waving tails.  They were big fish but, like the bones, kept just out of casting distance. Rather than start the engine, we opted to walk up to the point, watching the big school keep its 30 metre distance from us pretty continually.  On the walk up we spotted a beautiful old green bottle on the crumbling coral that had obviously been out at sea for some time; there were mussels on the bottle and it was astonishing that it hadn't broken. Walking back, Gordon hooked into a big bonefish and a minute later I had one on and both reels were screaming.  We danced over and under rods to avoid knitting the two lines together and had two bones in. While Chase pursued Gordon's bigger fish, I landed mine but we spectacularly failed to get a good shot of the two fish together.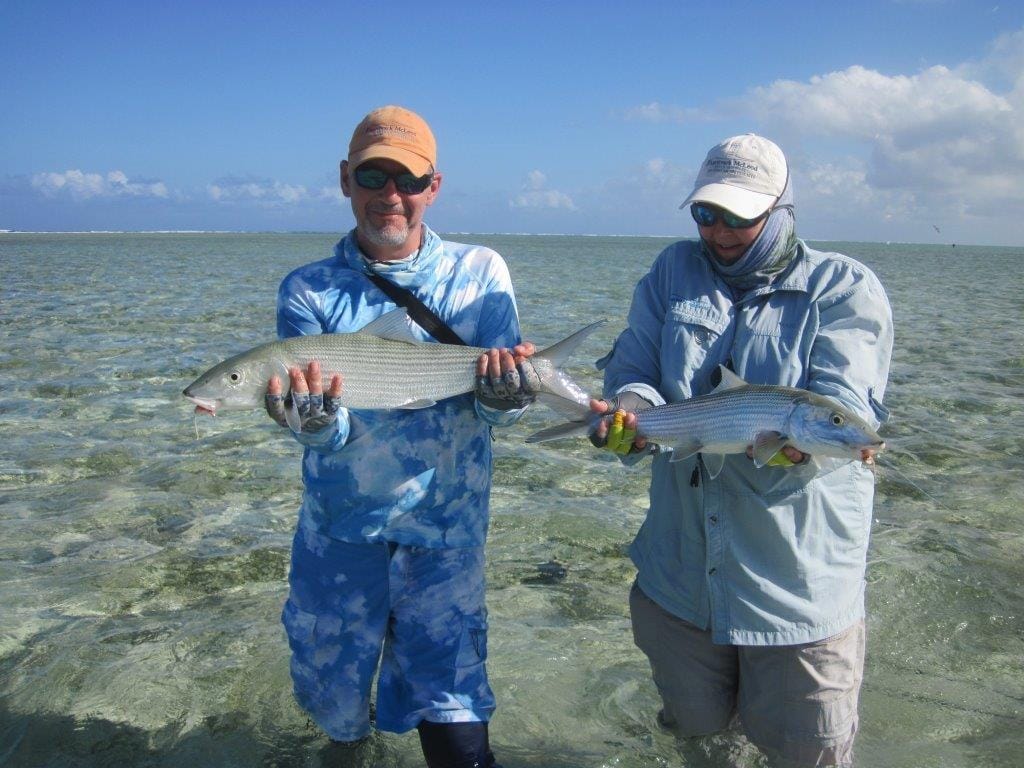 Gordon's made a break for freedom, he dropped his rod and my rod then followed suit.  My bone, a smaller 5 lbs fish, decided to leg it as well.  Chase once more chased the big fish, dropping the two 11#s in the process. The two rods at this point were tangled, the fish were still hooked but loose and eventually we got Gordon's 8 ¾ lb bonefish into the net while mine broke free and ran for cover. At some point during this melee Chase hollered at the two of us to stop doubling up as it made his job more difficult!  Sensibly we called it early at 10 mins to go and headed back to The Gryphon to be met with a very welcome array of snacks and sushimi from the dorado landed by Willem on the journey over. Dinner was prawn and vegetabe skewers followed by grouper and mixed vegetables with tinned fruit and ice cream.  A small amount of gin was consumed while I was there and finished off by Gordon and co after I went to bed; we are now rationed until the end of the week.  Bed by 9 pm.
Day Two – the lone ranger strikes back
The wind had changed direction; how much that contributes to fish movement or their ability to settle is a debate for more learned anglers than I. All I can say is that there were a lot fish on the flats who didn't want to settle, they just weren't that keen on feeding. It was a day to remember and not for all the right reasons. Perhaps we were paying the price for having had a good start to our week. I landed a small bone, about 2 ½ lbs which is a 'rat' for St Brandon's, early on in the morning. Not that long afterwards, I landed a three spot pompano which Gordon and James were suitably unimpressed with. Gordon was having one of those days and James moved us to JA's.
There we had the great opportunity to see nurse sharks rolling around together, tails and fins breaking through the surface while they rummaged on the bottom looking for food. We were looking for the unmistakable sign of a blue grey shape following the nurses and suddenly there it was. Gordon lept into action (yes, he can); it was a perfect cast, a textbook strike and a straight stick. The GT ran for the shallower water, reel singing and ping … the leader shot back towards him and the GT carried on going on with Gordon's Fulling Mill James Christmas Grey Mullet.  Silence hung over the boat for a while as we just looked at the water in disbelief.  It really set the tone for the rest of the day.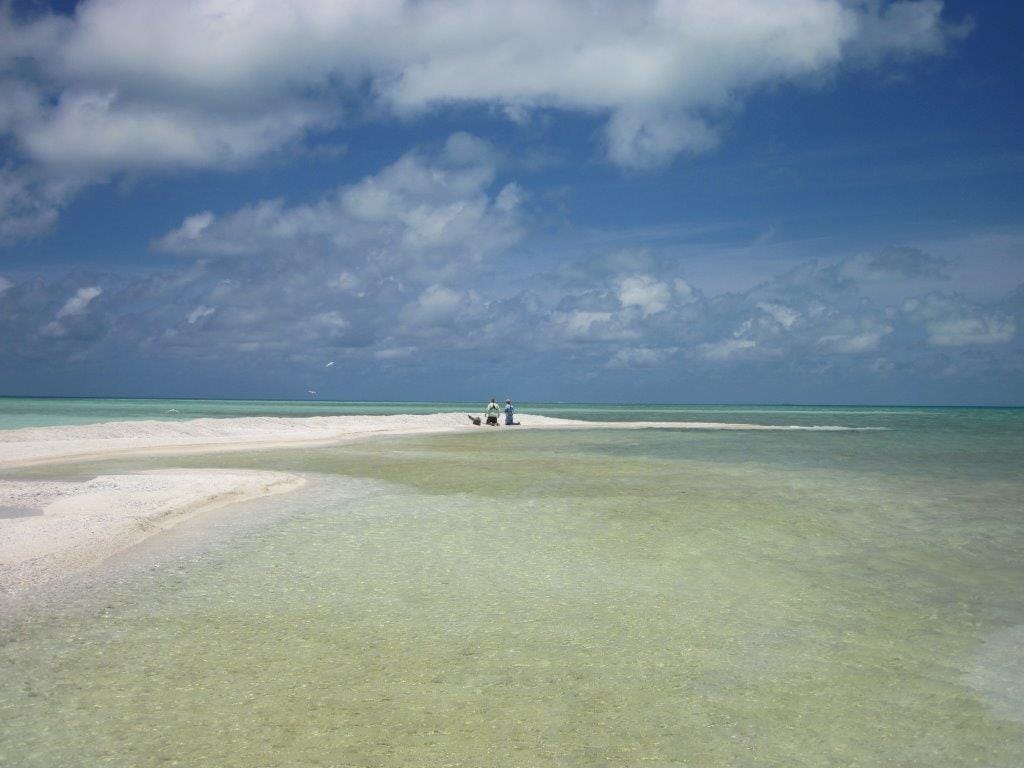 We moved on to look for permit, finding a school of small fish. However, a permit is a permit, so crawling along on hands and knees with James, I tried and tried to get my fly where it needed to be, but the permit stayed out of my reach.  Meanwhile, the skycamo clad Gordon was fishing on the other side of the sand spit and not having much joy so we swapped places and the run of luck continued for us both.  Moving on again, we saw a huge ball of baitfish and two or three big bones coming up onto the white sand flat from the deeper water. I hooked one which ran me quickly into the backing, and having kept me entertained with some hard, short runs was just about ready to be landed. James reached for the leader which snapped and my 7 ½ – 8 lbs bonefish returned to the deep. It was a truly tough day and we moved back to Isle Paul. Gordon a bonefish that he remains mildly embarrassed about as it was a baby rat and had hoped his catch hadn't been seen. We did eventually manage a double up although not of any conventional species. I hooked a Greater Noddy Tern and had to reel him in to unhook him. In short order he was off to join his buddies who were mobbing us. As I turned to speak to Gordon I saw another Greater Noddy fall to his fly but it shook it off and carried on.  Before they returned for retribution and shat on James's boat, we fished our way back and called it a day.  A hugely enjoyable day despite the fact that it really was a bleeder; fish that wouldn't settle, leaders breaking and mobbing birds.  Back on board it was a huge relief to find that others had had far better luck.  Willem and Ray were Team Bonecrusher having cleaned up on the southern side of Isle Paul; Oliver and Chris had some nice bones under their belt having spent a part of the day looking for GTs.
Eugene and Craig won the cap for one hell of a day.  It started off with Craig being hit in the face with a squid.  If you didn't know; two wet wipes can deal with most of the mess.  It wasn't the end of their moments of doom but the day balanced out, ending on a high note with Eugene landing a 103 cm GT; an epic end to an unforgettable day – whatever the reason.  Winds had not only changed direction but in velocity; down from 15 knots to about 13 knots. When we returned rather dispirited to The Gryphon, it was heartening to be met with happy faces, more great snacks and an uplifting (albeit rationed) G&T.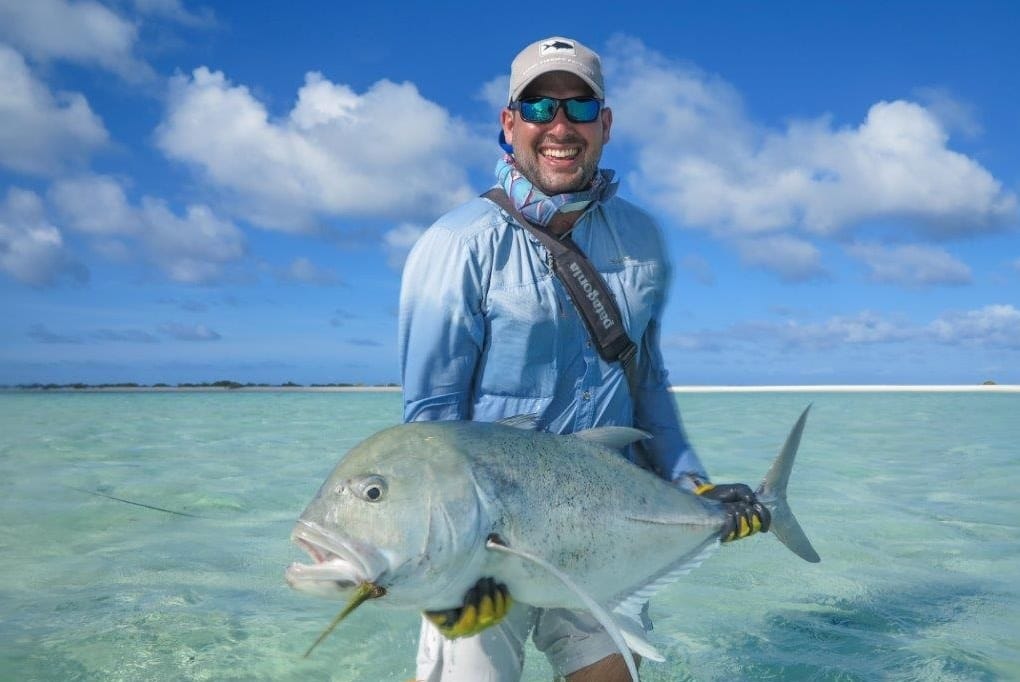 Day Three – the day of the flower pot
Gordon was up at five; I hung on until 0630 but breakfast was waiting for us at 0700 with fried eggs, cereals, yoghurt, toast and fresh fruit.  A nice clear morning awaited us but with the wind picking up again and darker clouds gathering on the horizon. I started my day with a very nice 7½ lbs bonefish, followed by another slightly smaller.  Looking over my shoulder, Gordon had a bend in his rod and a very nice bonefish in the net in short order.  Winds were slightly higher than the day before, visibility was good and the bonefish seemed to be more settled.  We landed another fish each before we moved on to hunt for bones elsewhere.  It was a tricky tidal week; a very high neap tide and there was a fair amount of water on the flats. It wasn't traditional skinny water bonefishing by any means but we persevered, looking for either a school or bigger individual bonefish which is what we were really here for.
Moving on once more, we anchored off Isle Paul and set off to make our way slowly down the flat and to work our way around the island. Christiaan was determined to get us as many bones in the bag as we could but kept his eyes skinned for the tell tail sign of nurse sharks and their sleek companions. On the back of JA's we saw one moving away from us but with no shadows to chase we left it unmolested.  The wind was picking up by this time and the grey clouds were rolling in. The Gryphon had moved to her new mooring spot during the day and although the spot we were fishing was traditionally a good one for both bones and permit casting directly into an 18 to 20 knot wind was (thankfully) deemed pointless so we slowly made our way back to the skiff, ready to head for home.
By this time the black clouds had rolled in, the Gryphon had disappeared somewhere in the cloud and the rain and plans for the beach sundowners postponed for another more clement evening. It was a brilliant day; tough but rewarding and the rain on the ride home didn't dampen spirits in the slightest.  The rest of the boats were not long in returning but all were in good spirits despite tough conditions. Craig's day had been without squiddy incident and Eugene had a particularly heart breaking day with a permit refusing him several times and a hook open on a GT.  All had a tough day but came back smiling to be met by a welcome round or three of great post fishing snacks waiting for us when we returned and a flower pot put to exceptionally good use.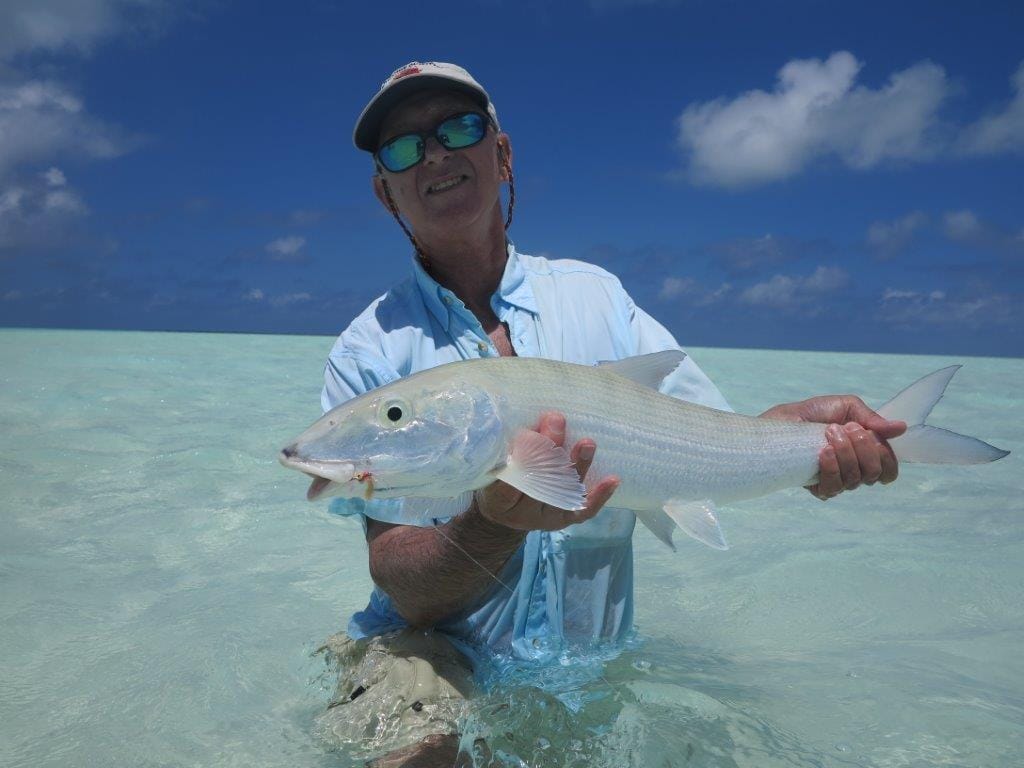 Day Four – the flotilla set sail
The dark clouds from the previous evening had blown through and we headed out with Craig having set the Hardy Proaxis 8# up with Flycastway's new Wade reel to play with.  We had no major plan in mind but with GT lust secretly in our hearts.  We were just hoping for a good day out on the flats, with no squid incidents, and non-spooky bonefish to cast towards.  We started out looking for bones at Little Yellow but they weren't interested in eating anything put before them and we moved on.  On the ride out, on a beautiful long stretch of white sand and crystal clear water we cruised past an enormous tiger shark; such a magnificent creature but definitely best viewed from the boat!  At our next spot, I landed a small bonefish at 3½ lbs but it was gloriously coloured on its pectoral fins.  Again, we were put in front of a school of fish, moving fast.  I cast, stripped but had no interest.  Tried again and two very light pulls turned out to be a permit swimming amongst the bones. Sadly he carried on swimming unmolested. Two small blue spangled emperors on Guava were all that came to either fly there and we moved on; hoping to spot nurse sharks and their sleek grey blue companions. Fishing the top side of the island, another bone came to my fly, was netted and swam off to join his buddies.  We had lunch, waiting for the tide before moving on when a small school of bluefin trevally came right behind the boat.  I cast, stripped, recast and stripped faster. A huge hit, and an enormous burst of speed before he was on the reel and persuaded to come into the net.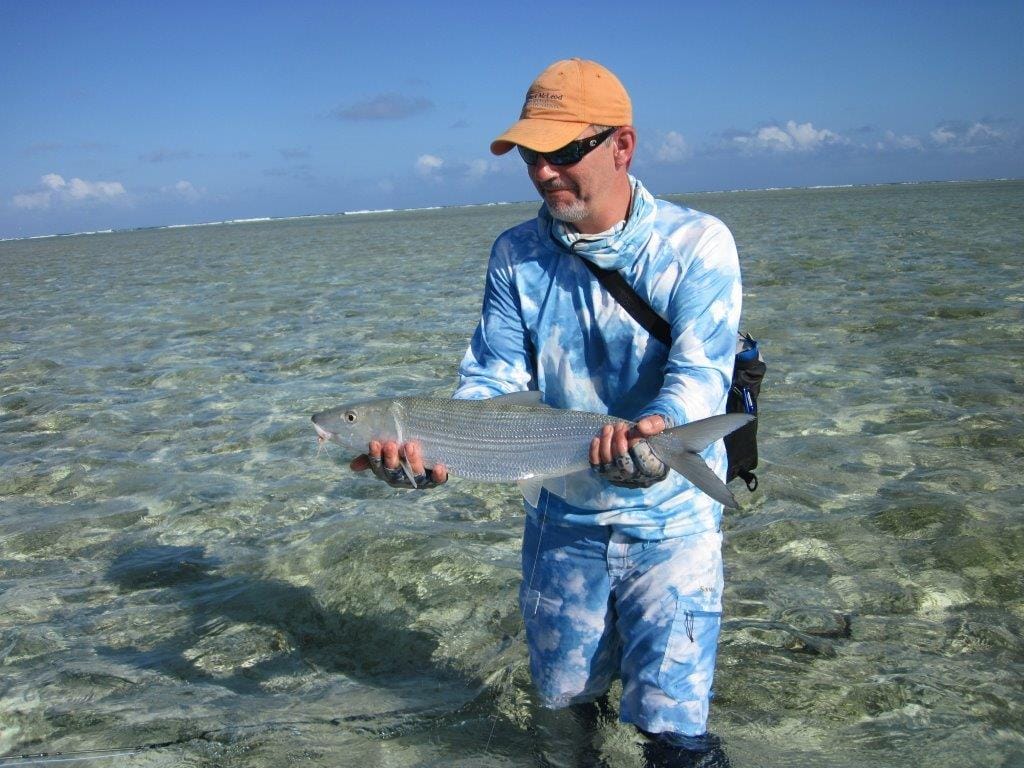 At one point during the morning, Gordon was stood, rod over his shoulder in somewhat 'Highlander' pose when he felt a tug on the line. Looking back he couldn't see anything but felt another tug and thinking he had hooked coral, he turned to find his hook embedded in the snout of a turtle. Craig struggled not to howl with laughter while trying to grab either the leader or the turtle. Thankfully the hook snapped but St Brandon's now has a turtle with a nasal piercing.  As it was before the end of the mouth, so the equivalent of a gill plate, we decided that it counted on the species list.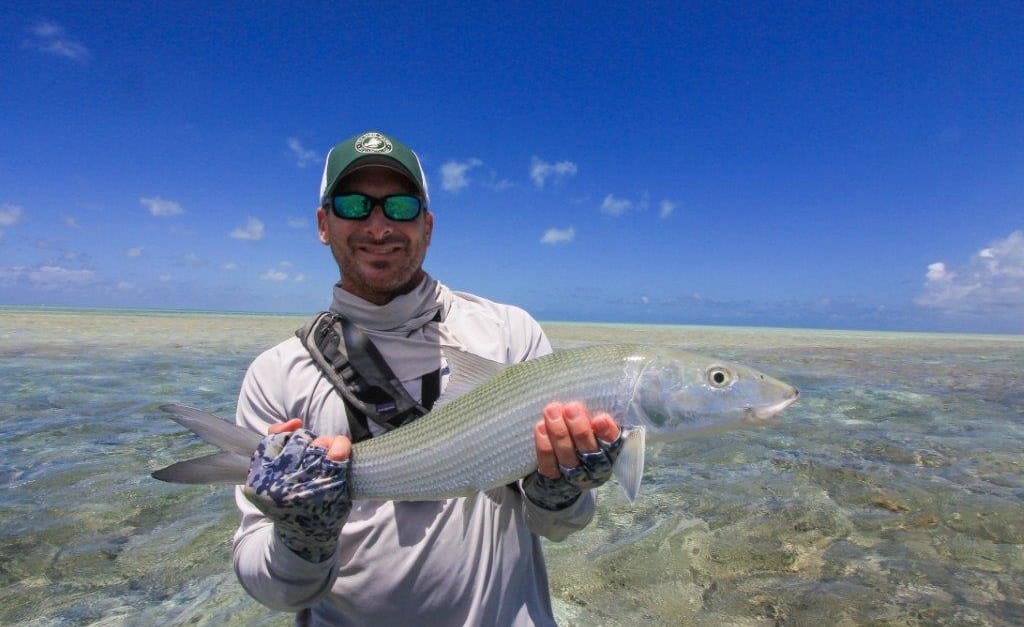 Back on Boiler, Gordon and Craig saw a sleek shape slide behind the boat and chased after him to no avail.  The school of bones were sitting just off the back of Boiler; the lone Fairy Tern chick that the guides have been watching since he hatched was still there waiting for Mum to deliver food.  While I took my time around Boiler, the men were looking for the GT who decided not to reappear at that point. On a very short back cast, I had a hook up and, bonefish on, I settled in to bring it in. To my right I saw a dark shape and with memories of the earlier tiger shark in mind, I shouted 'what's that'.  Turned out it was an enormous GT. Totally unconcerned by me; uninterested in my by now sprinting bonefish, this coffee table sized GT, casually sauntered by. To my left, controlled chaos ensured. Rods were swapped. Line was stripped. Gordon cast and stripped. Stripped faster and recast. By this point he was sweating, my bonefish had broken me off in a massive sprint for survival, and the GT was still cruising. You don't get to be that big, and that old, by being stupid and that is what makes these fish so enticing.  None of us could believe how big it was; it was far in excess of a meter and incredibly deep in the body.  Hearts pounding, it was time to call it a day and repair to Turtle Island for sundowners and to hear how the day went for the others.  Eugene had hooked and lost both a permit and GT and while he was pragmatic, equally heartbroken and he and Christiaan needed a bit of a boost.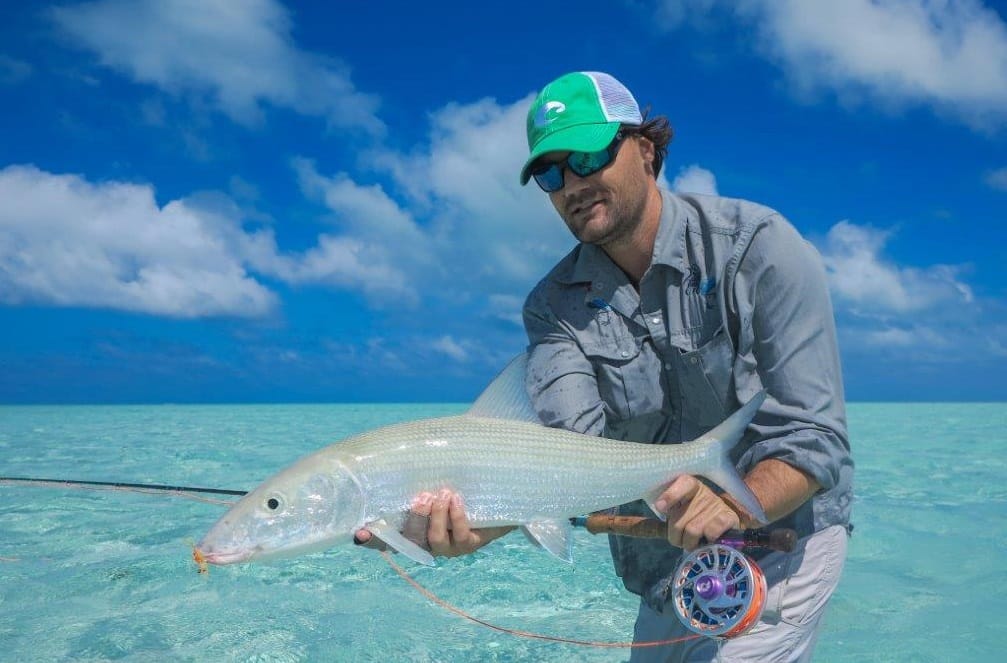 Willem had landed his first golden trevally and Raimer, Oliver and Chris had a bevy of big bonefish to their names with Oliver landing an 8 ½ lbs beauty.  Gordon skunked.  A turtle and a foul hooked needle fish don't count.  While we were enjoying stories, nibbles and sundowners, the guides were scouring the beach for enough material to make rafts.  A weekly tradition, Christiaan's boat was declared the winner as the flotilla set sail and Craig's more modest vessel was sunk by a Raimer-launched missile.  A very nice end to the day and huge thanks to the crew for the massive effort it took to do it.
Day Five – calm fell the wind
A glorious morning; the wind had dropped to an 8 – 10 knot breeze and we had clear skies as we set of for our second day out with Chase.  We started by putting along between Barcardi Ridge and Dion's looking for nurse sharks and their accompanying GTs, but saw none so moved off to Big Trashy looking for bones in the small bay opposite Rafael Island.  It had produced well the previous day for Oliver and Chris. Unusually for this atoll, there were no birds at all on Big Trashy – possibly indicative of rodents as the neighbouring Rahael has a very healthy population of birds. I had a small permit follow my fly through a small school of bones but it turned away at the last minute.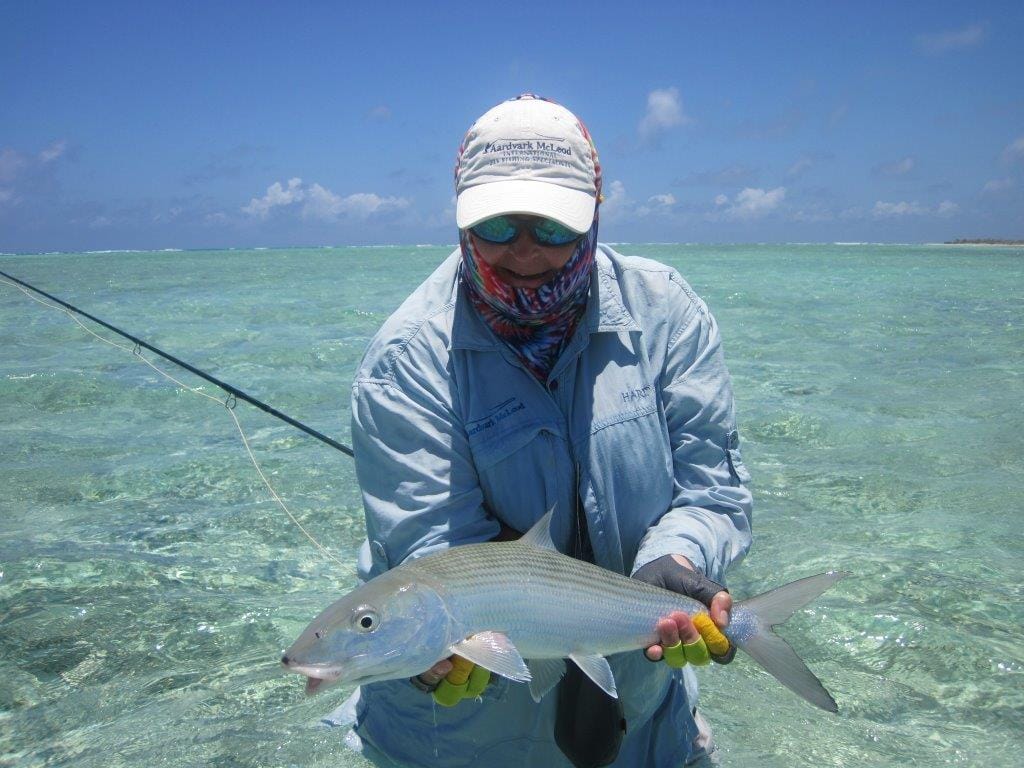 We continued to cast but the bones weren't interested and we moved out of the slightly sheltered water up onto the far side of the lagoon and stood looking down on a superb flat. We were looking for the tell tail dark cluster indicative of bones and (in hope) for the bigger, darker individual shapes of hunting trevally. Moving down from the sandbank onto the flats, we had a few casts at the bones but the water was quite disturbed and we worked our way back to shore.  Walking up towards three separate bait balls, I watched small lemon sharks coming back into the shallows to harass the baitfish. Suddenly a small group of bluefin trevally came across from the left. Gordon cast and stripped; they didn't spook but neither did they take.  I put a line out and again had a follow but not much interest.
Into our line of vision, cruised a huge permit – on the upper side of 15 lbs –  who cruised around, not spooked by our flies, before it moved off into deeper water. I had to do some emergency sock adjustment in a quiet moment while Gordon and Chase moved back down the flat towards the Bluefin who had returned to cruise alongside the bait balls.  They were obviously feeding but not interested in the flies put in front of them. The permit had returned and followed Gordon's fly in a hell of burst of speed, pushing up into very shallow water. It either lost interest in the fly or didn't like the shallow water and it backed off, cruising around beyond casting distance.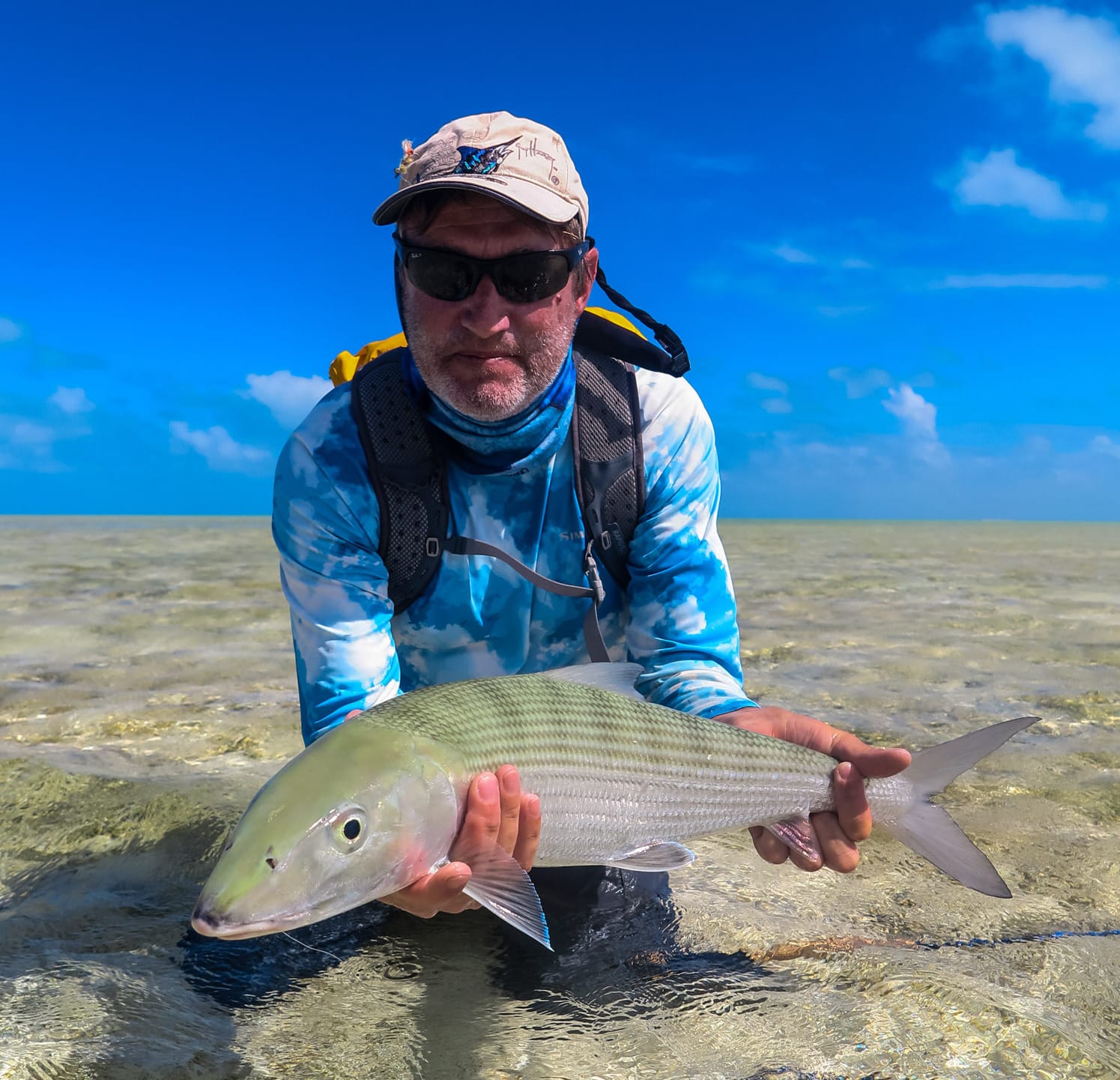 The flats then went quiet although we could just see both the Bluefin trevally and the permit hanging around in deeper water and we walked off around the point hoping to see some fresh fish. The walk back to the boat was a quiet one and we had lunch before moving off to the front side of G-spot.  I stayed by the boat to change lines while Gordon and Chase moved up the flats in search of prey.  When they returned, it was with tales of lost fish; Gordon had hooked a golden trevally in shallow water and was just coming in to be landed when the fish threw the hook. The pattern repeated with a big bonefish followed by a permit who behaved in typical fashion, refusing everything offered to it.  Day over, we returned to The Gryphon to find that rest of the boats had a mixed day; Willem and Raimer saw a school of about 30 permit moving around their boat in deeper water but the day belonged to Craig, Chris and Oliver with Oliver landing a 112 cm GT.  It took the fly with a massive eat, swimming over another GT in the pack of 11 to get to the fly. Once hooked, it came in in short order, without taking Oliver into the backing. They had seen several around JDs and only ill fortune prevented them having a double up.  With the joyful news that an anti-cyclone was heading our way, we retired early – all the better to ready for our last day out on these vast flats.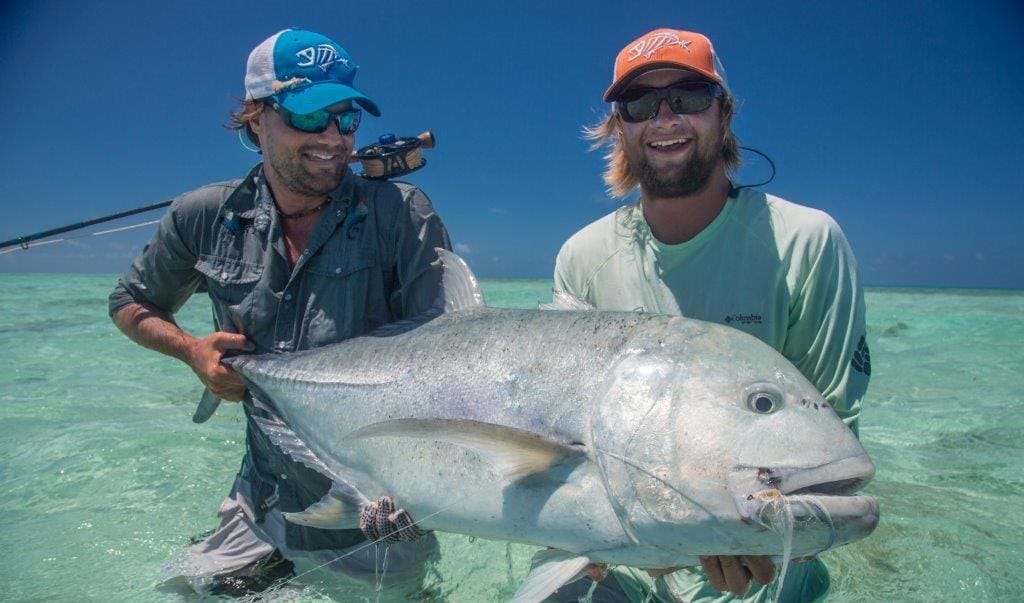 Day Six – the final day out
It dawned nice and clear with lower winds; around 4 knots and the discussion around breakfast was whether the fish would be hot or not with the change in weather coming. Knowing we were leaving early, everyone was raring to go and it was with high hopes that we all headed out.  Gordon and I were with James, and I for one was very happy with the lower winds.  Our first port of call gave rise to a 4 lbs bonefish to my small White Mayo Crab but it took some doing and several fly changes. The shoal of bones was there but they really weren't keen on anything and it took three fly changes before they started to pay some interest and get on the fly.  Gordon didn't have any joy early on and we moved on to Brokeback Ridge to look for a big bone shoal from which we hoped the individual bigger bones would break. We had several good hook-ups before James moved us on and, trying to find us individual fish to finish off our week, parked up for lunch near a large school of fish which had been herded to together by some cruising big lemon sharks.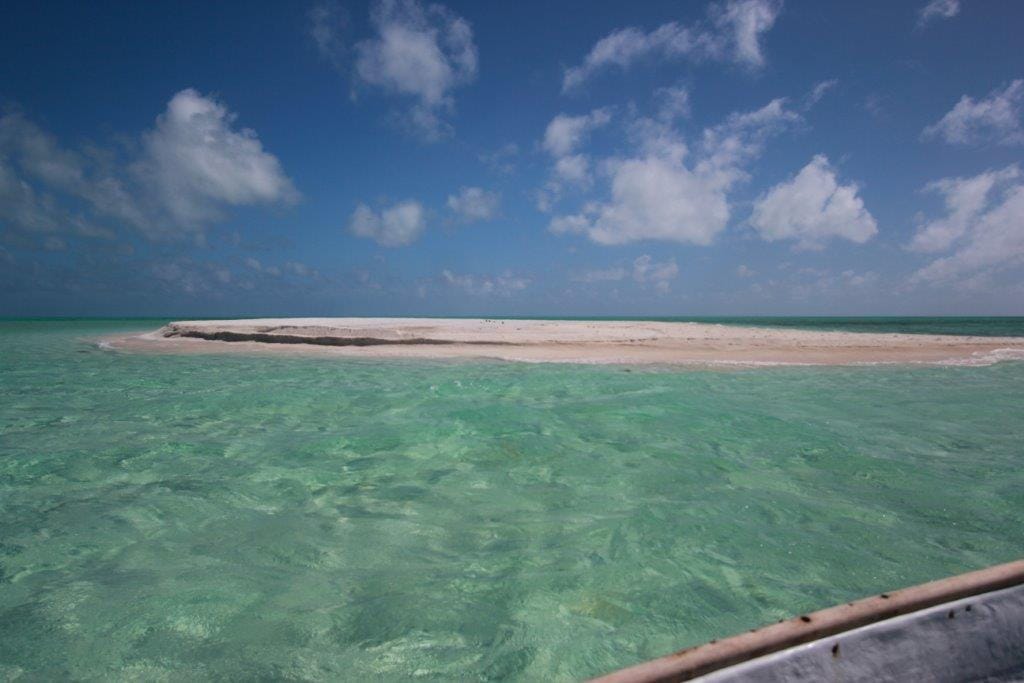 Casting towards the bones, James shouted that there was a small school of permit moving down towards us.  I cast, stripped long and slow and recast.  I felt a small tug but nothing more so continued to strip. From my left, I saw a permit turn and follow my fly; it took. I set and just as I thought I had it on the reel, it turned towards me just as I lifted my rod.  Nothing for the next 10 minutes is repeatable.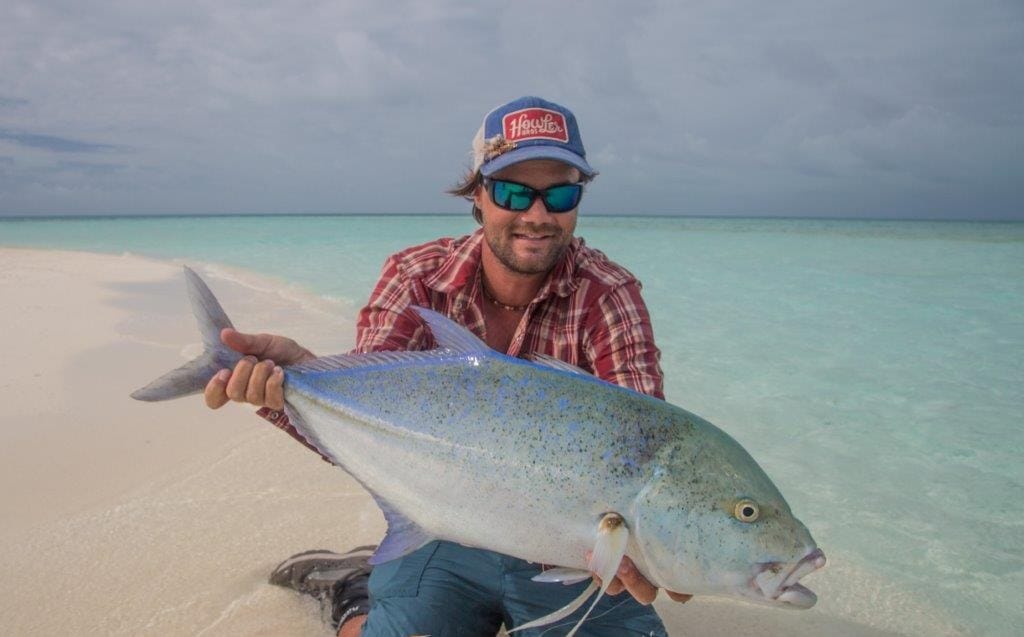 As the fish were still there, I carried on fishing, and with a massive take, I had a bonefish running me into the backing several times before it too parted company with my fly.  Leaving the boat, James saw a dead turtle float by and without any obvious thought for the repercussions, picked it up.  Sprinting like an auburn Usain Bolt, James put as much distance as he could between himself and the dead turtle accompanied by much mirth from Gordon and I.  We putted around for the remainder of the afternoon; looking for individual bones and with about 45 minutes left on the clock, we decided to spend it with a bend in our rods. Changing flies to heavier clousers, we cast at a big school of fish just behind the boat.  Gordon had a massive take out of nowhere and at the same time, my reel screamed as a nice sized bonefish made off with my fly.  With a little more rod dancing, Gordon landed a nice yellow spot trevally alongside my bonefish.  With James telling us we had two more casts left each before we had to call it time on the week, I hooked into another big bonefish – my largest of the week – before we headed back to The Gryphon. Time then to break down the kit, pack everything away and to stick on the seasickness patches again before we sailed home.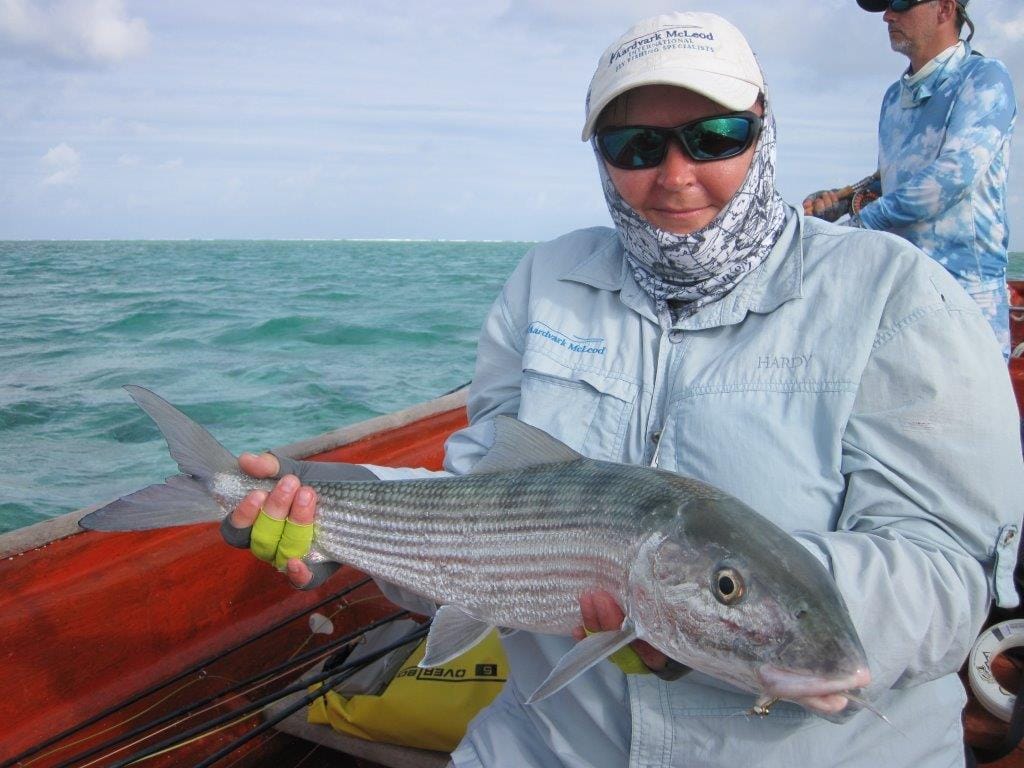 The final night in Port Louis needs no embellishment other than to say it is always best to avoid cocktail sausages when out and to remember what happens when the steak is overdone.
I can't wait to go back.  It was a tough week, no denying that but it didn't detract from the experience of being there or the results that we all had during the week. Baring Oliver (who has an unfair advantage living in the Bahamas) we all beat our PB on bonefish; there were two GTs landed, both over a meter as well as several lost and this is not classed as a GT destination.  Everyone had realistic shots at permit and there were a lot of permit about.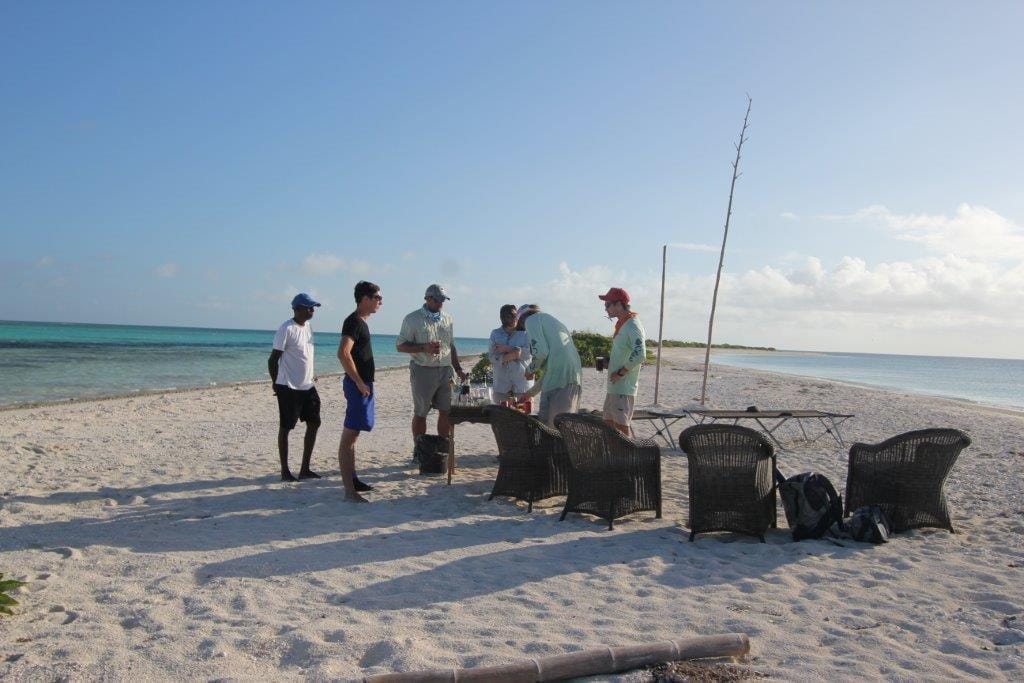 The scale of the fishery and the size of the fish, regardless of species, are an undeniable draw and I now understand why so many anglers keep returning to St Brandon's. We saw the atoll with an unusually high neap tide and what we experienced isn't normal. Despite that we all landed, and lost, some epic fish.   My thanks as always to the guides and crew for looking after us all so fantastically, to the rest of the group for being such brilliant company during the week but particularly to Gordon who put up with loosing his part of the cabin space, and so much more, with great humour and good grace.
What, I wonder, would it be like on a low tide, with those miles of flats fishing big tailing bonefish in skinny water?  Phenomenal is what I believe it will be and I'll let you know when I'm heading back.
The End.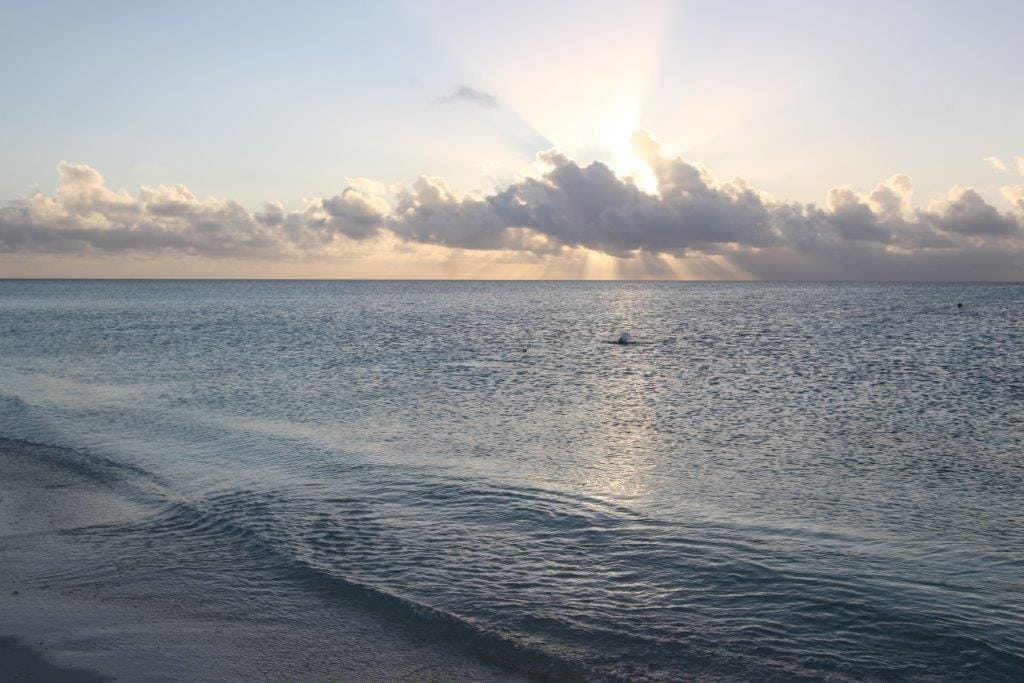 For more details on St Brandon's or to hold space please contact Charlotte Chilcott or call us on
01980 847389.