Steelhead are a fish that get under your skin. There is no other migratory fish that fights like a fresh steelhead and can leave you so feeling utterly out of control. It is this experience that keeps me coming back to the Skeena river system in British Columbia, the last true bastion of wild steelhead. The other part of steelheading is that sometimes the weather can be terrible and rivers blow out very quickly. For this reason I fish with Nicholas Dean Lodge just outside of Terrace. No other operation has such a wide net of rivers and areas to fish. The reason I point this out as when my group arrived this week the Kalum had burst its banks, the Skeena was a chocolate torrent and this area has just experienced some of the heaviest rain in 50 years. This is a calculated risk when steelheading, and despite the atrocious conditions Dustin Kovacvich and his team found us places to fish and we have caught some fish!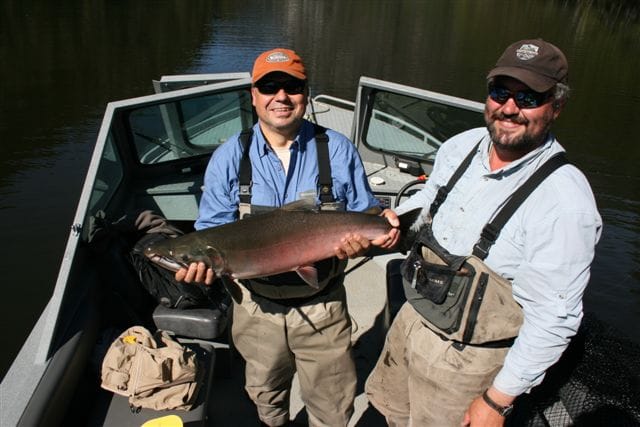 The first day I and the Norwegians Arnt Henning Brunborg and Geir Espeland fished the stunning Kasiks River for Coho salmon. Coho are sometimes given a hard time, but these silver salmon can be every bit as hard fighting and challenging as steelhead, although normally found in greater numbers. Unlike Alaska the Coho in the Skeena watershed are large, often exceeding 20 lbs and some have been caught up to 30 lbs. We had a fantastic afternoon landing 10 – 12 fish up to 12 lbs, which considering the conditions elsewhere were remarkable. James Paterson and I ventured back there the following day with Dustin and had a similar experience. However this time we took the jet boat as far up as possible and the upper stretches are stunning. I have always thought this river valley looks like something out of the Lord of the Rings, although this is the first year I have fished it in blazing sunshine.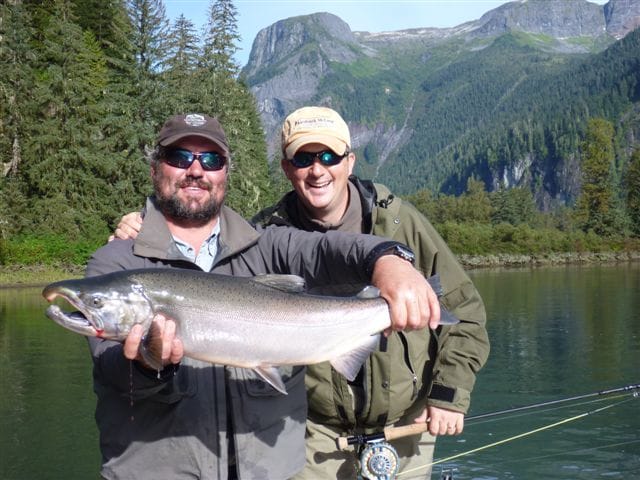 James and Geoff Haslam had a successful drift down the lower Copper which was just coming into shape and caught a couple of nice steelhead apiece. The Norwegians went and fished a stunning little stream that contains steelhead, and enjoyed a day hiking along its course, casting dry flies at fish in its crystal clear waters. I fished there last year and was amazed that fish make it up the falls as it looks more akin to a trout stream and contains fish in excess of 10 lbs. There is nothing like casting dry flies to these aggressive fish, and if you hit it right the fights are spectacular as these powerful fish cartwheel about the pool.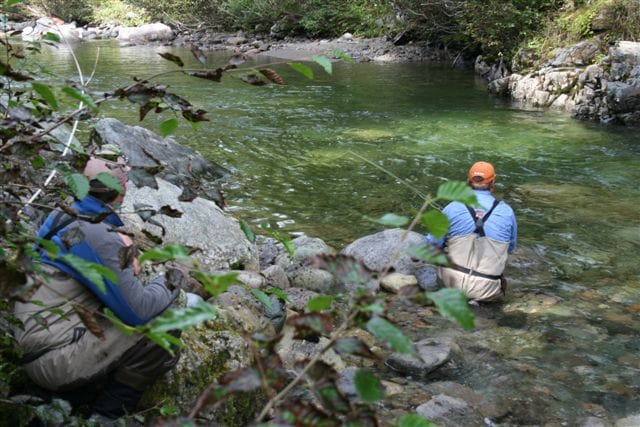 Day three saw Geoff and I heading for Wilsons Creek. I have always wanted to go and catch truly wild rainbows, and Wilsons Creek is stuffed with rainbow and bull trout that feed on the salmon eggs of the spawning sockeye. Having seen this phenomenon so many times in magazines and films it is extraordinary to see large numbers of red salmon on the redds in the rivers. We hiked our way up the creek taking fish as we went on 4 and 5 weights. The trout took egg patterns very aggressively and their markings were simply beautiful. I think we ended up with over 30 fish between us, and just another different facet to the fishery for anyone that likes a bit of a change.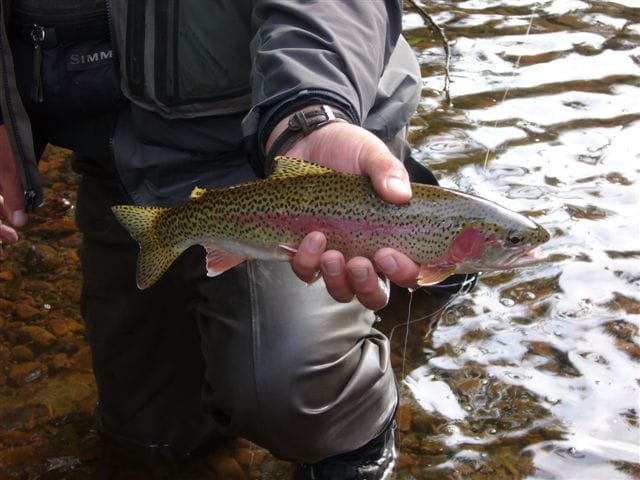 By this time in the week the rivers were slowly coming back into shape, although the Kalum was still very high and dirty and pretty unfishable. The following day Rob Wigand and I took the plunge and hiked into the Upper Copper with Geoff Langley as our guide. Half way out the logging track we had a spectacular blow out on the trail, but luckily after a little while of scratching our heads the service truck happened along. Mike the mechanic pulled out his pneumatic wrench and had the wheel changed in 5 minutes. How lucky was that!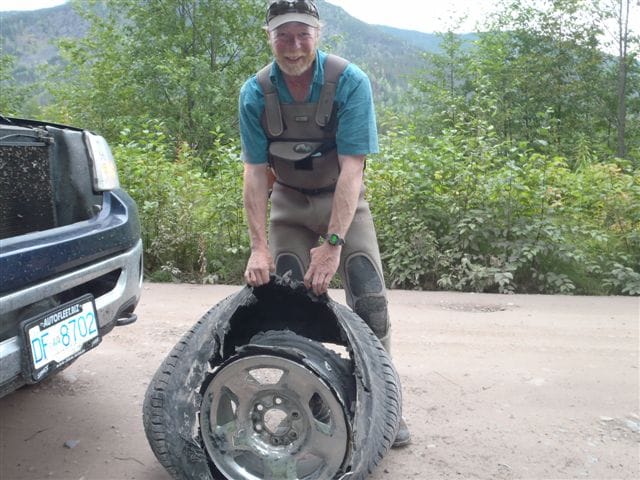 A trek of 45 minutes through the dense forest had us on the banks of one of my favourite pools, the same one I had such success on dry fly last year. I was filled with anticipation as Rob and I began to swing some flies down the pool. Rob had a few plucks at his fly and saw a couple, but I failed to even touch a fish. Granted the water was still a little high and cloudy, but I really thought we would hit a fish any second. Unfortunately it was not to be, and as time ticked on we had start the long trek back up to the truck. Ah well, you win some and you lose some, and that is fishing.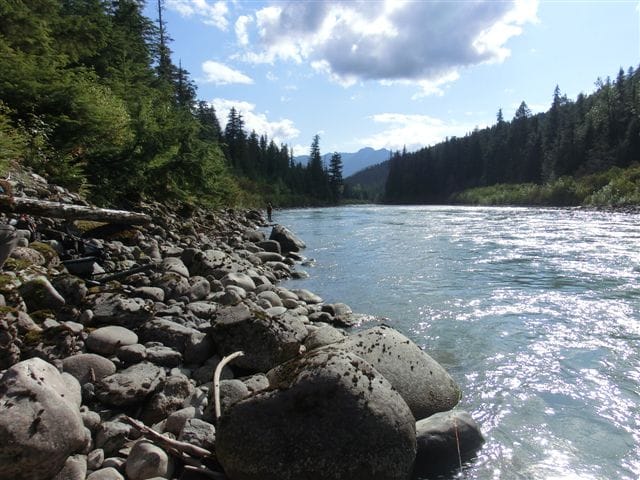 That night at dinner Dustin announced that the Skeena was dropping out nicely and we would have a crack at the main river the following morning. I was filled with mixed emotions as although I love fishing the main Skeena I have never had any luck personally. All the guys I have fished with have always told me that the Steelhead on the Skeena are larger and more aggressive than any other, and normally chromes silver as they head up from the sea.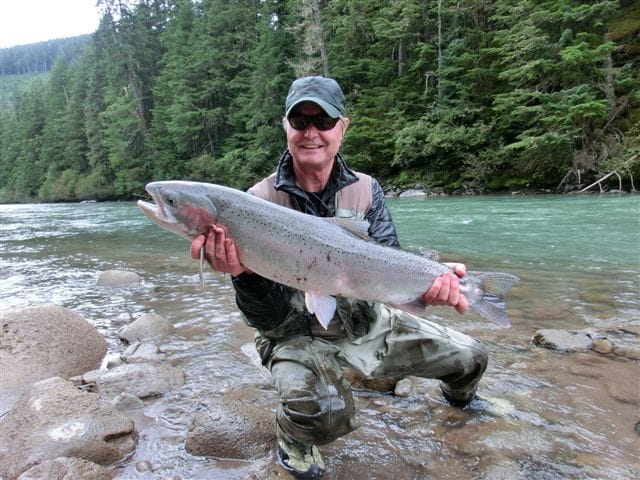 James and I set out with Sky Richard from the boat launch at the bottom of the Kalum and after a jet boat run of about 20 minutes landed on the left bank of the Skeena above Terrace. Sky helped James put his gear together and led him a little way up the bank to a small riffle where he threw out some line and made a short cast about 15 feet off the bank. As he was handing the rod back a steelhead smashed the fly and James was into a good fish that tore off across the current. After a good battle and some good jumps he landed a 15 lb bar of silver with a touch of pink along its lateral line. A good start to the day! Sky explained to us that when fishing for migrating fish in the main river a totally different approach is needed.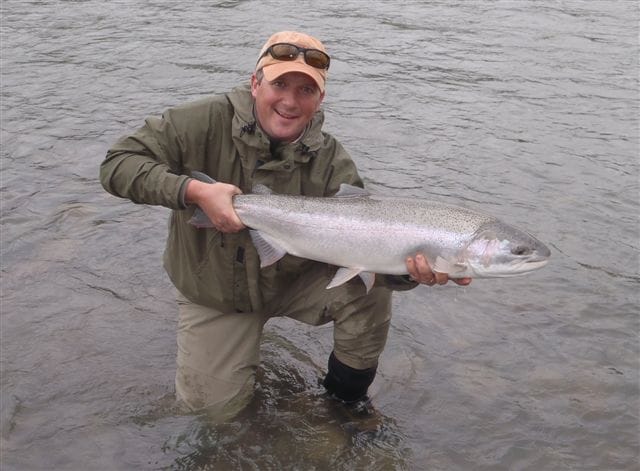 Normally in our rivers (and the tributaries to the Skeena) we are fishing for holding fish in pools, so cast and mend, making out way down the pool to cover the fish. With hard running migrating fish such as the main Skeena the best approach is to find a riffle or draw close to the bank and stay in position covering the water as the fish push past. Not cricket you say? Boring perhaps? Actually, no, not when you are getting nipped and tweaked and hooking up. When standing in the river up to your ankles it is actually possible to see the fish as they run up the shallows, and when I mean shallows I mean three feet from the bank! I had one large steelhead of about 15 lbs that literally swam over my boots! It is also the variety: Chums, Sockeye, steelhead, pinks and even the odd Chinook so you never really know what you are going to hook. Fishing close in like this requires different tactics and actually the best choice is a single handed rod or small two hander with a section of lead core onto a floating line. I was using the new Hardy Zenith 12'6" 7# which is a stunning little rod, very light with stacks of power. With a slight angled upstream cast it is possible to almost nymph and as the gear is lighter it is possible to feel every pluck and take. As soon as you feel something, set the hook.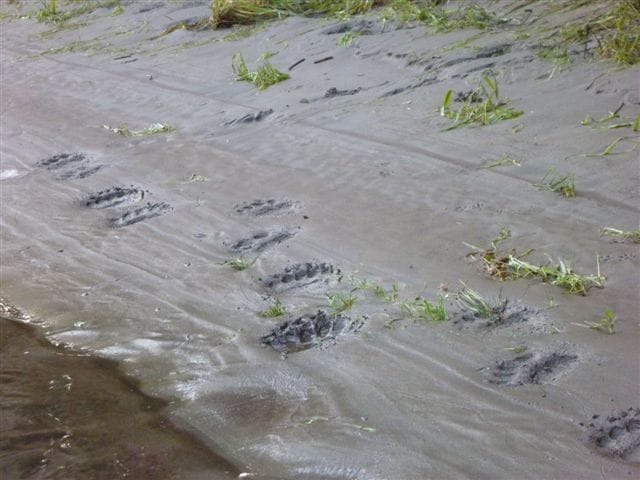 I moved up the river about 200 yards from James to a lovely draw and did as Sky directed. As the fly drew to the shallows I felt a pluck and thought I had hooked a rock. As I lifted into the "Rock" it thrashed and stormed out of the shallows. After a brief tussle the fish threw the hook, but certainly woke me up! Sky came up to see how I was doing a little later, and as we chatted I dropped the fly above me and almost immediately the line streaked upstream and I struck… into something that resembled a cinder block…. which charged away and immediately became airborne to the tune of four feet above the water. It was a large steelhead; we estimated over 20 lbs that was doing its best impression of a tarpon. The line tore threw the rings and there was nothing I could do but hold on and pray. A hundred yards out into the main river it jumped again, cart wheeling upside down, and as it torpedoed through the water came out one more time…. and the line went slack as it spat the hook. I was left in a slight state of shock, and buzzing to say the least. I had heard so many stories of "hot" steelhead on the Skeena and now I had been destroyed by one. I still could not get over that it took the fly no more than five feet from the bank!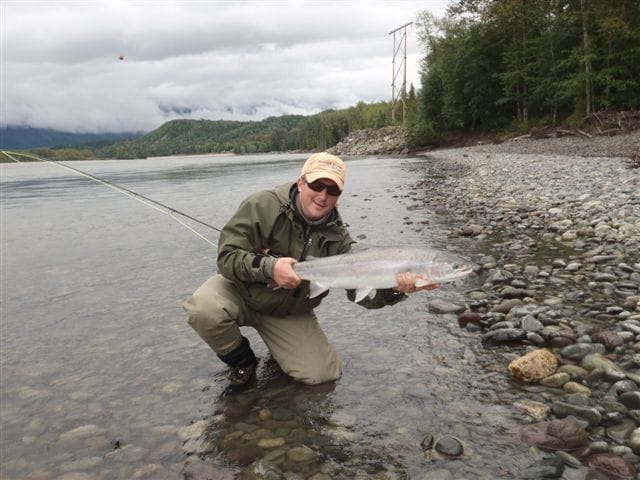 Having experienced this and the closeness to the bank a little later I opted to switch to a single handed Hardy Proaxis 8# with a pink shrimpy type fly tied with angel hair. Casting just above me the fly dead drifted through the slot and stopped. I struck and immediately a fish came straight out of the water. A short battle on the 8 weight later and I had at last actually landed a fish of approximately 10 lbs, again fresh as a daisy. I released it and dropped the fly back in the water to start stripping line off again. The line went tight immediately and as I pulled the fish just came up and onto the bank like a sack of potatoes. I quickly realised it was the same fish! Talk about aggressive.. I released it for the second time and watched it swim away. James was enjoying similar success and the by the end of the day we had hooked eight steelhead and landed four along with some assorted pacific salmon species. Dinner that night was a hubbub of excitement as tales were told. Nearly everyone had got into fish and we reminisced over a good food and a couple of beers.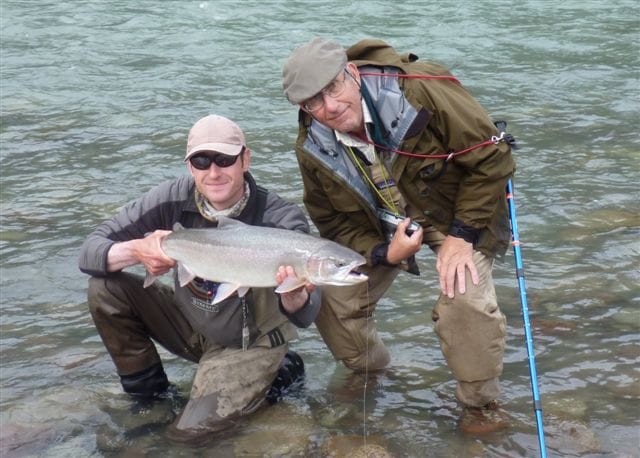 The last day dawned and the river just looked in even better condition. Again James and I headed to the same spot with Sky, and this time Geoff and Rob joined us with Greg. Over the 500 yard bank there was more than enough room with a number of great riffles that we could cover. I started below everyone else using the Hardy Zenith 12'6" 7# two hander and have to admit I was feeling pretty tired by then. After about 20 minutes of casting the fly drifted into the edge along the bank and I felt it stop. Again, thinking I had just clipped a rock and lifted to the rod. I was amazed when suddenly everything went tight and a really angry steelhead charged through the shallow water, nearly its whole back out of the water. It made a bee line for the boats, found the nearest anchor cable and wrapped the sink tip around it, jumping against the leader until the fly parted. Well, that got the adrenaline going!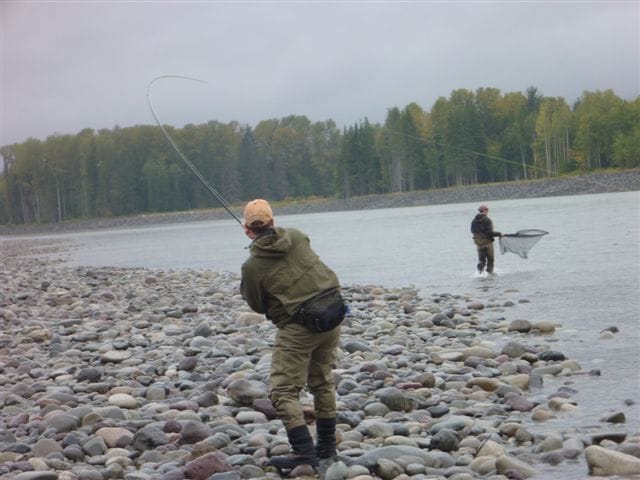 I walked up the bank past Geoff and Rob and headed up towards where James and Sky were fishing. A little above them was a lovely glide heading down into a V which looked particularly inviting. I switched to the single hander again and again began to fish methodically for the fish moving up past my feet. As the leadcore tip attained depth and flashed around in a sharp swing I would feel twitches and bumps on the fly. After a little while I felt a distinctive pluck. I cast again with same length of line (still no more than 15 feet from my feet) and again felt the pluck. One more cast, and as the fly came around the same spot the line tweaked in my hand and I slammed the rod up and to the right in a vicious strike. The line was wrenched from my hand as a large chrome bullet broached the surface almost directly opposite me before charging off down stream. It was not happy. As line sped off the reel I began to move down stream, applying pressure on the Hardy Proaxis 8# I started to pump and wind, slowly retrieving line while Sky fetched the net. Slowly I gained line, but almost immediately lost it again as the fish tore off, stripping me down to the backing in a flash.  Finally the pressure began to have its toll and Sky expertly netted it, a stunning 14 lber. It never ceases to amaze me how powerful these fish are, and how beautiful they are.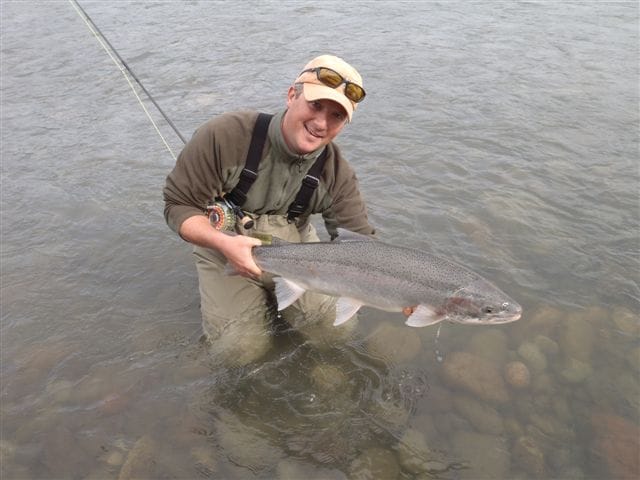 In the distance I could see Geoff and Rob hooking up and fish leaping across the river, and just below me James had caught three nice Steelhead. He hooked one monster, which thrashed briefly before spitting the hook back at him in a pile of slack. There was a quiet moment in which he bent over and hugged his knees which Sky and I both felt. The day continued with constant action, and while James and I sat down and had a bite to eat on a nearby log we let Sky loose on the river. Nicked named "The fish Finder" Sky would normally hook anything that was passing. While we sat and watched he latched into a really big fish that did nothing but move slowly upstream. He managed to persuade it head down stream again, and after a monumental battle I netted it for him. It was a chrome torpedo of 42" which we estimated at just over 20 lbs. I felt slightly in awe of such a stunning steelhead.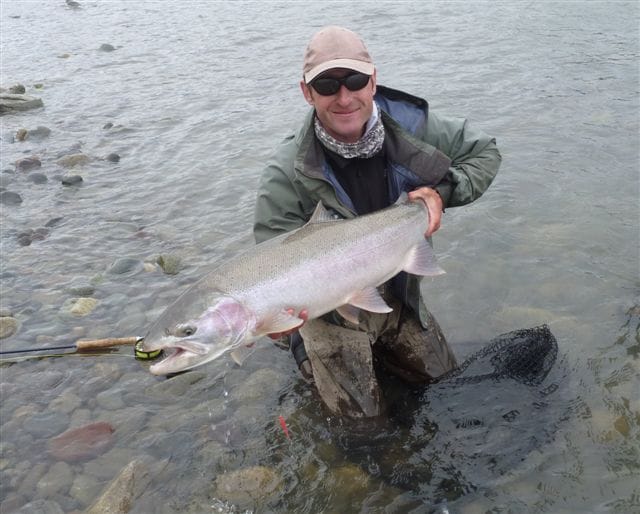 The day finished on a high note as I hooked and landed one on the last cast of 8lbs. What a day! My fear of the main Skeena has gone, and I now only revere that river as to the shear number of fish and species running it. That evening Geir showed us some pics of their day with Dustin, and he had landed a fish of over 20 lbs as well. He and Arnt Henning had hooked 17 fish and only landed four as they had given them some serious grief.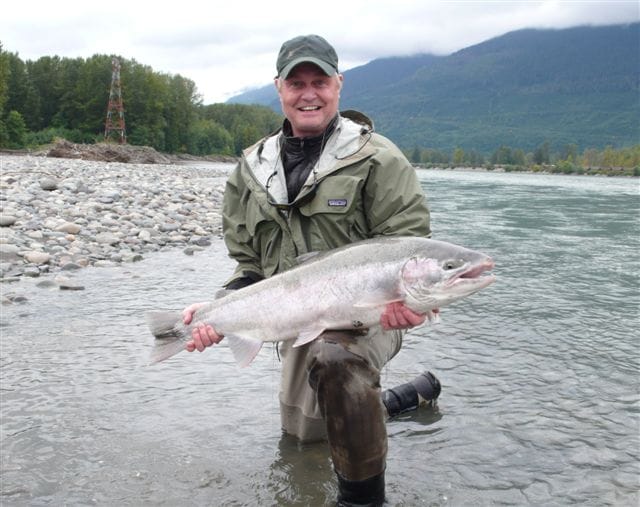 Although the week started slowly with tough water conditions there was still plenty of interesting fishing to do which is not the case at many other operations. If you are blown out on one river system there is nothing to do but sit in the lodge and play poker. The rivers rallied significantly for some fantastic steelheading in the later part of the week and everyone left on a high note, and looking forward to returning. When you experience fishing and guiding of this quality it can only make one long to return. Alf and Simone took fantastic care of us at Yellow Cedar Lodge with excellent food through out the week, and many thanks to Dustin, Chad, Sky, Jeff and Greg for their hard work on the river. Aardvark McLeod will be hosting an August week next year to combine some more salmon species, so anyone who would like to experience this phenomenal fishery please contact us.