The Nubian flats of Sudan offer, without a shadow of a doubt, some of the most adventurous and diverse flats fishing out there and remains very cost effective. Whether stalking the flats for triggerfish or hunting the edges for GTs or bluefin trevally, Sudan deserves to be on every flats fisherman's bucket list.
Sudan is, without doubt, at the very top of the flats list for those in pursuit of triggerfish. Both yellowmargin and titan (moustache) triggers occupy these flats in numbers. While they are by no means, easy targets, the number of fish to target exceeds anything you will see on the Seychelles atolls. In addition to the triggerfish, it offers the chance of some giant and bluefin trevally, both on the flats and the edges. It is by no means a GT focused destination and any Sudan bound angler should consider them a bonus. When spotted, it is high paced, very visual and exciting fishing.
Safety
The first thing that most people ask is about Sudan is safety. Is it safe to go there? Yes. When reading the news or FCO advice remember that Sudan and South Sudan are two separate countries. The troubled area is the border between the two countries which is 1100 miles from Port Sudan and the areas we fish. That is roughly the same distance as the south coast of the UK and the Russian/ Polish border.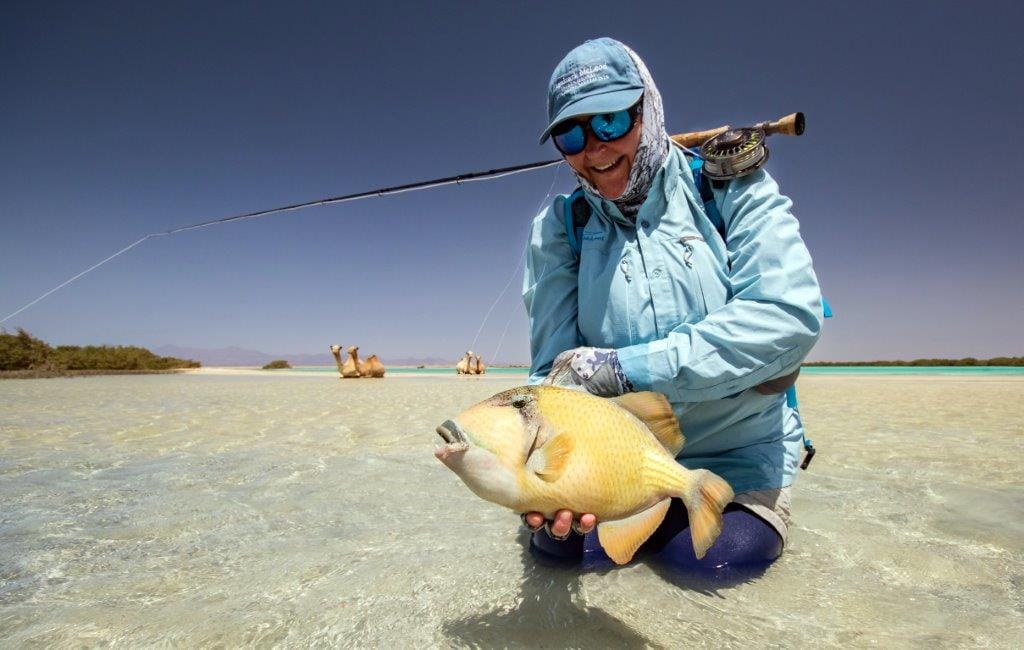 The liveaboards are fully geared for scuba diving and Sudan offers some of the best scuba diving on the planet. With this in mind it is possible to combine scuba diving and fly fishing. Whether you are an experienced diver who wants to combine scuba diving and fly fishing, a novice diver who wants to complete your open water diving course during the trip, or someone who wants to bring a non fishing partner on the boat and use scuba diving as a great excuse to have them join you. All of these scenarios are possible and are highly encouraged.
The Northern Circuit
This coastline is for the most part deserted. The Nubian Desert is inhabited by nomadic populations of camel and goat herders with no fishing communities. This is key as there is no commercial fishing. Apart from a handful of small open boats using hand lines the fishing pressure remains extremely low – the flats are pristine. It is a vast country, with a very low population outside of cities. The Sudanese Red Sea coast has been a popular and thriving diving destination for the last 20 years. That coastline up to Egypt is just desert mainly and totally uninhabited.
These trips will be focused on the vast flats on the mainland as well as some small islands off the coast of Sudan. On the flats one can expect to encounter vast numbers of triggerfish, but be warned – although there are incredible numbers of triggers they are still tricky to catch. There are also consistent opportunities at big GTs, barracuda, bohar, mangrove snapper and Milkfish on the flats. Although unpredictable and tricky, there are chances every week at bonefish and permit. The blue water and flat edges have the potential for producing exceptional catches of GTs, dogtooth tuna, bluefin, barracuda, bohar and grouper species. This fishing can be extremely exciting and high paced.
Home for the week is M/Y FELICIDAD II. A beautiful 30-meter steel motor yacht, essential and elegant, particularly designed for underwater cruises. Built in 1991 it was completely renovated between July 2017 and February 2018. The lower deck has 8 double cabins, divided into 6 cabins with a double bed + a single one and 2 cabins with two bunk beds. All cabins have air conditioning and a private bathroom with hot and cold shower, toilet equipped with a shower and medium towels. On the main deck there is a cozy internal dinette, with two tables for breakfast and lunch, equipped with minibar, TV, hi-fi, mp3 player, board games, video library and a well-stocked international library. The upper deck has two lunch tables in the open air to enjoy the scenery that surrounds us, many sofas and large sundecks where you can read, chat and enjoy a well-deserved relaxation. The tenders are two 6 meter pangas with 40 hp engines.
The 2023 costs and availability are below and are based on single accommodation with shared guiding:
7 night trip, 6 full days fishing – US$ 5,500
10 night trip, 9 full days fishing = US$ 7,800
Not included in the costs and payable locally in cash are the following:
Sudanese visa US$170 per person (valid for two weeks)
Boarding fee US$250 per person (valid for two weeks)
Marine park fees US$40 per person
2023 Northern Circuit availability:
7th to 17th March – 10 night trip – 3 spots
1st to 11th April 2023 – 10 night trip – 3 spots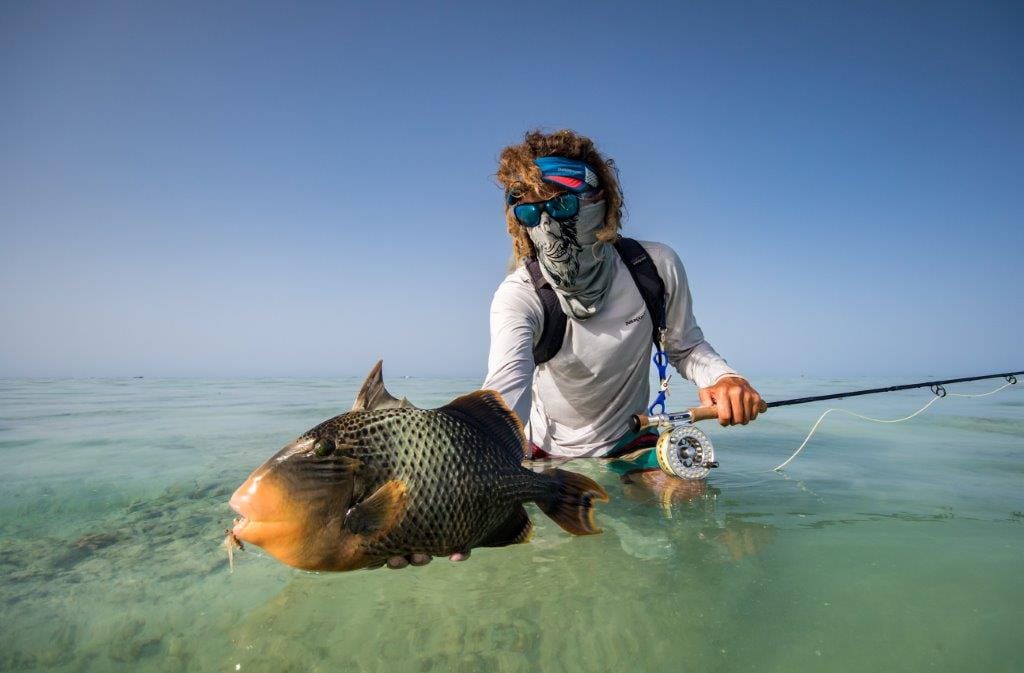 The Deep South
The Southern Circuit of the Nubian Flats is still largely unexplored – due to the vastness of the area, and the numerous islands to visit. Since we only run 5 trips a season, most areas will only be fished for a couple days every year. Trips are based around a 9 night trip, with 8 full days fishing. This allows the mothership to fish further afield and make sure that there is ample time to explore the flats. This trip will have the excitement of exploring new areas, Keep in mind that this trip is not for the faint hearted or those who enjoy comfortable accommodation. It is for the adventurer who is looking for an experience as well as a fishing trip.
Home for the week is a 30 meter steel hulled motor yacht with 7 double cabins, 4 showers and 5 flush toilets. The top saloon dining and recreational area is nice and comfortable and is fully kitted with television, dvd, and hifi system. There are also deck chairs to stretch out and enjoy the Sudanese sunshine. Electricity is supplied 24hours per day and the entire boat is fully air-conditioned. The tenders are two 5.75 meter rubber dinghy Marshalls with 55 hp Yamaha outboard engines.
The 2023 costs and availability are below and are based on single accommodation with shared guiding:
9 night trip – US$ 7,200 per person
10 night trip – US$ 7,500 per person
Not included in the costs and payable locally in cash are the following:
Sudanese visa US$170 per person (valid for two weeks)
Boarding fee US$325 per person (valid for two weeks)
2023 Deep South availability:
16th to 26th May 2023 – – 10 night trip – 4 spots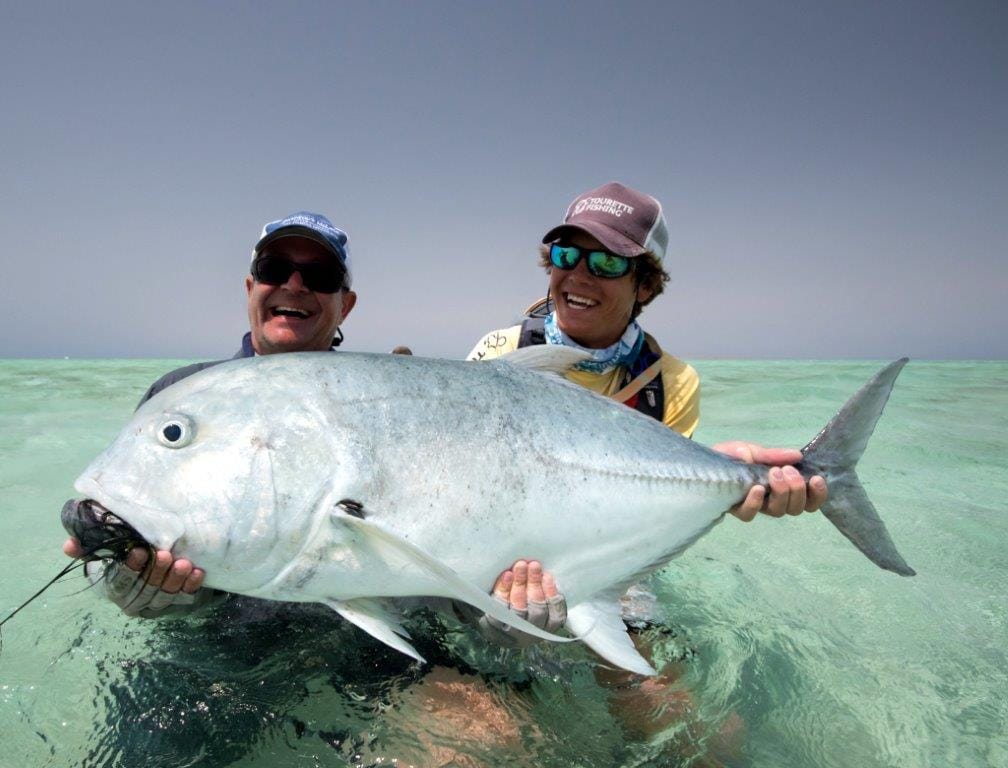 If you are looking for your next saltwater adventure and love the challenge of casting at tailing triggerfish with the chance for an encounter with trevally than you should put the Nubian flats high on your list. Please contact Charlotte Chilcott or Peter McLeod or call our office on +44(0)1980 847389.