Lutz Schepers, Aardvark McLeod Germany, took his group to the flats of Sudan for the first of our two hosted weeks to this new and exciting saltwater destination. Peter McLeod returns this week with Team GB so much anticipation for his return but before then, Lutz's thoughts below.
We are back from the Nubian Flats in Sudan and I just want to give you a quick run through of this fantastic adventure.
We flew in to Port Sudan (via Dubai) followed by a 3 hour bus drive in a very special (that's Africa) but well driven vehicle. The drive took us straight through the Nubian desert, giving us an insight into this arid, dusty country. Huge respect to the people who live their lives in this harsh environment.  We saw endless desert, mountain ranges, few signs of life and once, outlined on the horizon, a string of camels and their riders. After passing through some security checkpoints, we reached the boat after dusk. Once on board and settled in, we had a short and professional briefing from head guide Marc, a report of the expected weather for the week and a plan of where and how we would fish. Happy but tired we headed off to bed and good nights sleep.
The following morning, while we had breakfast, we moved the boat to Big Island, a large island in front of the mainland where our fantastic week began with the best trigger fishing I have ever had. Triggers can be easy sometimes and extremely fussy at others; seemingly changing from one hour (or flat) to the other. They are great game fish, dirty fighters and very special characters. They are a new, cool and permanent member of our target species list.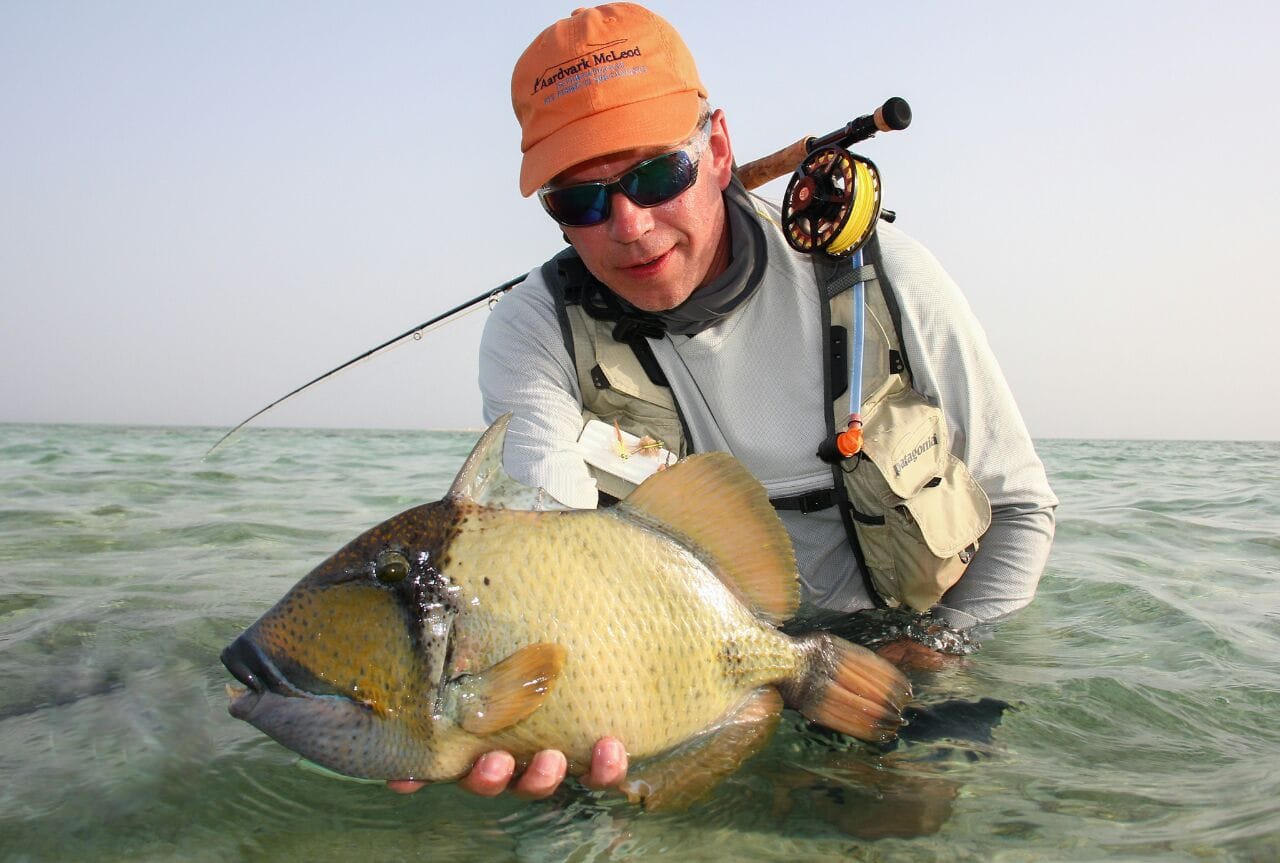 Wading the flats for triggerfish is relatively comfortable and relaxed but you are walking some distance under the hot desert sun and it is important to keep your hydration levels up. Wading the coral reefs is really tough physically and bumps and scratches are almost unavoidable.
Virtually untouched in terms of fishing pressure, the reefs and dropoffs around the pinacles that rise 200 metres or more from the seabed are full of fish including giant trevally (GTs), bluefin trevally, dogtooth tuna just to name a few and it can be really productive.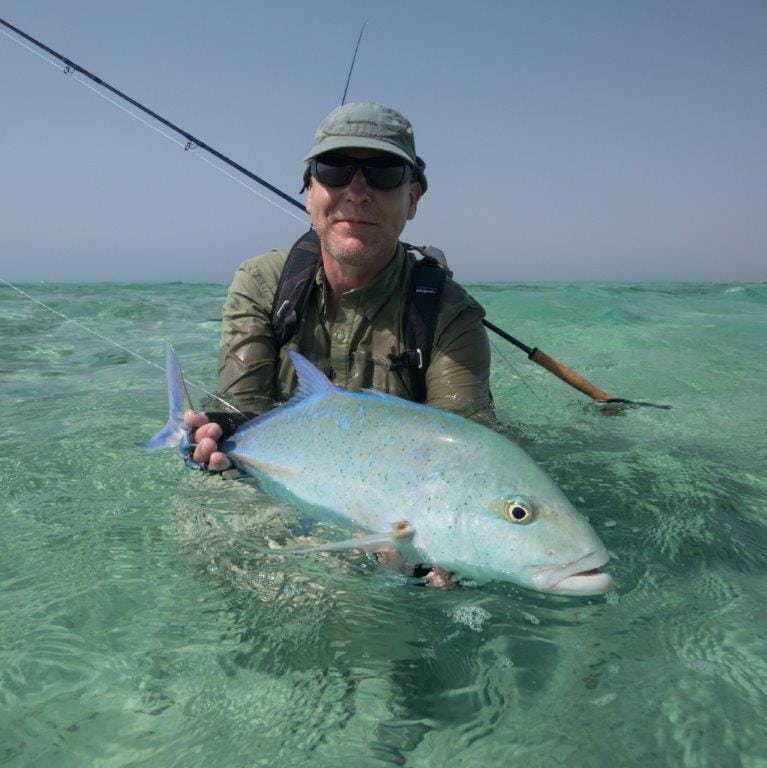 Teasing sessions are rough, tough and very physical and although not for everybody, I find them extremely thrilling!  The guides use the teasers very professionally, attracting mid blowing fish and they work so hard for you to be successful. Nothing is like a take of an angry 1m+ GT and the hard, dirty fight after setting the hook. If you are lucky, you will land him; if not, he will just leave you there with shaking legs, wide eyes and a coralled line. In one morning session, I lost all three monsters I hooked, I lost a whole fly line and bent some hooks. My guide Stu and I spent most of the time tying on new lines, leaders and flies while the other guys carried on fishing.
Hunting for GTs on the flats is a different story altogether. You are carrying your 12# all the time and at any time, and with little warning, a big GT can suddenly apear on your radar. In the middle of fishing a flat for triggerfish, you will spot at GT, swap rods, run if you need to and cast. Then hope. The largest GT of the week, exactly 1 metre in length, was landed just like that on the flats by Joern.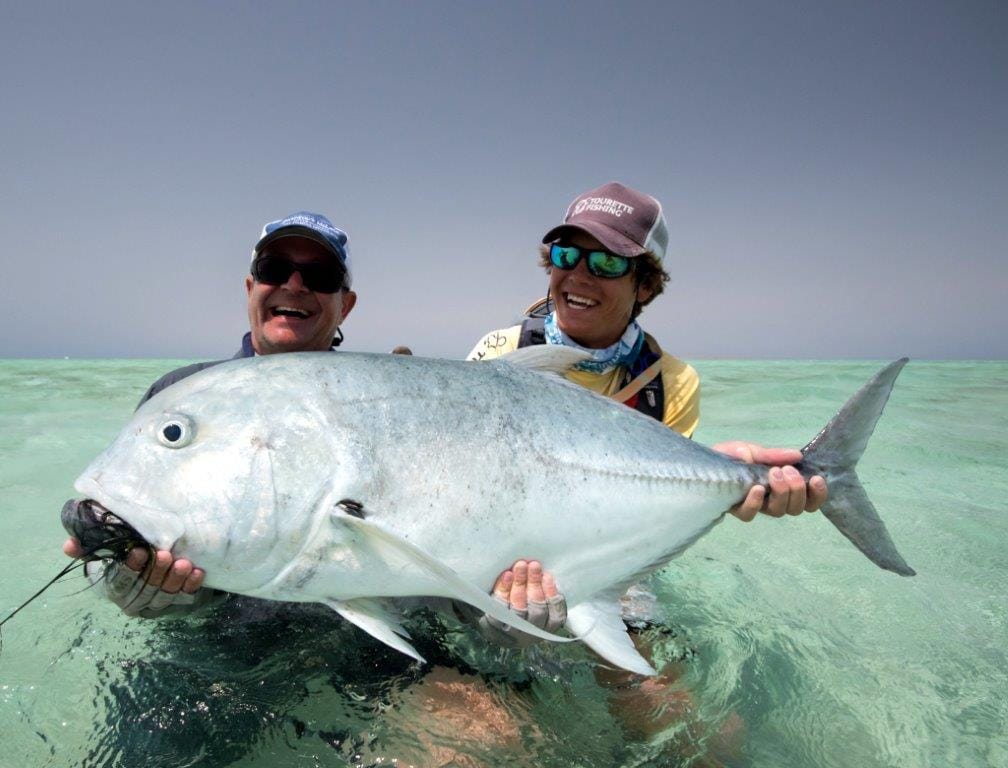 After a mindblowing, successful and unforgettable week on the "Scuba Libra", we went back through the desert and back to civilisation, our minds full of exciting memories.
My thoughts ….
There is a fair amount of travel to get there and you are living on a an ex-diving boat that is very basic but with everyting you need to fish hard for a week. The wading can be tough and the days are long. It is not for everyone and you need to be in good physical (and mental) shape to get the most from the trip.This is a great fishing adventure with some extremly hard working guides who have no limits. A BIG thank you to Marc, Fede and Stu; you are absolutely awesome guys. The food is simple but very good. We were well looked after from the minute we arrived to the minute we left. The Sudanese ground handlers really took great care of everything and the only thing to worry about are the huge GT's on the reef.
We will be back next year. Definately. This time with even more crabs as those grumpy triggerfish have destroyed almost everything we had. If you are interested in joining us next year or want to have further information, please contact Lutz Schepers or call the office on +44(0)1980 847389 … but don't wait too long!
Keep-on-rockin', Lutz