Swedish Salmon Fishing, Camp Onka
Baltic Salmon are a geographically isolated group of the Atlantic Salmon family. Since its decline in the 80s, the population of Baltic salmon has steadily risen. River systems like the Torne in Swedish Lapland have become must-visit destinations for die-hard salmon anglers. Word has spread about the size, quality and strength of fish in these rivers. One of the go-to rivers to target large Baltic salmon on the fly is the Lainio River. Sourced in Northern Swedish Lapland and close to the border with Norway, the Lainio flows south before joining the mighty Torne and then flowing into the Gulf of Bothnia.
With 9.5 kilometres of double bank access, Camp Onka has some of the best exclusive water on the Lainio River, including the famous Onka Pool, where the old camp was initially established. The fishing is split into Lipistokoski, Onka and Phatakoski on the upper, middle, and lower beats, respectively. The Lainio is the most important tributary to the Torne River, with over half of the salmon in the system entering its waters. Lainio is a big river but has excellent fly water, and some of the best holding pools are located in Camp Onka's beats. While the average weight of salmon is in the region of 15 – 18lbs lbs, a trip to Camp Onka is all about the opportunity of a truly massive fish in the 30-40lb range.
This is wilderness fishing, with the only significant restrictions being your sense of adventure and your stamina. The midsummer weeks provide 24 hrs daylight where the dedicated can fish long and hard. Camp Onka also allows anglers to enjoy the seclusion and wilderness that a week in this environment affords and the basic simplicities of a resourced but remote fishing camp.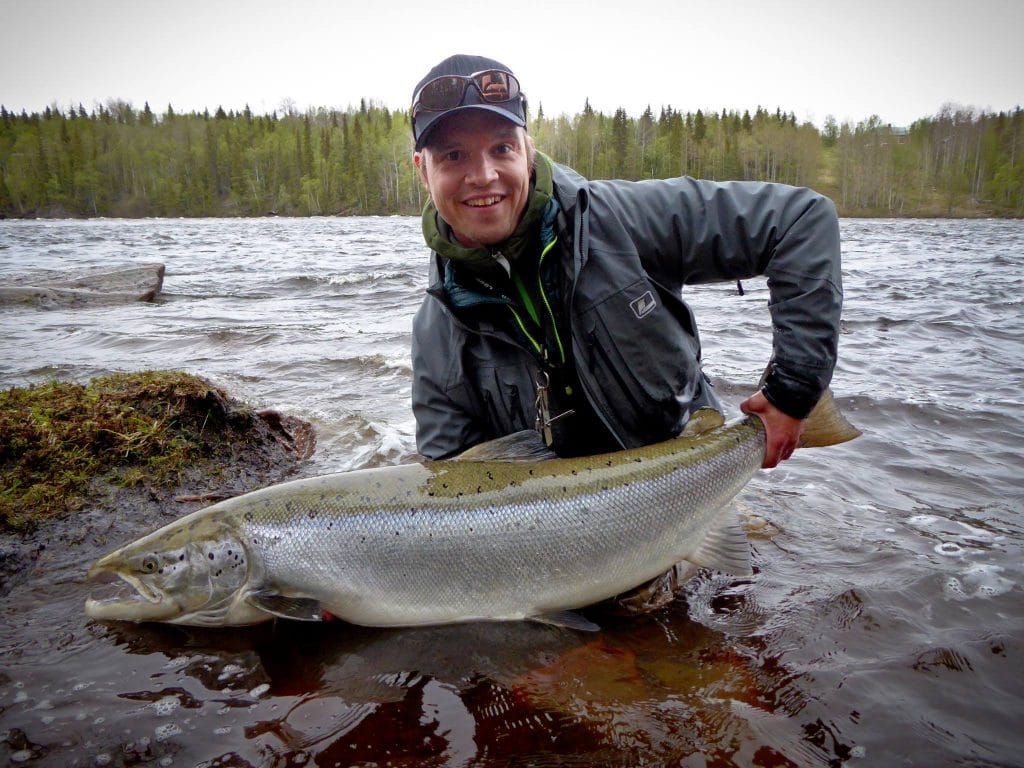 The Season
June – The season starts on 15 June, and this is when the big fresh springers will be making their way upriver alongside returning kelts. Conditions at the start of each season can vary quite dramatically, but water levels may be high, with water temperatures from 8-14C.
July – Summer begins in late June and early July. This is when the bulk of the MSW fish arrive. Fish average 15lbs, but there are still good chances of 30lb+ fish. Water temperatures fluctuate from 12-18C and call for floating lines and small flies.
August – As the season progresses, the spring and summer salmon activity can tail off during the warmer weeks, start to get restless, stirred up by bright silver Osenka winter-run salmon who will also be making their way up the river. Water temperatures from 10-15C call for floating and or sub-surface lines with small to medium flies in the day and larger flies as the night falls.
Camp Onka Accommodation
Camp Onka has migrated from humble beginnings with tents and not much more to a very comfortable Lapland Guest house. Shared double rooms with ensuite bathrooms are standard, alongside good hospitality from your hosts with quality home-cooked food. A sauna and jacuzzi are available.
Getting There
Kiruna in Sweden is the closet airport to Camp Onka. In most cases you will require to connect via Arlanda in Stockholm. Over a hosted week a hire vehicle or transport will be arranged to take anglers from the airport to the camp.
2023 Availability
June 18 – 25, 2 rods
June 25 – July 2, 1 rod
July 9 – 16, 1 rod
July 16 – 23, 5 rods
July 23 – 30, 8 rods
August 20 – 27, 8 rods
August 27 – 31, 8 rods
Cost £2,590 per rod
Includes: 7 nights, 6 days guided fishing, 9.5km private water for 8 rods, all meals, transfers
Excludes: International flights, alcoholic beverages, gratuities
For more information about Camp Onka and salmon fishing in Sweden please contact Olly Thompson or call our office on +44(0)1980 847389.