Tigerfish, on fly, in Tanzania. Don't miss out on the opportunity to experience the sheer power and aggression of a tigerfish taking your fly. There is no better place to do so than on the Mnyera and Ruhuji rivers of south west Tanzania where monsters do still dwell.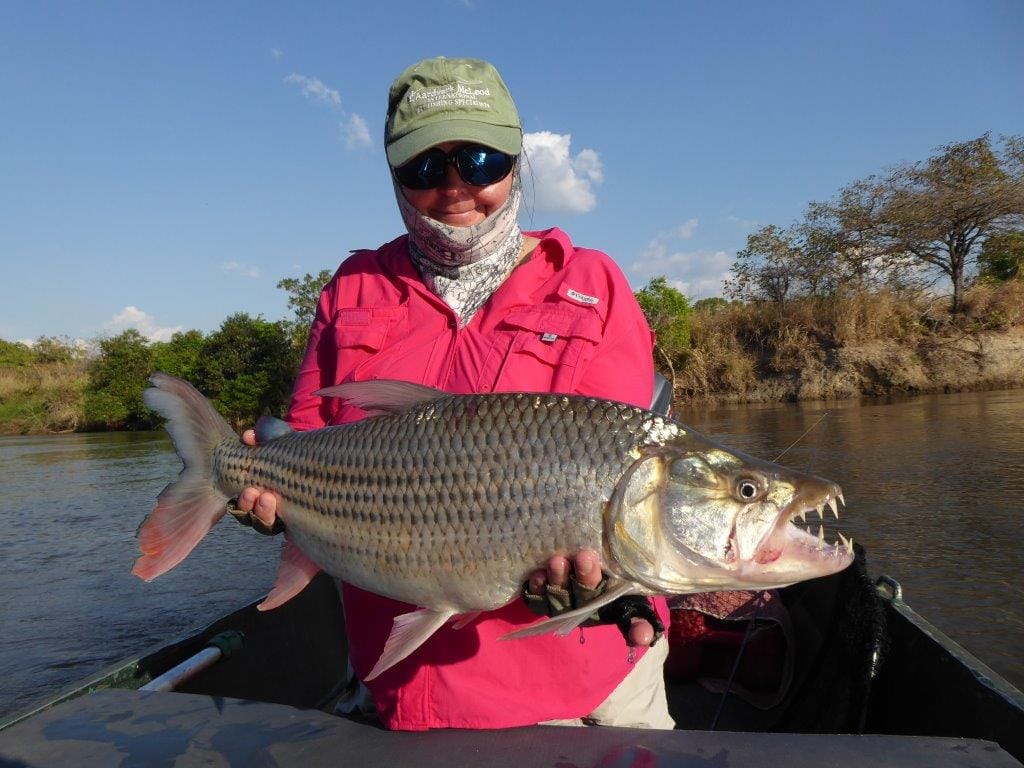 As the water temperatures rise, and the clarity increases the trophy tigerfish of the Mnyera and the Ruhudji rivers begin to feed aggressively. More normally fished with sinking lines and heavy flies, floating lines and surface poppers can come into play if conditions are right and seeing the explosive power of a tigerfish hitting a surface popper, is a thing of beauty, shock and awe rolled into one.
This is where you have a real opportunity to land a tiger fish of a lifetime. You will land fish in the 6 – 10 lbs range, you will land fish in the 11 – 15 lbs range. You are very likely to land fish between 16 – 19 lbs and you have a very real opportunity to bring in a fish 20 lbs or over. There is no-where else in Africa that can offer that wide range.
It isn't all about tiger fish. The Vundu population on both the Mnyera and Ruhudji rivers have thrived in the last six years and although they can be targeted directly in specific lies on both rivers, most are hooked when fishing for tiger fish. Their sheer size and strength means that few are landed in a season which just adds to the challenge.
When conditions are right, targeting yellowfish feeding on the sandbanks and in the rapids offers a truly unique fly fishing experience in this wild and remote part of Africa. Upstream nymphing is the preferred method with short and delicate casts; hugely rewarding particularly as these species of yellowfish are unique to this part of the world.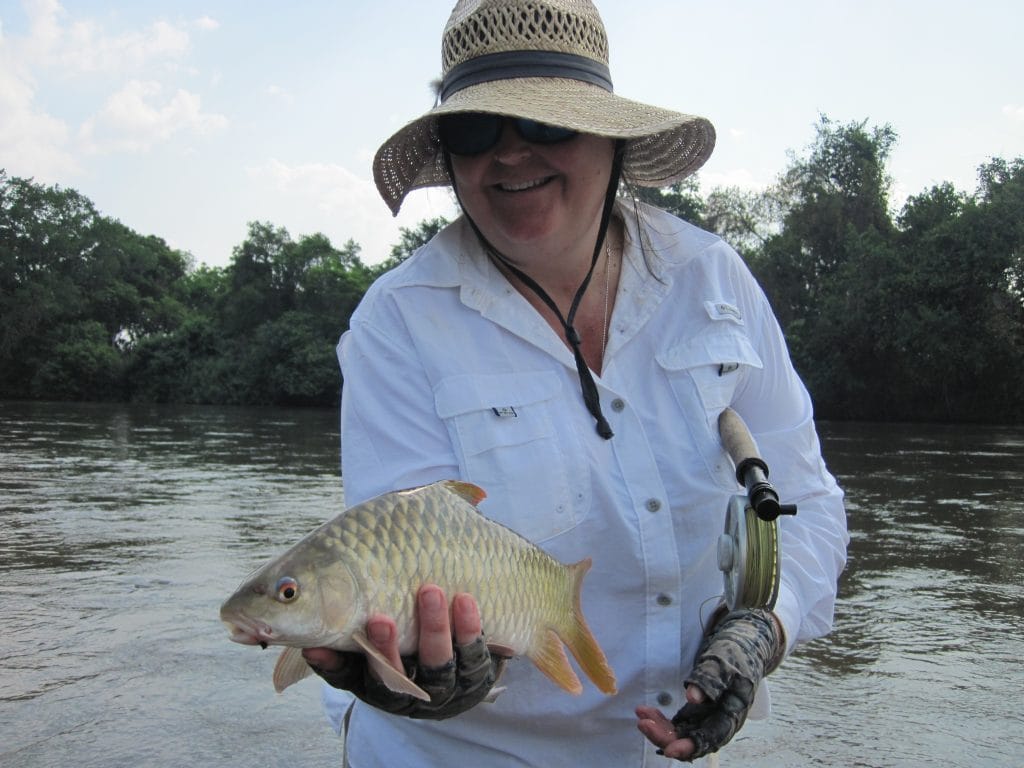 The Mnyera River changes character quickly over its fishable length of 40 km. From rapids and pools in heavily wooded riverine forests in the upper stretches, to the structure rich mid sections and the deep outside bends and clay banks of the wider, deeper lower reaches, the Mnyera has the diverse river structure that makes this the tigerfish haven that it is. Dates available for the 2023 season are below.
The new Dhala Camp on the Mnyera only adds to the experience; no longer part of the bigger, older and original site, the new camp has 4 wooden fishing cabins and a central thatched mess and lounge area. This camp will be your base for your stay here. All cabins are en-suite with a shower and toilet and all have a view out over the river. Here you can fall asleep to the sound of Africa; a rasping cough of a leopard, the far distant call of lion. Wake in the morning to the sound of tiger fish feeding and the morning calls of a multitude of birds. For anglers who are keen on birds, these river valleys are rich in birdlife. Pel's Fishing Owl and Palmnut Vultures, both rare in their own right are frequently seen here.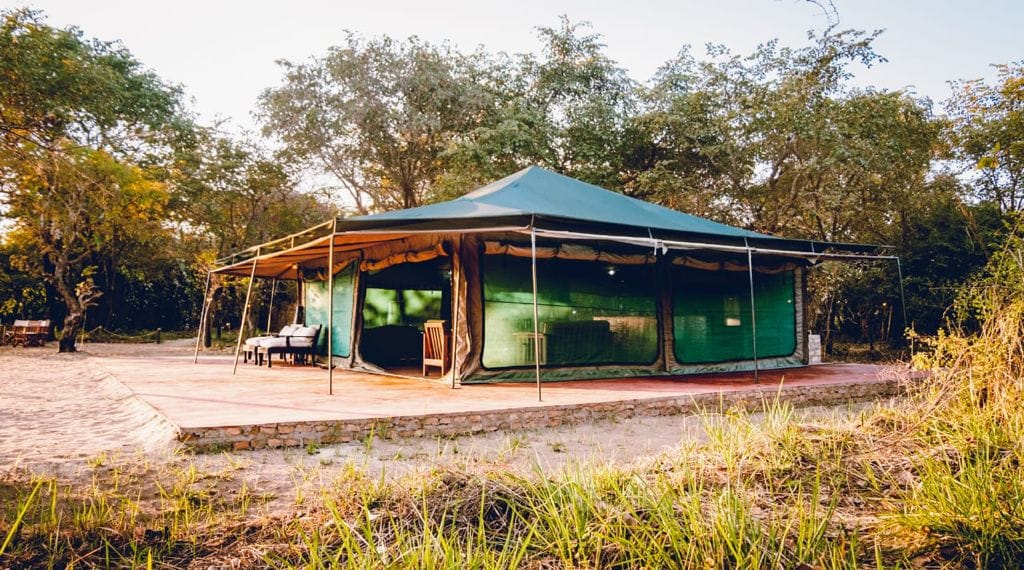 Even more remote, in the next river catchment, the Ruhudji River is a true gem. Hidden away, this untouched remote river has an irresistible charm. With 80 km of fishable water, the Ruhudji is a very different beast to the Mnyera. It feels lighter; less brooding. It is a shallower river, with long sections of sand banks, mature oxbows that are the haunt of hippos, deep outside bends and sneaky lies behind small rapids. In the upper reaches, it is deeper, narrower and with heavily wooded banks. Samaki Camp on the Ruhudji is smaller than Dhala Camp and has an undeniable charm in its simplicity. Traditional safari tents have ensuite showers and toilets and all face the river. The main mess area is set back from the river in the shade of the forest but the majority of your time in camp will be sent on the sandbank in front of camp, eating under the stars and listening to river. There is no electricity in Samaki Camp which adds to the atmosphere but do go with cameras fully charged.
2 – 9 Sept 23: 8 rods
23 – 30 Sept 23: 8 rods
30 Sept – 7 Oct 23: 8 rods
7 – 14 Oct 23: 7 rods
14 – 21 Oct 23: 5 rods
21 – 28 Oct 23: 8 rods
28 Oct – 4 Nov 23: 8 rods
4 – 11 Nov 23: 3 rods
11 – 18 Nov 23: 4 rods
The cost for 2023 is $11,400 including the charter flight to camp.
The Itinerary for the week allows each group of four anglers to fish three days on the Mnyera and three days on the Ruhudji, rotating mid week.
DAY 1 – Morning Charter from Dar es Salaam to Camp. Welcome & briefing by head guide. 4 anglers stay at Dhala Camp, 4 anglers move to Samaki Camp. There is NO fishing on day of arrival as guides/staff need this time for weekly admin. Having settled in, you will get your tackle set up setup and ready for the week.

DAY 2 – Fish Mnyera/Ruhudji.
DAY 3 – Fish Mnyera/Ruhudji.
DAY 4 – Fish Mnyera/Ruhudji – Samaki Guests return the Dhala Camp this afternoon.
DAY 5 – Fish Mnyera/Ruhudji – Dhalla Guests move to Samaki Camp this morning.
DAY 6 – Fish Mnyera/Ruhudji.
DAY 7 – Fish Mnyera/Ruhudji – Samaki Guests return to Dhala Camp this evening.
DAY 8 – Morning admin and charter to Dar es Salalaam.
If you would like more information please contact Charlotte Chilcott or call us on ++44 1980 847389. Alternatively click HERE if you would like us to contact you.