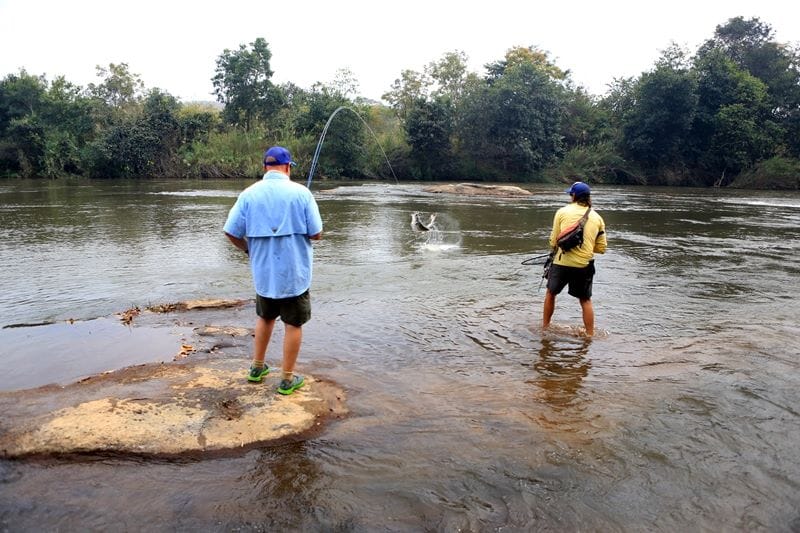 Pre-Season preparations for the Tiger fishing season in the Kilombero Valley are usually a big undertaking, and 2015 did not disappoint. The Ruhudji fly camp was built from scratch, and also wired and plumbed with running water for the first time ever, while the Dhala Camp accommodation on the Mnyera were completely overhauled, with new permanent banda structures being erected. These were bold undertakings with such a narrow time frame before the season opens, but with the pressure cranked up, the Kilombero North Safaris staff got everything in place and completed, and we were ready to welcome our first clients of the season.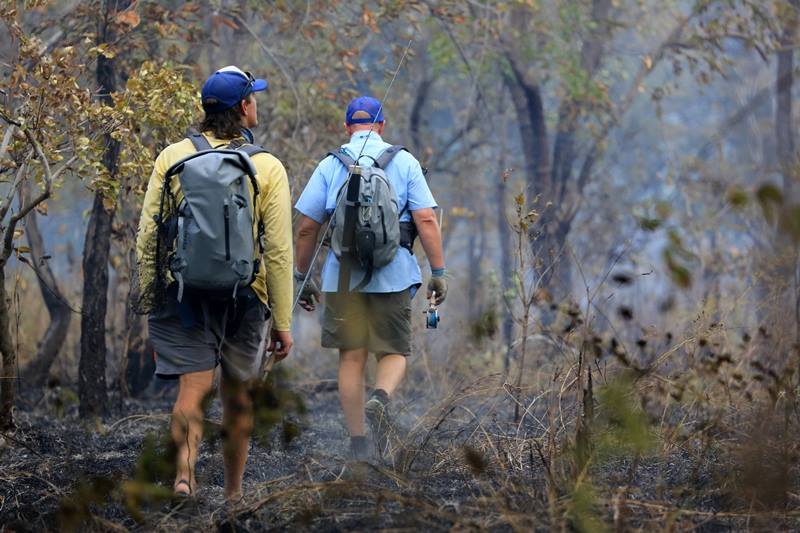 American Dave M, a real fly fishing journeyman, and jack of many trades, and Hakan U, also an experienced angler, and our first Swedish client were greeted by a very excited camp and guides, and good looking water conditions. With slightly below average rainfall, the rivers had been able to drop significantly, and were clearing up by the day. Temperatures were still slightly low, but these too should rise quickly given the right conditions.
With just the two clients on the one boat, and the freedom of the whole river, we set to work trying to connect with some of Tanzania's finest. With Dave photographing as much as fishing, and Hakan opening up with a double digit (11 lbs) tigerfish, the tone for the rest of the week was set on the first afternoon.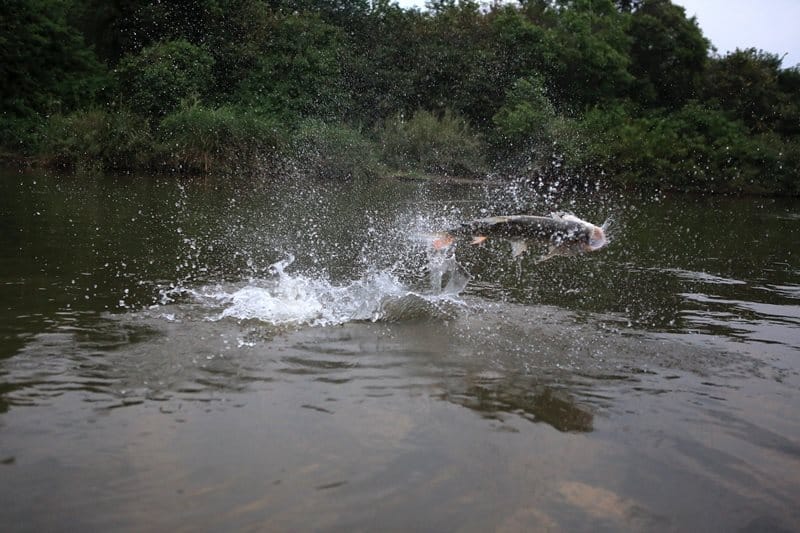 Our first full day took us up into the hallowed waters of the Upper Mnyera, where we experienced a very quiet morning session in Kasingo rocks, despite some very comprehensive coverage of good looking water. Hakan rescued the session at the death with a 10 lbs fish just before lunch, and after resting and regrouping in the shade for a bit, the afternoon session was eventually ground into submission by relentless quality casting from the guys. Hakan added a fish of 12 lbs, while Dave chipped in with timely contributions of smaller fish in between checking off his extensive photo list. A quality first full day on the water, and spirits were high going into the rest of the week.
The lower Mnyera produced another couple of double digit fish for Hakan, while Dave's unique tactic of fishing a floating line with a very heavy tuna fly was proving very effective for attracting smaller fish and the occasional big bump. Another long day in the sun, but with action throughout the day and plenty of crocs and hippos for Dave to continue shooting photographs, it made for one of the better Mondays in a while!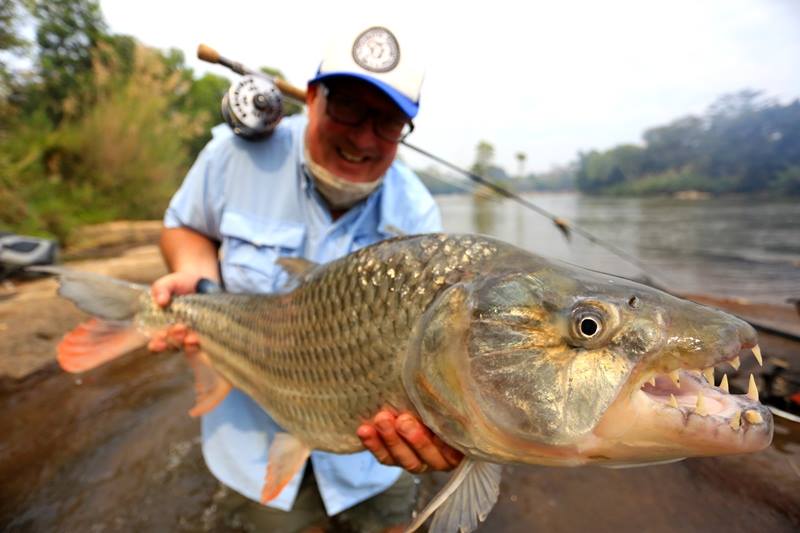 While busy trying to figure out what the river is doing in the new season, always in the back of a guide's mind is what might be happening at Kasingo rapids, the enigmatic playground of the Mnyera tigers. Tuesday was our day to find out, and we set off walking, fishing, and bush burning our way up. Another quiet morning session was shattered by Hakan plugging into a big strong fish at Double Up. To see a tiger rookie apply the necessary skill and pressure to pull an 18 lbs steam train right out of the rocks was inspirational, and everyone was overjoyed to see this fish landed! Despite another couple hits and bumps, we were denied any more action until Dave landed a strong 6 lbs fish off the boat at the end. Despite so few fish, Hakan's fish and the beauty of Kasingo were truly appreciated, and duly captured by Dave and his assortment of camera equipment.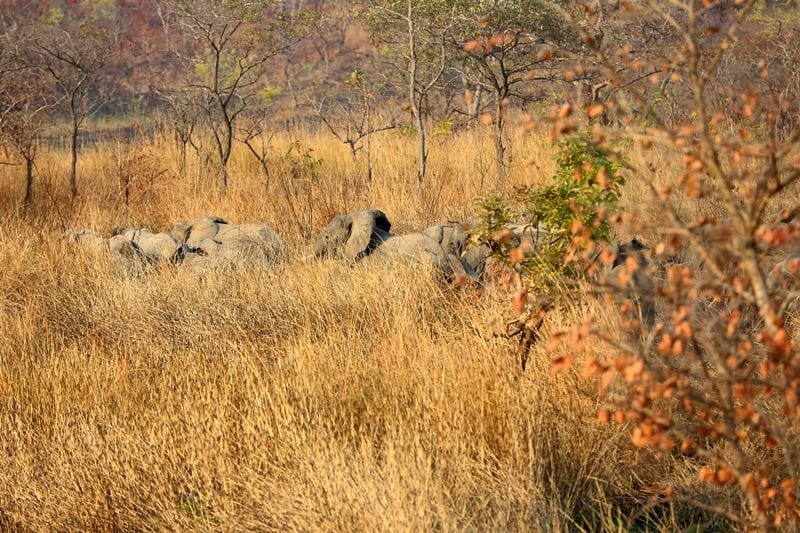 Wednesday saw us transfer over to the Ruhudji River, and our early departure rewarded us with a spectacular elephant sighting not long before clocking in at fly camp. Hakan wasted no time in acquainting himself with a 14 lbs welterweight, while Dave's uncanny prowess at attracting severe heat from smaller fish holding in very tight pockets started to come to the fore and made for quality viewing!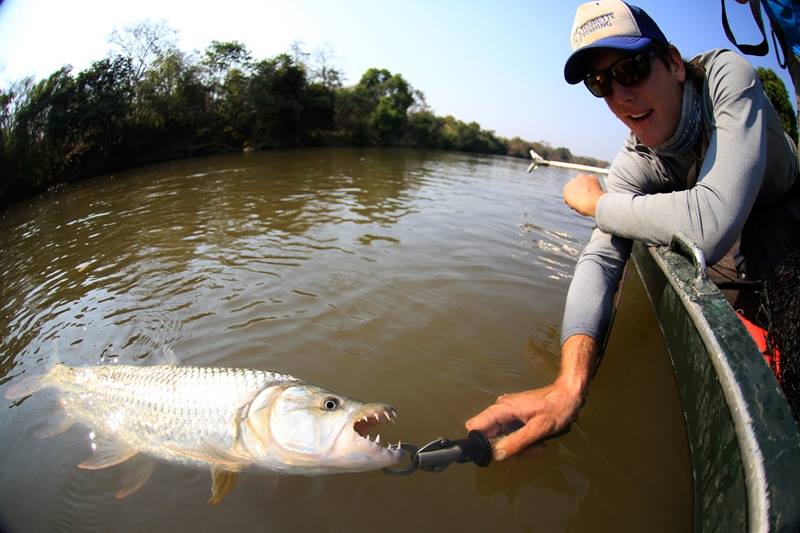 With low clear water, and clearly cut drop offs and channel, drifting the Ruhudji is enthralling stuff, with many of the takes and follows very visible, it made for some very memorable fishing. The Ruhudji 8 lbs fish is a notoriously strong target, and the class of 2015 definitely seems to be upholding this proud tradition. Dave for sure will not forget in a hurry the take and run of one particular specimen late on day 2! With a solid register of 10-14 lbs fish, and multiple smaller fish plus a couple of bigger tugs, the Ruhudji was great value, and the evenings out on the sand bank will be logged as genuine quality time in great company.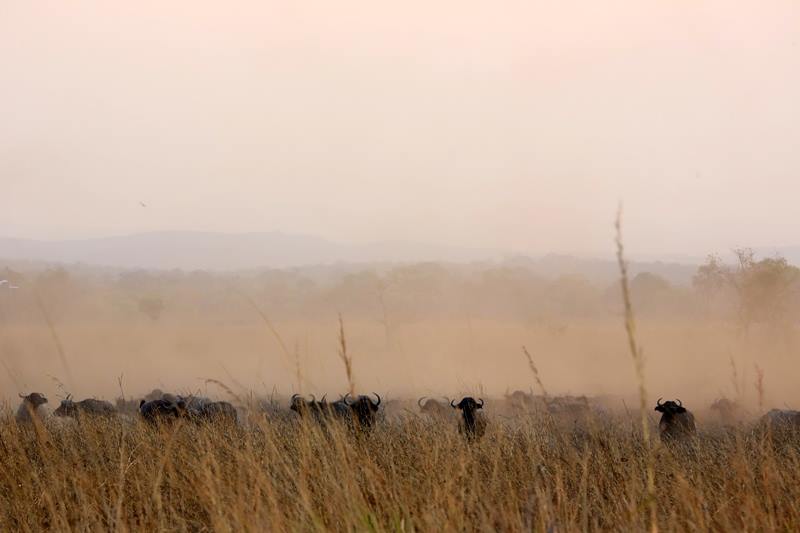 The ideal start to the season came to an end, with two first class gentlemen. Plenty of good fish and the whole story extensively and very skilfully documented by Dave. With the water levels continuing to drop, and clearing all the time, the temperature rises, the fishing can only get better. Looking forward to the coming weeks!
For more information on Tanzania tigerfishing please contact us or call +44(0)1980 847389.