Into the fifth week of the season, things are definitely not slowing down with the week showing some truly epic results. For more details or to hold space please contact Charlotte Chilcott or call us on 01980 847389.
Eight years have come and gone in Tanzania. Amazing fish have been caught and released. Fly lines, rods and spirits have been broken. Tears of joy and sadness have been shed over countless unforgettable moments while attempting to tame the untamable. After so long, some of the rare becomes seemingly common. Thus is the ironic curse of living on location. Some weeks, however, are more deeply etched in the memories of all those who were there to witness them than others. The fifth week of the 2014 season was such a trip. So forgive me for writing a novel, but read on as history has been made this day. Little did we know that when Tom, Mark, John, Phil, Max, Bill, Bob and John arrived in camp, our perceptions of what lay beneath would change forever.
Things started off well on all sides with the guys on the Mnyera connecting with few but big fish and tom sinking a black and red whistler into a deep seem on the upper Mnyera and coming tight with a enormous fish early on his first mourning. After realizing that tom fought a tiger as if he had done it his entire life the guide just waited, net in hand, for his chance to fully covert this early chance at a fish of a life time. Soon tom was thrilled to be kneeled in the shallows with his well earned 20lb tiger. Photos were taken as a hippo voiced its annoyance at our presence, while  one of the finest conditioned fish we have ever seen rolled back into the deep to be caught again. The action had started.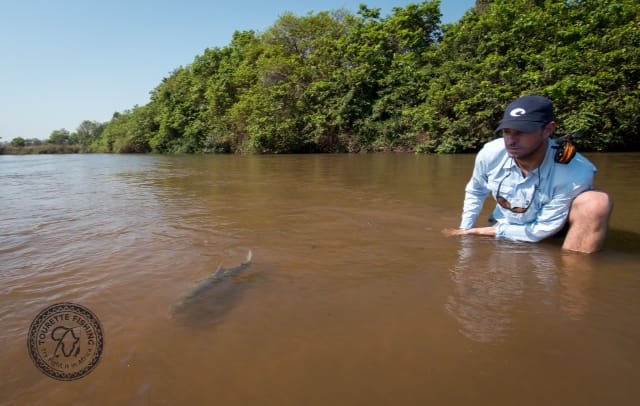 After a long drive to the Ruhudji, the enthusiastic visitors to Africa's only wish was that the drive through the bush  had been longer. The perfect attitude to have on such a remote destination. The guys were busy all day with shots at fish coming from all the likely…and unlikely spots. John landing a good 14lb fish and Mark having a 12 pounder exploding on his tan bait fish pattern, in barely two feet of water, helped shed the last of the jet lag after a long flight from the US. Thus set the standard for all three days roaming the three beets of the Ruhudji. Back on the Mnyera it was time to walk the stunningly beautiful Kasingo rapids. The day kicked of with young Max hooking and landing a fish that appears only on the rarest of occasions. The Bagrid or yellow catfish. This fish is unlike any other in this system, sporting beautiful red fins, a heavily muscled body and a narrow flattened head the Baggrid is nothing to be toiled with. Max did well in landing his 25lb specimen. Things had only just started for the guests in the rapids that day.  Hooking up with up to ten tiger fish 14lb and above the guys were pumped with adrenaline, but adrenaline was not enough. After John had a great fish cut through his 50lb wire and Max having a 20lb plus fish wrap him around a lonely log in the middle of a pool. It became clear luck was not on our side. A great end none the less to the first half of the trip.
With a quick change over, the guys were amped to test their skills on new rivers. The fishing still being tough on the Mnyera, perseverance was the key to success. Knowing this the guys gave it their all and were rewarded with some good opportunities with some immense fish. Bill coming out up top with a stunning 19lb fish that sent him deep into his backing, leaving four strands of his multi-strand clinging to his prize,and Phil making a beautiful cast along the tail end of a pool in the Kasingo rapids and landing a 16lb fish after an impressive top water eat on yet another blue and black deer hair pattern. The guys were victorious regardless of the difficulty of the fishing.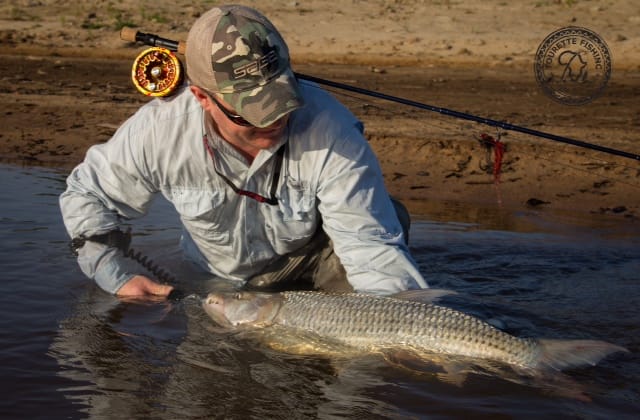 The fourth and  the sixth day on the Ruhudji were again filled  with action and our guests landed many fish up to 11lbs. Max doing well on landing his biggest at 14lb. A great finish to their trip in Tanzania. Day five, although, is worthy of more accurate detail. Tom, a well seasoned angler from Australia, arrived in Tanzania armed with his nine weight and his "vundu stick". An immense set up consisting of an old Pen spooled with 80lb braid and a short piece of fiber glass that seemed like it once belong to a trebushea that hurled 1000lb rocks at Jerusalem. His gear, skill and will was now to be tested against two freaks of nature, that rose from the depths of the Ruhudji.The guys had rigged toms "vundu stick" with a piece a Buffalo meat and waited while eating lunch peacefully under a shady water berry. The silence was soon broken by the ratchet on the pen screaming loudly and Tom was soon being pulled down a sand bank, battling the monster on the end of his line. Finally after fare fight with the Vundu (and a truly magnificent fight it was), TF guide Stu and boat driver wrestled the creature into submission. Toms fight with the vundu was over! Boat driver, guide and Tom struggled to lift and posed with the Vundu well over 100lbs. With the day coming to an end, as if the Vundu was not enough, it was time for Tom to etch his name at the top of the hall of fame amongst all anglers.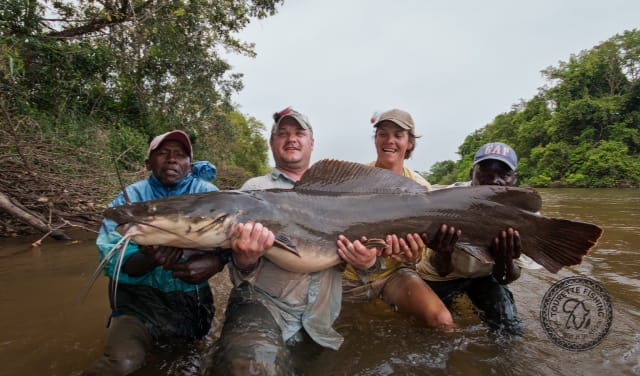 After connecting with a fish that was estimated around 19lbs that spat the fly, the guide decided to hang around the deep seem that ran off sand drop-off to a considerable depth along a clay bank. Adding two tungsten beads it was time to scratch the river bed. On his second strip toms black brush was eaten by something obviously big as it turned down stream with unstoppable power. With his head turned away in a attempt to control the boat, the guide missed the fish jumping for the first time but herd Tom and Saidi yell "tiger". Something in their voice said that this was no normal tiger. This was different. Chasing the fish down stream, after it wrapped three times around a stick in mid stream, the guys were relieved to still be tight with the fish. Shortly after, the fish arced up toward the surfaced to offer the first glimpse for the anglers on the boat. All three stood in awe and horror at what they had just witnessed. Adrenaline sky rocket and stress levels created hernia's in neighboring country's and ater what seemed like hours the fish, barely able to fit, was finally netted. Kneeling on a sand bank the three stared. Speechless. Still shaking in the presence of something that words cannot describe, something that was a new world record on a fly rod, something that was Toms 28lb Tanzania tigerfish. Ending the fifth week with a fish that will be occupying the thoughts of angler and guide for the rest of their life.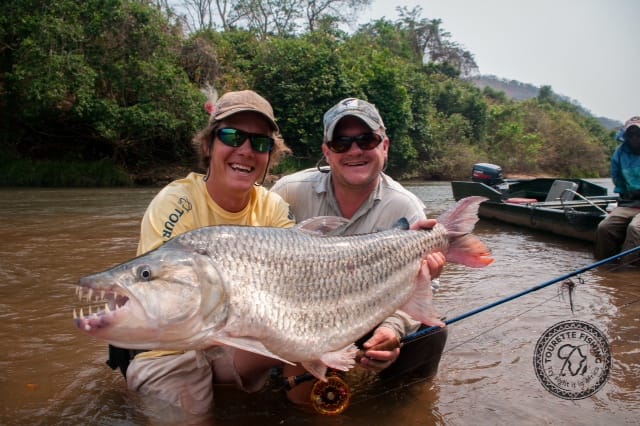 A fishing trip is a combination of  many things. In order to truly get the most out of the far out destinations one must learn to appreciate what happens away from the water. What happens above the river bank is as much a part of these destinations as the Fish are. Our guests this week had such an appreciation, with sightings of lion, elephant and buffalo they were rewarded by simply looking at their surroundings and not being completely engulfed by the fish. This attitude insured a truly unforgettable experience, regardless of the fish caught.
A big thanks and well done to everyone. It was a pleasure to guide you here in Tanzania and we hope to see you back here in the future.
Kindest regards
The Tourette Fishing crew
For more details or to hold space please contact Charlotte Chilcott or call us on 01980 847389.