Tigerfish on the fly; are you up to the challenge? For more details or to hold space please contact Charlotte Chilcott or call us on 01980 847389.  In the meantime, sit back and enjoy the latest blog from the current  season in Tanzania.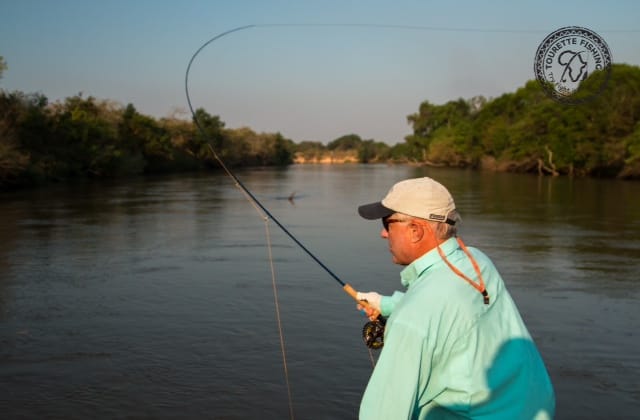 Bill arrived from the USA as our sole guest for the week. With four guides to one guest, and 120 km of water on the two rivers all to himself, we were confident Bill was going to have a productive week.Bill's introduction the tigerfishing on the Mnyera in Tanzania was a chaotic. Apart from the fish hooked and jumped, he watched his guide go overboard with the anchor, while snapping his rod in the process. Not the finest moment in any guides career. Fortunately Bill took it in his stride with great humor and grace. Although only a handful of fish were landed over the first day and half, Bill connected to a number of 15lb plus trophies which managed to throw the fly before they were landed. Having connected to some of Tanzania's famed trophy tigerfish, and landing  tigerfish up to 11lbs, Bill was aware of just what he was up against, and we were looking forward to getting a monster to the boat.Armed with two nine weights, one rigged with a floating and the other with 300 grain sinking  line,  and a selection of flies including flashy bait-fish patterns, colorful Golden Dorado flies as well as a selection of deer hair patterns, we set out on foot to walk and fish the Kasingo rapid section. Things started off well and we landed yet another 11lb fish on a green and black deer hair pattern. Bill also connected two much bigger fish which failed to hook up properly early on. Thereafter the fish went quiet as they sulked in the deeper water, averse to feeding.  Apart from some half hearted "rolls", Bill only got another  touch later in the afternoon. The "touch" however, was from a fish well in the 18 – 20lb class! Although Bill fought the fish well, it unfortunately wrapped him around a log at the last minute which was a massive disappointment. And so ended a fun and exciting day at the rapids. With this it was s time to head over to the Ruhudji.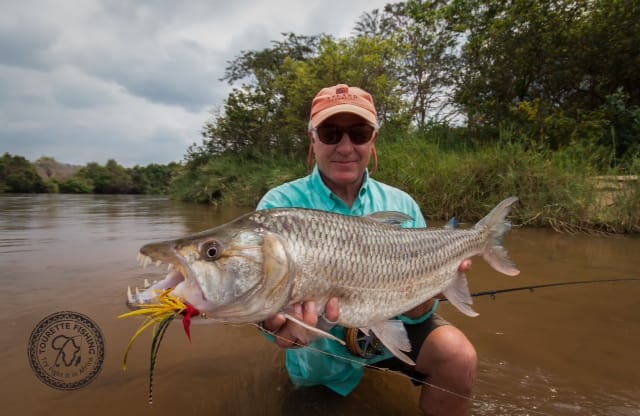 The notorious black mud caused some delays as we bogged down en route Samaki Camp, but apart from this, the drive across was uneventful (in a good way). Bill started things off on the lower Ruhudji with a day filled with action and landed many fish ranging from 4lbs to 10lbs.Bills last two days on the Ruhudji were tough going as the persistent winds and overcast conditions kept the fish from feeding aggressively. Bill however fished well and landed another 11 pounder and a beautiful 12lb fish. As was the theme for the week (and tigerfishing in general) Bill connected to a handful of fish over his last 2 days that most anglers only meet in their dreams, but the  curse of landing the BIG one persisted.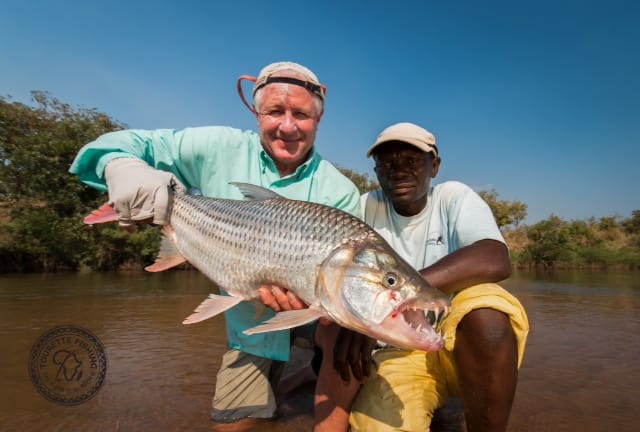 Landing a trophy tigerfish in these rivers is not easy. The ferocity of the take, hard bony mouths, and aerial acrobatics combined with the size of these fish, and the structure rich rivers in which they swim, all stack up against the angler. It is without exception, that all who visit the Mnyera and Ruhudji Rivers are quickly humbled by their first interactions with the trophy tigerfish that reside in these beautiful rivers. Keeping ones cool, remaining positive, and getting ones fly back in the water after losing a trophy tigerfish is a valuable trait in a fly fisherman. .  Bill was one of these fisherman, who displayed this fine quality in bucket loads. When Bill had the "tiger method" worked out he realized that not only did a lot of skill go into landing these fish, but also equal amounts of luck. Bill hooked into many massive fish and although he could not have fought that fish harder they still managed to spit the fly. Keeping his head high, Bills humour and relentless effort were a great example to the guides team. Well done Bill from all the Guides. This was a truly great week of fishing and company. That big one with your name on it is still waiting, and we look forward to netting her for you in the future!
Kindest Regards
Stu, Mark, Andrew and Greg
For more details or to hold space please contact Charlotte Chilcott or call us on 01980 847389.