As Christmas approaches we still have some prime availability on one of our favourite rivers, the Laxa I Kjos. There are a number of reasons I am drawn to its banks every year and I thought I would highlight a few: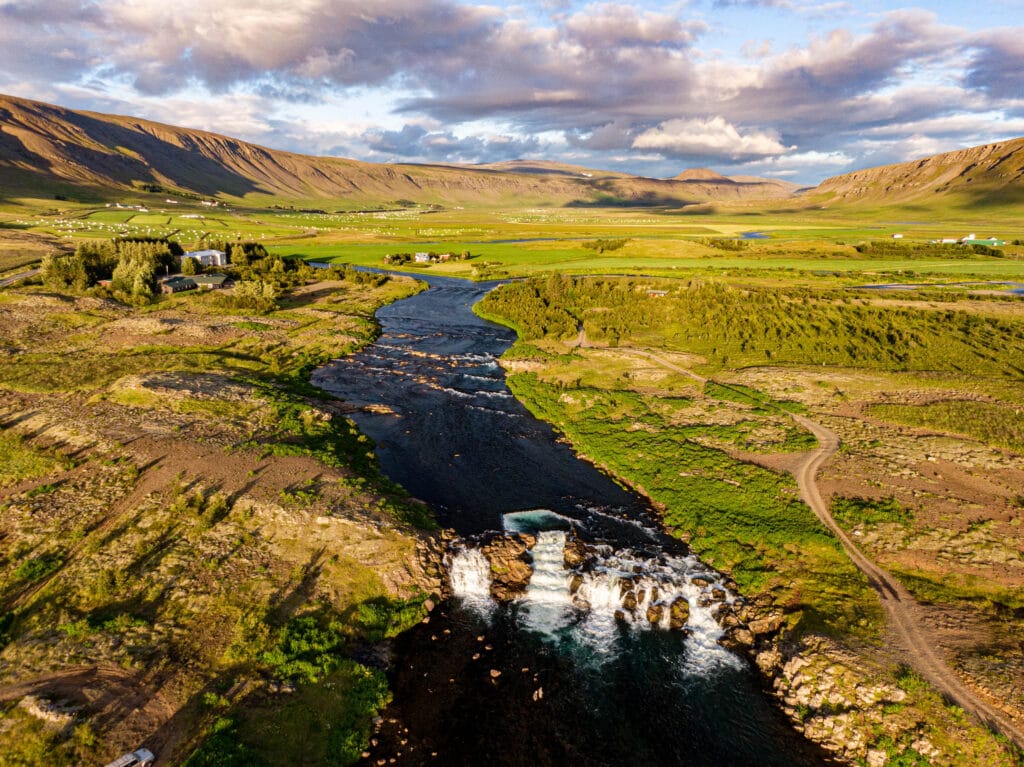 Variety of water to fish – The Laxa I Kjos has every kind of water you could wish to fish. The upper part is a little like a Highland stream as it works its way through the bouldery landscape with small, tiered pools that hold fish. It then heads down the upper canyon, one of the most exciting places to flick a hitch tube through small rock pools before it opens out into structured canyon pools and dropping over waterfalls of hard rock structure. As it fires through the lower canyon the valley opens out onto the plains, bouncing off rocky bluffs before working its way through the tall cliffs of beat three where its possible to spot fish from a great height. The river then changes dramatically as it meanders through the open meadows where the sea trout live, before dropping past the lodge and cascading over the tiered rock pools of beat one.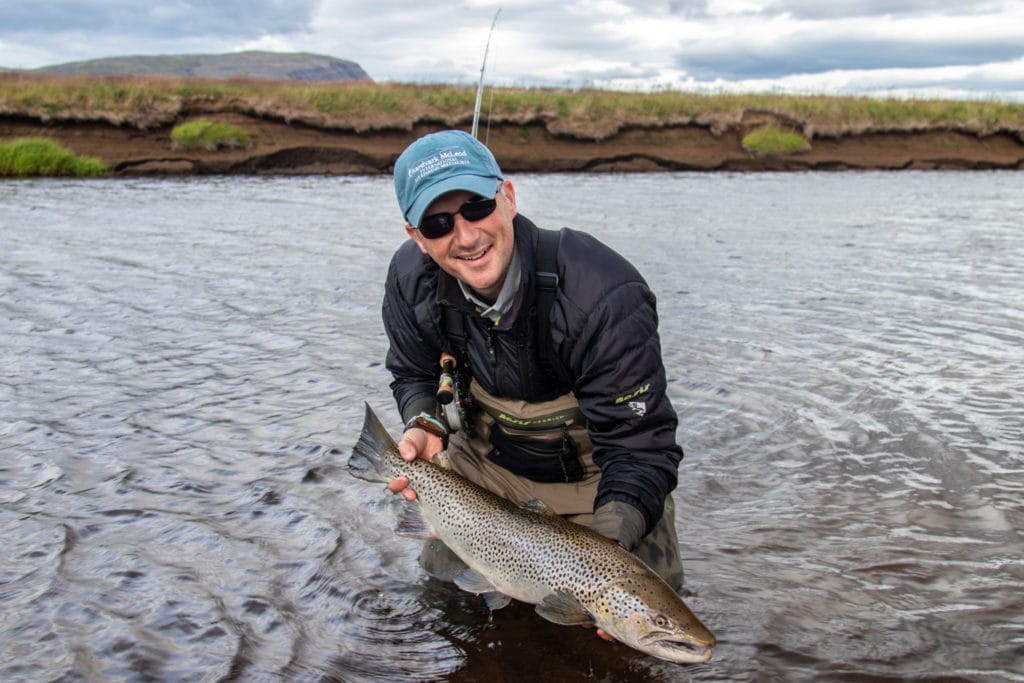 Sea trout – Every year large sea trout up to 15lb return to the grassy meadows. Here in the right conditions it is possible to upstream nymph fish or even fish dry fly to these stunning creatures. If the salmon fishing is proving tough the free beats in the meadows can become a haven and sometimes an obsession.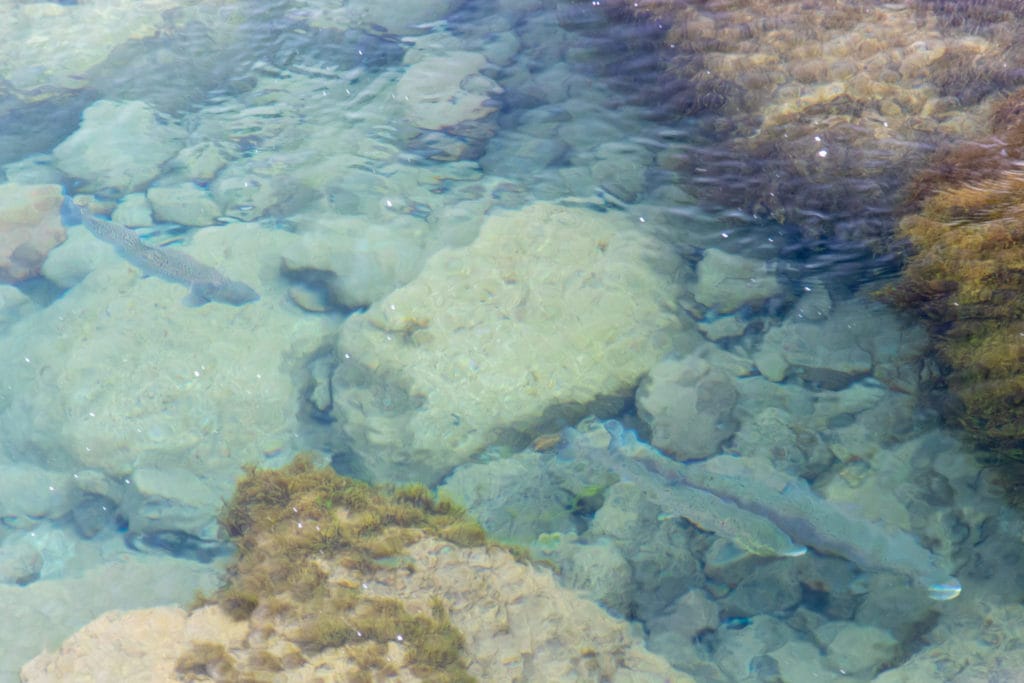 Sight fishing – The clear water provides a small window in the piscatorial world and there are many spots along the river where it is possible to observe salmon behaviour from the rocky crags above the pools. Keeping low, it is often possible to watch an anglers fly move down towards the salmon and see their reaction as a hitched fly passes overhead.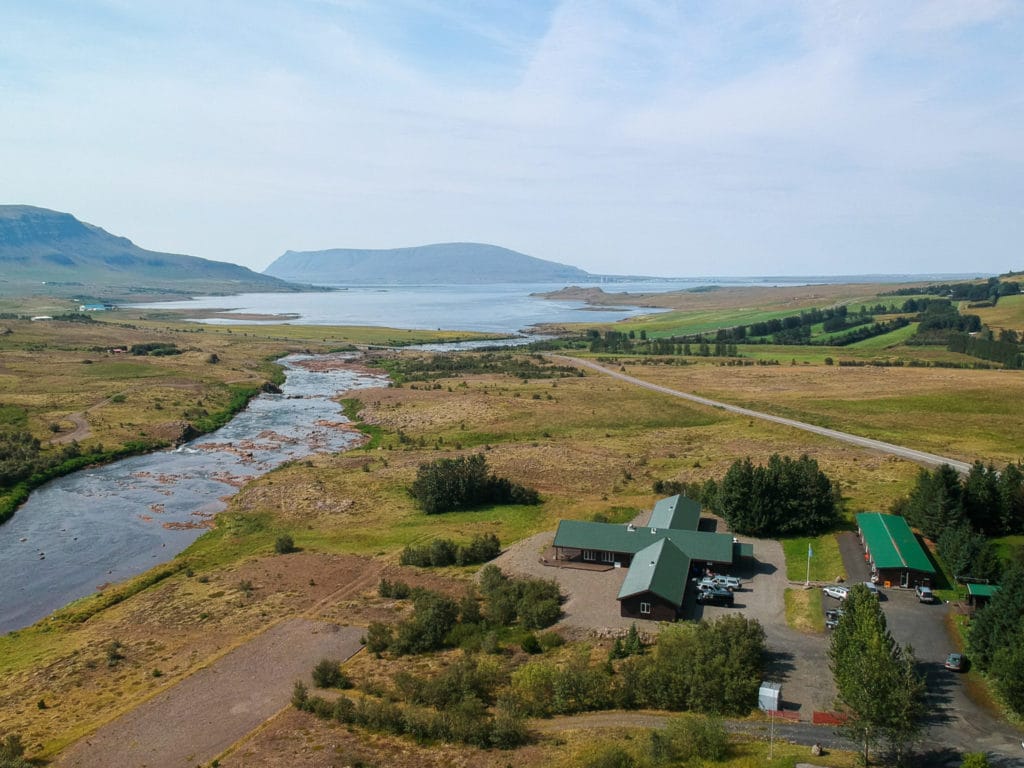 The lodge – The Laxa I Kjos lodge is perfectly situated on the lower part of the river overlooking home pool at the confluence of the Laxa I Kjos and its tributary the Bugda. With stunning vistas its recent renovation has made it everything a fishing lodge should be: warm, homely, welcoming and the ideal place to relax after a long day on the water as you sink into a leather chesterfield with a drink. With only 12 rooms the lodge is nice and intimate, with comfortable beds and hot showers. There is excellent Wifi, drying room and even hot tubs.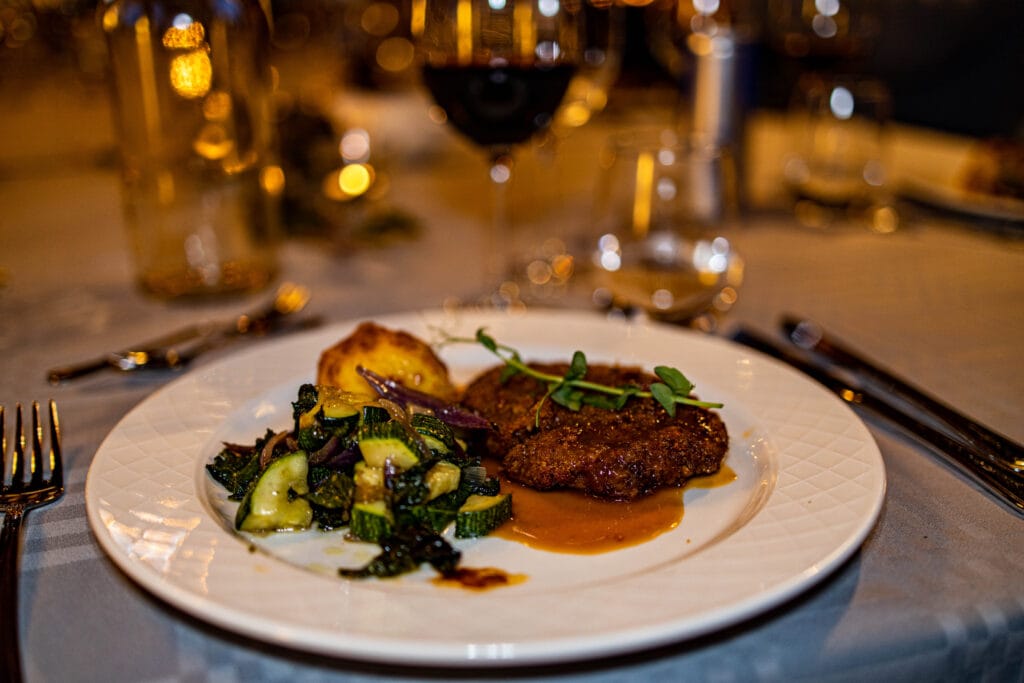 The food – Siggi the Chef brings the lodge alive in the evening. His culinary skills are second to none and he is well known on the international stage. He produces wonderful dishes which are not overly complicated, but cleverly integrate his skills with the need for a god feed at the end of a long day.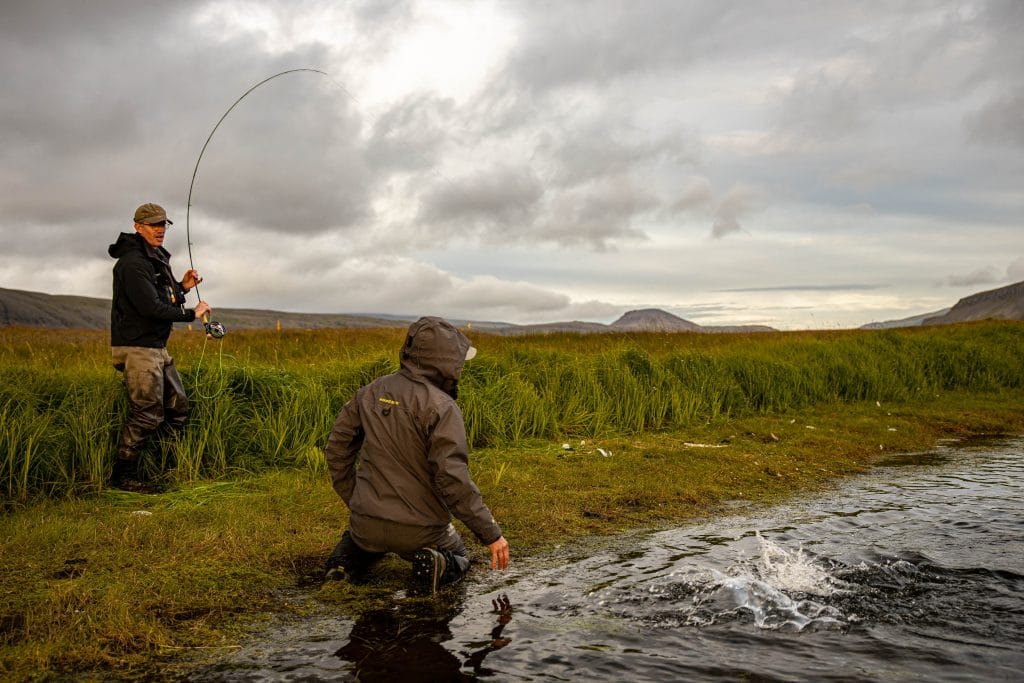 The guides – Many of the guide team have been at Laxa I Kjos for over a decade. Their knowledge of the river and the technical knowledge required to winkle fish out of this river are second to none. Over the years they have formed a close unit that support each other through the season while achieving the very best for their clients.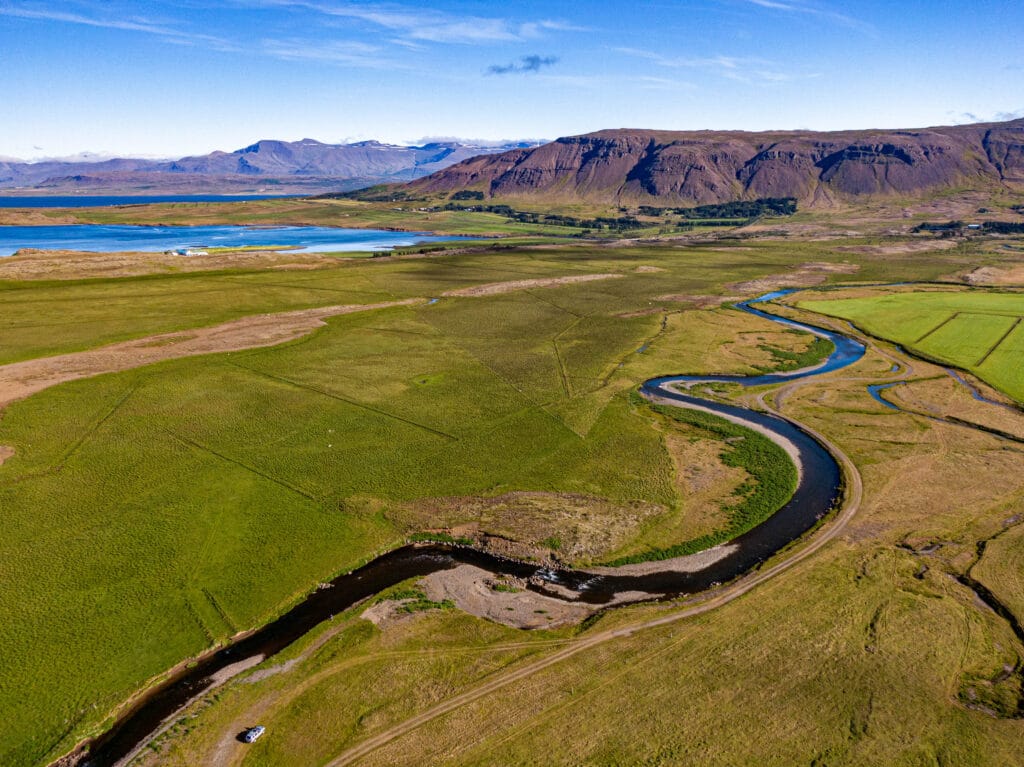 Bugda – This small tributary flowing down from the Bugda lake is a wonderful distraction. Not much larger than a New Zealand trout stream, the Bugda has an excellent run of salmon all of its own, and often produces larger fish than the main river. Hooking a big salmon on a tiny hitched tube in a small stream is extremely exicting and adds a whole different dimension to the fishery.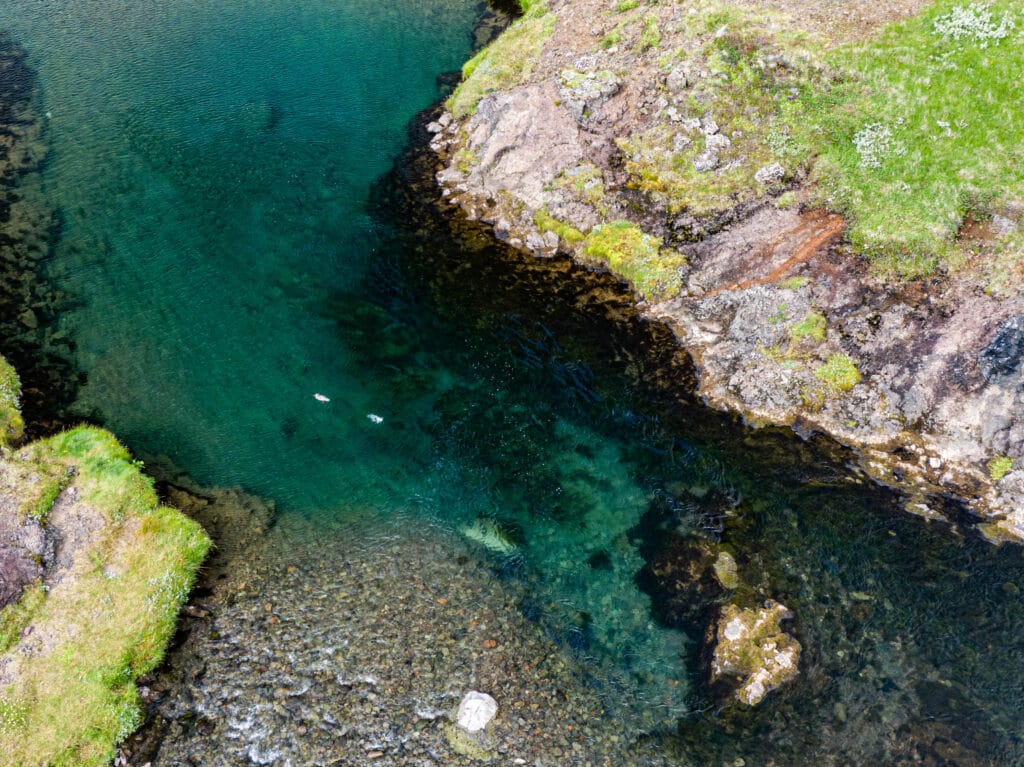 Consistency – Having fished the river in the lowest of the low and the highest of the high it never fails to produce fish. If it is a low water year salmon have still been caught using upstream nymphing techniques and the whole of the meadows comes into play. In very high water there are pockets and areas to fish, but the river drops and clears extremely quickly often in less than 24 hours. In both extremes we have still caught fish where on many other rivers you would just stay in the lodge.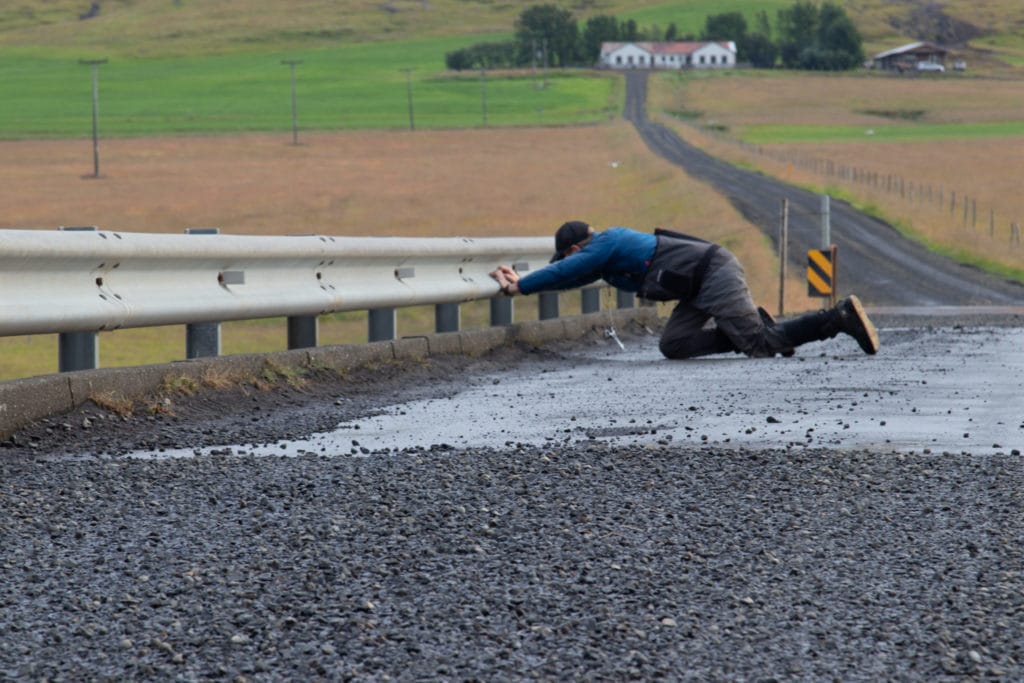 Distance to Reykjavik – The Laxa I Kjos is only 45 minutes outside of Reykjavik and only 1 hour 30 minutes drive from Keflavik. This makes travel very uncomplicated and you can maximise our fishing time.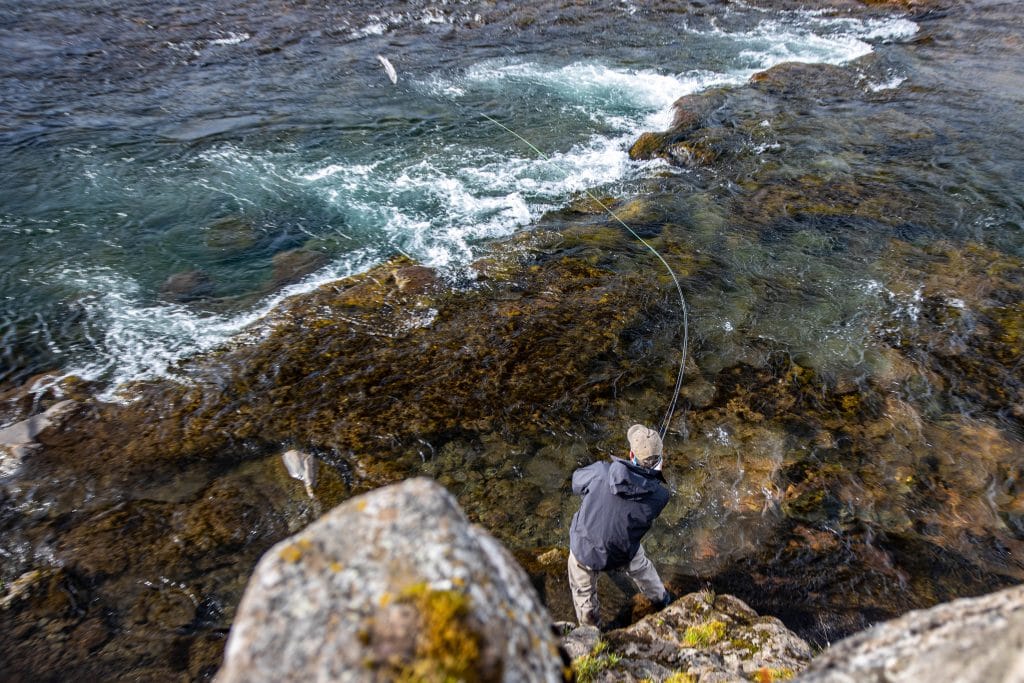 Technical fishing – often known as the salmon fishing university, you will learn a huge amount about salmon behaviour and methods employed to catch them on Laxa I Kjos. This is not the river for a standard 45 degree swung fly, but far more like trout fishing for salmon. A single handed 9'6" 6# is al that is required and a modicum of rivercraft and stealth. Pools are covered carefully and often a distance from the water to prevent spooking the fish which are often very close in. Nothing over a size 14 fly is required, and the most success often comes from tiny flies. The river is a hitchers dream, and if you love this method and watching fish hit the fly on the surface then this is the river for you.
We still have some prime space left on this stunning river, including four rods in my hosted slot at the end of July and Olly's hosted slot at the beginning of August. We would love the opportunity to show you why we love it so much. Costs are based on one rod with a single room and shared guide with full board and lodging. Prices are excluding transfers at this point as we will make savings where we can on combining them where possible rather than a blanket cost.
We currently have the following availability:
8 – 11 Jul, 4 rod, £7,270
26 – 29 Jul, 4 rods, £7,270 (Hosted by Aardvark McLeod)
29 Jul – 1 Aug, 4 rods, £7,270 (Hosted by Aardvark McLeod)
2 – 5 Aug, 3 rod, £6,070
5 – 8 Aug, 5 rods, £5,350
27-30 Aug, 2 rods, £3,910
play
Laxa I Kjos 2022 Trip Report
For more details on going Laxa I Kjos or any other river in Iceland please do not hesitate to contact Peter McLeod or call our office on +44(0)1980 847389.