In January 2018, Eleven Experience introduced The Andros Mothership – an angler's fantasy sleeping up to six guests at a time. The season traditionally runs from December to the end of May in the remote southwest Andros, part of the West Side National Park. It is a pristine saltwater wilderness, uninhabited and wild, bursting with bird and sea life. Miles of wadeable sand flats, mangrove-lined creeks, and a zig zag of countless islets create a home for schools of bonefish that can colour acres of flats a shimmering silver.
Southwest Andros is a very difficult location to reach. Up until now, the only way to access this region was by enduring long pounding boat rides from south-eastern Andros or even longer runs from the North and Middle Bights.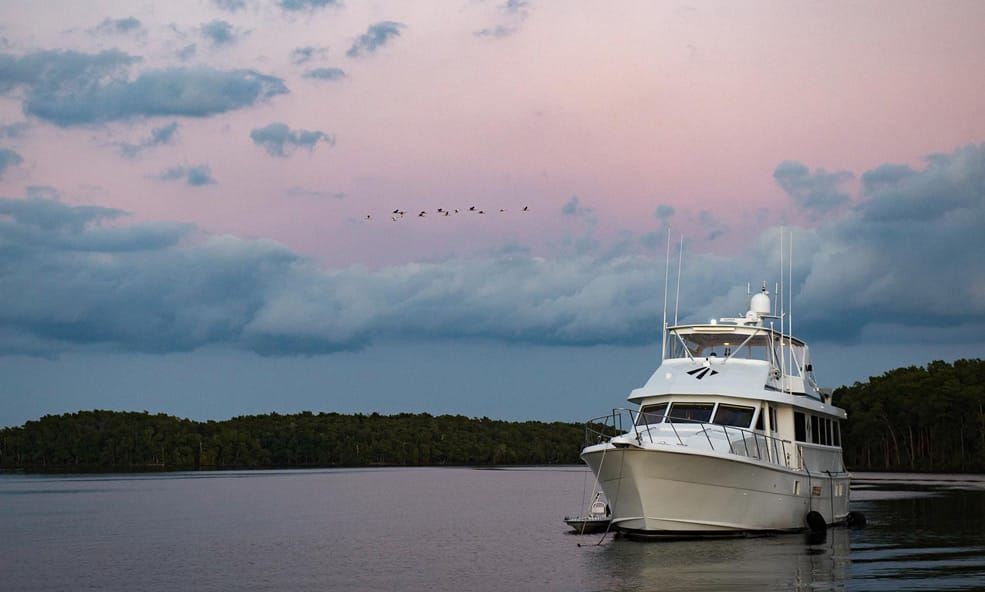 The 74' Hatteras Mothership takes the liveaboard lifestyle to a new level. The outstanding crew includes a professional captain, gourmet chef, guest Experience Manager, and seasoned Bahamian guides who will lead guests on daily explorations across the magical Andros seascape. Fish from custom-built ultra-skinny water Beavertail skiffs, or take off wading. Bonefish and tarpon are the main quarry, with permit, mutton snapper, barracuda and shark also in the mix. At the end of a memorable day, compare notes on the Mothership's open upper deck while sipping a sundowner before dinner.
ANDROS MOTHERSHIP FISHING HIGHLIGHTS
One of the most idyllic anchorages is set in the tranquillity of the South Bight near the entrance to Miller Bay and the West Side. The water blends intense shades of blue and green over lush bottom structure. Green, yellow, and gold shorelines narrow as you head past numerous blue holes that can boil with jacks and cubera snapper. This is also the land of tarpon, throughout the Bight and along the West Side coastlines to the north and south, strong resident beauties that range from 40 to 100 lbs.
There's no such thing as an 8 to 4 routine on the Mothership. Guests can fish until they drop, all the while knowing the Mothership awaits their return, ready to refresh and recharge.
Further south, at the southernmost tip of Andros, a second anchorage is in Jackfish Channel, a bonefish haven unto itself. Surrounded by protected flats and creeks ranging out to the Water Cays, and Curly Cut Cays, this is a fantastic area for wade fishing. First-time saltwater anglers will be spoiled with numerous shots at feeding bones, while accomplished fly fishers can hunt and stalk, and enjoy the adrenaline rush of the pursuit of double-figure giants. There is world class reef and offshore fishing featuring marlin, wahoo, tuna, and dorado just minutes away around the Grassy Creek Cays and in the Tongue of the Ocean.
Rates and Inclusions for the Andros Mothership:
– For 4 Days & 4 Nights: $5,600 USD per guest based on double occupancy
– For 5 Days & 5 Nights: $7,000 USD per guest based on double occupancy
All Rates include pre-arrival planning with an Eleven Experience Manager, round-trip ground and water transfers to the Mothership from Congo Town Airport, all guided fishing, fishing equipment and flies, chef prepared breakfast, lunch, après, and dinner, house alcoholic and non-alcoholic beverages.
For more information about the Eleven Experience Andros Mothership and Bahama House please do not hesitate to contact Alex Jardine or call our office on +44(0)1980 847389.