Los Roques in Venezuela is still one of my favourite destinations in the world for really fantastic wading for bonefish. What not a lot of people know is there a some truly massive fish swimming along the cays of this remote haven. What makes these fish so solid is the prolific minnows that swim all around the beaches and flats out here, and the bonefish feed avidly on them. Often in their haste they almost become aggressive in nature, and unless some reasonably heavy leader such as 12 lbs is used off these beach flats I have seen a number of fishermen loose fish after fish as they are snapped up on the strike.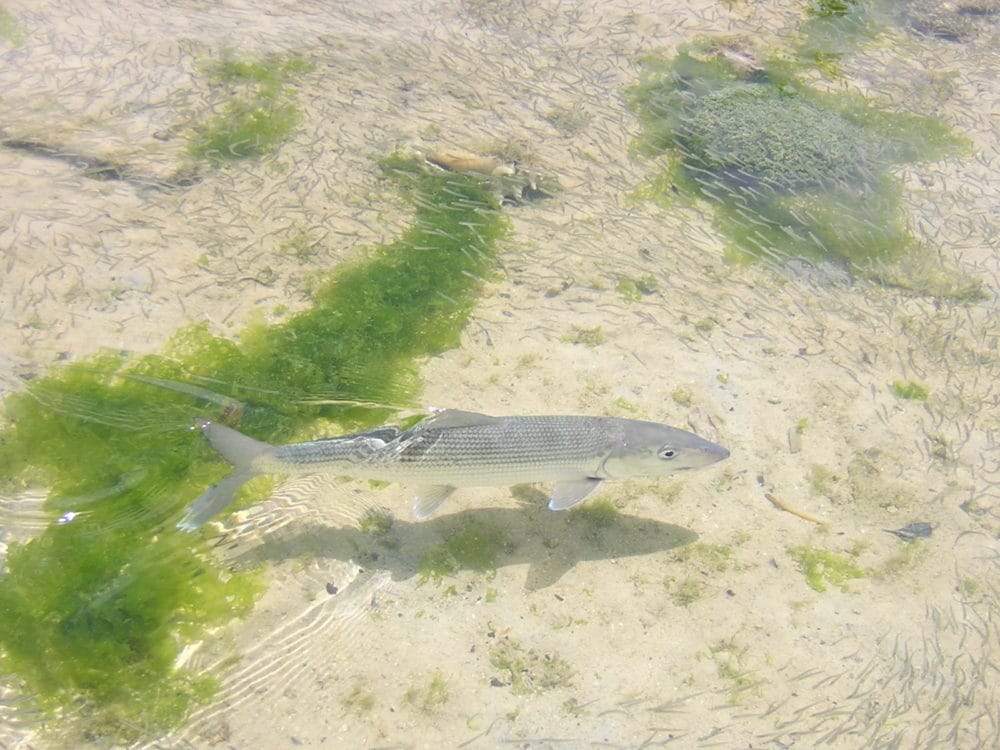 Off the dock amongst the hubbub of daily life that is Gran Roques one can often see huge bonefish milling around under the dock that quite simply take you breath away with their size, some being well into the mid teens. They seem to be completely unphased by boats, swimming children and even fishermen…much to our annoyance! At the end of a days fishing there is nothing more fun than to try and catch a few with a rod in one hand and a cold beer in the other. Occasionally someone will get lucky and hook one of these monsters.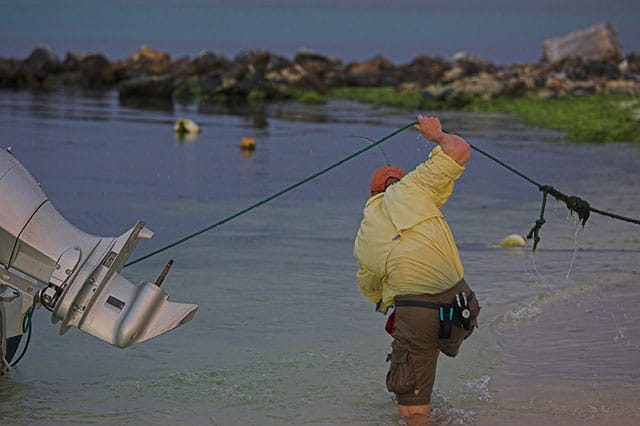 However landing them amongst the boats and ropes is somewhat of a challenge! Heavy leaders are definitely needed in this case as some occasions it develops into a tug of war.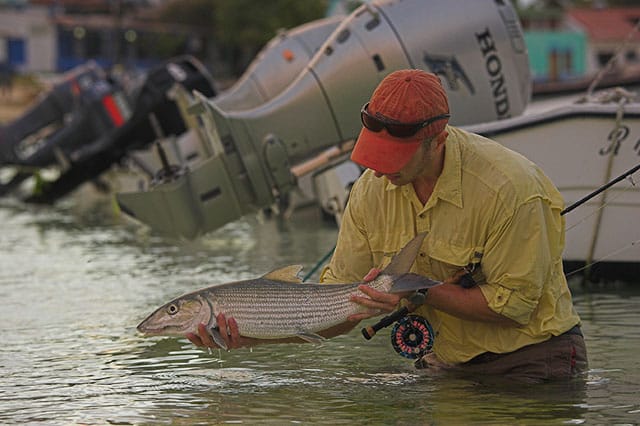 I also love watching the pelicans dive into the minnow shoals and then spot the bonefish trying to remove minnows out of their mouths like a pack of hyenas. In the picture below it is possible to make out the fins of a couple of large bones trying to make off with the pelican's meal. This symbiotic relationship occurs all over the archipelago, and I have not seen anywhere else.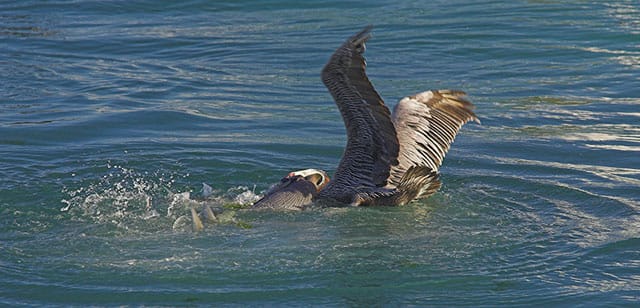 The outer cays away from the bustle is the best place to find a minnow marauding bonefish, and a client fishing their over Christmas this year had just such an opportunity landing her biggest ever bonefish:
"Here I am in paradise that is Los Roques, hunting bonefish along a beautiful beach. Now some of my friends think me a little odd engaging in this apparently strange activity, but then they are back in the UK freezing right now and counting the cost of the festive season. Whereas I am here strolling along, soaking up the rays. Rafael my long suffering guide suddenly starts getting very excited, "cast, cast 45 feet straight ahead". This is when I have to compose myself, calmly, don't panic whilst this volley of instructions is coming forth. This I manage to do and slowly I strip the line, gently, then "quick, quick, strip, strip…" Bang, off it roars with me hanging on with grim determination, trying to hold the rod up as high as I can, which isn't very high when you are only 5ft 3inches! This is all going well, until I realise that Rafa is even more excited than usual…. no pressure I can handle it…. I hope. My other half is summoned to do the photo shoot, the fish meanwhile is miles away and I'm running out of line and my arm is seizing up fast. Suffice to say that the bonefish of my dreams did eventually tire and oblige me by staying on and eventually conceded to let me reel him in and allow the photo to be taken. I'm not a serial photographer of fish but evidence was required in this case, as I'm a novice amongst master fishers on this trip so my moment in the sun was wonderful and will remain with me forever. "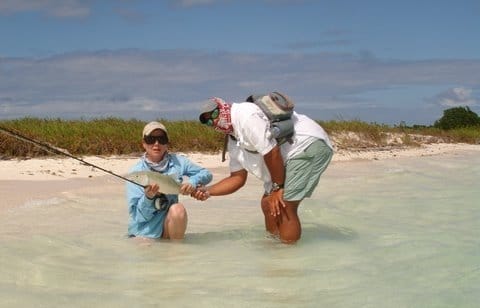 The largest fish I caught off the beach last year I measured at 27″ and was so fat around the head I needed two hands to hold it. On the bonefish size chart that estimates at 11 lbs. I am beginning to get seriously excited about my trip out there next month, and only hope I might hook one!