If the sight of triggerfish tails glinting on the flats makes your heart beat faster or you find yourself casting at small dark rocks and peach coloured coral then you may well have succumbed to triggerfish fever.
Along with recurrent malaria, Charlotte definitely suffers from triggerfish affliction. While the casting at lumps of coral can equally be attributed to poor eyesight, in truth it's because she is compelled to cast whenever she thinks she sees one.They are clever; they are selective. They are tricky and challenging. They fight hard and they fight dirty and because of all of that, landing such a contrary species is ultimately very rewarding. The smile below says it all.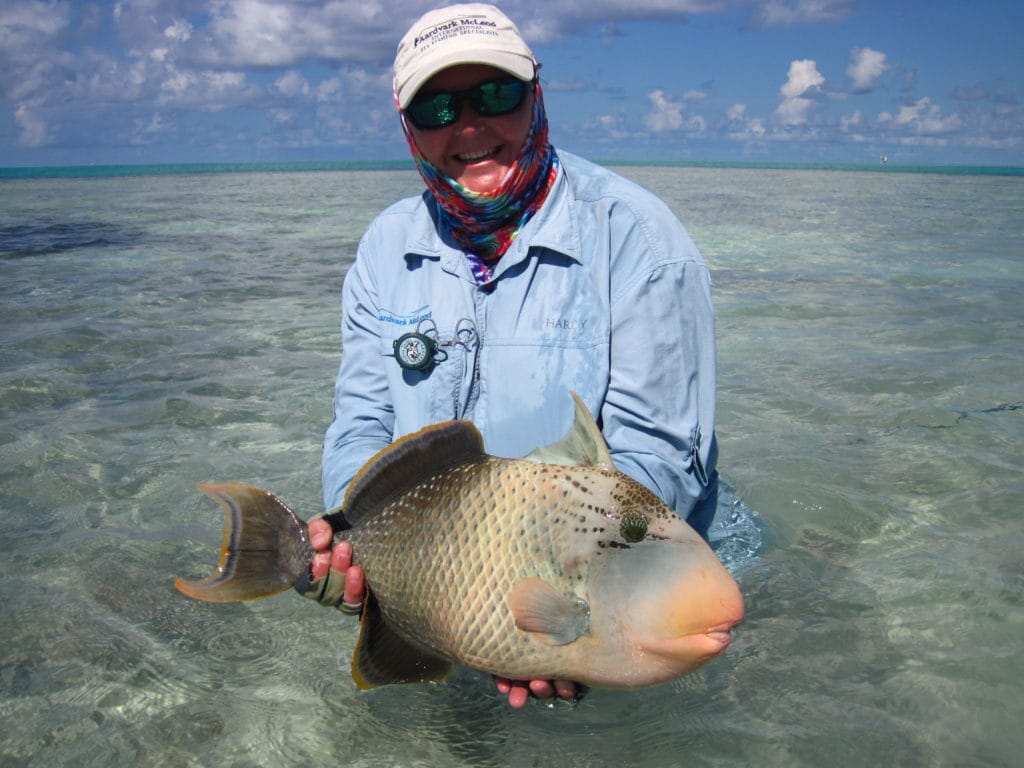 Presentation is key; if you can put the fly in the right place, accounting for the speed and direction of the drift, it's very likely to be followed and investigated. The take can be incredibly gentle. Flies frequently come back crushed beyond recognition with the angler none the wiser. Not having a loop leader to fly gives you more direct contact with your fly/trigger and they may investigate several times before committing – or not. To demonstrate their contrary nature, triggerfish will come in hot. Sometimes all it takes is one small twitch and the triggerfish will hit that fly like a missile. The important thing is to set the hook hard; not only do they have a mouth full of teeth but they have skin like old leather. It is not unusual to land a fish and realise that the hook is between teeth or around a tooth and loosing fish when you think you're well hooked is all part of the game.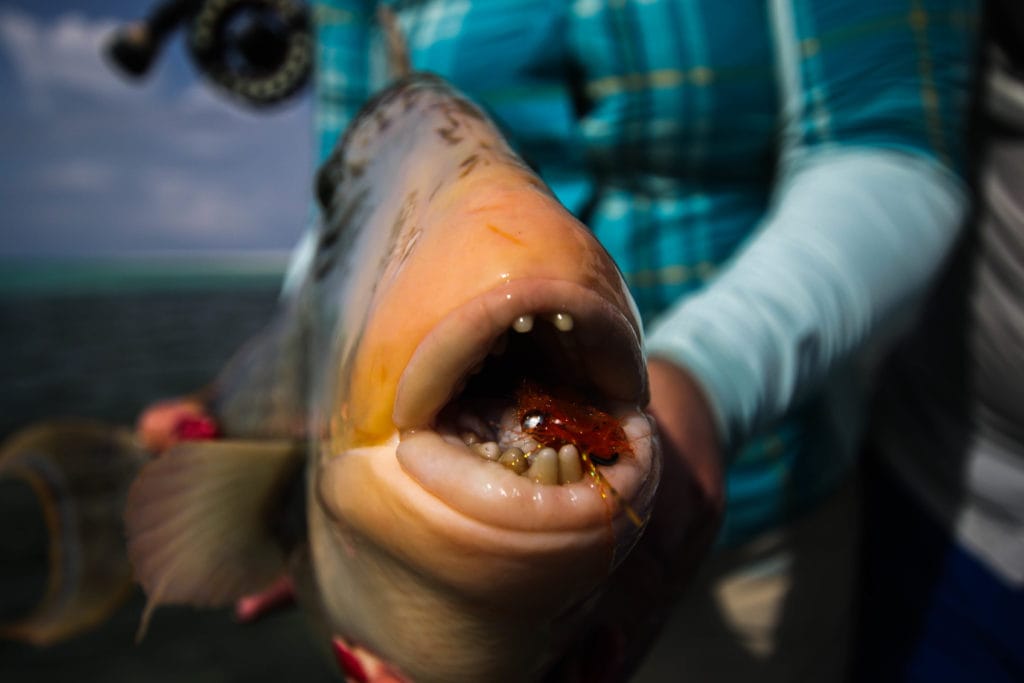 While you need to let your fish run or you'll risk popping it off, you need to fight it hard. Give a triggerfish a few millimetres and it will bite you off, cut you off, dive into a hole and stick its trigger up to jam itself in. If you manage to bypass all of that, it will still try and bite its way out of a net like packman. Once in hand, they are well behaved but do stay away from the toothy end … nothing like a crushed finger to put paid to your fishing trip.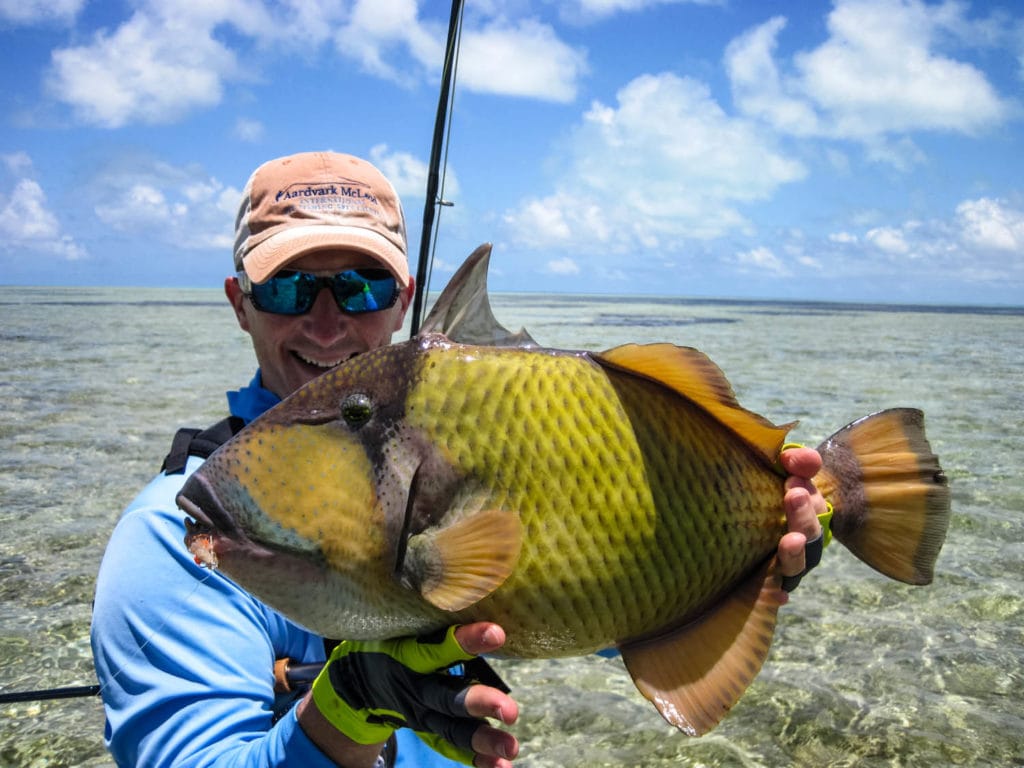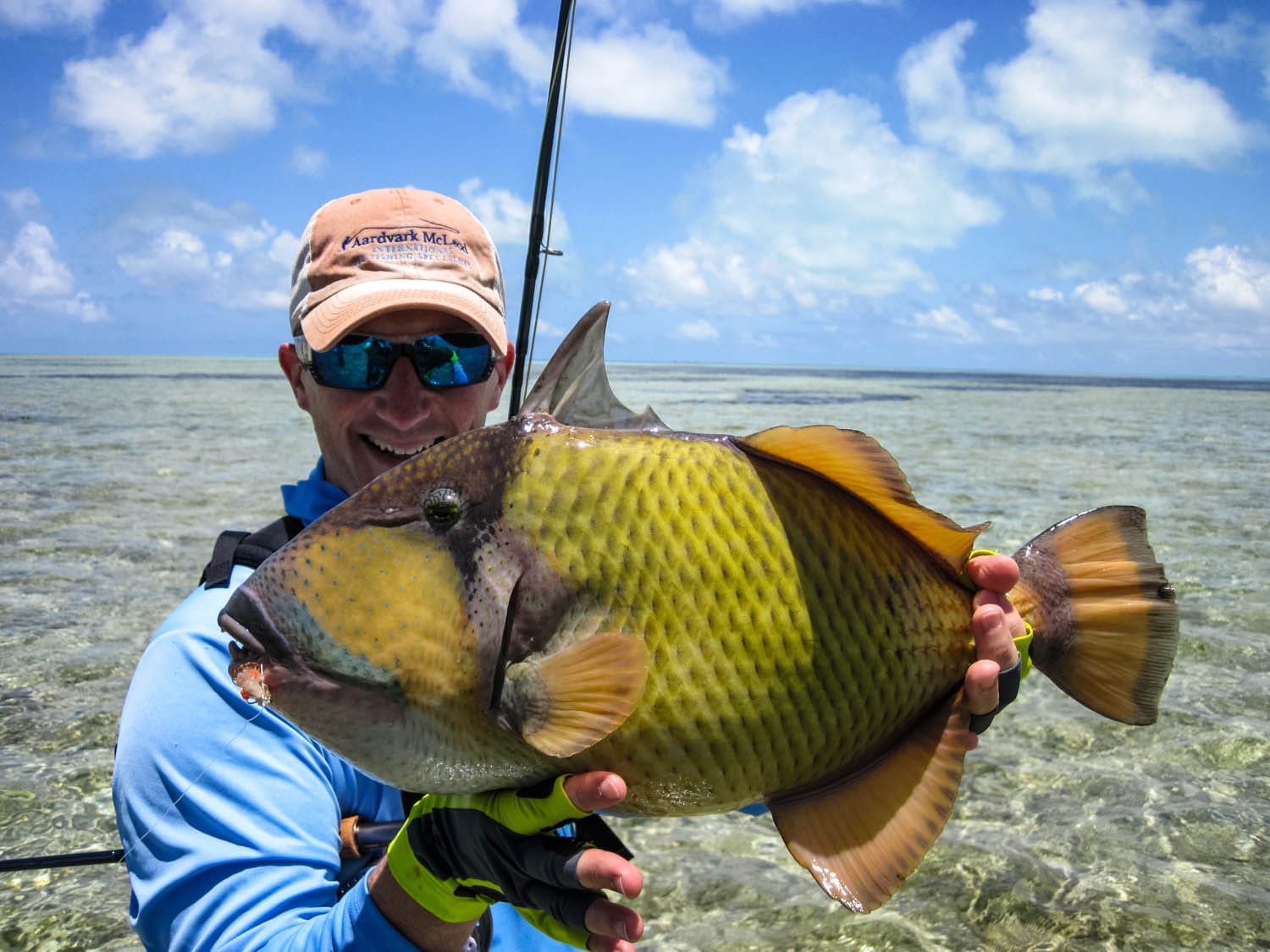 Target species are a mere four out of roughly 40 species of triggerfish (most are caught for the aquarium trade). The first three are Indo-Pacific species, the moustache triggerfish, Balistoides viridescens  (also commonly called a giant or a titan triggerfish). Yellow margin triggerfish Pseudobalistes flavimarginatus are the largest of our four species and Picasso triggerfish Rhinecanthus aculeatus are both the smallest and the most colourful. Ocean triggerfish, Canthidermis sufflamen, are the least colourful but the most solid of batch, very different in shape and attitude to its Indian Ocean cousins.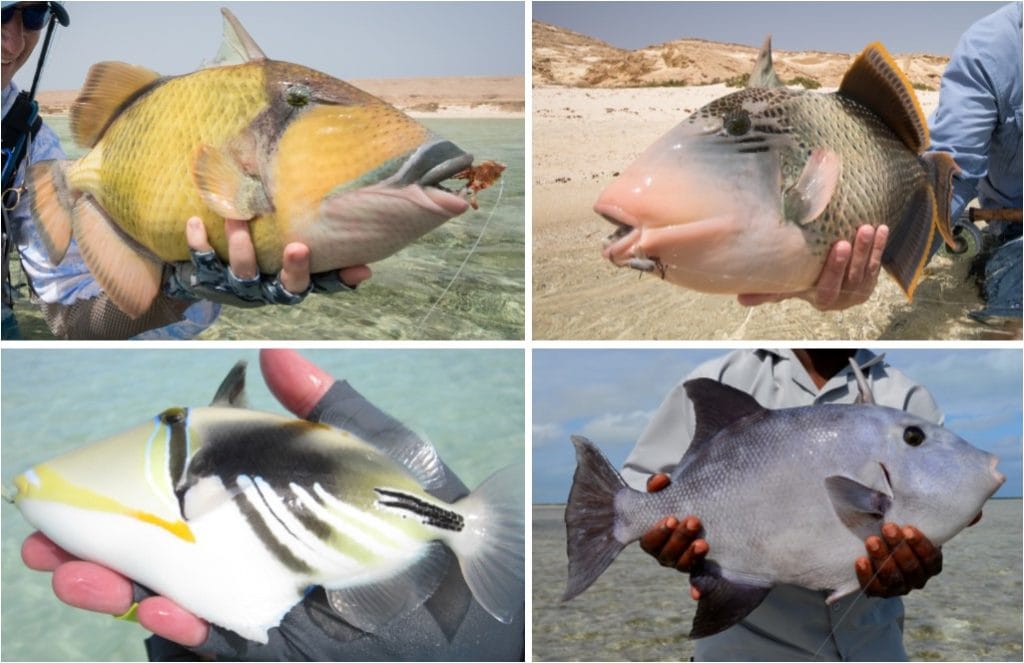 The Indian Ocean
Regardless of where you are fishing in the Indian Ocean, your flies can be cast at yellow margin triggerfish, moustache triggerfish and picasso triggerfish. On a very rare occasion, an Indian triggerfish may be persuaded to take your fly. On the finger flats of St Francois, the coral strewn sand flats of Farquhar, the rough coral of Astove or the coral gardens of Providence triggerfish are permanent residents in these species rich waters. The Indian Ocean has a well deserved reputation for its fishing and triggerfish are one of a wide number of species to target in these productive waters. Tidal variations can be quite large in the Indian Ocean and triggerfish generally like minimal movement and neap tides here suit them well.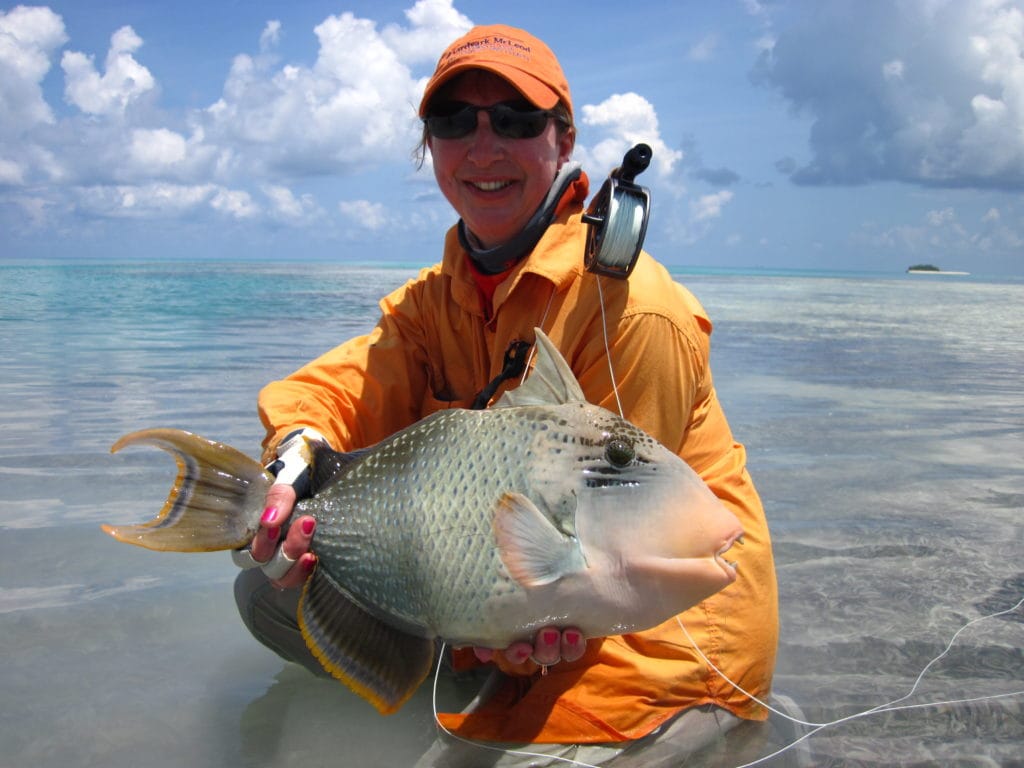 Nubian Flats, Sudan
The Nubian flats of Sudan are home to the largest population of triggerfish yet discovered and has be THE spot for trigger aficionados. The unique tidal patterns here (next to none) allow anglers to target triggerfish right through a fishing session rather than just an hour or two on optimal tides. In the same way you would wade for bonefish, here you wade for triggers, often having multiple shots in one session. We haven't yet found anywhere else where you will see the sheer number of triggerfish feeding along the same flat.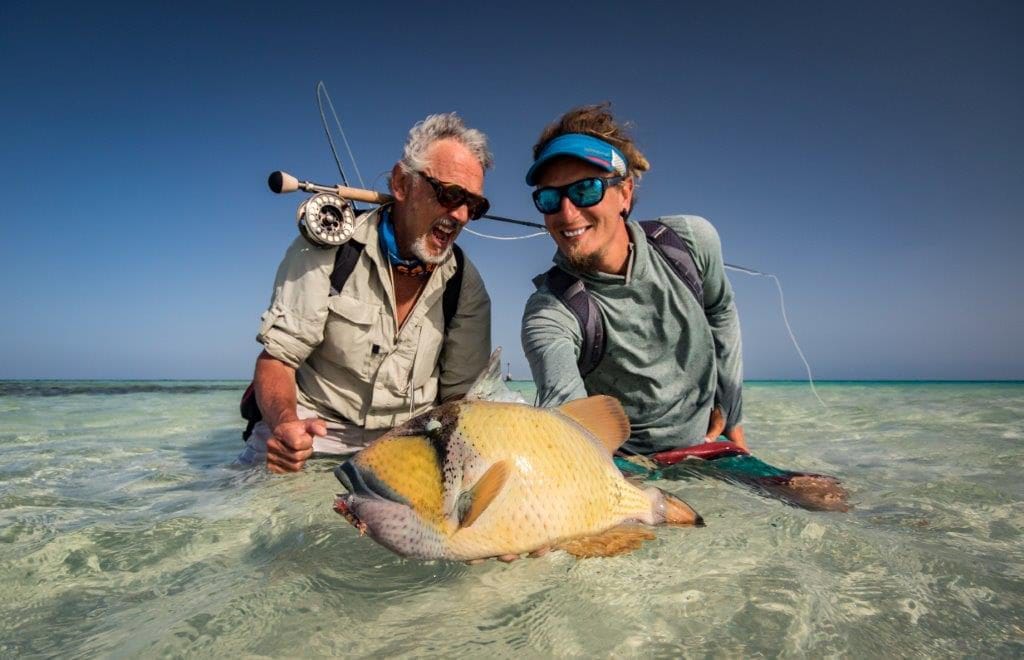 Crooked Island, Bahamas
The lodge fishes both Crooked and Acklins Islands, two immensely varied and largely unexplored fisheries. They are two of the remotest of all the islands in the Bahamas and there is very little fishing pressure with a good 'off season' period to rest the flats. Fantastic numbers of triggerfish can be found, coming in on to the flats from the deep water to feed before returning once more to the deeper water and the reef edge. Unlike their Indian Ocean cousins, they are very narrow, very solid fish with smaller mouths. Grey in colour, each triggerfish has different markings in shades of grey and white with peachy lips. As ocean going fish they can reach very substantial sizes.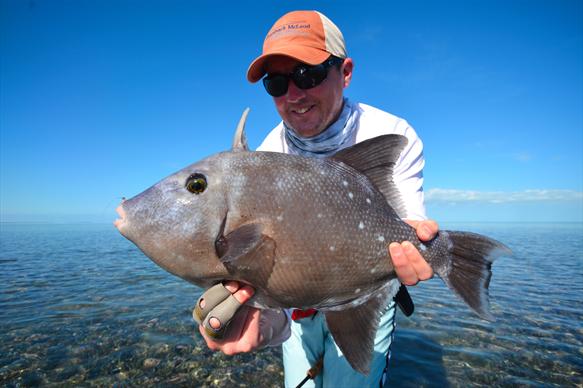 Christmas Island
The coral fingers that protrude from the huge white sand flats in the Christmas Island lagoon provide both yellow margin and moustache triggerfish with an ideal habitat. Moving on to the flats to feed, they will run for the edge and home as soon as they are hooked so keep it tight. What sets both species apart here is their size which is huge. These productive flats are rich feeding ground for triggerfish and their general size reflects that, although stopping from their bolt holes in the coral bommies can be very challenging.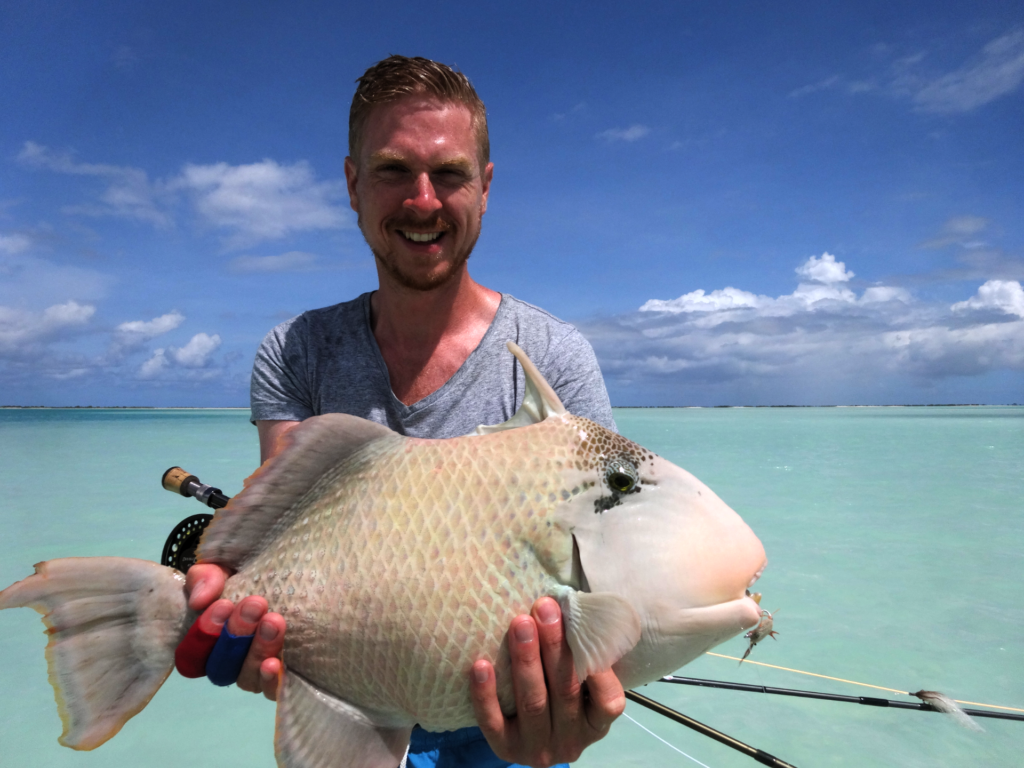 If you would like more information on any, or all of these destinations, please contact Charlotte Chilcott or Peter McLeod or call us on ++44 1980 847389. Alternatively click HERE if you would like us to contact you.