Heading back to Alphonse, the group was once again travelling to Dubai for the flight to Mahé, coming in from Birmingham, New York, Heathrow and Hamburg.  The London flight was late landing and the three of us on it route marched to the seemingly ever distant gate 115. We then found that the Birmingham flight was also delayed as was the plane we were supposed to go out on!   It did however allow us to meet up and identify one another – Moritz and Philipp were easy to spot, sporting their new pumpkin Aardvark McLeod hats and rather a large amount of bon viveur having found the Irish bar several hours beforehand.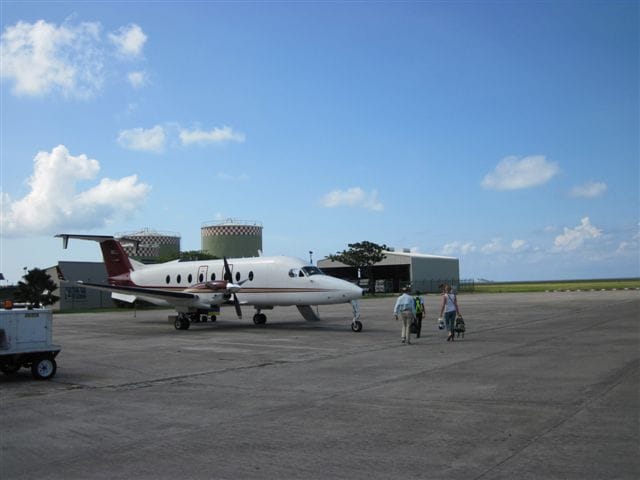 We were a group of twelve: Team Germany consisted of Philipp and Mortiz (it was Moritz's first time fishing for anything, never mind flats salt water fishing); seven friends who fish together regularly both at home and abroad and who earned themselves the group sobriquet of The Magnificent Seven (John, Randy, Mark, Jeremy, Peter, Derek and Dangerous Brian).  European interests were also represented by the charming Olivier (The Belgian) and The Ladies, Jane and I (and before anyone else says anything, yes, it was a bit of a misnomer).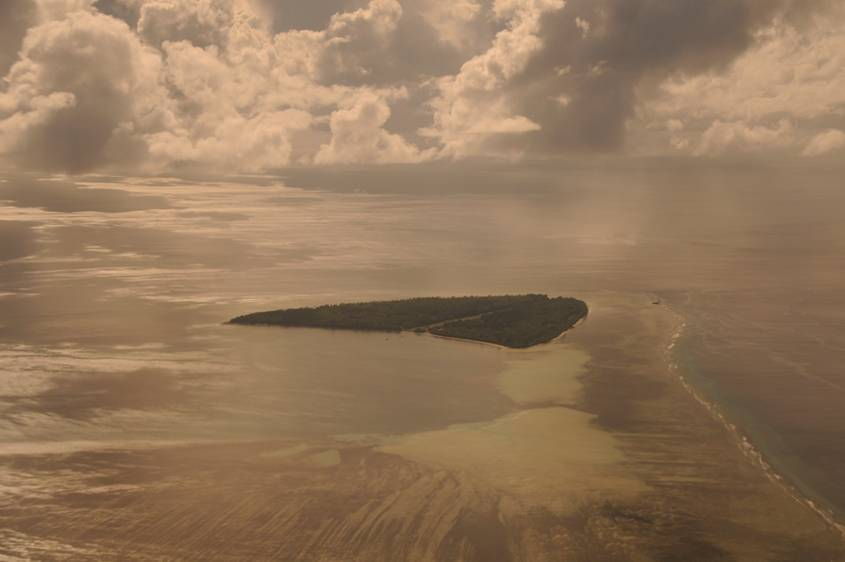 Mahé was completely clear of rain for a change and we were all out quickly bar Brian and Randy who had fallen foul of the immigration queue – no real surprise there!  Bags loaded, we headed off to the Mason's lounge near Eden Island where we were able to dump our stuff, have showers and a snooze before having lunch and heading back to the airport for the flight to Alphonse.  They are getting tighter about meeting the weight limit and everyone had made sterling efforts to minimise the amount of clothes against the maximum amount of fishing kit and still make the weight limit!   With the speed of our landing raising opinions on what the pilot had to get back for in such a hurry, we were duly whisked off to the bar to meet Shawn, Mandy and Devan and then on to our rooms and to the fishing centre to rig up for the following day.  Fantastic to see all the guides again, the boats out on the water and to listen to the banter of the Magnificent Seven as their tackle was bared to the light and assembly began.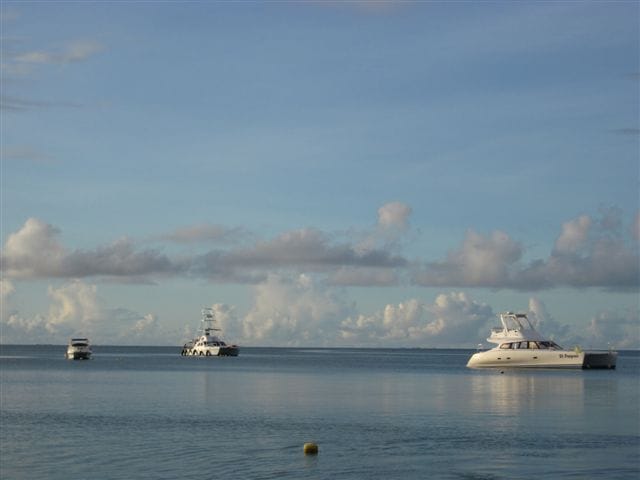 We were all a bit shattered and it was an early night for all as we set off for bed and the promise of a very early morning alarm call from Miriam.  It was a perfect morning and an almost perfect day out on St Francois and with only one member of the group, Olivier, having been before the call of the fishing unknown had everyone on their toes as they prepared to head off.  With the inevitable knitting tangle of a rod or two in Tam Tams rod rack sorted out, we were all on our way and heading out.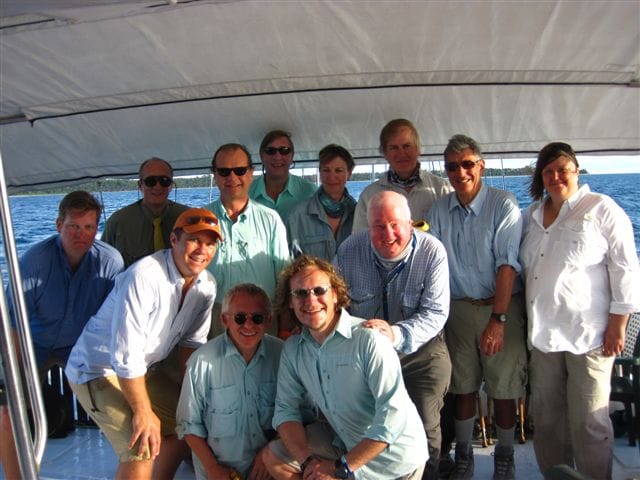 The tides were perfect for bones in the morning and even though the experience make up of the group was very wide ranging, the day seemed to gallop past.  Jane and I were fishing together with Brandon and spent the morning on bones, fishing the dropping tide and we both landed some nice fish, the largest being a cheeky 5lbs bonefish who had just convinced me that he wasn't at all interested when he pounced on my fly and shot off with it.  Jane's rod was bent with increasing regularity and as the tide moved off the flats we headed off to find a parking spot for lunch.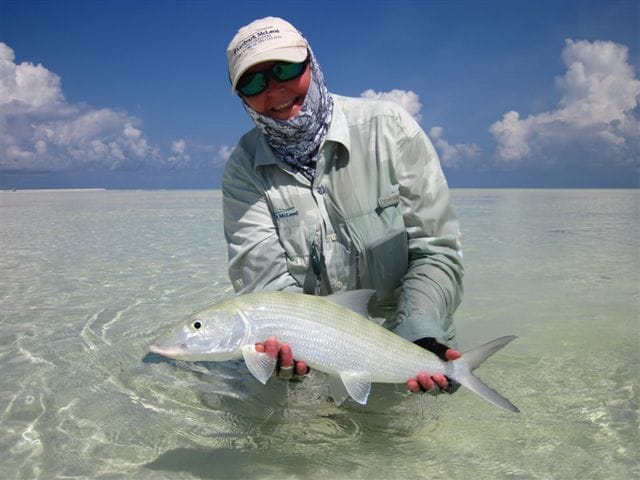 Brandon had decided early that morning where he was going to stake out for passing GT's or feeding milks but lady luck wasn't smiling on us just then and off to the finger flats we were bound.  She reappeared, and the triggers were there: Brandon quietly walked Jane up to a beautiful tailing yellow margin trigger.  It was interested but not overly so and decided quite quickly to head for open water: just as it dropped off the edge, Jane put the fly just in front, let it sink, stripped, stopped, stripped and the head went down, the line went tight and we realised that Brandon does have quite a loud voice!  Anxious that Jane didn't let him run for home, the flat soon echoed to the cries of 'hold him' and 'I'm trying'.   Having given in under verbal pressure, Jane kept the trigger away from the safety of the coral and landed an absolute beauty of a fish, 8 lbs, truly a lifetime trigger – the smile didn't drop off her face all week.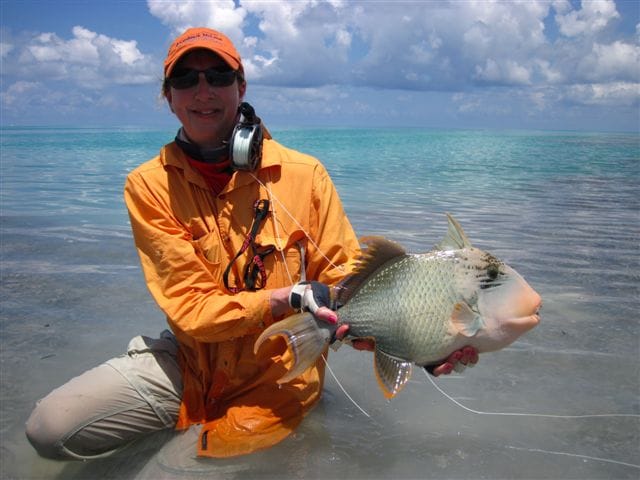 Frustratingly, my issues with triggers continued and I hooked and lost a nice giant trigger.  In addition to the bones and Jane's trigger fish, we landed a variety of species including blue spangled emperors to 6lbs and a several groupers, including a cut throat grouper which I hadn't seen before.  The day passed so quickly, we were back on Tam Tam before we knew it and catching up on how the rest of the group had faired.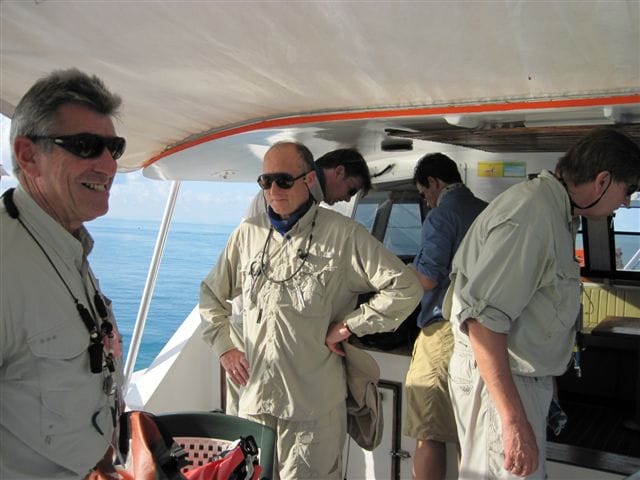 Derek and Jeremy (with Wayne) had landed between them several blue spangled emperors, yellow lipped emperors, blue fin trevally, tomato groupers as well as a bucket full of bonefish.  They also spent a few hours looking for GT's (they saw two big fish, iro 150 lbs) and had good shots on the milks.  Brian and Randy (with Andrew) spent most of the day on bonefish and also landed blue fin trevally, cigar wrasse, blue spangled emperors and yellow lipped emperors.  Looking a little like an extra from a Bruce Lee movie, Dangerous Brian became Brian the Destroyer (Conan's second cousin, twice removed in height) returning to Tam Tam with not one, but two broken rods!  Mark and Peter (with James) landed a remarkable number of blue fin trevally, queenfish, groupers, yellow lipped emperors as well as bonefish.  Olivier and John (with Alex) landed 30 bonefish, tomato groupers and blue spangled emperors but did spend a large part of the day looking for triggers.  Philipp, and in particular Mortiz, had an epic day, landing 30 bones, small blue fin, blue spangled and yellow lipped emperors, and a flute fish.  For a first time angler, Mortiz absolutely flled his boots on his first day out.  However, the catch of the day belongs to Mark: a turtle rather unexpectedly ate his fly and had to be cut off!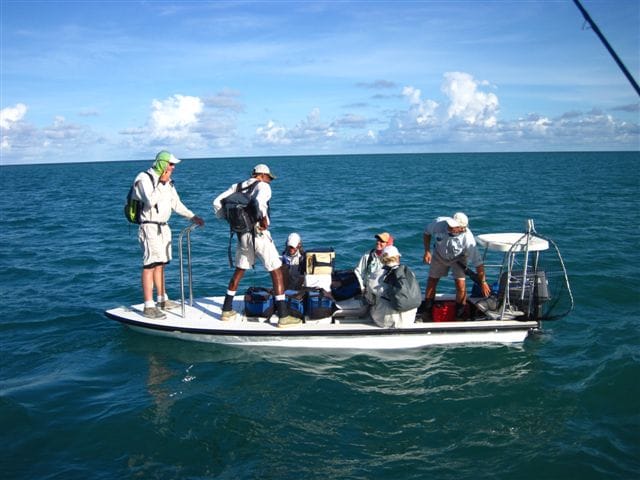 MONDAY – another beautiful morning saw us all with new guides and the Magnificent Seven and Olivier with new boat partners.  Throughout the week The Ladies and Team Germany continued to fish together while the rest rotated amongst themselves: Jane and I were with Alex, Philipp and Moritz with James, Peter and John with Wayne, Jeremy and Mark with Andrew, Derek and Brian with Brandon and Randy and Olivier with Scott.   As always, bonefishing on St Francois was fantastic, you just can't beat it and approximately 150 bonefish were landed during the course of the day with Scott's boat absolutely caning them, landing about 75 between them.   Species wise, the day saw blue spangled emperors, yellow lipped emperors, lyre tailed groupers, tomato groupers, queenfish, humphead snappers and blue fin trevally landed and Jeremy have a couple of hookups with milk fish.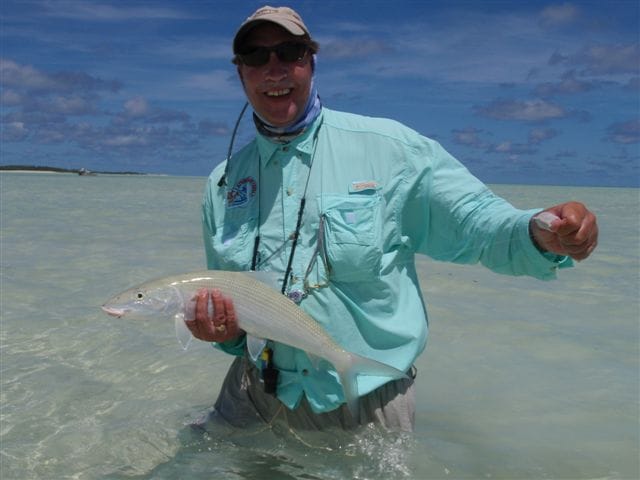 Jane and I had an epic day and I finally got to break my trigger phobia: we had seen triggers and I had again, hooked and lost a small giant trigger when we saw a tailing yellow margin trigger.  Having attracted his attention with one of Andrews 'specials' and with heart pounding, my concentration was shattered when Alex suddenly shouted 'oh my god, Jane drop your rod, drop your rod'.  Jane, looking and sounding  both aggrieved and bemused needed some persuading to do so, all at high volume and involving some ripe anglo saxon – Alex had seen a big GT move onto the finger flats, its substantial back glistening in the sun and he was trying to get the 12# to Jane.  Meanwhile, the only polite and well behaved (or incredibly stupid) trigger fish was still looking at my now forgotten fly in some puzzlement, almost as if to say 'well, you got me this interested, come on and finish it'.  Torn, I abandoned my patient trigger and grabbed Jane's floating 10# while she and Alex went after the GT.  Sadly, it headed back into the depths and my trigger had given me the two fin salute as well.  All reassembled, and still in awe over the size of the GT, we carried on up the flat, taking turns on the triggers as we found them.   Targeting a small giant, Jane found herself with a small fish on and while she was muttering ' get off, I don't want you', I was saying 'yes you do, yes you do'.  She had hooked a beautiful, decent sized Picasso trigger which had charged down the flat and pinched the crab from in front of the giant trigger she had been aiming for.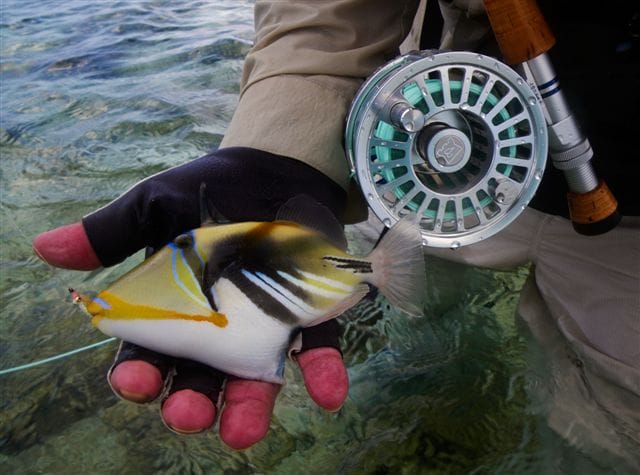 The waving tail of a yellow margin caught our attention and, without much hope in my heart, I put my net crab down just to the right of the fish, letting it move slowly into its line of sight.  Heart working overtime again, it was strip slowly, twitch, leave, strip slowly until the head went down and the line went tight.  Not tight enough and he was off but still interested. I repeated the process and the second strike was successful and off he charged.   With both Alex's instructions ringing in my ears, and Brandon's of the day before whizzing around my head, I was determined not to loose this magnificent fish and when Jane said 'fantastic, well done' before I'd landed it, I rather unceremoniously told her to shush!  What a beauty!  A lovely 9 lbs yellow margin, very much darker and browner than Jane's and finally, I had landed my first trigger.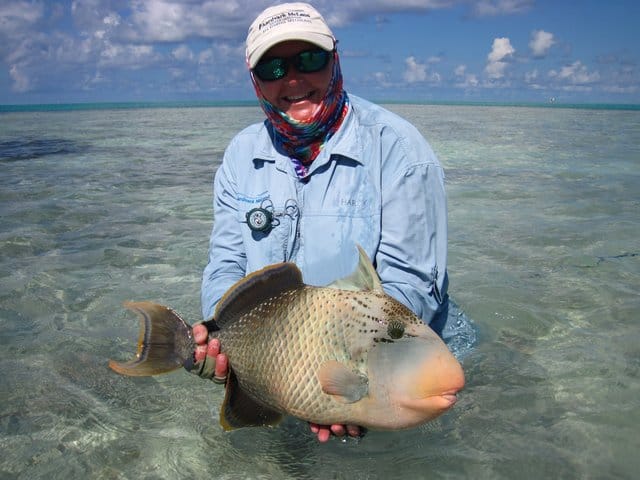 TUESDAY – another beautiful day – I couldn't believe our luck – saw us heading out to St Francois in high spirits: Jane and I with James, Derek and John (with Andrew), Brian and Jeremy (with Alex), Randy and Mark (with Wayne), Peter and Olivier (with Brandon), Philipp and Moritz (with Scott).  A frustrating but enjoyable day for Jeremy as, having spotted GT's following a nurse shark, he had hooked but lost 3 fish.  As he said later, far better to have hooked and lost than not having had the opportunity at all but the gauntlet had been thrown down and Jeremy was very much up for the challenge!  Between them, they landed a picasso trigger, groupers, a goat fish and a yellow lipped emperor.  Derek and John had a primarily bonefish day, but also landed blue fin trevally, tomato groupers and a queen fish.  Team Germany, splitting their day to suit both Philipp and Moritz spent the first part of the day species bashing, landing a variety of groupers, snappers and a blue spangled emperor before spending the remainder of the day on milkfish with several opportunities but none landed.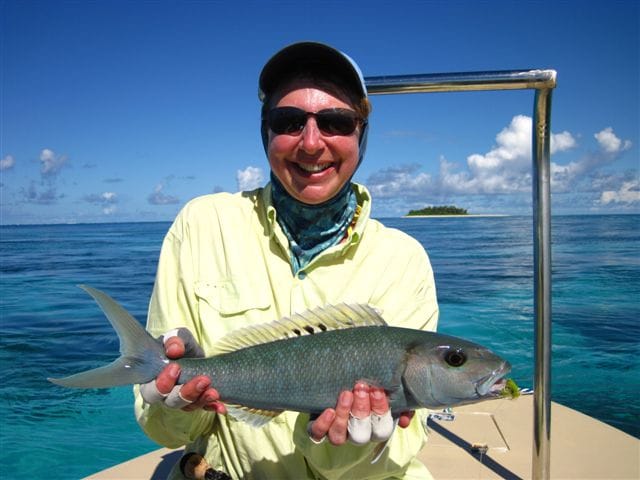 The milks were in evidence all week, feeding on the surface, and occasionally daisy-chaining nicely in decent numbers, but they were weren't that interested in taking the fly although none of us tired of trying!    Olivier and Peter saw about 15 permit in an hour, sadly no hookups, but fantastic to see so many at once.  They spent some of the day on bonefish, including having a baraccuda take a bonefish almost a their feet, and the rest of the day targeting species, landing blue spangled emperors,  blue fin trevally and brown spotted groupers.  Randy and Mark, out with the walking encylopedia that is Wayne had a bonefish day with a pouter bream thrown in for good measure.  The Ladies, in the meantime, were on a mission with James.  Not having fully appreciated how much James enjoys dredging, I had tentatively asked if we could do a wee bit at the right point of the day.  His face lit up and I was accorded a rare smile before we headed out.  Jane landed a great 4 lbs jobfish, I had a beautifully colored 6 lbs lyre tailed grouper, various snappers to 2 lbs before we headed out to the drop off behind Bjoutier.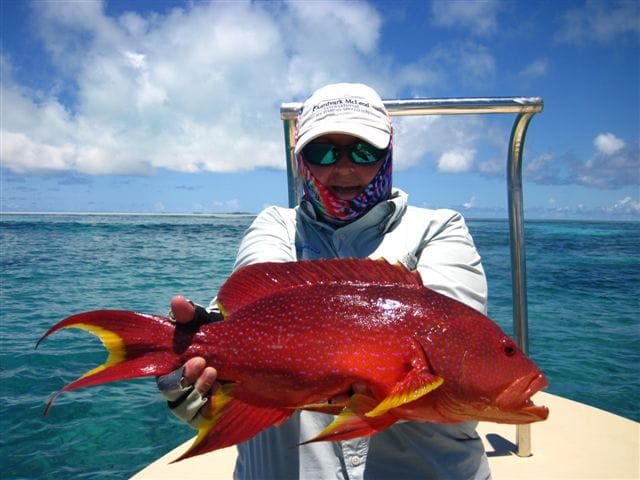 Never having been dredging before, I truly had no idea what to expect – Jane had spent many hours dredging on past trips and hadn't given anything away apart from the need to 'be strong'.  Not quite sure how to take that, the first hit I had on my fly (one of James secret weapons) took me by surprise and despite James' extortions to hold, hold, hold, my timing was off and that first fish got away.   Stripping that fast and that consistently requires a level of co-ordination which , as anyone who knows me will tell you, is not really my strong point and as every strip missed equals a potentially lost fish, we were both keen to avoid the gimlet eye of James and try to be as consistent and fast as we could.
 
The air around Bjouitier that afternoon echoed to the sound of 'faster, faster, strip faster' and lot of huffing and puffing.   I had an immense hit and all hell broke loose: I had stripped in the best part of the fly line, and it went out so fast we ended up with a tangle and it became a team effort: Jane undoing the knitting and me trying to hang on to the line with my left hand.  Control restored, I realised that whatever I had hooked I was going to have to work very hard for – and then it got worse.  In a split second, I felt both an almighty hit and the line I had laboriously recovered just screamed off the reel – the aptly named Fortuna (for tuna – get it?) was cranked up as far as it could be and suddenly we were halfway through 460 yards of backing and the line was still heading down and out.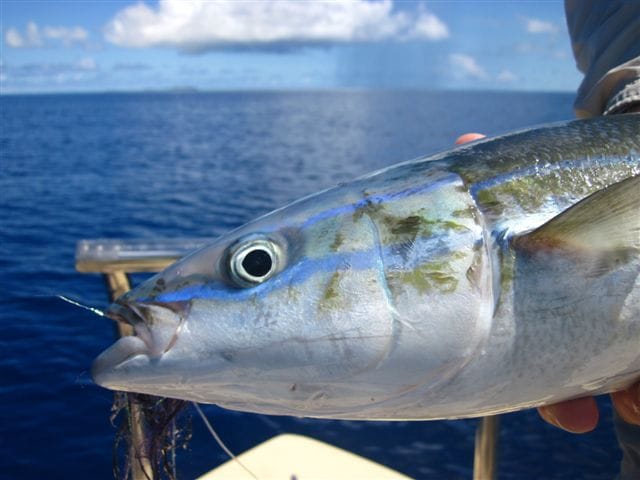 James had lept round to the front of the boat shouting, 'we've got a big upgrade' and I was too busy trying to hang on to what felt like a large family car, fully loaded for month camping in Devon, accelerating downhill to ask him what he meant.   Just when we thought we had it under control: the butt section of the rod broke and all hell broke loose again.  James grabbed the top three sections before they vanished into the depths while I got in as much line as I could. In that brief drop in tension, we lost our upgrade but still had to bring in the original fish which turned out to be a hefty rainbow runner – with an immense bite just behind its dorsal fin.  Who knows what the upgrade was: James' thoughts were that it was an enormous dog tooth tuna but whatever it was, it weighed a ton, had nearly bitten the rainbow runner in half and had destroyed my 12#.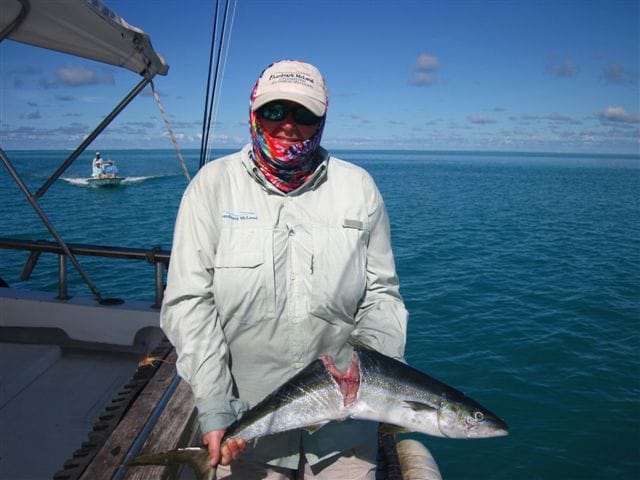 Jane and I both had other fish on that afternoon but lost them, but what a day it was and one that will live forever in my memory if only for the speed with which everything happened and the resultant chaos.   Oh, and stepping around a dead fish when dredging isn't good idea – I'll leave that to your imagination.
WEDNESDAY – Mark had said at the outset that he was going to have one day on Alphonse and Wednesday is my office and Alphonse day so Jane went out with Wayne, Olivier with James, Philipp and Mortiz (with Brandon), Brian the Destroyer and John (with Alex), Derek and Randy (with Scott) and Peter and Jeremy (with Devan).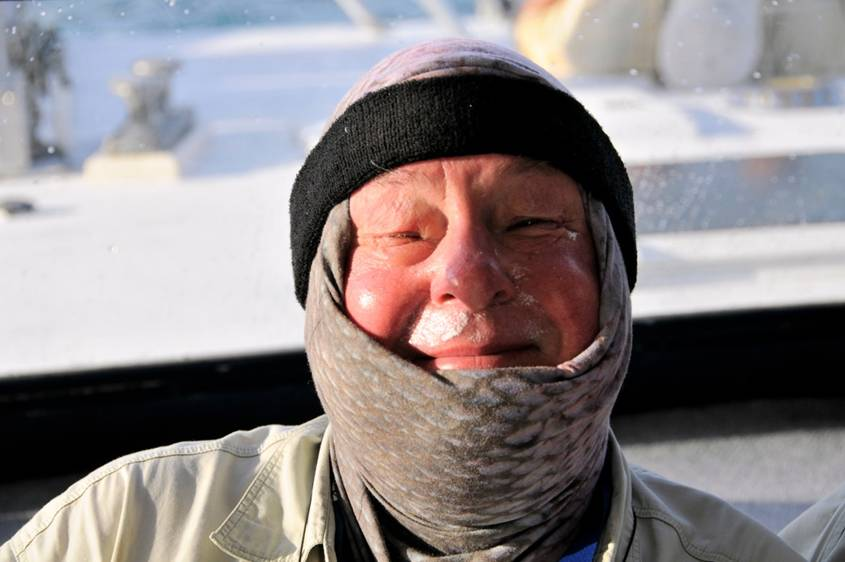 Derek and Randy absolutely slammed the blue spangled emperors, landing 20 during the day up to 5 lbs as well as 35 bonefish, groupers, snappers up to 3 lbs and sadly a lost trigger.  Team Germany were also on the trigger hunt and had pretty much the same experience as the rest of us in that whilst the triggers were undeniably there, they weren't keen to feed.  Species wise, they landed bonito, white spotted grouper, yellow lipped emperors and whilst dredging, hooked and lost something large!  
The day however, belonged to the milk men: Jeremy and Olivier who both landed beauties. Jeremy and Peter were out with Devan and had an epic day.  Jeremy landed a 22 lbs milkfish plus two golden travelly to 8 lbs that he was trying to shake off, little realising what a trophy fish he had on.  They spent some time hunting for triggers and hooked and lost two.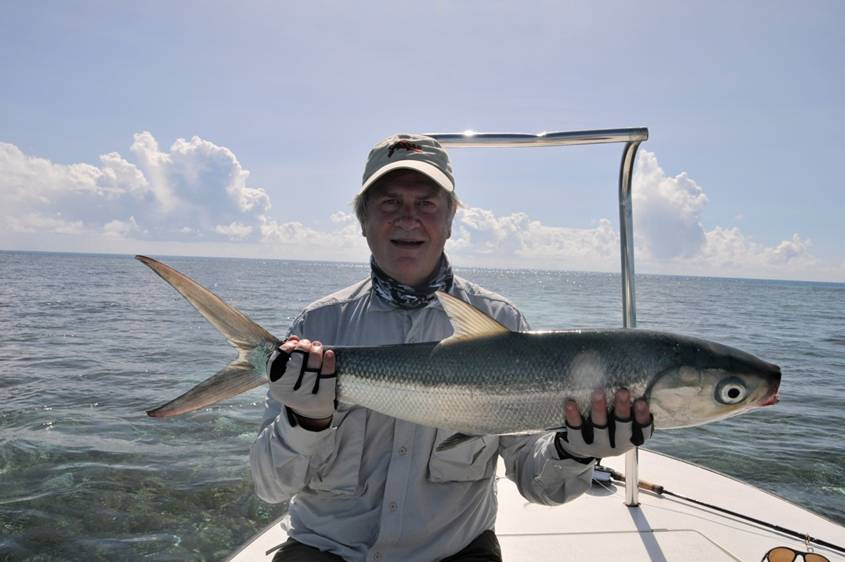 Olivier, who was fishing with James, landed a 30 lbs milkfish, bones, emperors and then spent a fair few hours looking for GTs to try and make up the grand slam.   The triggers also provided to be elusive but the smile didn't leave Olivier's face all evening despite having had to haul up a 40lb lump of coral that had attached itself to the fly while out dredging.  Brought to the surface, they gently released it back into the depths, followed by polite wishes of goodwill.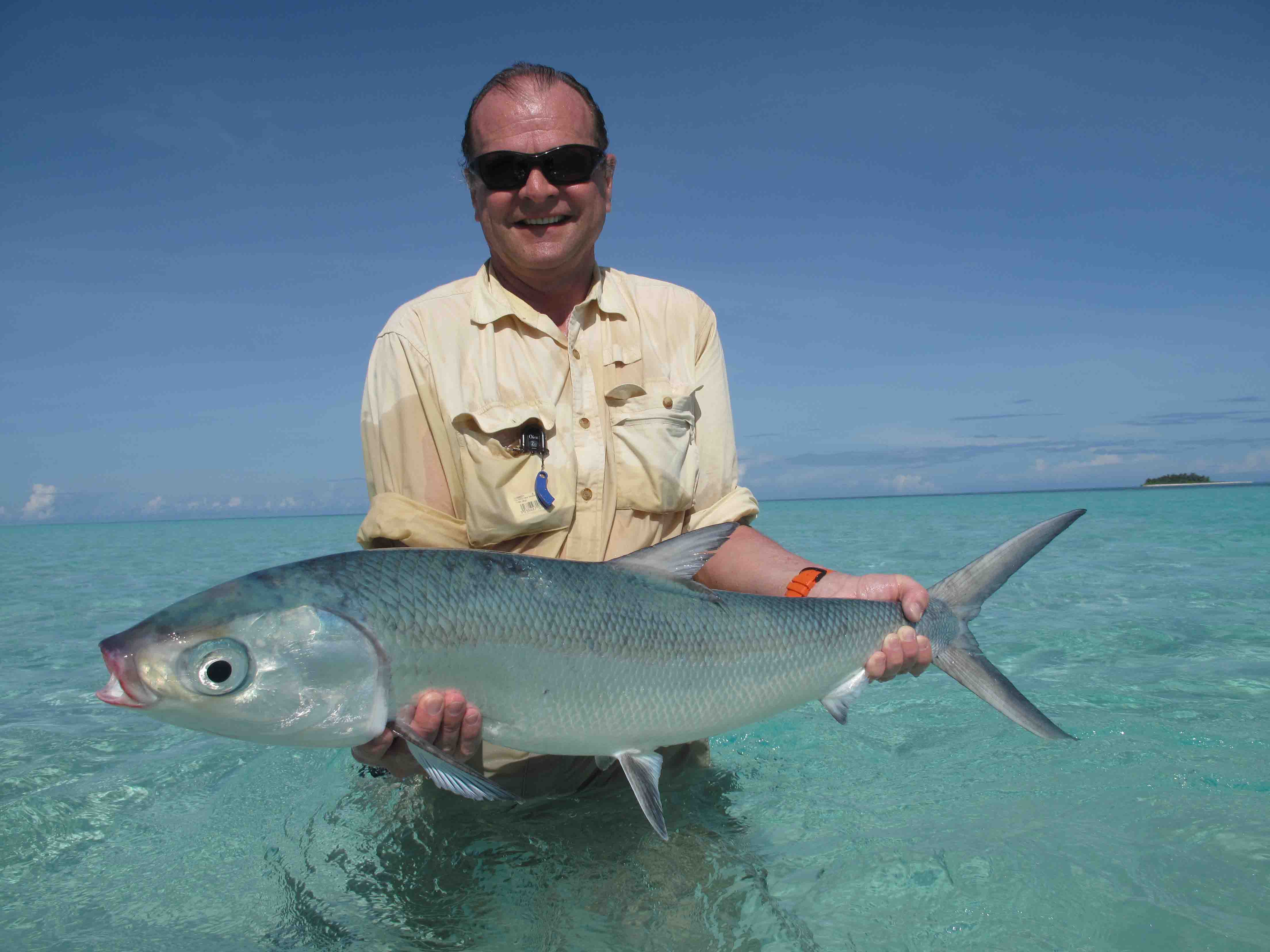 The rest of the group had a mixed day with some opting to spend the day looking for permit and triggers and the others opting for species.   Between them they landed a number of bones, pouter bream, blue fin trevally, a big eyed trevally, blue spangled emperors, humphead snappers, tomato groupers.   Jane's day was probably the most eventful, just not in quite the way she might have wanted: not only were they inked by a passing squid but she broke her 10# into the bargain (not on the squid I hasten to add!).  At the end of the day when Wayne was washing his boat down, the squid ink running off the back razzed the GT's that haunt Tam Tam to the point that they attacked the back of his skiff.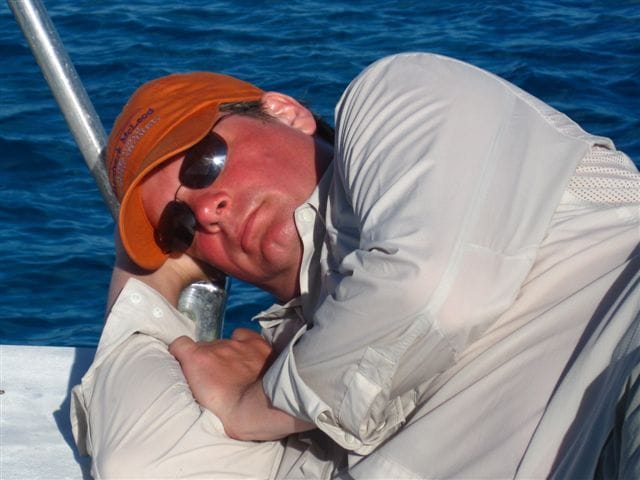 THURSDAY – I still couldn't believe that our luck with the weather would hold but it did and we all set off for St Francois with different scores to settle out on the flats.  Jane and I were fishing with James, John and Jeremy with Brandon, Derek and Mark with Scott, Randy and Peter with Alex, Philipp and Moritz with Wayne and Brian and Olivier with Andrew.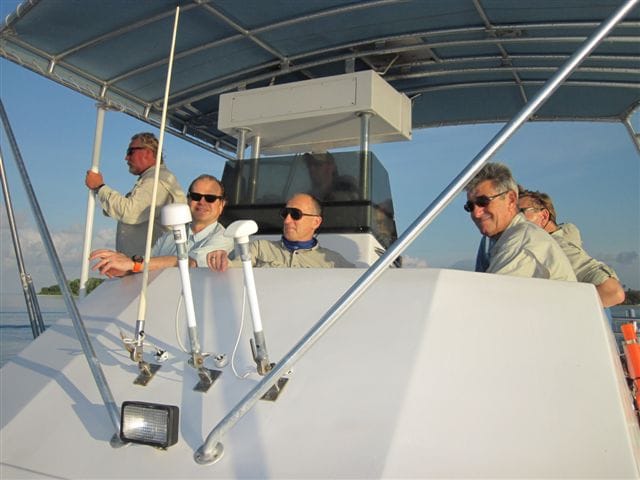 Dangerous Brian had admittedly been feeling dreadful all week and had gathered another sobriquet – The Germinator.  He wasn't getting any taller but some of the rest of the group were feeling a bit off colour so we decided to blame Brian.   Scott's boat, with Derek and Mark, landed nice number of bonefish, snappers up to 8 lbs, a 5 lbs jobfish and a bonito.  A GT came swimming by but unfortunately it was not to be and Mark lost a fly line on the engine.   James had taken Jane and I outside looking for milkies and while we saw several separate groups feeding, they just weren't interested in the fly.  We worked hard for them but to no avail. Wayne was also outside with Team Germany on board and the two boats were entertained for a while by an enormous pod of spinner dolphins.  It is always a priviledge to watch these magnificent mammals cavorting in front of the boat.  Small detour over, both boats returned to the hunt for milkies.  We met again for lunch at Rattrays but abandoned the idea of looking for permit and bones as the water was just too warm.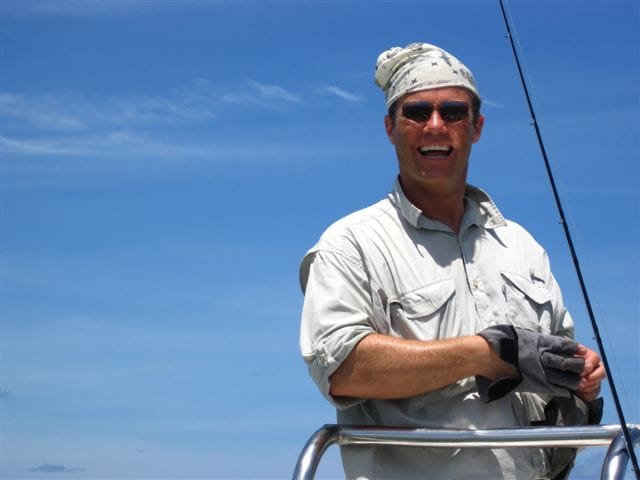 Leaving after lunch, a GT had James all of a quiver and while we patiently stalked it, we didn't get close enough for a genuine shot at it and the remainder of the afternoon we spent hitting the coral with the 12#'s.   I had several big blue fin trevally following my fly in but no takers, Jane landed several humphead snappers and between us we had small, medium and large boha snappers.   At the end of the day, we were heading back to Tam Tam when we saw milks daisy-chaining again and with 10 minutes to go it just wasn't an option and very frustrated we had to abandon what would have been our best chance of the day and leave the milks undisturbed.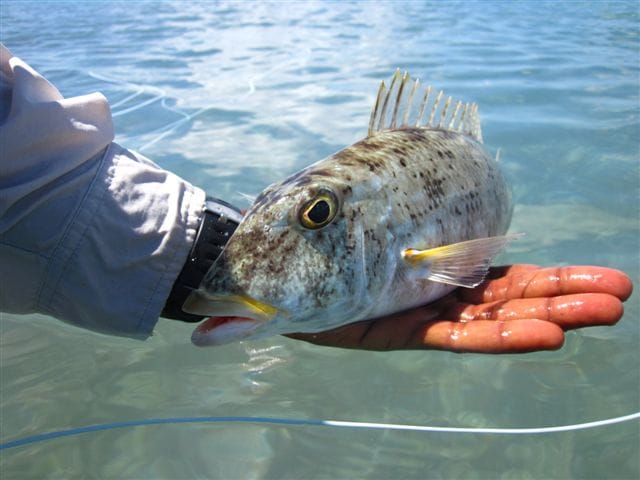 Peter and Randy had spent the bulk of the day looking for triggers and milks but the morning on bonefish.  John and Jeremy spend a short time on bones first thing and had a great day looking for milks and GTs.   Philipp and Moritz were also on the GT hunt and saw three – they also landed good numbers of bonefish, blue fin trevally, humphead snapper, boha snappers, twin spot and pouter bream as well as a jobfish.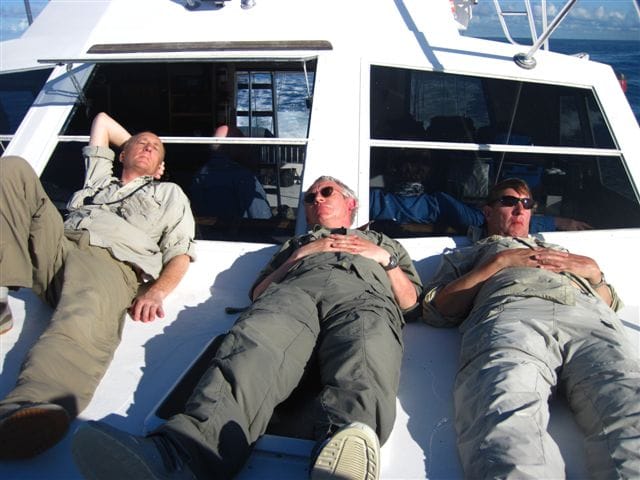 FRIDAY – It is always with slightly heavy heart that I head out for the last day on the flats and Friday morning was no exception particularly as the wind was up and it is definitely not my friend.  Jane and I were out with Andrew, Team Germany with Alex, Mark and Dangerous Brian (with Scott), John and Randy (with Wayne), Derek and Peter (with Brandon) and Jeremy and Olivier (with James).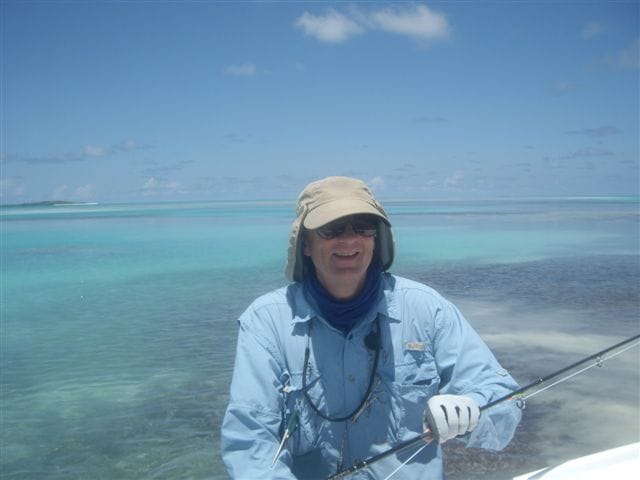 Everyone warmed up on bones in the morning before heading off to settle individual scores.  Philipp and Moritiz went for broke on their last day as they went looking for triggers and GTs: they saw four GTs which they had some good shots at no hookups.   Randy and John had some nice bones up to 6½  lbs and spent some time species bashing landing a variety of groupers, snappers and blue fin trevally.  They also put in a few hours on milks but had no hookups – it seemed to be the story of the week with the milks as they were definitely around and feeding but very difficult to get to take the fly.   
Derek and Peter moved on to triggers, landing a picasso trigger and Peter lost a giant trigger – ah, the frustration of seeing those blighters shaking the fly off!     No surprise at all that Olivier and Jeremy chose to target the hard stuff: they landed a yellow margin trigger of 3 lbs and Jeremy, who has a passion for permit, lost two and two triggers.    Jane and I also opted for a tough day although we did break it off to walk around Bjoutier as the tides were right to allow us more than a 5 minute jog round.  We spent time looking for triggers, had plenty of good shots but none landed and after lunch we parked up on a channel and went popping for GTs.  We had some good follows but no takes.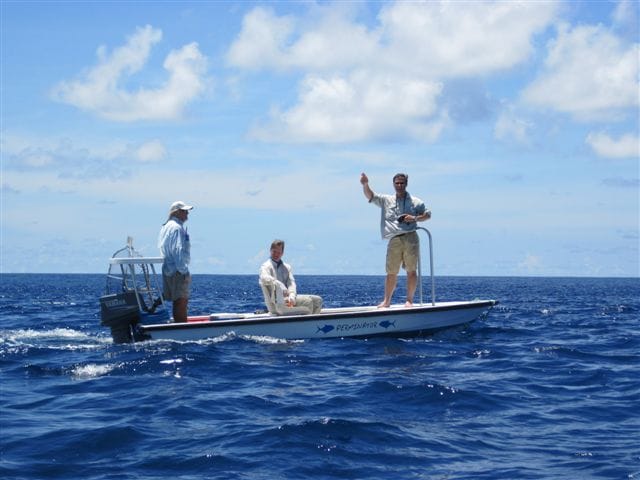 The day belonged to Dangerous Brian.  We had been listening to radio chatter and heard Scott say they'd had a permit but he kept us hanging all day as to who had landed it and how big it was.   Back on Tam Tam, Dangerous Brian moved on to his third sobriquet, 'The Perminator' – he had landed a beautiful 15 lbs permit on a fly provided by Mark and to whom I have to give credit for the photo or he'll send the boys round.  The permit was only the 5th landed of the season, not much of a consolation to Jeremy, but they are not easy fish and as the guides keep pointing out to me, nothing that is too easy will ever be memorable.   It was a phenomenal fish and all credit to Brian and Scott – and of course Mark, as without his fly, it would all have come to nothing – he was very keen that I include that bit.  They also landed 3 queen fish and 4 small blue fin trevally which rather got forgotten in the hubbub.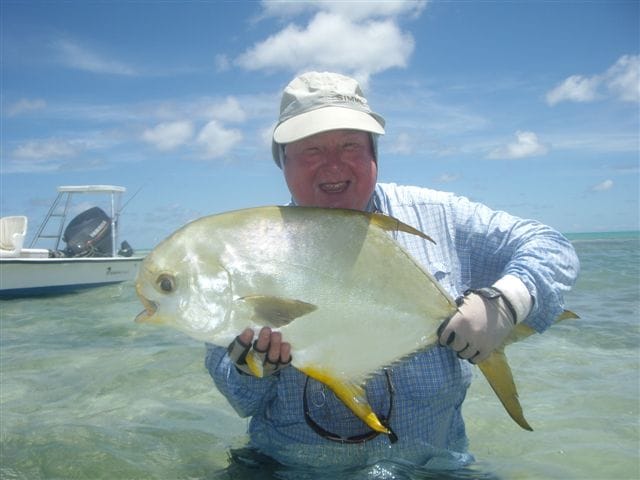 While waiting to head back to Alphonse, we were had the amazing sight of a squid being chased by a GT in front of Tam Tam – the airborn squid inked heavily, landing in the middle of the spreading patch of ink.  Unfortunately the ruse didn't work and the GT pounded it leaving a rather sad trail of left over squid floating in the dispersing cloud.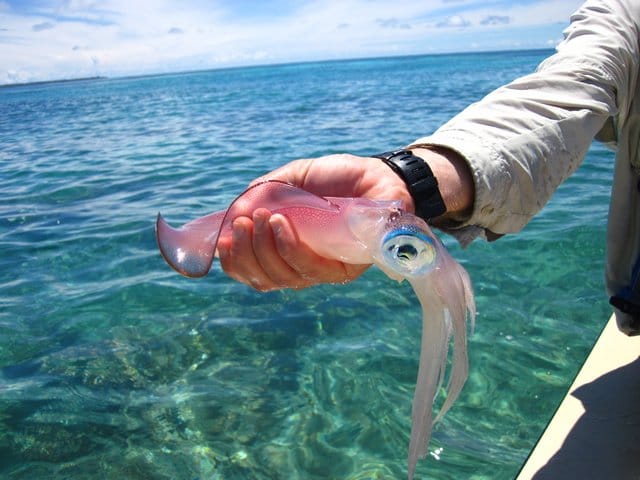 During the course of the week we landed approximately 570 bones, 71 blue fin trevally, 58 blue spangled emperors, 14 yellow lipped emperors, 20 tomato groupers, 3 yellow margin triggers, 3 picasso triggers, 9 queenfish, 42 varied groupers, 52 varied snappers,  3 jobfish, 2 milk fish, 1 permit, 2 golden trevally, 4 broken rods, 1 lost fly box, 3 pouter bream, 1 cigar wrasse, 2 rainbow runners, 1 flute fish, 2 bonito, 1 big eye trevally, 1 squid, 1 turtle and a fly line.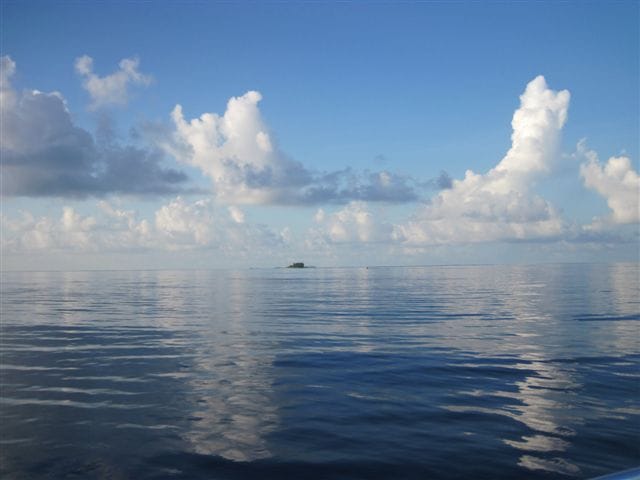 SATURDAY – saw some of the group out fishing, some cycling round the island as we tried to work out how the week had passed so quickly.   My thanks, as always, to everyone on Alphonse for looking after us in such splendid fashion and for making our stay on Alphonse such and amazing, all round, experience. 
Next season seems a long time off but I'm looking forward to it already …… and I'll leave you with two happy men and a landed permit ….