Pluma Lodge
Overall Conditions:
It rained the day when the guests arrived and this started up many sabalos and fresh dorados. The water was tea color then and we saw dorados eating not only sabalos but also pacus and other dorados. They ate one midum size surubi too. Fresh fish do not respect anything!
Weather Conditions:
The first 4 days were cloudy whit light rain, the water continue tea color improving the fishing.

Water Condition:
Fishing is getting great; every time it rains the river rises and with it the largest dorados move on.

Fishing:
In some places we can almost grab the big dorados whit the hands. The dorados are in the shores eating everything. We are using poppers, titanic slider, and other surface patterns looking for aggressive fish. A new fly named "nyap" makes dorados go crazy.
We caught in total 61dorados but the smaller one was a 20 lb!!! plus 3 pacus, 1 yatorana, and 1 surubí during the week.
The biggest fish was a dorado of 35lb caught by Murray Douglas Low on the Medium section of Pluma River.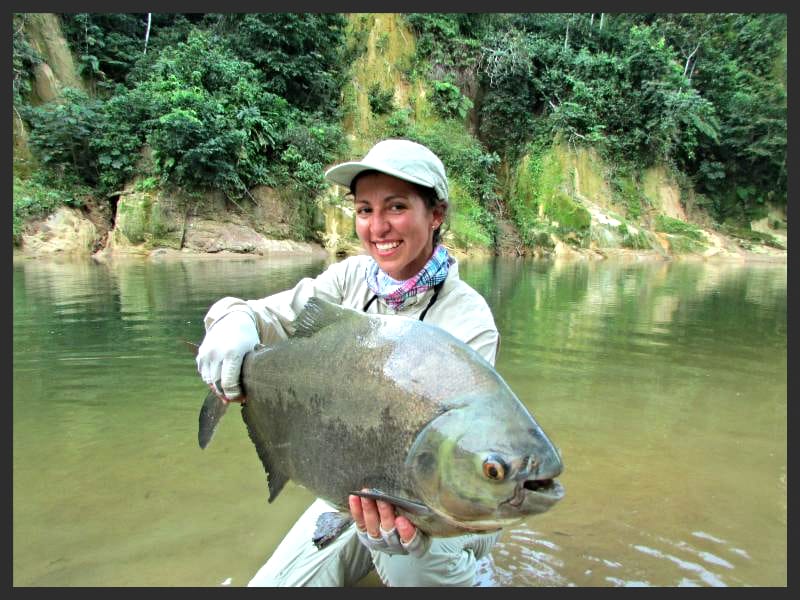 Secure & Agua Negra Lodge
Overall Conditions:
Sunny days seem to have definitely come in August, leaving behind the cold rains of the previous month. Arriving of massive sabalo's schools also reach the dorados, surubis and pacus, anticipating weeks of very good fishing. Both lodges had almost the same quantities of migratory Dorados and Pacus.

Weather Conditions:
Days of full sun, with temperatures close to 30 °.  Fresh and pleasant nights with some small rains.
Water Condition:
The Secure river has already its' best characteristic and appropriate color for the fishing. The upper Sécure and Agua Negra rivers, as well as all the tributaries has very clear waters.
Fishing:
The fishing in these weeks was incredible. Many dorados hunting sábalos in the Secure and in the tributaries as the Maniquicito, Ashana, and of course the Agua Negra. Big schools of sábalos were attacked ferociously many times during the fishing day by several dorados, creating amazing wild scenes for our guests.
We caught in total 131 dorado, plus 12 pacú and 7 yatoranas during the week in both lodges.
The biggest fish of the week was a dorado of 26lb caught by Omar Gaglianese on the Secure river.
For more details please about Tsimane contact us or call on +44 1980 847389.