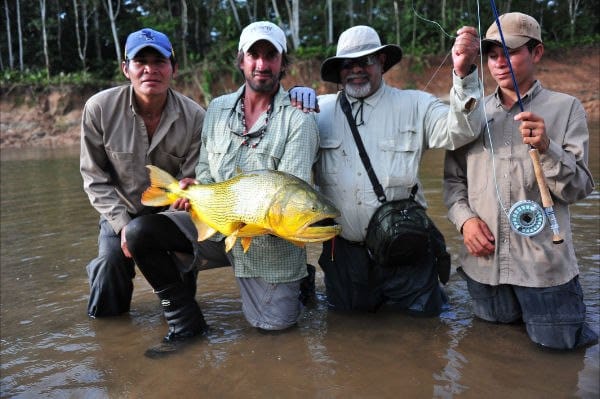 Overall Conditions
The river had gotten to its lowest level over the past two groups and the water was extremely clear which made for some good fishing in the beats.  It made spotting fish easier for sure but sometimes they required a bit more stealth and cunning to entice.  We again have had plenty of clear, bright, sunny conditions.  More camping trips have been done again to Agua Negra and upstream from the Secure Lodge.  Through the later part of this period we had some big storm activity that brought rain and high dirty water once more.  As usual the level dropped as fast as it rose and is clearing quickly.
Fishing
Zone one in the Secure has been becoming more and more productive for pacu with fish being taken on both small streamers and pelotita fruit flies.  Daryl from England scored well with a neat pacu on a streamer not far from the Ashahana outcamp, he also managed to bag dorado and yatorana on the same day.  Dorado have also been active with some fish roaming in schools of six to twelve fish looking for sabalo and of course creating baitfish panic attacks everywhere they go.  With the clearer water lighter and longer leaders along with slightly smaller flies have been a good option for sometimes fussy fish.  There have been some very large dorado on the move too as well as the usual small to medium models regularly encountered.
Zone two has fished well during the period and some good numbers and sizes of fish have been encountered.   There was one school of dorado that has been patrolling the shores of a section that numbered over fifteen fish and looked bigger than six or seven kilos.  Numbers of smaller fish were caught but there sure were some big ones around too.  Ram, from England landed a really class fish in this zone that weighed well over ten kilos.  Fernando and Juan from Brasil landed a couple of very nice fish in the six to seven kilo size range in this zone too.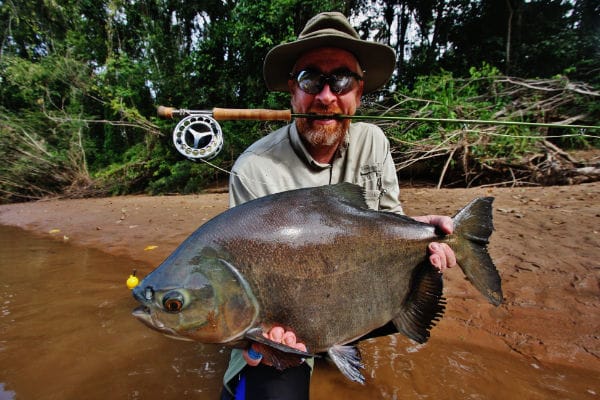 Zone three has also produced some very nice fish to around six or seven kilos Richard had a great start to the morning when he landed a 6.5 kilo dorado, later he caught yatorana and a palometa just to mix the bag up a little bit.  There have been dorado hunting in the shallows at times and some big fish amongst them.  Several times anglers have been broken off in the snags by unstoppables.
Agua Negra Had a brief camping trip this report with four Brasilians.  The first afternoon there were many strikes and some nice fish landed and lost.  There were dorado rolling in many pools, schools of dorado patrolling and one massive feeding frenzy on sabalo.  Fernando scored a really nice seven kilo fish as well as a number of smaller fish.  Roberto got a nice one of around four kilos and got wiped out by a monster.  These fish and all the action only occurred in a brief three hour period and in only a small part of this great stream.  Sadly a huge thunderstorm developed in the evening and the torrential downpour that ensued during the night turned the beautiful clear waters to a roaring dirty river of mud.  We will return again after the river drops and clears.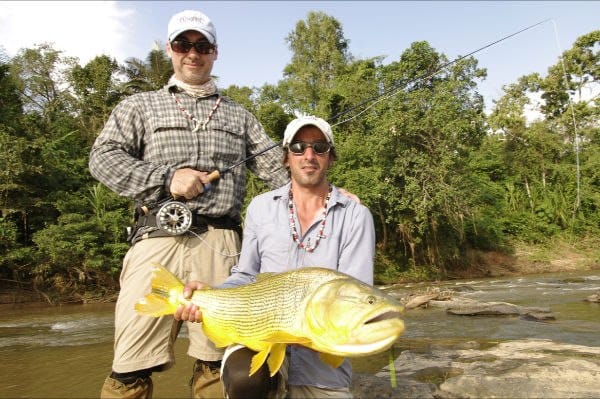 The Secure headwaters was again visited on another camping expedition with Juan Carlos and Fernando.  Brasilians, Gustavo and Alex had a ball with some excellent pacu falling to streamers.  They lost several and missed a number too.  The sight fishing early on in the trip was extremely good.   There were numerous dorado seen and caught the biggest being about five kilos.  The same storm that hit Agua Negra's camp also turned the upper reaches dirty and made the following fishing days tougher but there were still pacu active and several more caught.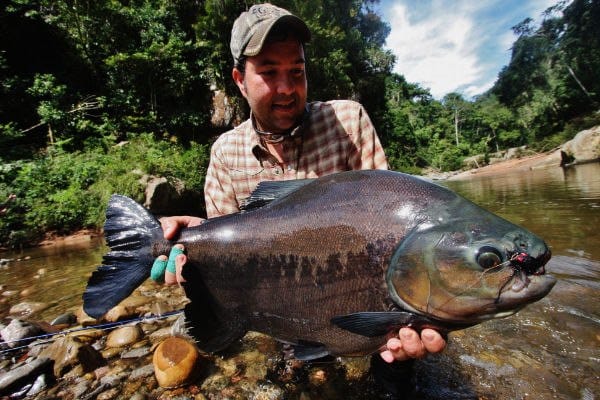 Lodge information available here: Tsimane (Pluma & Secure); Tsimane outcamp (Itirizama); Tsimane (Pluma)
Report from guides Diego, Tom, Fernando and Juan Carlos