Weather Conditions
Air Temp: 83-87
Water Temp: 82
Wind: ENE at an average speed of 8 MPH throughout the week with gusts up to 14 MPH
Tides: The week started with high tide at 8:12 a.m. and progressed to 12:26 p.m. by week's end.
Moon Phase: Full Moon on Tues., April 15
It was a week of more stories than anglers … here are some.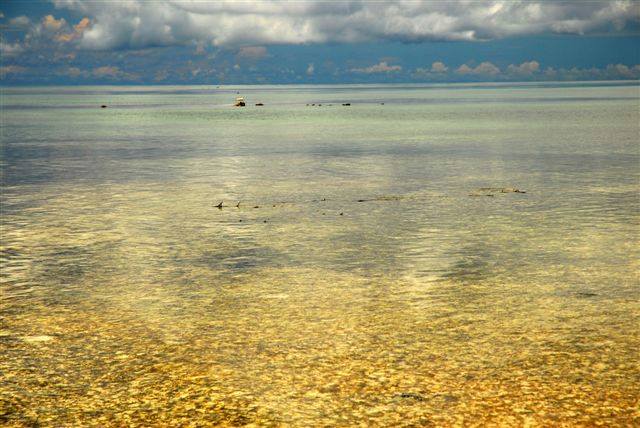 Herb B. and Lee Ann R. had a phenomenal week of fishing with guide Dion. Lee Ann and Herb started by targeting bonefish, but by Monday the game was on. Lee Ann managed to hook and land a permit on each day of the week from Monday through to Friday. We believe it is a TF record. We can't remember anyone ever going five days in a row … we can remember someone having five permit in one day, but never five permit in five days. Lee Ann had the hot rod for the week, but Herb managed to get a permit as well and multiple bonefish throughout the week. Herb's permit also happened to be in the 25-30 lb range.
Mark L. joined us for a mixed bag of fishing and Atoll Adventure. Mark spent a couple days on the flats targeting bonefish and looking to take advantage of an opportunity for a permit; then our Atoll Adventure eco-tourism program for a couple of days.
Longtime fishing partners Jim S. and Kathy H. spent the week with veteran guide Daniel. Daniel took them all over the atoll in pursuit of bonefish, permit, tarpon, and alternate species. Jim and Kathy managed to land plenty of bonefish. But it was Kathy who had a red letter day during the week with 20 bonefish landed. However, it was the permit that had both Kathy's and Jim's attention. Kathy managed to hook and land a beautiful permit earlier in the week, but Jim and Daniel were struggling to get one. However, on the last day Jim and Daniel made it happen. Like a well-oiled machine, this guide and angler were in perfect sync, the cast, the eat, the hook set, everything came together and 35 minutes later Jim had his permit.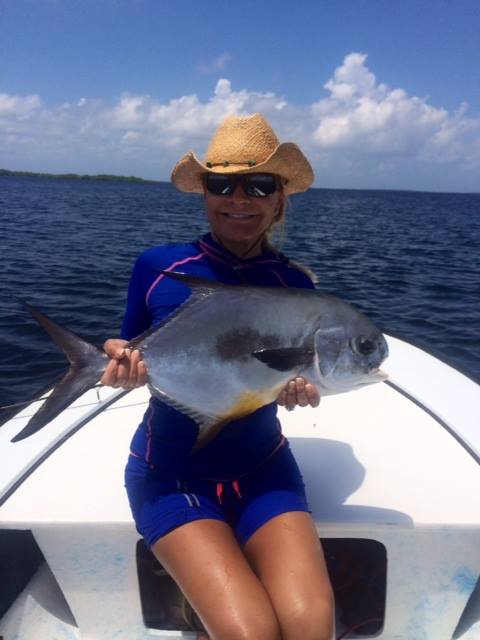 Michael G. joined us for a week of fly-fishing with guide Kimbral. Michael has had some health issues in recent years and showed amazing determination and drive to continue pursuing the flats species that roam the Turneffe Atoll. Michael and Kimbral focused on bonefish and managed to hook and land some beautiful fish. As well as bonefish, they would spend the most ideal window of time throughout each day chasing permit. Unfortunately, the elusive permit proved to be just that.
Lloyd G. and Scott D. were single anglers who didn't know each other, they joined forces and fished with Pops, thoroughly enjoying his never-ending stories, teaching, and of course his amazing ability to find bonefish regardless of conditions. Scott and Lloyd both landed multiple bonefish with a couple chunky examples to show for it. As you could predict, the hot fly for these two was their guide's namesake fly – Pop's Bonefish Bitters.
Damien N. and Kristen K., two experienced anglers who spent the week fishing with guide Mark Hyde. Permit shots came daily with multiple eats throughout the week. However, Damien and Kristin were not able to connect and come tight to the fish. As the saying goes, these permit were being permit. One of the highlights for the week for Damien, Kristen and the lodge was Kristen's massive bonefish that she landed on Thursday. Mark found a group of huge bonefish that were all on the feed. A well placed cast by Kristen put her in a heated battle with what turned out to be an 8 lb + fish.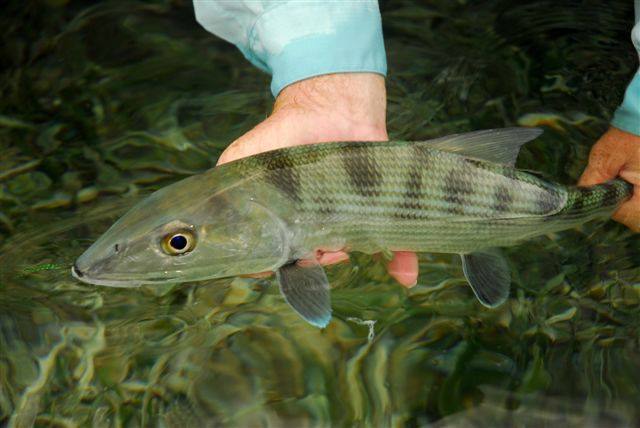 Matson R. and Tom R. were a father son team that spent the week with guide Dubs. It is always great to see fathers and sons, mothers and daughters, and families sharing in the great sport of fly-fishing. Matson and Tom spent equal parts of their week chasing bonefish and hunting permit. The bonefish were on a pretty steady grab, but it still took some work and the right presentation. As for the permit, the opportunities came and that is all a permit angler can ask for. Matson did get multiple eats throughout the week with Friday being the pinnacle of activity. The opportunities came quickly as they often do, but Matson and Dubs were prepared. Matson had two eats and two fish on; the first fish came straight at the boat and didn't allow Matson to come tight to the fish. The second fish ate a perfectly presented fly and came tight; Matson got this fish to the reel as quickly as possible. Within 30 minutes, the fish was landed … then a couple quick photos and off it went back onto the flats.
For more information on Turneffe Flats please contact Alex Jardine by email or call our office on +44(0)1980 847389.