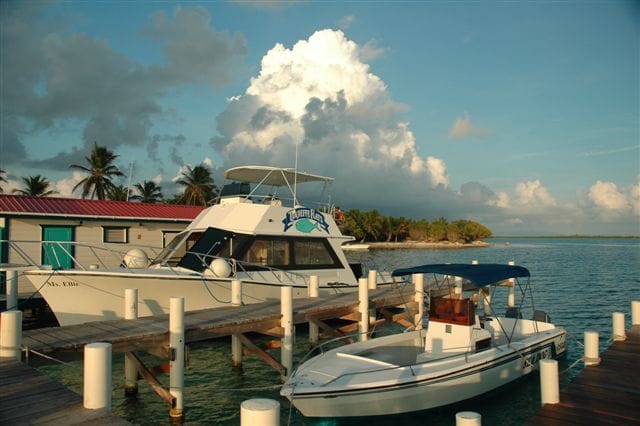 Weather Conditions: A low pressure system brought calm, but cloudy conditions to the beginning of the week, changing to breezy w/ passing squalls at the weekend. Rain and less than optimum sight-fishing conditions were prominent this week.
Air Temp: Highs of upper 70s through mid-80s
Water Temp: 80 degrees
Wind: Winds varied from light and variable to gusty with passing squalls
Tides: High tide at 9:46 a.m. on Dec. 15
Moon Phase: Full Moon on Dec. 17
The weather system that wreaked havoc across the U.S. with frigid temperatures finally caught up with us here in Belize. The system arrived Monday and brought cooler temps into the high 70s and low 80s, and, at times, copious amounts of rain. Our angling group this week was primarily first-time or novice saltwater anglers and despite less than optimal conditions, they made the most of it and had successful fishing.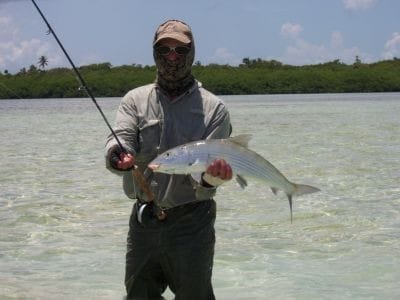 Many times return guest Jerry visited with his son Ben. This was to be Ben's first fly-fishing trip and Jerry requested veteran guide, Pops. The pair set out to revisit old times, initiate Ben to the intricacies of fly-fishing, and pursue bonefish. Jerry fished for bonefish each day while Ben would spend time one-on-one with Pops learning to cast and target the schools of bonefish that they would spot while wading. Their week culminated on Friday when Ben was able to put the week's education into play, connecting with numerous bonefish on the falling tide in the afternoon. Ben, Jerry and Pops were ecstatic over the progress made by this new angler over the week!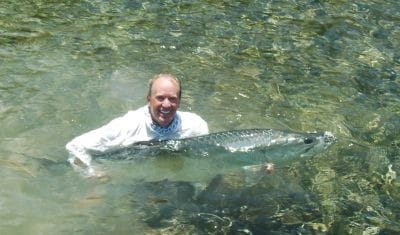 Molly and Agnes of Austin, Texas, brought their redfish skills to test on our Turneffe Flats bonefish. Fishing with often requested guide Dion, they progressed each day and each day reported that the fish were getting "bigger." The angling pair caught numerous bonefish and tested their luck with a pod of permit on Friday but could not get one to take their fly. Their smiles and optimistic attitude made the grey afternoons bright and we look forward to seeing them back again.
Glenn of southern Oregon chose Turneffe Flats for his first saltwater fishing trip. His wife, Rhoda, also joined him as part of our Atoll Adventure program. Glenn fished solo all week having guide Dubs entirely at his disposal. The two set out each day in search of bonefish and Glenn enjoyed the solitude of Turneffe's outer reefs and the numerous bonefish.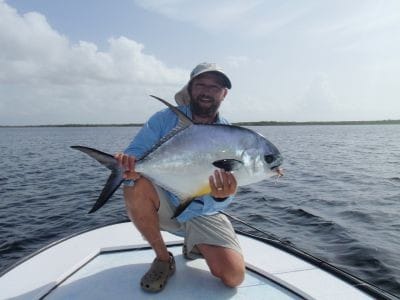 Also from Oregon first time guest and NW fly-fishing guide, Travis "TJ" arrived at Turneffe with visions of tailing bonefish and permit in his head. Paired with guide Daniel, TJ started the week hot as they claimed seven, yes seven eats from permit on the first day! Unfortunately, the angler was still honing his strip-striking skills and was unable to solidly connect with any of the permit. After taking a day off to get a pedicure in Belize City, TJ and Daniel resumed fishing Thurs. and twice had shots at tailing permit while wading on the outer flats near the lodge. The guide and angler did report hooking numerous bonefish feeding especially on the falling tides in the afternoon.
For more information on Turneffe Flats please contact Aardvark McLeod or call +44 1980 847389.