The River Test must be the most famous trout fly fishing river in the world not only for the quality of the fish but also for the past literary history and characters. By far the biggest of all chalk streams 30 + miles as the crow flies from source to sea it offers over 100 miles of fishing.
The Test can be conveniently split into three sections, the upper river from Overton to Leckford, the middle section centred on Stockbridge and the lower from Romsey to where the river enters into the sea below Testwood.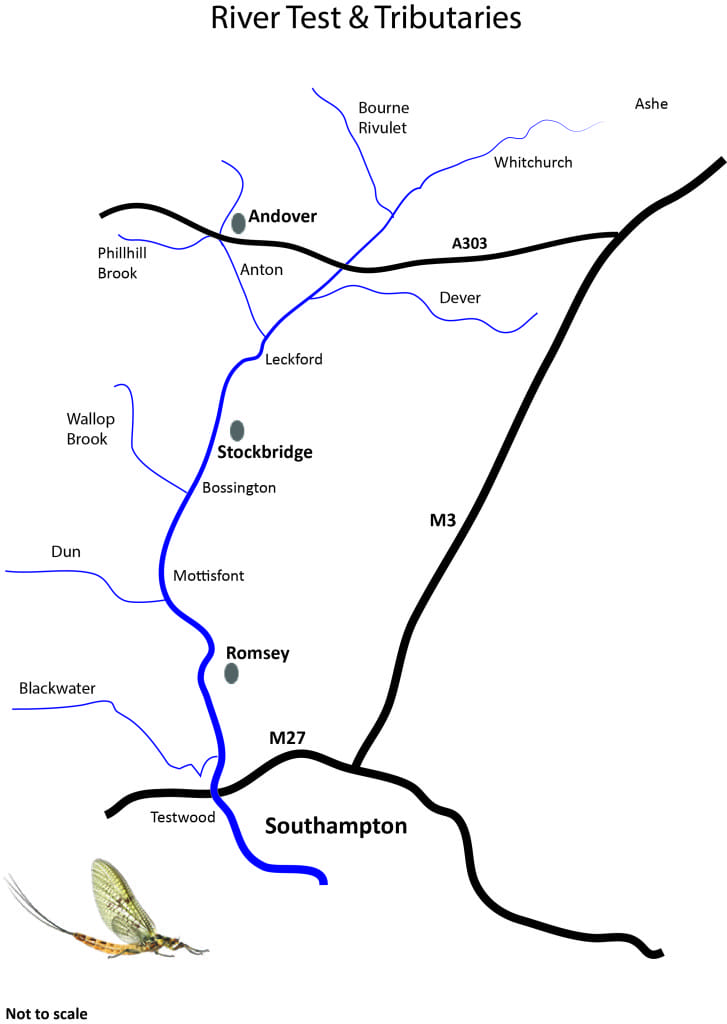 The upper Test from the source at Ashe along with the tributaries of the Bourne Rivulet, Dever and Anton provide the crystal clear spring water running over bright clean gravel and beds of dark green ranunculus providing the ideal natural recruitment conditions for wild brown trout.
From below Fullerton and the Mayfly public house the main river becomes very wide in sections but still has a myriad of smaller carriers offering a wide variety of fishing conditions. It is here that the biggest hatches of mayfly often occur on the Test as the river bed gives the perfect habitat for the silt burrowing nymphs. The river now flows through the famous locations of Leckford, Houghton, Bossington, Compton, Mottisfont and Kimbridge.
Downstream of Romsey the river runs through the Broadlands estate famous for the salmon fishing but now also known for the excellent trout fishing. This part of the river offers some of the steepest gradient of the whole valley. From below the M27 motorway the river runs for a further mile before entering Southampton Water.
For more information on chalkstream fishing please contact Alex Jardine or call our office on +44(0)1980 847389.