Today marks the start of the second major chalkstream weed cutting period in the River Test catchment area; this includes the chalk streams Anton, Dever and Bourne Rivulett.
The weed cut is scheduled to continue until either Thursday 21st or Friday 22nd July, depending on location in the upper of lower sections of the river. Today I spent some time speaking with some keepers in the valley asking for their opinions as to how much weed will be cut and the likely impact on the fishing over the next week.
It looks like some stretches, especially in the upper reaches, there will be some back breaking work to be done but nearly all the keepers think that they will be completed in just a few days. This will lead to some good opportunities to get on the rivers during the reduced price structure that most estates operate these days. If you are prepared to occasionally remove some salad from your leader and hook this can be a very rewarding time to be out on the river.
Whether the weed is cut manually or by machine means many nymphs and other aquatic invertebrates will become dislodged giving the trout the chance of an easy meal. It is at this time of the season when the majority of fishery owners and managers start to allow the use of nymphs which in turn gives us an opportunity to target these sub surface feeders.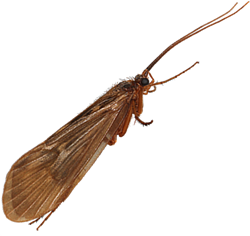 For those that like to fish the dry fly there are still hatches of BWO and medium olives, but the fly of the moment from all reports is the Large Cinnamon Sedge (Potamophylax latipennis). There will never be many of these large flies on the water, but when they do appear a well-placed artificial such as an Elk Hair Caddis, G & H Sedge or Balloon Caddis should produce the goods. These big flies will continue to hatch for the remainder of the season.
There is excellent availability on the Test and tributaries from now until the end of the season and we have started taking bookings for the superb grayling fishing that we can access on the river Anton.
The river Avon weed cut period runs a little later than those rivers to the east and starts on the 25th July ending on 3rd August. There is some limited availability on our beat on the Heale Estate north of Salisbury.
If you would like more information on any of our chalkstream fishing and the summer availability please contact Alex Jardine or call our office on +44(0)1980 847389.