Having just recently spent 4 nights and 5 days in Louisiana aboard the Outpost mothership, ran by high-end outfitter, Eleven Experience; I suddenly found it harder than usual to get back into the swing of things and the grind of daily life. A cramping right arm and a wandering mind stuck replaying a highlight reel of fish, food and incredible sunsets made for a slow re-acclimation to life back on dry land.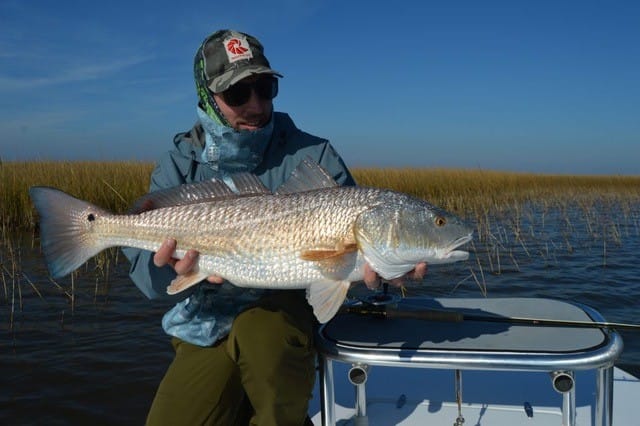 2019 is the first full year that the Outpost has been moored in the marshes of Louisiana—it now splits up the year between the Marquesas, the Everglades, and the Louisiana bayou—but its guide staff has been busy dialing in the local fishery for over two years. That's because, unlike most fly fishing operations in Louisiana that run out of Venice and Hopedale, the Eleven Angling team has made the more western marshes south of Houma, LA their homebase; an area that is notably less pressured and equally as vast and fishy as any you'll find in the Bayou State.
The thought behind this specific location was explained to me by head guide, Paul Ray like this, "It's the same great fishing, without the pressure. Our clients won't be bothered by the presence of other boats and anglers nearby. Most days it's like we have the whole place to ourselves. Our clients get to stay focused, without distraction." It turn out, he was right. We only saw three skiffs that didn't belong to Eleven in our 5 days on the water, and the area we covered was quite large. Like Paul said, it's like you have the whole place to yourself.
Upon arriving at the New Orleans airport, I was picked up by our host for the week, renowned photographer, Brian O'Keefe. As I was last to arrive—the other guests spent the night before in New Orleans—we went straight from the airport to the marina where our guides and the mothership's captain were waiting for us with two skiffs and one panga to transfer our luggage. The skiffs and the four anglers headed straight for skinny water and a quick afternoon of fishing. We boated a nice redfish and had a few shots at others before heading in for a meet-and-greet on the Outpost.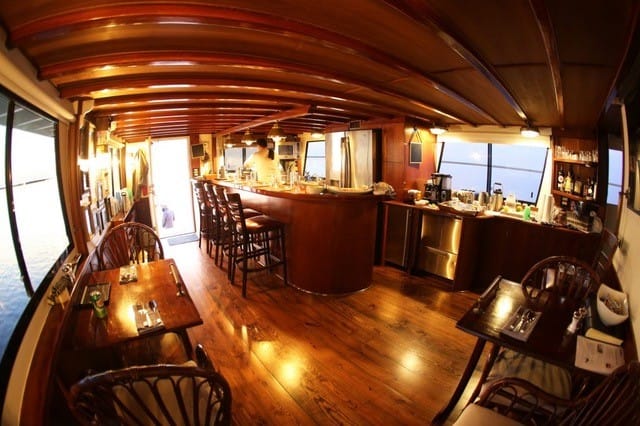 Upon arrival we met our crew, consisting of our Captain, Dane; Joe, our stew; Ian, our chef; and our guides Paul Ray and Jerry Perez. On day 4, Paul left to guide a few day-trip clients and we were introduced to our third guide Evan Noponen. All of the staff were great boat mates, all professional, and good at their respective jobs. Our chef Ian was absolutely incredible, and each night he concocted a dinner and dessert that were exquisite. Dinners consisted of crawfish étouffée, filet mignon with bleu cheese, redfish over a quinoa curry, and an especially delicious crusted catfish with pico de gallo over grits. Each meal was finished with an equally delectable dessert made from scratch, including bananas foster and a meringue and graham cracker-crumbled peanut butter ice cream. We were also greeted each afternoon with hors d'oeuvres and an aperitif or beverage of our choosing. Hors d'oeuvres included crab cakes, shrimp, whole blue crab, and the like. At breakfast, coffee and orange juice were available, as well as a freshly sliced fruit tray, bacon, cajun sausage, and eggs made to order.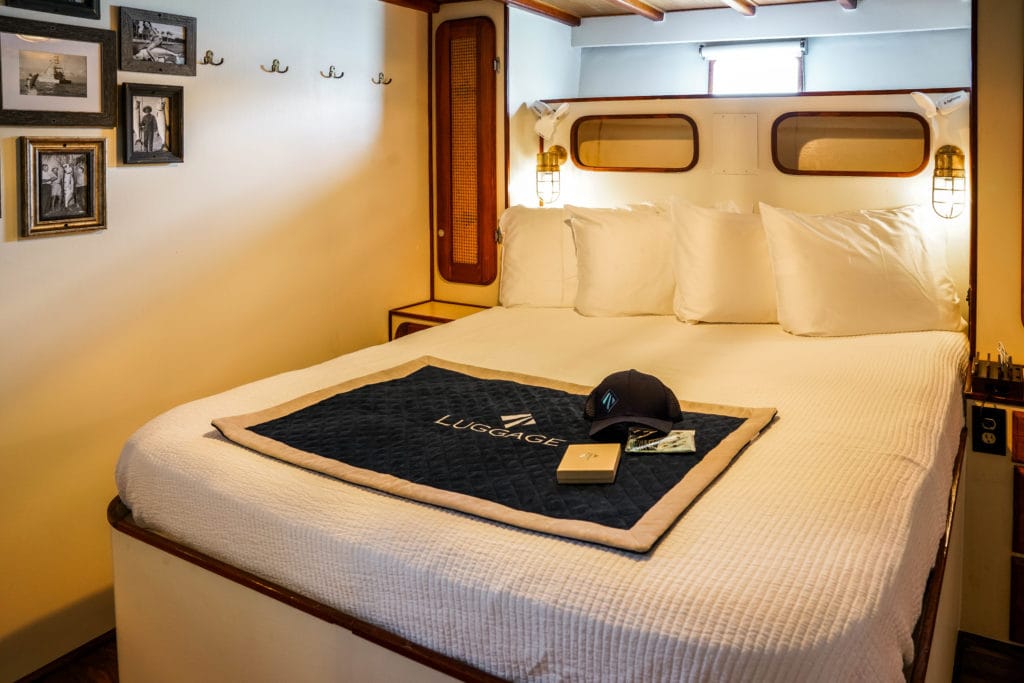 The Outpost itself is a 61-foot Hatteras, with plenty of space for all guests and staff to sleep and lounge quite comfortably. The ship consists of 3 levels, the bottom has two guest rooms and a bathroom, the middle level includes the parlor, as well as two additional guest rooms and another bathroom. The third level contains the bridge and Captain's quarters. Rooms also have individual sinks and plenty of space and storage. Beds were new and comfortable.
Though you might not guess it from the simple outside—which is a white exterior consisting of only an Eleven logo over the bridge and Outpost painted on the stern—the inside of the Outpost is very handsome and spacious. The interior is built from a beautiful mix of rich colored wood and is tastefully decorated in classic bronze fixtures and a nice collection of pictures of fishing legends and images of a by-gone era in American sportfishing.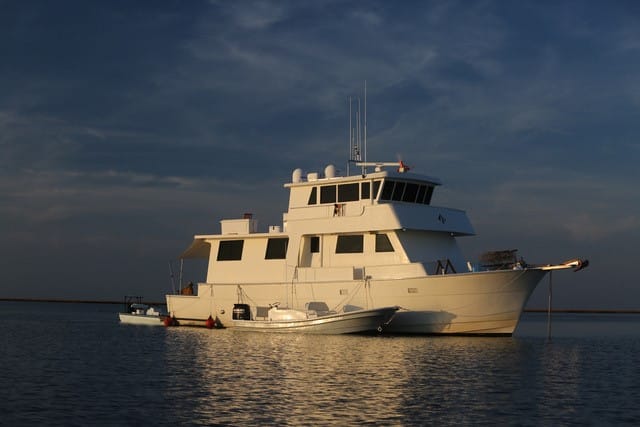 As with all Eleven trips, all gear is provided and top-of-the-line; including an arsenal of Nautilus reels and G Loomis rods. The skiffs were all also quite nice, including one Hell's Bay Professional, an East Cape Skiff, and one brand-new Chittum Skiffs custom skiff, which belonged to Captain Evan. All were great, even though there were a few small hiccups while Evan's new one-day old Chittum skiff was breaking in. It briefly lost thrust a few times until the motor was fully broken in. It was no major inconvenience, as it only happened the first day, and it also happened to be one of the nicest flats skiffs I have fished out of anywhere in the world.
All guides were highly professional and very knowledgable. The waterways in Louisiana can be treacherous due to skinny, stained water and debris from the various shipping, shrimping , and oil company boats in the area; i.e, crab traps, old shipwrecks, etc. One has to be intimately familiar with the area to safely operate a boat here, and stories of props getting shaved off at low tide made this even more apparent. These guys know this place like the back of their hands. All were great at spotting fish, poling quietly, and positioning anglers for casts.
When it comes to the weather, Louisiana threw almost every imaginable weather type and condition at us. On our first full day, day 2, we had a front come in and with it came the wind and clouds. Visibility was curtailed by a solid, darkly-clouded sky, and after a few hours of sight-fishing with fly tackle with only moderate success, the wind picked up even more and we switched to spinning gear and throwing popping corks and jigs. The technique gave me a bit of trouble initially, as I hadn't cast spin gear in years, but after a while we were dialed in and catching big bull redfish that we would have never otherwise seen. This technique is actually quite fun and super effective. Only bull reds seem to approach these rigs, and it was incredible to see just how many 20-plus pounders were out there. We boated a handful of bull reds and one large black drum. As afternoon winds dissipated, we switched back to flies and hooked a few more before turning in. It was a difficult day, but we adapted and were very successful.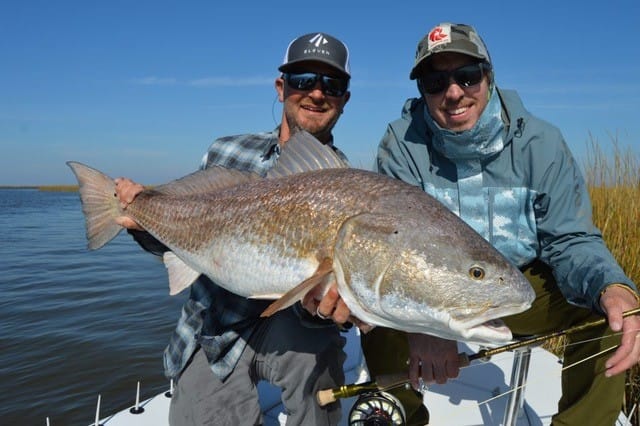 The 3rd day, the sun rose over the marsh and the water turned to glass. We immediately started into the creeks and creek mouths looking for tailing, cruising, and waking fish. Right from the get-go we were successful, and the day couldn't have been better. My boat mate and I both caught several redfish including a couple big bulls and my personal best for the trip, a 26-pound golden-hued redfish who ate a fly only a foot and a half from the boat. It is crazy to see how bold and aggressive these unpressured fish can be.
We also boated a few huge black drum, which is always fun as they fight hard and are plentiful. Throughout the trip, the black drum were actively tailing all over the place and I developed an appreciation for fishing for them. The cast to a drum had to be closer, and the technique involved a bit more patience and precision. Redfish were more aggressive and would generally eat your fly if the cast was nearby and didn't spook them. The sheepshead were the most difficult to catch. They were super spooky, and I only managed to briefly hook one out of around 25 that I had cast at over the entire trip. In all, for day 3 we put over 150 pounds of fish in the boat. It was a banner day and the kind of experience that people come to Louisiana for. The only downside was that the bugs came out in full force and were so thick in certain areas that we got ran out of a few bays and creeks. Bring strong deet with you, as light sprays barely help.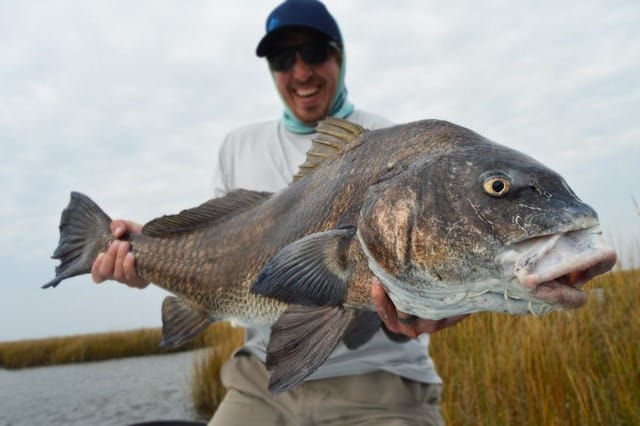 On our 4th day, the clouds returned, but were much lighter. Sightfishing was a bit of a struggle early in the day, but we stuck with it and were moderately successful. In the low light, we were looking for obvious fish breaking the surface. Our options were limited, but I managed to catch my biggest fish of the trip, a 27-pound black drum. The reds were super spooky for some reason, and wouldn't even eat a popping cork rig, which surprised not only us but our guide as well. It was a tough day of fishing, but we still managed to be successful despite letting a couple fish get the better of us. Even the hard days are great on the bayou, as each evening were were graced with a spectacular sunset over a boat ride home followed by great food and conversation.
On our last day, we all had afternoon flights out of New Orleans, so we only had 3 to 4 hours to fish in the morning, and it was a shame, because the weather turned sunny again and the fish were back to being agreeable. We boated a nice 17-pound redfish and a 21-pound drum before having to call it quits. We all met back at the marina, and shared our rental car back to the airport. On the drive, there were no bad reports, and everyone remarked at how incredible the overall trip was. The food, the Outpost, the staff, and the fishing were all truly incredible. The Eleven brand lived up to its namesake, and though I would hesitate saying it was an 11 out of ten—due to sounding overzealous—it was one of the most cohesive and well-run trips that I have been on. A great experience. I would highly recommend it. – Seth Fields – Editor of the Angling Report
---
Cost:
US$4,800 per person 4 night/ 4 day trip based on single occupancy, shared guide and skiff
US$6,000 per person 5 night/ 5 day trip based on single occupancy, shared guide and skiff
US$8,400 per person 6 night/ 6 day trip based on single occupancy, shared guide and skiff
If you would like more information please contact Peter McLeod or call us on +(44) 1980 847389. Alternatively click HERE if you would like us to contact you.