Roland Schnapka recently fished Los Roques in Venezuela and kindly shared his experience with us. It is abundantly clear that the lack of pressure over the last 18 months has improved the fishing no end. What is particularly interesting to see is the return of other species besides bonefish into the centre of the Archipelago.
My decision to go to Los Roques was very spontaneous. I had to cancel a hosted trip with Peter last minute earlier in May to Sudan and by July I was desperate to get back out on the flats. I was uncertain of where to go in August and was seeking Peter's advice, having fished in Farquhar last year with him, he understood that I needed variety. Peter mentioned Los Roques to me ( a destination I had always associated as predominately a bonefish location), after quickly addressing my concerns from his first-hand experience of the location I was sold and the dates confirmed for August 21st.
August 21st soon came round and an early start saw me heading from London – Frankfurt and then to Caracas with Lufthansa, The transfer in Frankfurt ran smoothly for the connection flight and thankfully all bags arrived. On arrival in Caracas (2.30pm) I was met by Jon Jac and his brothers, the ground team Pete uses who are a saviour on arrival and departing, Jon Jac escorted me to my hotel and also collected me the next morning at 4.45am to take me to the airport and assist in check in for my short internal flight to Los Roques at 6am.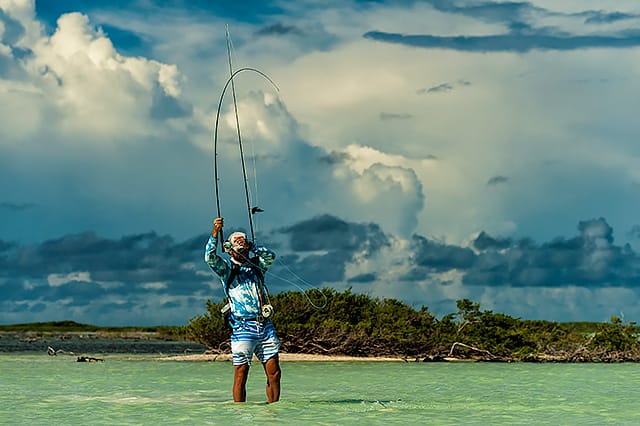 The flight to Los Roques is only 30 minutes and very soon I found myself being greeted by the Head Guide (Carlos) at "arrivals". After the bag handler had collected my luggage we strolled down the road to my Posada for the week – "Posada Acuarela".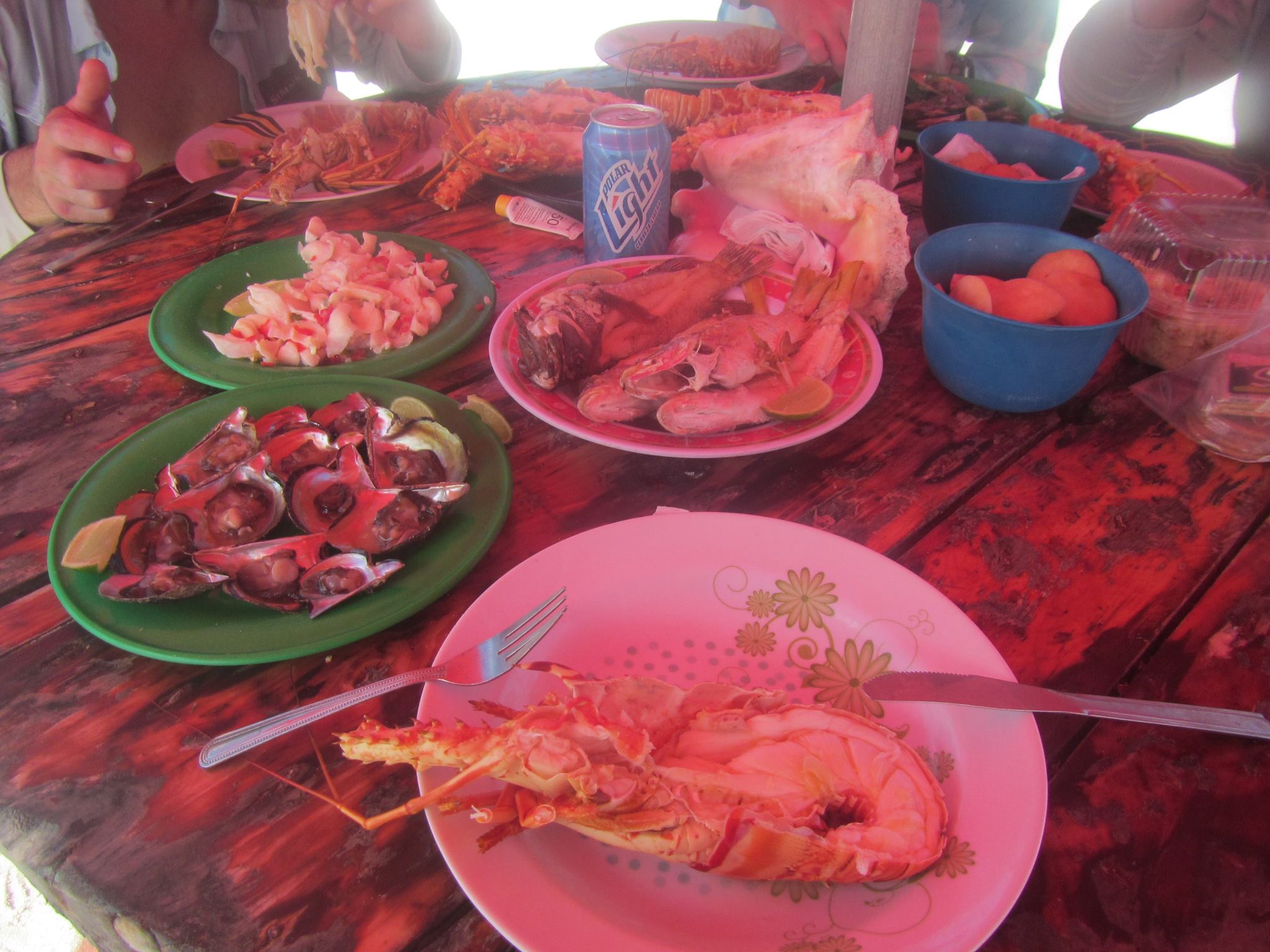 On arrival I was met by Chris Yrazabal owner of Sightcast and my guide for the week – Efren. After being shown to my room the focus quickly turned to fishing and whilst the cooks prepared eggs and toast with a much needed coffee, the guides prepared the kit so that within an hour of arriving we were heading out on the 28ft Pangas to the Pancake Flats with Efren & Jesus (My Boat driver).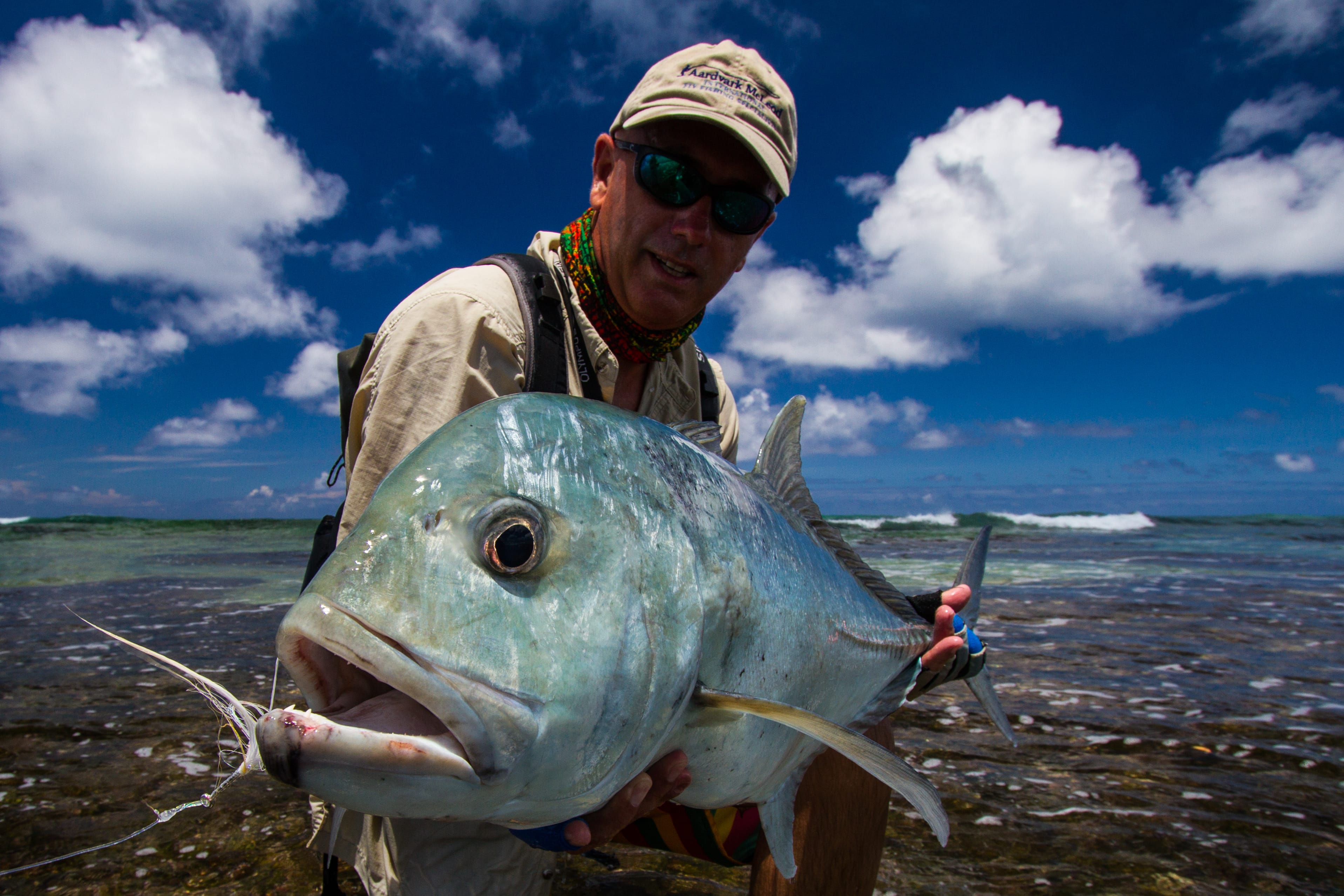 The pancake flats didn't take long to live up to their reputation and within the first three casts three nice bonefish around the 4-5 lbs mark had been landed. We spent the rest of the day mainly chasing bonefish on the pancake flats, catching them on a variety of different flies from Los Roques Minnows to Bitters.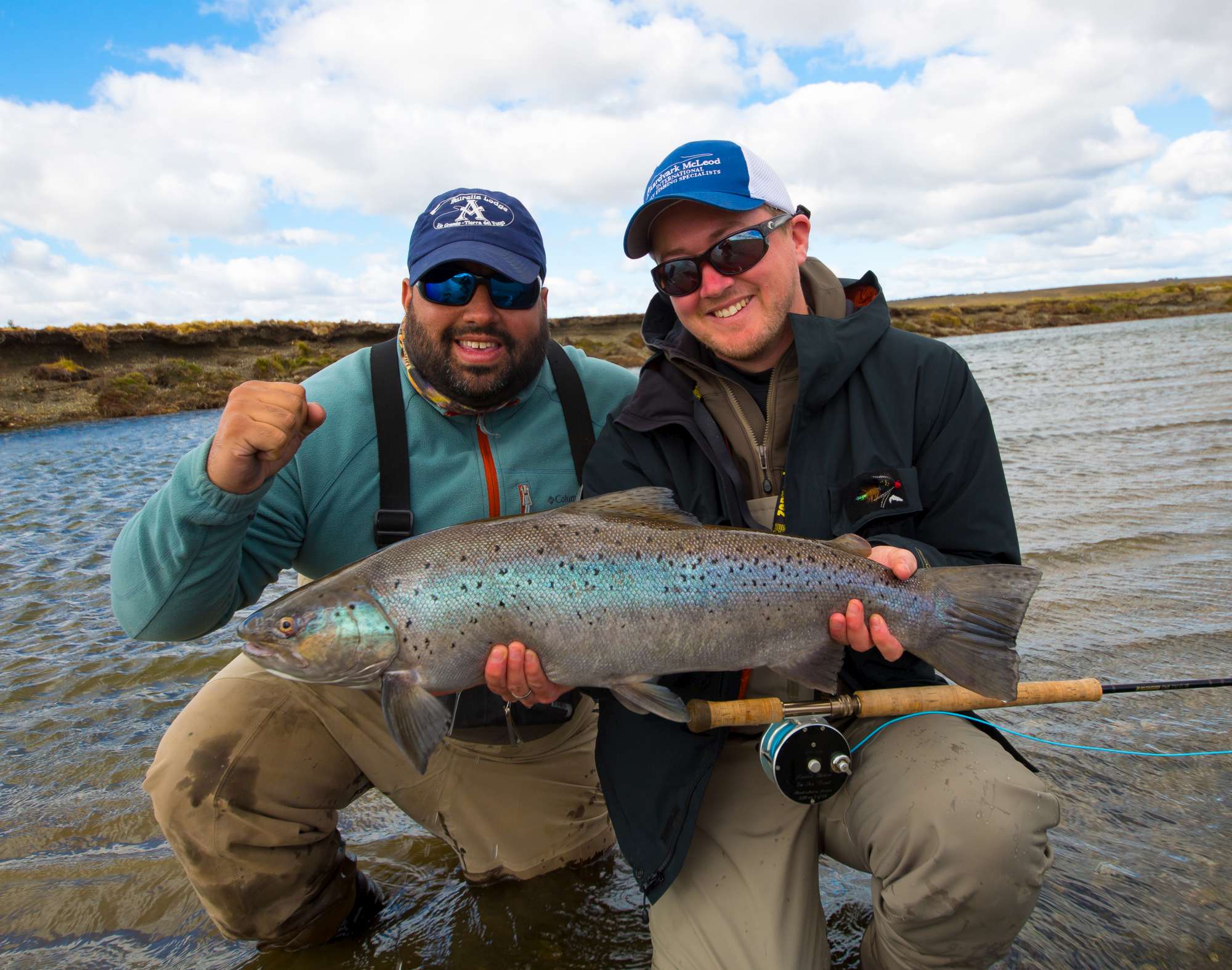 It was a great way to break in the first day and the bleary eyed travel soon seemed a distant memory.  On the way back in we stopped off at some feeding birds by Crasqui island and finished off with some hard fighting Blue Runners. We returned to Gran Roques around 4.30pm. After a quick freshen up at the room it was soon time to enjoy a Mojito on the terrace and the snacks that are freshly prepared before dinner at 7.30pm. The staff and the food at Acuarela are excellent, dinners traditionally are four course freshly cooked meals and are delicious! (Lots of fresh fish)
Day 2 on the flats started with the excellent breakfast at 7.00am before departing at 7.30am. Today the weather was good and the wind down so the opportunity to head to the Dos Mosquises area was taken following the meeting the previous evening to focus on more variety.
Dos Mosquises is a beautiful area with lots of clear blue water and small sand spits surrounded by shallow coral flats. We started the morning wading alongside some mangroves and quickly picked up some more bonefish before spotting some large cuda's in the 20-25 lbs region. I quickly swapped to my 10 wt and cast, stripping as fast as I could. The cuda followed and started to chase and my heart pounded quickly as I was sure he was going to take, but to my frustration he would not commit. It was a great visual all the same and a species I personally love to chase.
We moved spots to an area Efren said would hold some Snook, another species I was keen to catch as I had never fished for them before. After wading along the shallows we came to a point with a flock of Flamingos on it and around the corner was a small bay.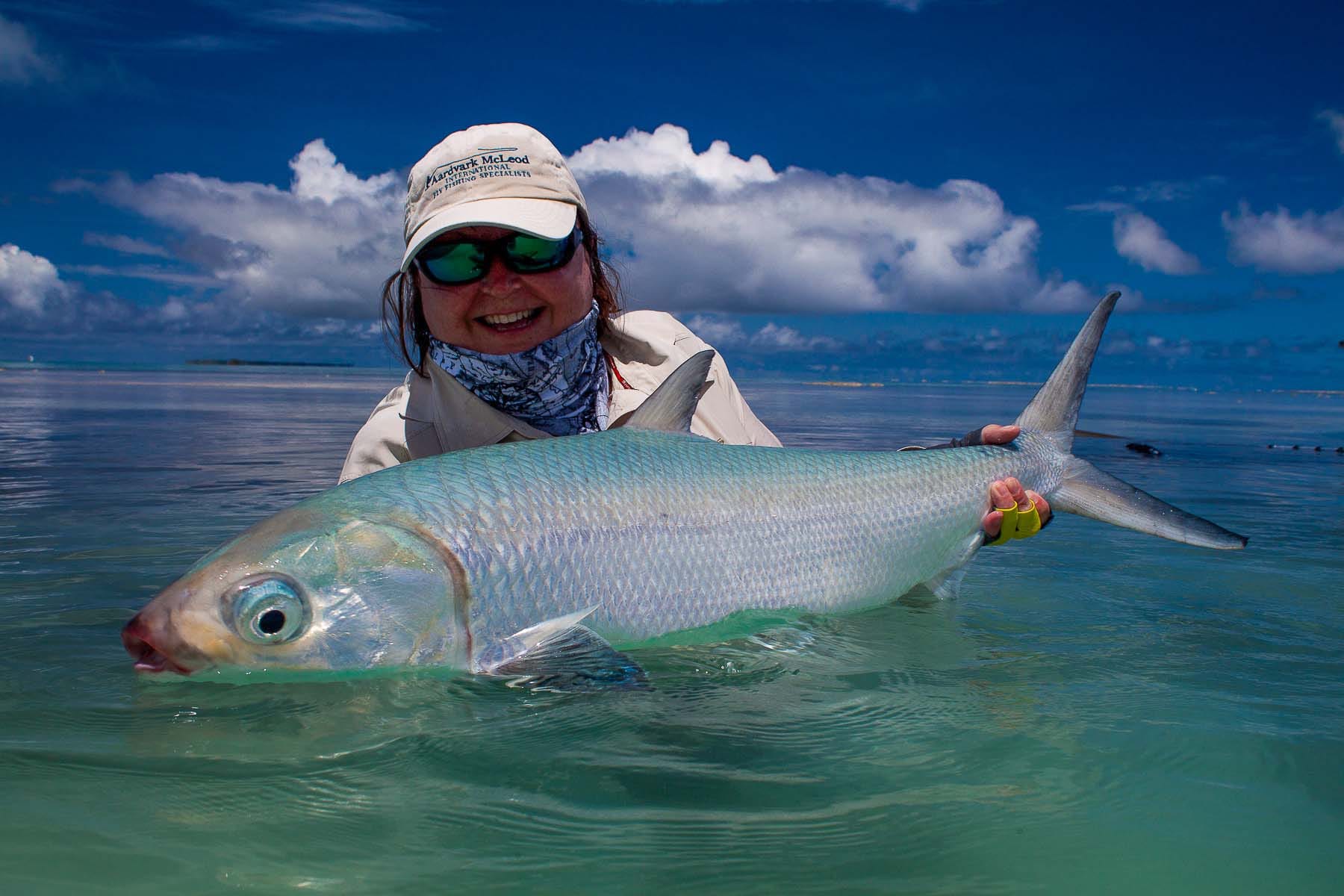 Efren spotted some movement and said cast 50 ft which I quickly did and after two strips a nice snook inhaled my Tarpon Minnow from the surface. The snook pulled hard but after a solid fight and quick photo was released back.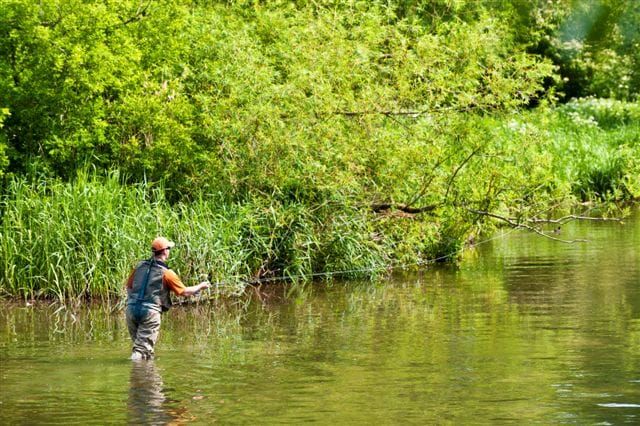 Jesus soon came to pick us up to move to some small sand bar islands with Coral reefs around them. The boat hadn't even stopped before the call came …cuda! Line was stripped but the boat had spooked the fish. We jumped in and started to wade across the coral. Suddenly we got a call from Jesus that there was a big permit 30 ft behind the boat, so we double backed on ourselves whilst frantically changing flies and treading as quietly as we could to get in position for a shot. We had just about got in position when the tailing fish decided to slowly swim off in the opposite direction. It was the first chance I had to see the whole fish. He was big, easily towards 40 lbs, my heart pumped at the excitement of seeing such a magnificent fish on the flats and I knew this was going to be the start of something !
We continued to wade back in the direction we had started, scanning the water for the tail when suddenly we saw large movement amongst a school of minnows. "Cast" shouted Efren so I cast my size 6 Los Roques Minnow on my 8 wt into the baitfish and soon had a pull but didn't connect then we saw the roll breach the surface and Efren shouted "Tarpon" ! We quickly swapped rods and waded around the school of baitfish, swimming amongst them in waist deep water were tarpon in the 30-60 lbs range. It was such an amazing sight to witness three tarpon swimming and feeding in such shallow crystal clear water at close range. I swamped to a size 2 Gummy Minnow and after a couple of casts hooked one 20 ft from me. I set the hook and was expecting the tarpon to go ballistic but he just continued to swim down the channel of bait and then suddenly the hook popped! Quickly we rigged up a Tarpon Minnow on a size 1/0 and once again after several attempts hooked into another but my 20 lbs tippet parted and then they were gone. Amazed at what we had just experienced we decided to take a rest and stay for lunch.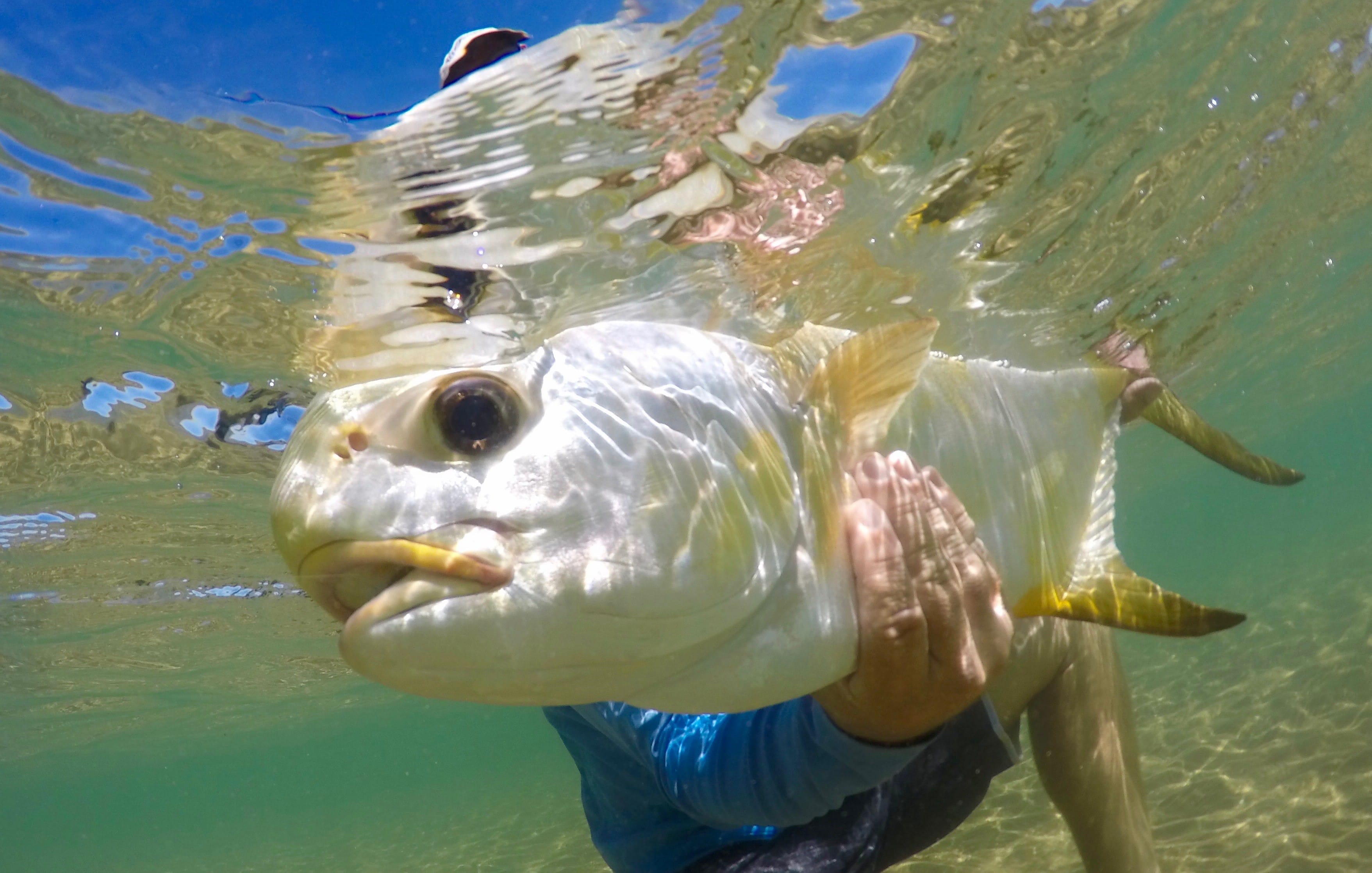 After lunch we headed to another close by island to have a look for some cuda's. Carrying the 10 wt rigged with Efren's special cuda fly we scanned the water. "Big Tails" said Efren. In the distance I could see 10-15 parrotfish tails. This really excited me as I had really enjoyed the Bumpies fishing in Farquhar and was really keen to have a go. Flies were swapped and we waded in position; two schools of between 10-15 fish in each were in front of us. Feeling confident I cast my crab, time after time we tried and although on a couple of occasions we thought we saw them inspecting the fly we got no takes. Efren believed they were too focused on the coral they were eating. Once again though was a great experience and I couldn't help but think I was in the Seychelles.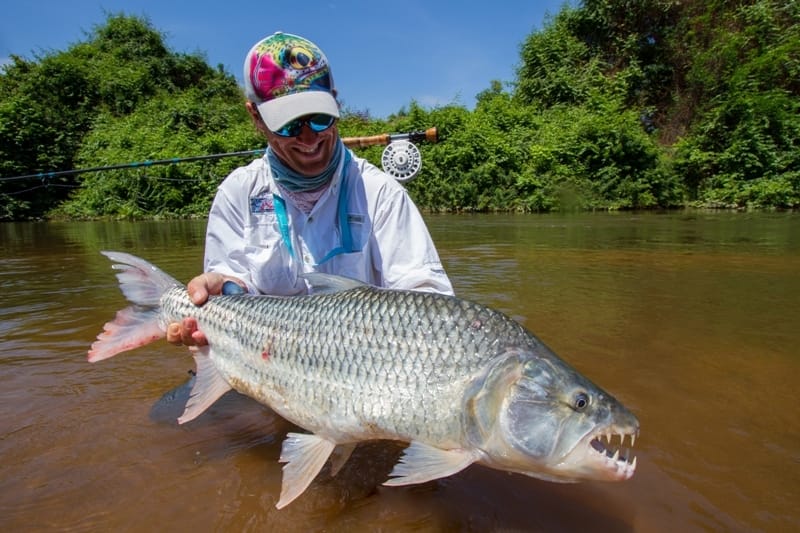 After the frustration of the Parrotfish we spotted some big bones and made a quick cast which resulted in my backing peeling off around a small sand bar island before a nice bonefish came to hand for a quick photo.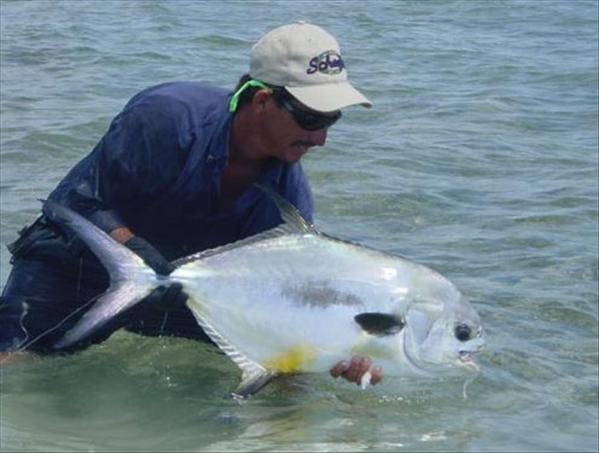 We finished off the day with some more Jacks and small tuna on the way back in by Crasqui Island where the birds are almost always feeding on bait being chased by pelagic fish.
Day 3 on the Flats we returned to Dos Mosquitos, again hoping to have the same opportunities as the previous day. However as is ever with fishing no two days are the same and the tarpon and permit were not present this time, but the blue runner jacks provided good sport in shallow water.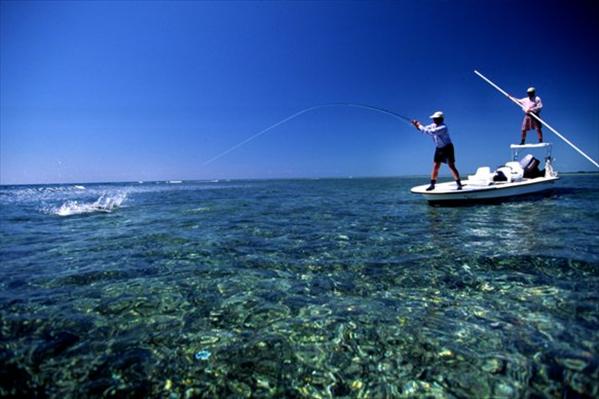 We moved onto bonefish and as usual found good numbers of small schools or single fish to around 8 lbs which provided good entertainment till lunch at a variety of spots.
At lunch we moored up at a small island where I took the opportunity to swim in the warm clear water. Whilst floating on my back I got the call from the boat of a big cuda swimming behind the boat. Once again we stripped off some line and took a cast or two before he continued down the beach.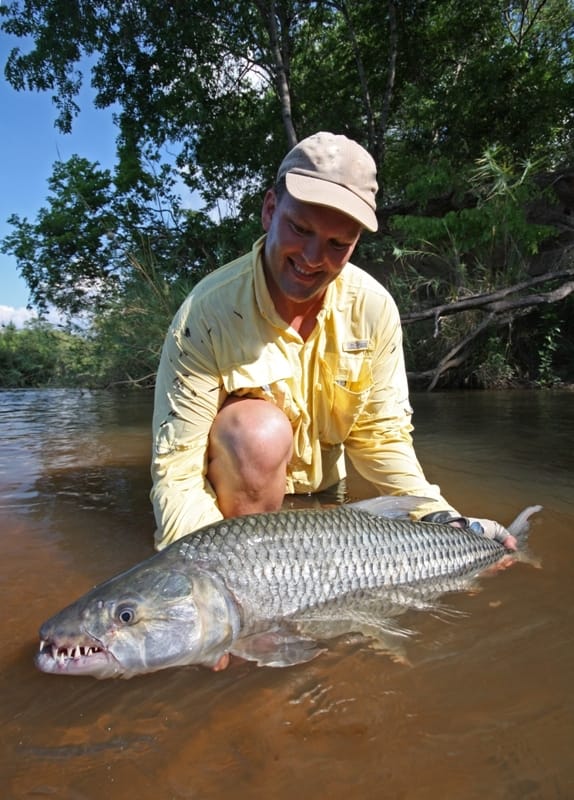 We headed back into the lagoon and stopped off alongside a small island where Efren had spotted some tarpon in the shallows. Excitably we pulled the boat into position. We were going to have to fish off the boat for these fish, but frustratingly they were not feeding or remotely interested in our flies. There was a small fishing hut on the island where they gut and clean fish and I believe they were more interested in scraps.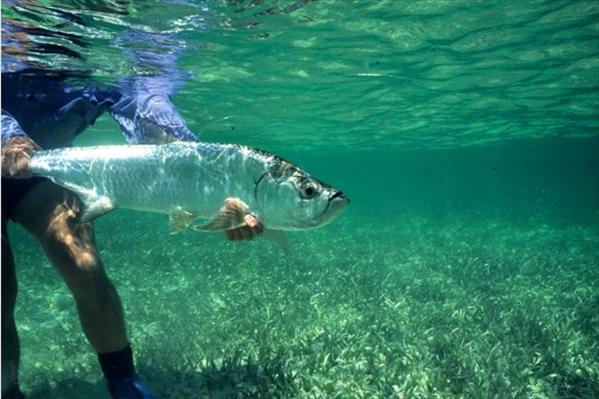 As usual we stopped off to catch some jacks and bonito on the way back in which always ends the day with a good scrap.
Day 4 we headed to the Los Castillos area. We started the morning with a brief look in the mangrove lagoons to look for small tarpon but only the jacks were present, so we decided to move onto the ocean side flats with the focus on permit.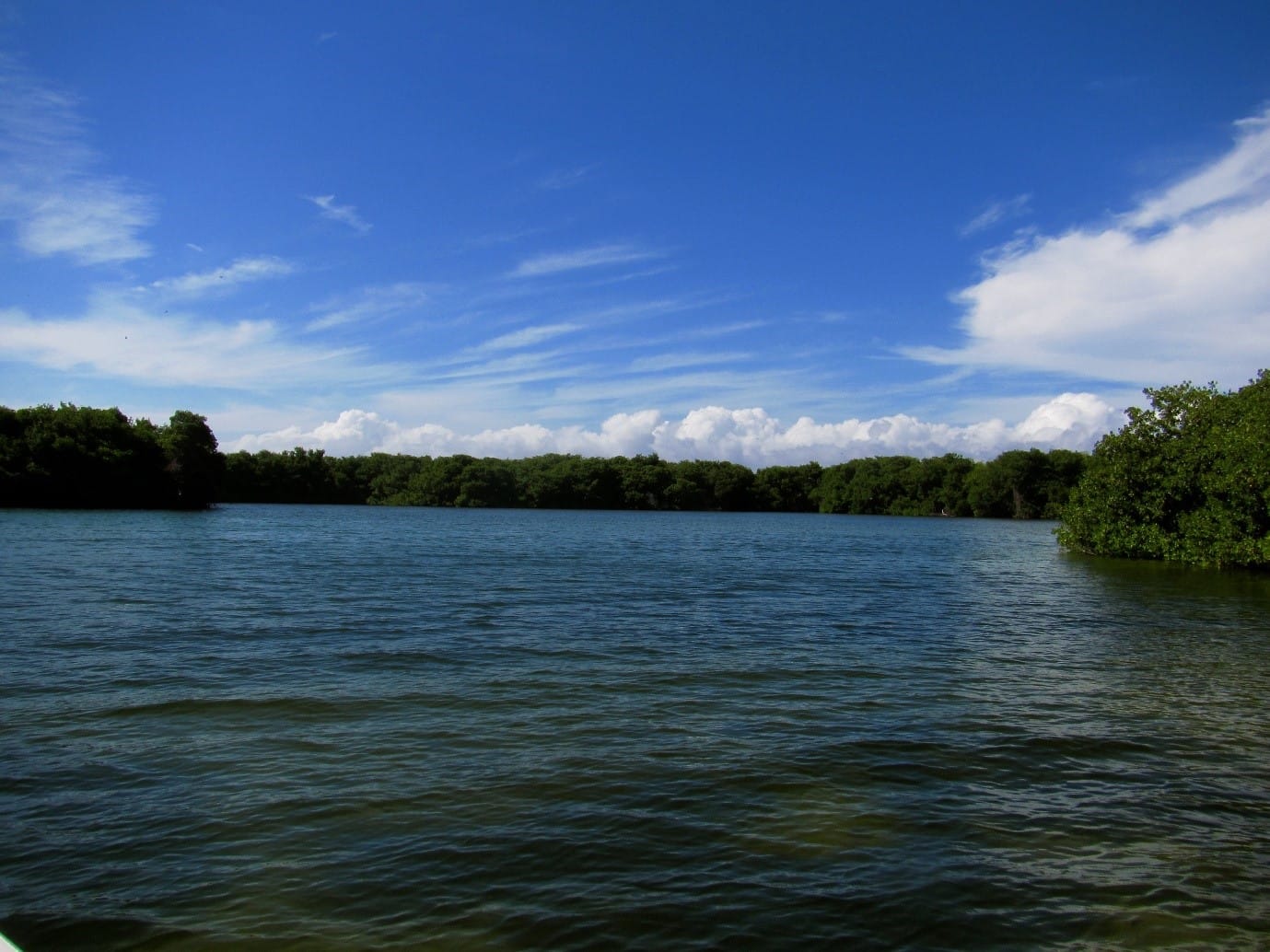 This was a great spot with the open ocean on one side followed by broken coral that led into a sandy lagoon bay. We started to walk along the coral in the skinny water looking for fins. We spotted some triggerfish and decided to have a shot at them. I managed to get a couple of decent casts at them but they were not showing interest so we went to change the fly. Whilst doing this the fish swam behind us into a slightly deeper cut. We were following them when suddenly a large tail broke the surface, staring at it in disbelief suddenly we realised it was a nice permit in the 20-25 lbs region. "Quick change fly again" said Efren as I watched this permit now with its top part of the body out of the water rummage through the coral. Tensions rising I tried to keep my cool and managed to place the crab nicely in front of him and he came over to inspect the fly. "This is it!" I thought to myself, but in true permit fashion he rejected it and moved on.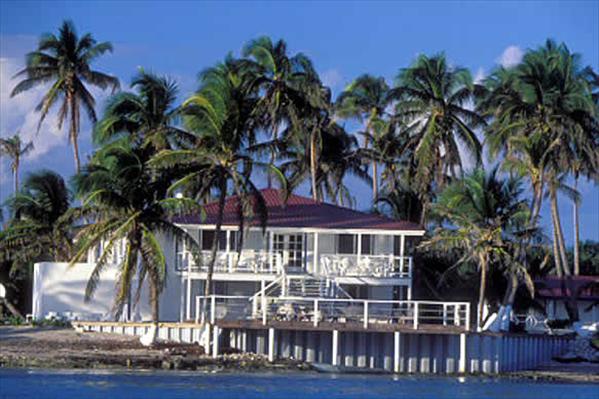 Excited about what had just happened my focus had now changed to purely permit. We moved down the reef around 200 metres when once again we spotted a permit tail in very skinny water. This time we were ready, got in position and cast the fly close to him in his line of direction. Efren told me to wait and then slowly strip.. strip.. strip.. .. "Set the hook" called Efren as this fish tailed on my fly. I did so and the line went tight but before I truly grasped what was going on the hook had pulled!
This was my first real opportunity at permit fishing and I knew that this was now going to be the start of "Permit Fever". I was totally hooked by stalking these incredible fish in skinny water and the visual of seeing a large permit tail or dorsal fin would stay with me every time I closed my eyes!
Next we moved onto some deeper flats by Cayo Grande where Efren hoped we might find some more permit. We pulled up the boat and almost instantly Efren spotted what he believed to be big permit. We started wading towards the fish and then realised they were tarpon. Quickly we swapped flies but they were moving fast and changing directions. We waded up and down the chest deep flat trying to keep up with them but in the end lost sight of them.
Tired from all the excitement we decided it would be a good time to take a break and have a late lunch at another beautiful spot where I couldn't resist going swimming.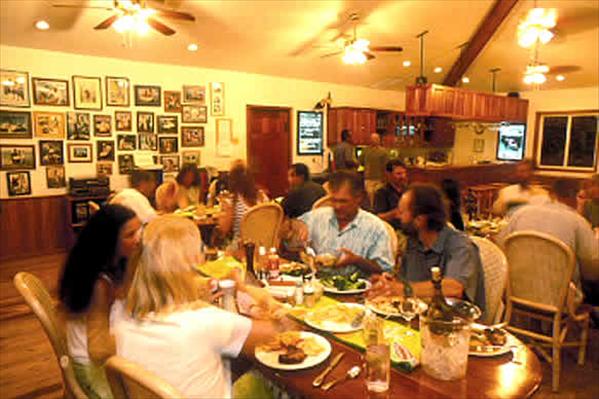 Efren had another spot he wanted to try on the way back that he said was good for permit, so without hesitation we jumped in the boat and headed for it. The flat was deeper and the sun against us now but we did manage to spot one more permit but unfortunately he vanished before we ever got a shot.
We moved onto some skinny pancake flats and found some good sized bones to finish off the day with before heading back to enjoy a nice cool beer.
Day 5 – As expected all focus had now changed to permit and we headed back out to the Los Castillos area. We started by wading a new spot on soft ground and I spotted some movement 50 ft in front of us and Efren thought it was a small shark. I'm rather partial to chasing sharks on the fly and suggested to Efren we have a shot, so he passed me my 10 wt cuda rod. At first we thought that the shark was eating a sting ray, I cast my needle fish pattern in amongst them and started to strip. Two strips then the line went tight and commotion exploded as a large sting ray swam directly us; I had hooked the sting ray! Turns out that it was a small school of horse eyed jacks swimming and feeding with the sting ray. With backing peeling off my reel as the sting ray headed for the deep we called the boat so as to be more prepared to unhook the stingray. Fortunately after 5 minutes the ray got off and we were able to continue our pursuit of permit.
As we continued down the flat we saw very little aside from the odd small lemon shark or sting ray and I was keen to get back to the ocean side flats where we had spotted the permit the previous day. It was a long ride back to the ocean side flats and once we got there I was keen to get going, We waded the same spots as the day before, but the permit were not present. Some triggerfish in super skinny water kept us amused but we struggled to find a fly pattern that they were taking.
We headed towards the lighthouse at Boca de Sebastopol and found a school of minnows being harassed by a mixture of various jacks. I caught a couple which provided good sport before moving back in search of permit.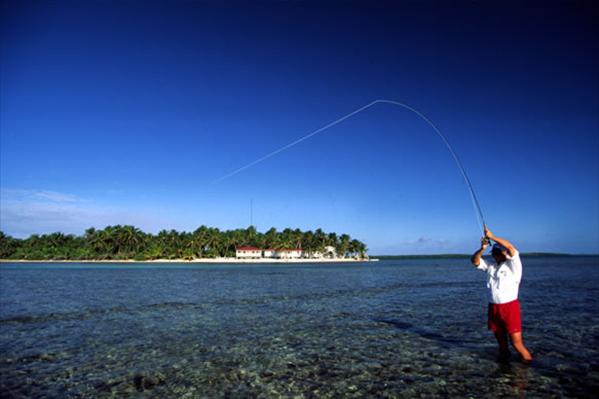 Time was ticking on so we gently floated alongside some long coral flats searching for tails, We spotted one and quickly jumped in the water to get in position, I got a couple of casts but the fly was catching the coral and the Permit disappeared into the blue.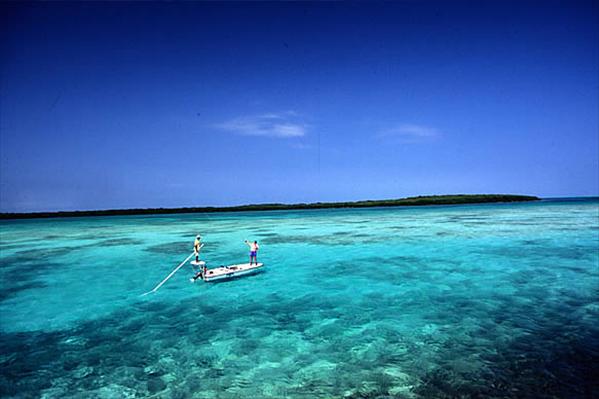 It was time to head back to Gran Roques but not before stopping off at the feeding birds around Crasqui Island. Today it was bonito and they were moving very quick. I managed to land a couple which are great sport on an 8 wt and definitely put a smile on my face as I listened to my drag sing.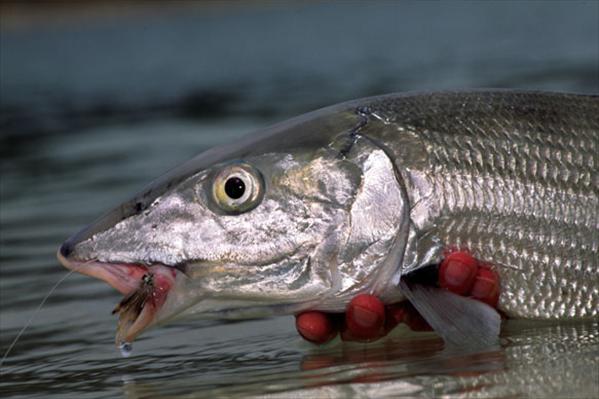 Day 6 – Today I was fishing with head guide Carlos with the focus being permit. We were to start at the ocean side flats around Los Castillos, The weather today was very calm and sunny which meant we were going to struggle to get close to our quarry on the skinny flats. Upon arrival it didn't take long to spot two nice permit tailing, but as expected they proved very hard to get close enough to take a shot. After several attempts I managed to get close enough to take a shot, but had to cast over rocks that stuck out of the skinny water to reach the permit which meant stripping was difficult and soon the permit moved out of reach again. Frustratingly we decided to move to another spot and decided to look to see if the jacks were by the lighthouse again.
Today the jacks were not present and we motored slowly along the shoreline looking for signs of fish. Suddenly a big black shape started swimming towards us; it was a big permit. To my amazement he swam up behind the boat and followed us briefly before slowly drifting back into the blue. They were truly playing with us today!
We moved back to some long coral flats along the ocean side in search of permit. Carlos spotted some triggerfish at the top of one such flats and we got out of the boat to try our approach, attempting to avoid walking on the coral that surely could be heard crunching a long way underwater today! We were just getting into position to cast when out of nowhere a large permit (c30 lbs) tailed not 20 ft in front of us on the coral. He was feeding hard and quickly I managed to get the fly in prime spot. He rushed over to it and tailed up on the fly. I could feel Carlos's excitement as this fish was hungry, Strip, strip …set the hook….The line went tight and for a short moment we all thought it had come together and then the realisation hit that just as the permit had gone down on the fly a blue runner jack had snatched it from his mouth! Profound swearing followed as I couldn't believe what had just happened!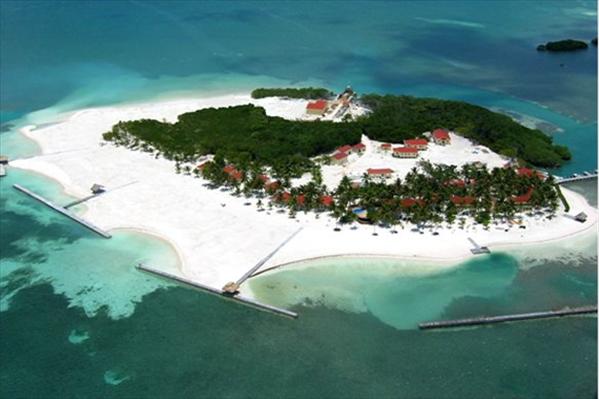 After we had managed to get ourselves together again after what had just happened we started to wade further down the long flat. Carlos told me this was his favourite permit spot. We continued wading down, casting at some triggerfish that were very wary till suddenly we spotted another tail over the sandy middle part of the flat. We crossed the flat and got in position, cleared our line and calmly waited. He was now heading towards us in knee deep water. I cast my fly in front of him and let it sink. He swam right up to it had a look and then turned round and swam away… by now the clock was ticking and there was not long left of my last day, I was desperate to get my permit fix!
We moved to one last nearby oceanside flat, gently drifting alongside searching for tails. Suddenly Jesus spots a permit on the edge of the bottom of a flat. We carefully drifted into position so as to not spook the fish. We got into the water and started slowly wading across the coral towards the fish. He had disappeared and we all scanned the water desperately trying to spot him again knowing this was likely my last chance. Carlos spotted him again and I made the cast…. Slowly I stripped the line and then the permit spotted the crab and moved in, nose down and tail up on my fly, "Slowly..slowly….Now" says Carlos, once again the line goes tight and my heart pounds with excitement as I think we have hooked the permit but once again a reef fish had stolen the fly from under the permit's nose ! I couldn't quite believe it had happened twice in one afternoon. It was time to head back and contemplate what could have been over a few cold beers.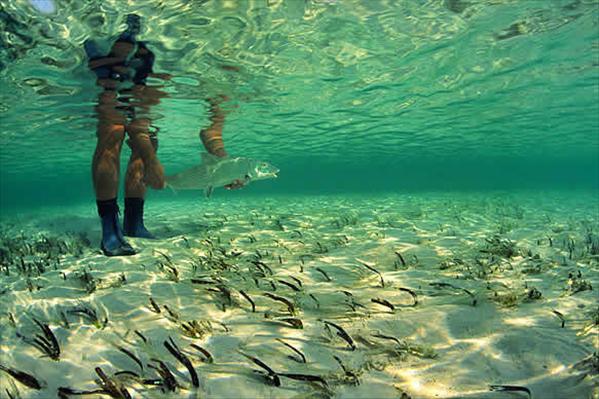 It was my last night at Acuarela and once again I enjoyed the family atmosphere home cooked Italian style food. The accommodation at Acuarela is very comfortable and is in my opinion the best available on the island. The staff are fantastic as is the food. They also have an area to dry your clothes and rod racks for your rods. Peter had told me before I left that due to the new American visa issue and being August the flats would be quiet but I still can't quite believe I was the only fly fisherman there for the week and had the whole vast National Park to myself! I would like to add a special thanks to Chris Yrazabal and his family for making me feel part of the family for the week and making a special effort to make sure we got the variety I was seeking. Also to Peter at Aardvark McLeod for all his assistance in making sure I had a great week. I will be back that is for certain, I have unfinished business with the permit !
The next morning I had a 7.00am flight to Caracas which meant a 6.00am collection by Carlos to take me to the airport. The journey went smoothly and once again I was met by Jon Jac and his team in Caracas who escorted me to my hotel where I had a day room, before later collecting me again at 1.30pm to check in for my 5.00pm flight to Frankfurt.  The Flight to Frankfurt is around 10 hrs and I arrived in Frankfurt around 9.30am local time before taking my connection flight to London at 12.00pm.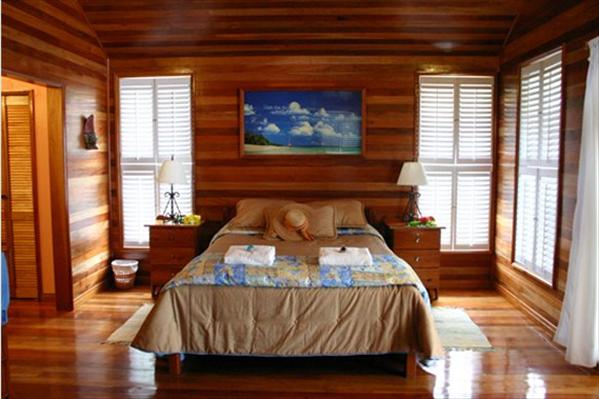 If you are looking for a value for money flats destination next year that provides a service well beyond its price tag then you should seriously consider Los Roques and take advantage of the empty flats. With US focus now on Cuba, Los Roques once again will be a destination high on the European agenda. If you are interested in travelling to Los Roques or for more information contact Peter McLeod or Alex Jardine or call our office on +44(0)1980 847389.