We're delighted to share this report from a two week exploratory fishing trip with guests to Farasan Banks in Saudi Arabia in early September. By way of introduction, this followed five earlier trips between July 2019 and April 2023 which gave the organising team an insight into what was possible in this largely unexplored saltwater fishery. They came away excited by an expansive aquatic venue with loads of potential for targeting many iconic saltwater fly fishing species including bones, triggers, GTs, Indo-Pacific permit, golden trevally and others.
Here's the full report from the September trip:
This two-week expedition provided us with invaluable insights for the future and over the course of 12 days at sea, we charted an impressive 840km aboard our comfortable and spacious 131ft liveaboard vessel. The vessel, equipped with Wi-Fi, two large saloons and 12 independently airconditioned cabins ensured our guests were treated to loads of space and their own rooms during their stay, a rarity for most fly fishing liveaboard operations. In addition to the infrastructure were the delicious meals and warm hospitality of the crew which all contributed to making our time in the Red Sea as enjoyable as possible.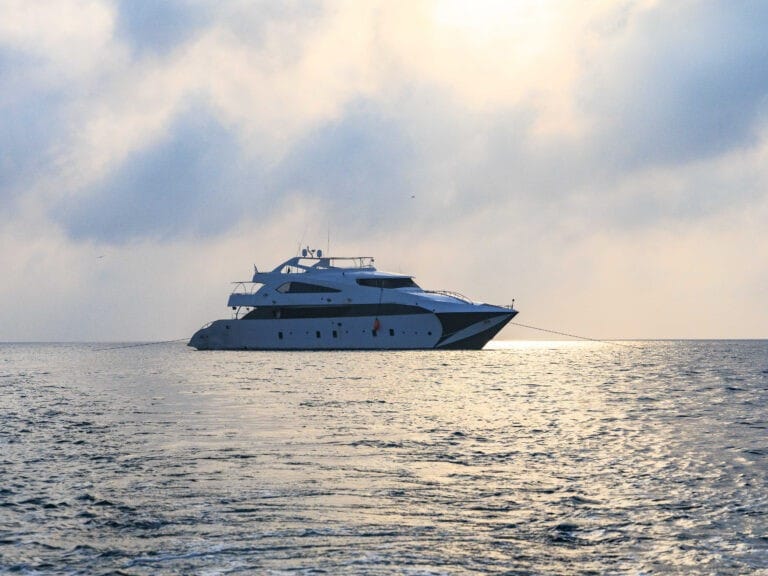 The character of the flats varied significantly from one location to another, offering coral-adorned expanses, turtle grass patches, pristine white sands and lush mangroves. In contrast, some areas featured small coral atolls, where we waded amidst broken marl, rolling surf and inviting white beaches. Although we encountered challenging conditions during September, we enjoyed encounters with GTs, bones, Indo-Pacific permit, golden trevally and triggerfish…in fact loads of triggerfish.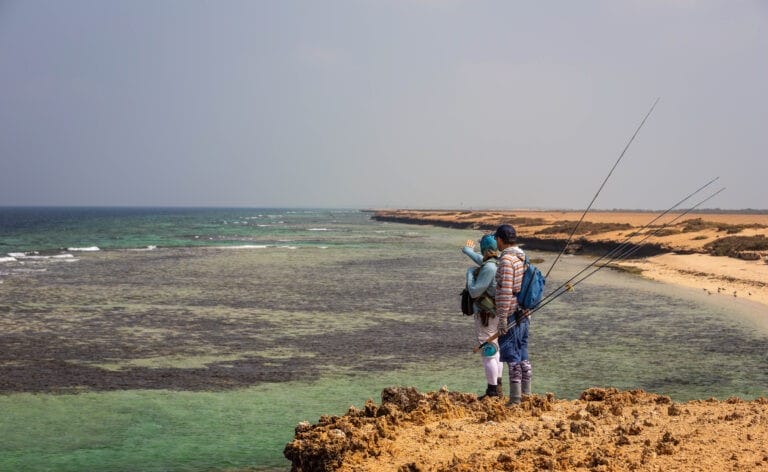 Saudi Arabia's smaller tides were, however, a new dynamic for us, with the air temperatures and water levels playing more of a role on these two weeks. The prime fishing window extended from early morning until midday, as such we used the mid-afternoons to either go diving or steam to the next piece of water we had earmarked on our satellite map.
Now, let's delve into what we found:
Bonefish
We encountered bonefish in areas boasting expansive sandy flats. Often sizable, they would tail in the extremely shallow water during the early morning sessions. The windless mornings, paired with low light conditions did however present challenges when presenting flies to these elusive fish. On a positive note, some of the bones encountered during our exploration were very sizeable and although they managed to elude us this time round, we were left feeling energised by the thought of a 12lb plus fish coming to hand in the seasons to follow.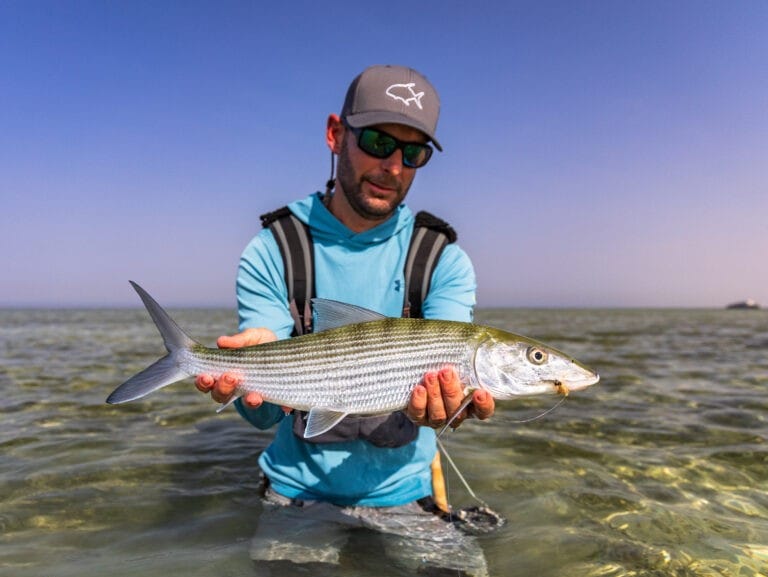 Golden trevally
Whether encountered singly or in schools, the golden trevally provided an exceptional shallow-water sight fishing experience. Certain areas we explored offered truly world-class opportunities for this species, with some sessions yielding double-digit catches shared among the group. Alex and Stefan of AOS Fly Fishing had a particularly productive session, each landing three and four golden trevally, respectively. The consistent attributes of the areas where we found golden trevally ensured a steady flow of fly fishing opportunities. When we walked specific substrates, we anticipated several goldens and once you spotted one, you knew another would follow.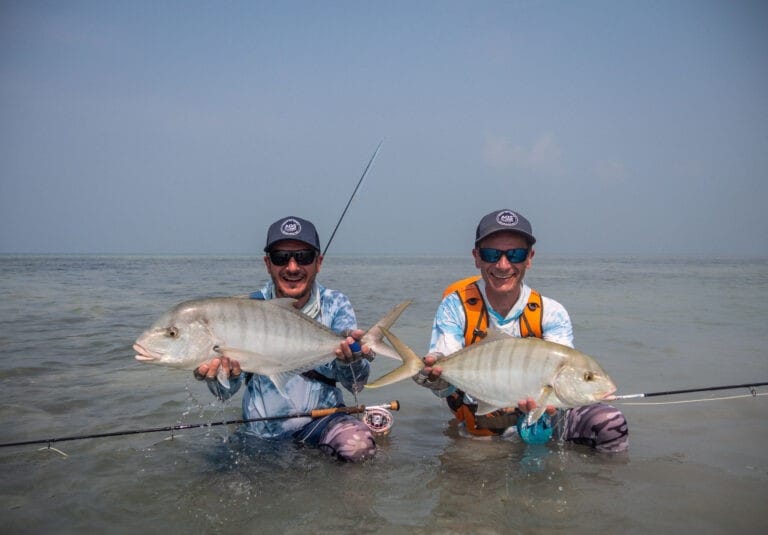 Triggerfish
Our encounters with yellow margin and moustache triggerfish had their ups and downs, but like the goldens, we learned specific substrates and conditions dictated the size and density of triggerfish populations in various areas. Certain islets offering exceptional opportunities! As such, the abundance of triggerfish sightings and hook-ups left us brimming with anticipation for our next season in the Red Sea.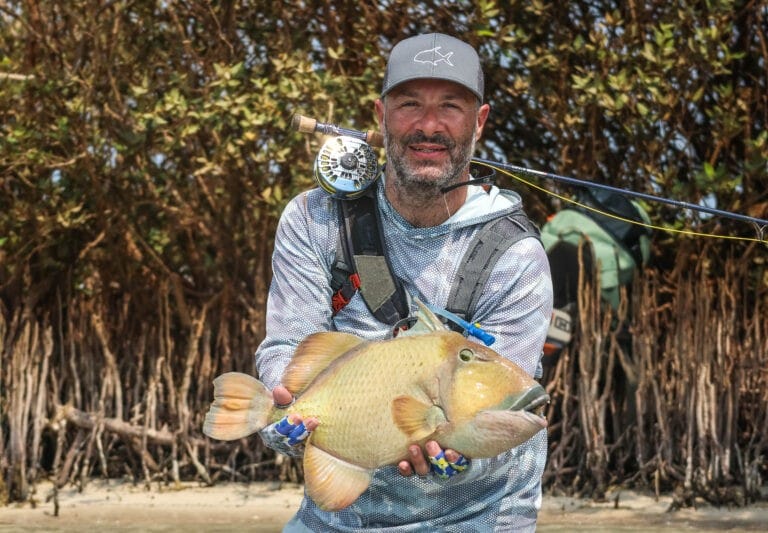 Giant trevally
Conversations about GTs always ignite excitement. Farasan Banks offered sightings of these formidable species in various conditions and locations. However, the shots were not always straightforward, as encounters with GTs typically resulted in frenetic chaos and near misses. Nevertheless, the number of GT sightings, while not reaching the volumes seen in fisheries like Seychelles, kept us on our toes. When the area exuded that unmistakable "fishy" aura, encountering a bow-waking or tailing Geet was inevitable.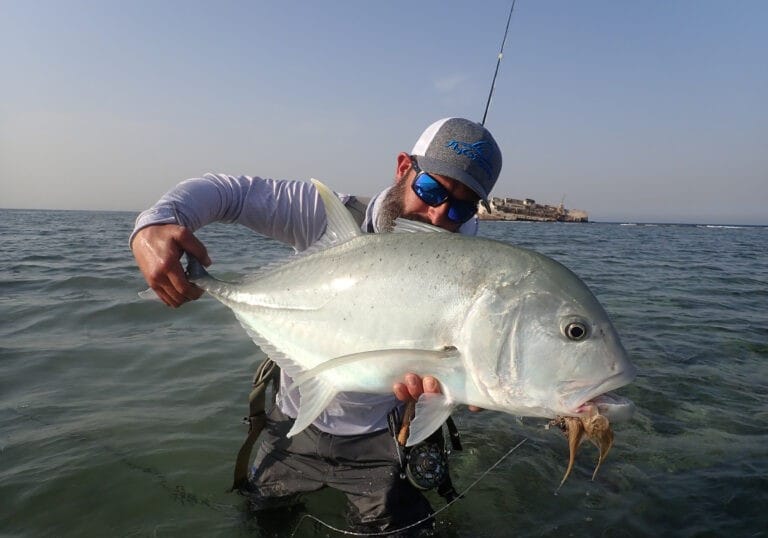 Indo-Pacific permit
Encounters with Indo-Pacific permit were particularly thrilling and gratifying. These elusive fish were often spotted while tailing, either individually or in schools. Opportunities closely mirrored those found in renowned fisheries such as St Brandon's and with some more time learning the fishery, we're confident we'll be able to provide guests with some fine permit fishing over the years to come.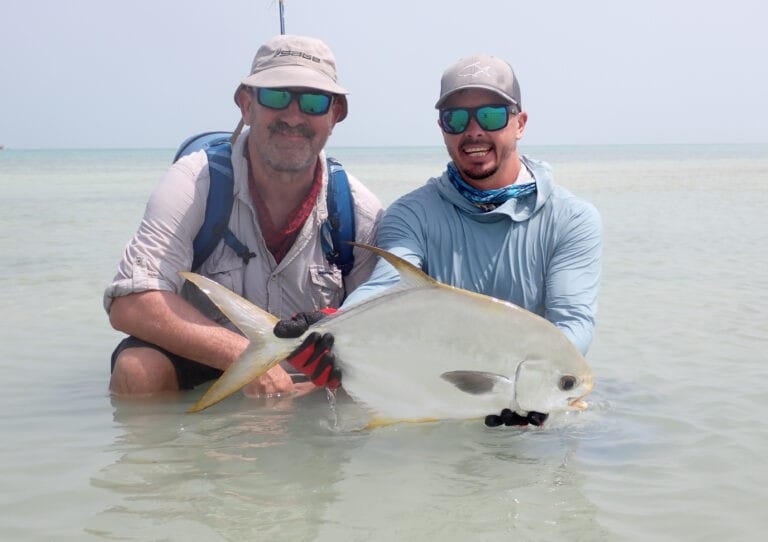 Although we were hoping for higher water levels and cooler water temperatures, we still experienced good opportunities at a wide variety of flats species. The flats themselves teemed with abundant food sources, including small baitfish and crustaceans. In addition we encountered loads of stingrays and the occasional shark, all of which indicates a very healthy ecosystem. The ebbs and flows inherent in exploring a new fishery are part and parcel of the journey and so we look forward to our next stint in April 2024 with great excitement.
There's more information on Farasan Banks in our recent blog.
Prices and availability
The initial season will begin in September 2023 and the cost will be US$10,100 per rod ex Jeddah (this includes $100 Global Rescue). Current availability is as follows:
Sat 6 – Sat 13 April 2024 – Sold Out
Sat 13 – Sat 20 April 2024 – Sold Out
Sat 20 – Sat 27 April 2024 – Sold Out
Break
Sat 2 – Sat 9 November 2024 – available
Sat 9 – Sat 16 November 2024 – available
Sat 16 – Sat 23 November 2024 – available
Sat 23 – Sat 30 November 2024 – available
Sat 30 Nov – Sat 7 Dec 2024 – available
If this Farasan Banks report has inspired you or you are looking for the next saltwater adventure and love the challenge of fishing new saltwater flats then please contact Peter McLeod or call our office on +44(0)1980 847389.