Giant trevally are dubbed "the gangsters of the flats" for a good reason. They are arguably one of the most exciting species that you can target on the fly. As an angler, you can encounter this great species in a range of scenarios, from surf zones, to white sand and turtle grass flats, and deeper water offshore.
Fish facts
Giant Trevally are the largest of the trevally species with the all-tackle world record weighing 72.80kg. In the Indian Ocean, fish are generally in the range of 70 – 130cm. On the flats, a GT of 100cm plus is considered a trophy.

The species is the epitome of an apex predator and opportunistic hunter. GTs prey on various food items and are rarely selective, including small fish, crustaceans, squid, birds, small turtles.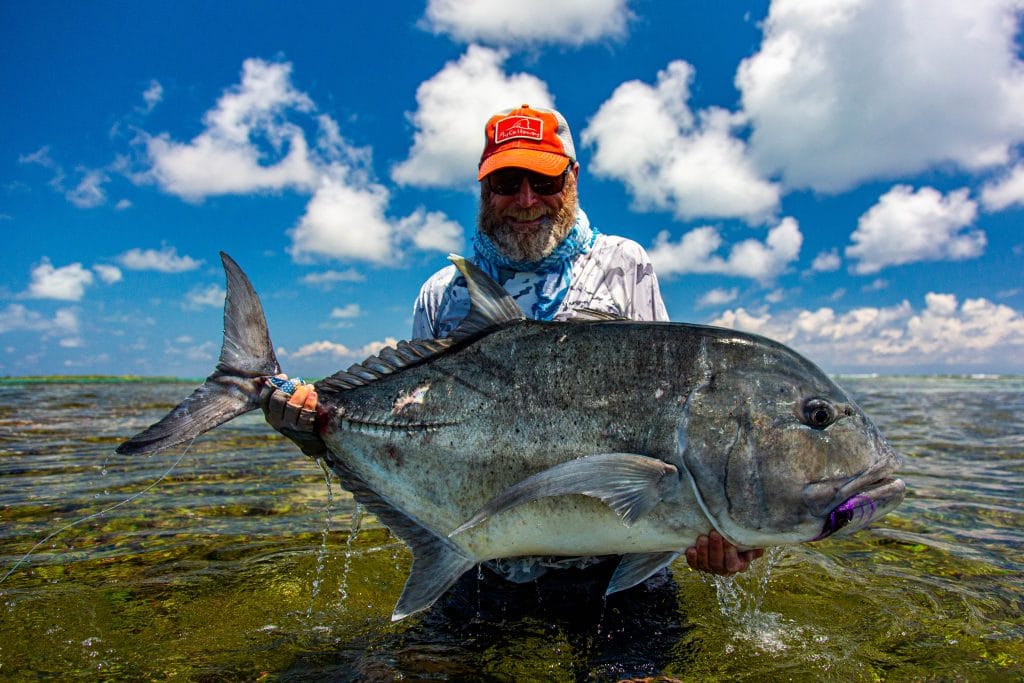 Equipment for giant trevally
9-foot 12wt rods is the standard rod that most use, but for fishing on white sand and in the lagoon a 11wt can also be excellent.

Lines must be tropical/warm water fly lines to match the recommended rod. The line must have a core strength of at least 50lb. Airflo GT Gangsta, Cortland GT/Tuna and Rio GT are all good lines. Factory loops are generally not strong enough for GT fishing and should be cut off and replaced with a 50lb+ braided loop on both the reel end and leader end of the fly line. Click HERE to see how this is done.

The best reels for Giant Trevally should have the following features: fast line retrieval, a drag system designed to handle wet wading in saltwater, and a minimum backing capacity of 300 yards of 80lb gel spun or casting braid. Hardy Fortuna Regent, Shilton SL7 & SR7, Abel Super Series & Rove, Mako are all reels that have stood the test of time and work well for these amazingly strong fish. The fly line should be attached to the backing with a loop to loop connection. A double looped bimini twist in the backing stops the thinner line cutting through the fly line.

Leaders for Giant Trevally are a simple. 8-9ft of 130lb or 1mm soft monofilament, is the standard leader for most situations, but on the white sand fishing 80lb or sometimes 60lb monofilament can be an advantage. The leader is joined to the fly line with a loop-to-loop connection. A perfection loop or a improved homer rhodes are both excellent knots. The same knots can be used to attach the fly.

Some popular flies for Giant Trevally include GT Tan brush fly, GT Black brush fly, Olive Semper, and Black & Purple Semper. All tied on size #6/0 or #8/0 Gamakatsu SL12S hooks. Click HERE to view more excellent GT patterns.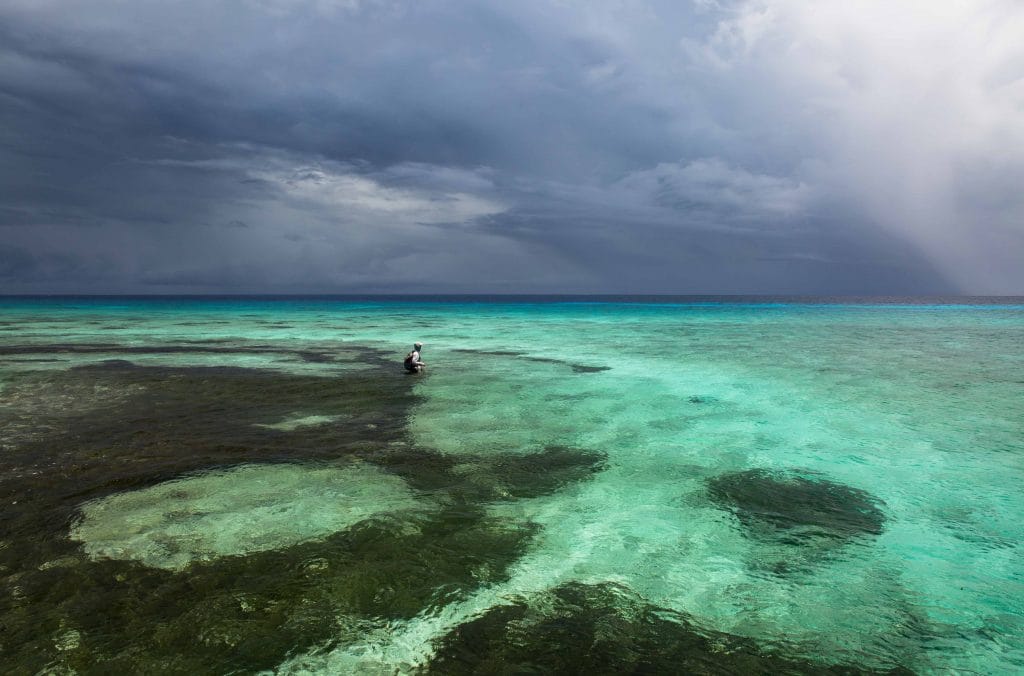 Practice at home
Prepare – Practice casting with a 12wt before your trip
One of the most critical elements of having success when GT fishing is your ability to deliver the fly quickly and accurately.
Before embarking on your trip, it's highly advisable to hone your casting skills either at home or under the guidance of a professional casting instructor. Casting with a twelve-weight fly rod and large flies can be quite demanding, even more so when you're wading. Nothing else can better prepare you for your upcoming adventure than dedicating time to practice your casting. Above all else, this practice will significantly impact the quality of your fishing and greatly enhance your overall fly fishing experience on the flats.
Presentation on the flats
Fly fishing in saltwater exposes anglers to a world of moving targets. Few fish will stay stationary for very long. Giant trevally are almost always found while on the move. A trick is to imagine that you're trying to cast at someone running across your garden. After a few attempts, you will realise that you need to aim a yard or two in front of your target. The same principle applies while fly fishing for GTs. In most situations, you will want to land your fly 15ft in front of the fish and behind the line of where it is travelling. The ideal presentation is when you have given yourself time to allow the fish to swim onto the fly before it recognises it as a potential prey item. Once the fish is 5ft from your fly, make one medium to long retrieve. Often the fish will light up at this point. If this is the case, look at your hands and continue long strips until the line tightens to the extent that you can't strip anymore. If this is not the case, you will have to read the fishes body language more carefully and match the speed of the strips to how quickly the fish is moving towards your fly. The length of the strip is essential. Too often, people strip too short, and although they are moving quickly, the fly is not.
Fly fishers who catch a lot of fish all have one thing in common. They do what they can to limit the number of variables in catching a fish to a minimum. The KISS principle (Keep It Simple Simon) should be applied to fly fishing, especially while hunting for Giant Trevally. If you have spotted the fish in time and the angle of the wind or the distance to the fish is too great, move into a better position so that you can make the correct presentation.
Successful fly fishermen share a common trait: they strive to minimize the variables involved in catching fish. In fly fishing, especially when targeting Giant Trevally, it's essential to embrace the KISS principle, which stands for "Keep It Simple Simon." If you've spotted the fish in advance, and factors like wind direction or distance pose challenges, reposition yourself so that you can make the shot as easy as possible.
Line management
Be aware of where your line has gathered on the sand, in the water, or on the boat. It may seem like a chore to continually manage your fly line, but after a while, it will become second nature, and you will find yourself doing it without giving it much thought. Making sure your fly line is free of potential snags like your feet, coral, or a latch in the boat is often the difference between landing your dream catch or watching it swim by. Every few minutes you should be checking your line is okay. If you are on a skiff you can ask your boat partner to help.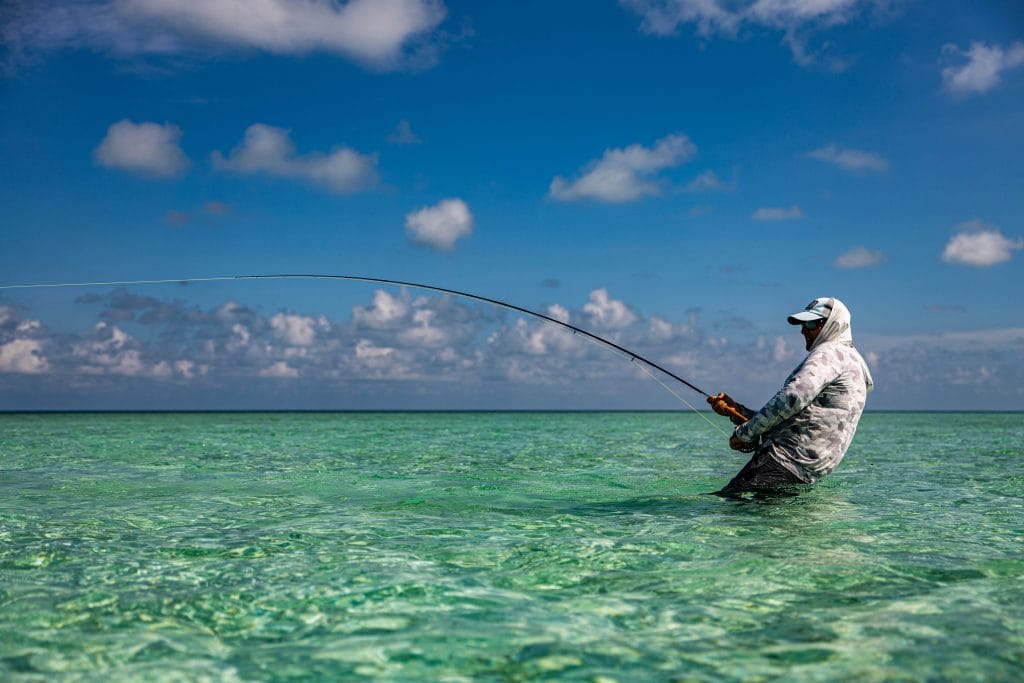 Explore
Flats fishing in the Indian Ocean offers an incredible sense of freedom, allowing you to venture into some of the world's most pristine and abundant fishing grounds. Whether you're wading through shallow waters, exploring the flats, or on an island your guide has carefully selected the fishing location for a reason – they know the fish should be there. If you come across an area that seems promising or "fishy," don't hesitate to observe it, and make a speculative cast or two. Many rods who have followed their intuition and ventured off to investigate have landed trophy-sized giant trevally.
Have fun
While the unique fly fishing opportunities may have been the primary motivator for your journey halfway across the world to a specific destination, it's essential to keep in mind that you'll be spending six full days in some of the most untamed environments on our planet. The sights, experiences, heartaches, and triumphs are all enhanced when shared with a good friend or a kindred angler. Our love for the great outdoors is what has drawn us to these settings. We encourage you to embrace the adventure, savour a drink with your fishing companion, and take in your surroundings. You're about to immerse yourself in the rarest of resources – ecosystems that remain entirely intact and untouched by human hands.
The outer islands of the Seychelles are undoubtedly one of the best areas to target giant trevally on the fly. These remote atolls can offer some exceptional opportunities to target this great species on the flats. Not only this, but all these atolls offer fishing for a wide range of other species to catch. For more information on fishing in the Seychelles click HERE.
Where is the best giant trevally destination for you?
Several destinations offer anglers the opportunity to cast a fly at giant trevally. If you would like more information please contact Charlotte Chilcott or Peter McLeod or call us on +44 1980 847389. Alternatively click HERE if you would like us to contact you.