Having said last week that temperatures we due to rise in Iceland, this never really materialised with air temperatures remaining low between 8 – 12 °C and occasionally popping up to a balmy 14 °C mixed with some light rain. Although the runs have continued to strengthen, the action has been a little slower than expected, aside from one crazy day on Nordurá where they landed 54 fish. Although it made this week a little tougher, it bodes well for the rest of the season and should spread out the prime-time catches. Water levels remain pretty constant, topped up with a little rain, but with low temperatures mean the snow pack reserve has not even been tapped into yet.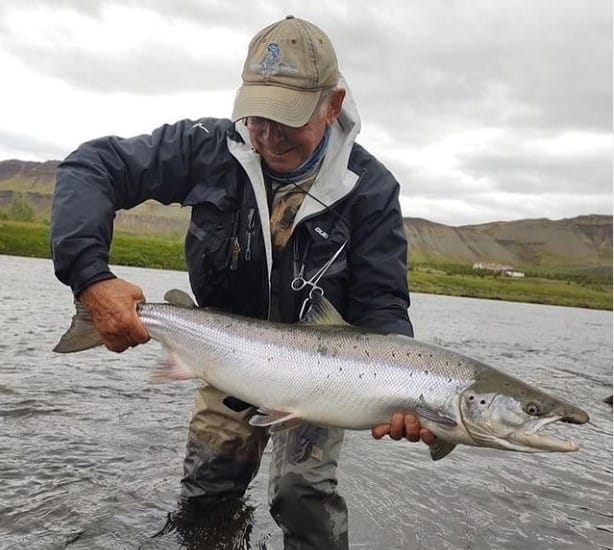 Nordurá faired very well last week with some good number of fish as the grilse run has hit hard. The river landed a further 165 fish last week taking their total today to 471. The river is landing on average 25.3 fish per day with an average weight of 6.4 lbs and had an incredible day on the 9 July landing 54 fish when the temperatures hit 14 °C . Water levels remain at a comfortable level for this time of year. The top producing pools have been Eyrin, Bryggjur, Breiðan, Stokkhylsbrot and Stekkjarfljót and best fly patterns Sunray Shadow, Collie dog, Red Francis and Haugur. A lovely fish of 81 cm was landed day before yesterday on a hitched Haugur from Glitstadabru.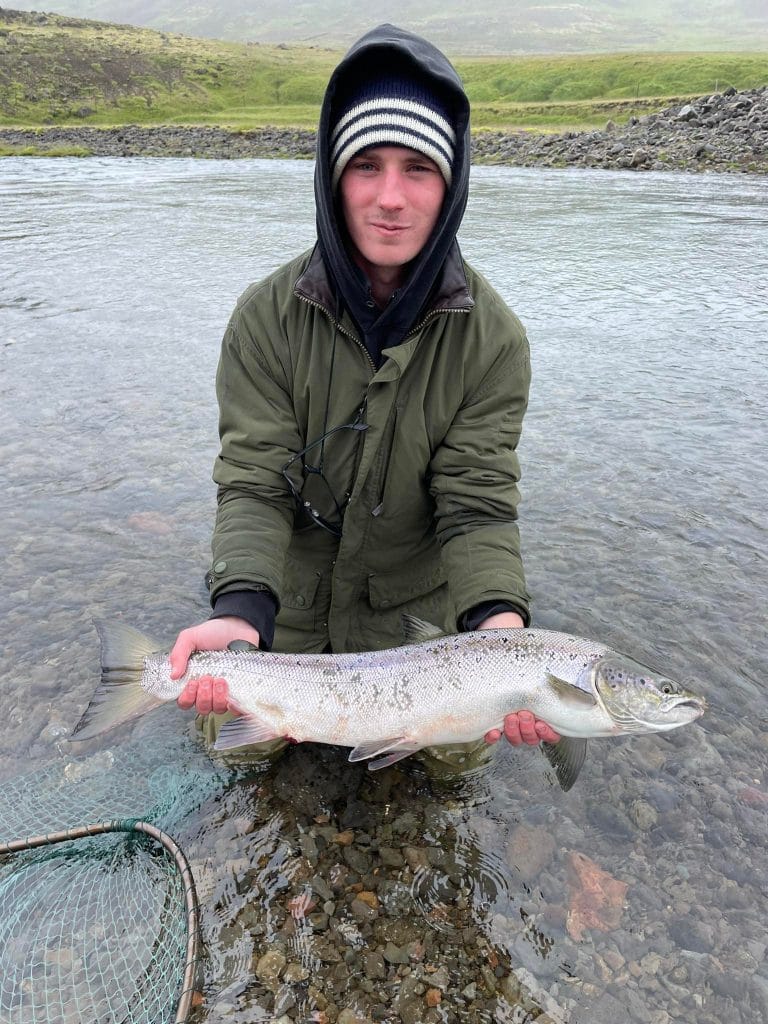 On Laxa I Kjos the story has been quite similar with temperatures just slowing things down a little. We are seeing a steady increase in catch per day with 105 fish landed to the eight rods taking the total to 220. Yesterday they landed 29 fish as the temperatures rose to 13°C . The summer salmon and grilse are pushing their way upriver fast, utilising the good water levels and the average weight is now 6.4 lbs. Although the sea trout have reached the meadows in numbers with the low temperatures they have remained very inactive and hard to catch. The first group that has warmer air temperatures is going to have a bonanza. Top flies continue to be hitched Sunray shadow, Red Frances, Black Frances, hitched Sunray, and the Green Brahan but all small, between size 12 and 14. The top pools have been, Kvislafoss, Bollastadabreida, Laxfoss South, and Pokafoss.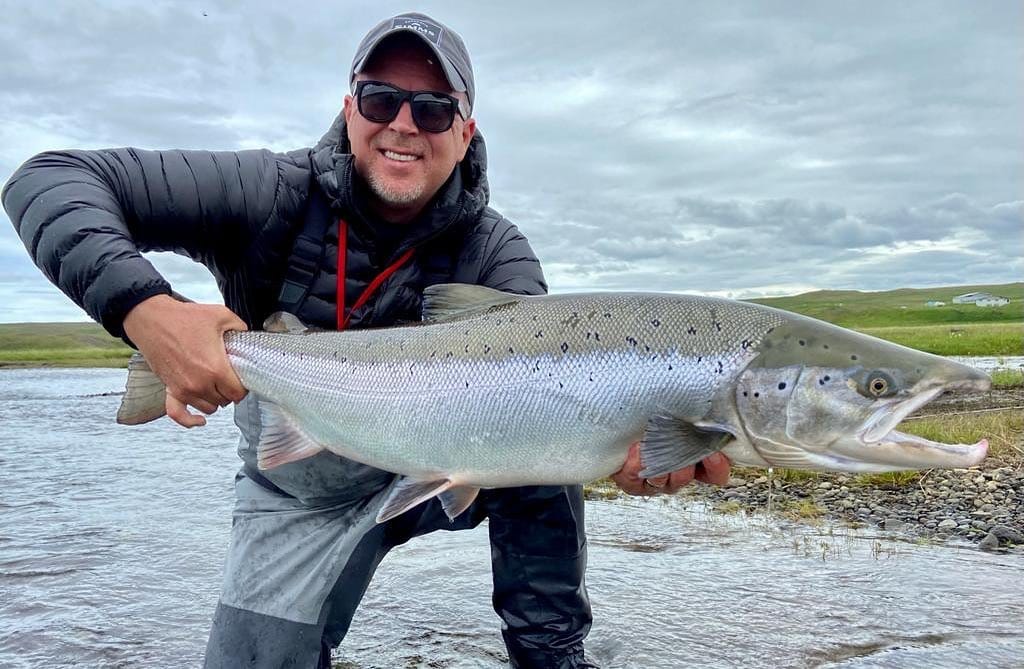 On Midfjardara the fish have finally come on the take and we are seeing much better numbers landing 95 fish and taking their total to 184 fish for the season. Although many are ebing seen in the pools, they have been playing hard to get with their heads down running hard. There are some stunning fish being caught and we are still seeing a high proportion of multi sea wintered fish with an average weight of 10.5 lbs. The best day was the 10 July where the temp rose to 17°C and the rods brought 23 fish to the bank. Top flies have been Collie Dog, hitched tubes, Sunray Shadow, Cone head Red Francis and black sunray. The top pools have been TT, Brekkulækjarstrengur 1, Kambsfoss, Horn – Miðfjarðará Kistufoss, Horn and Núpsfossar.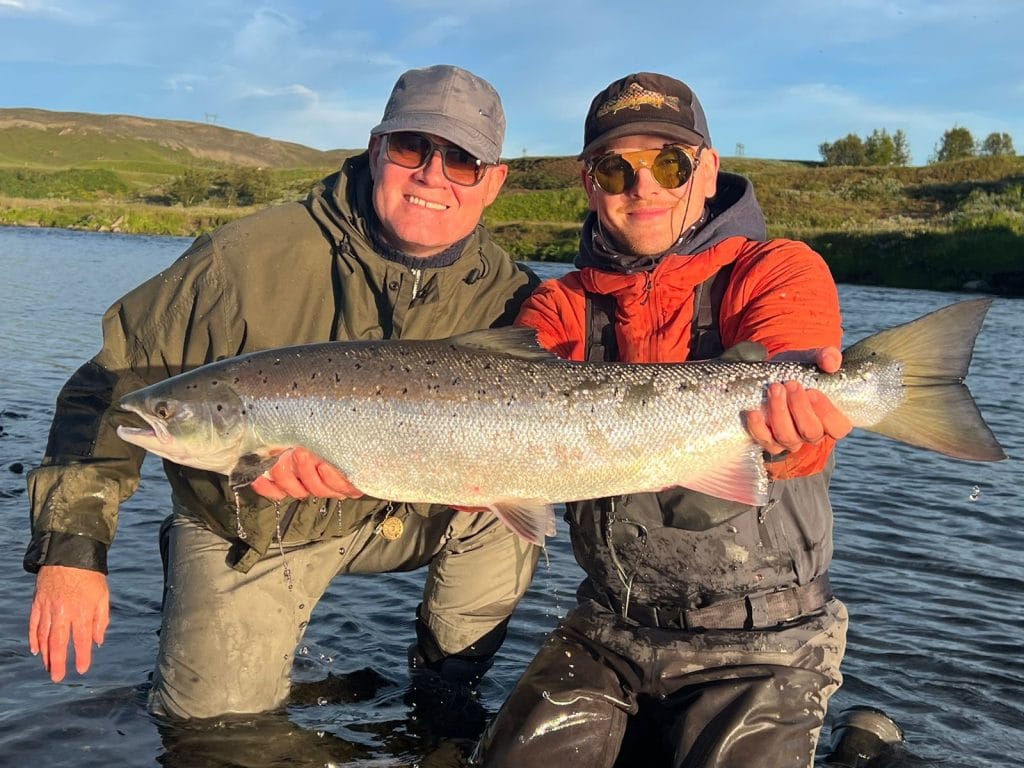 The Stóra Laxa has continued to show us some of the most stunning fish. With air temperatures between 9 – 11 °C rods are having to work for their fish a little more. The guides are changing through patterns and rather than picking a fish up first time down the pool on a Sunray it will be third time down with a different fly. Most have continued been caught using floating lines and small hitched flies on the surface. The river is now approaching 160 fish, so they have landed over 50 in the last week, which still puts them way ahead of previous years.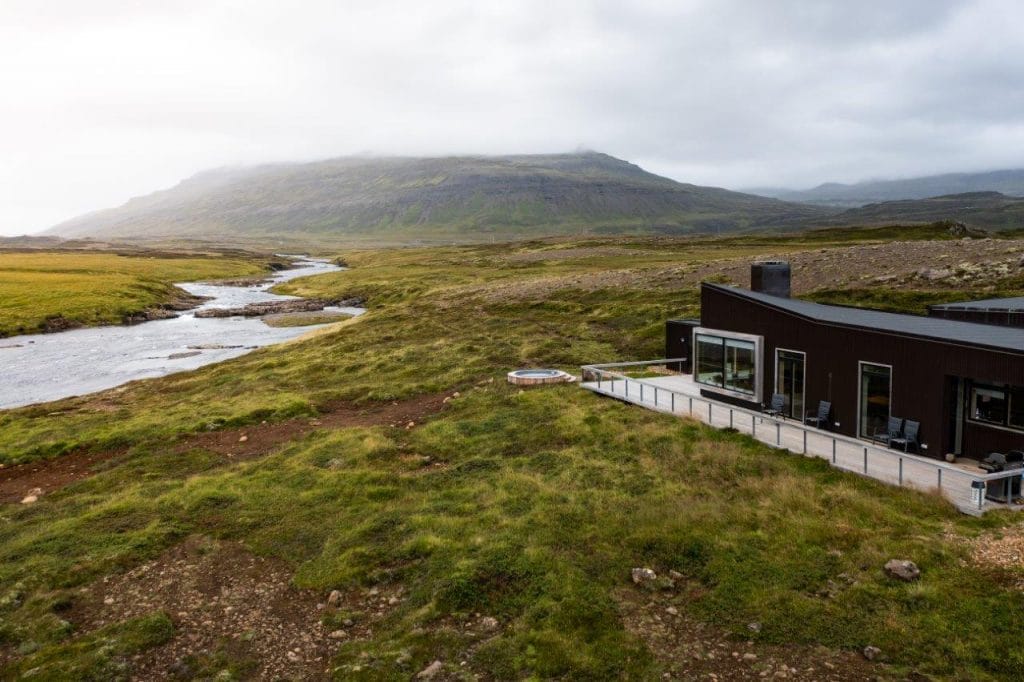 Our first group at Straumfjarðará have just left and landed 20 fish for their three days. The river has now landed 50 fish and the average weight is 7.5 lbs. The largest fish last week was  15.6 lbs and top flies have been Sunray Shadow, Red Francis tube, and best pool has been Sjavarfoss with 24 fish landed from it already. We look forward to some warmer weather to give things a kick. The lodge continues to impress and this really is the river for intact parties.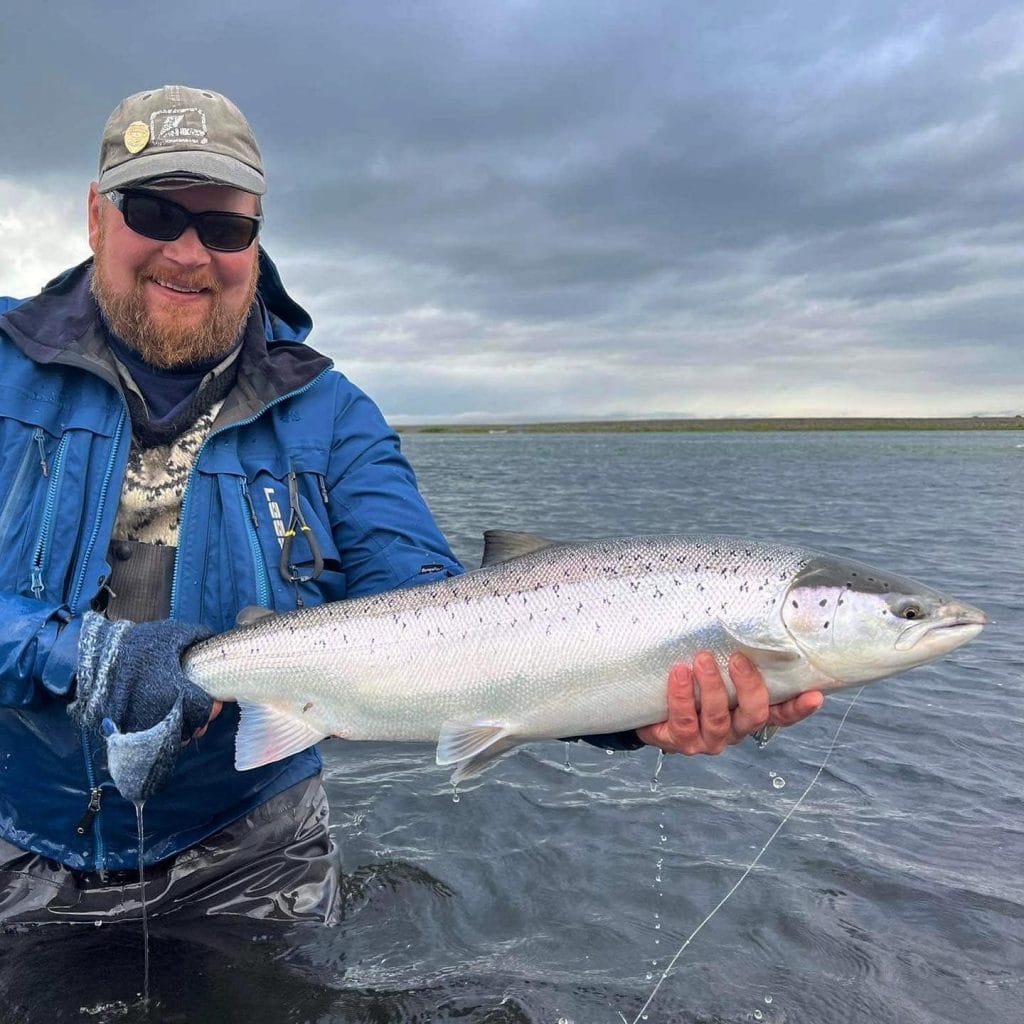 The Laxa I Adaldal in the North has now landed 88 fish to date with the largest still being 102 cm and 23 lbs. A big bright fish of 98cm was landed on the 7July and 22 lbs from Bjargstrengur on a hitched sunray shadow.  The Average has been 12 lbs with a length of 78 cm and the top flies have been Sunray shadow, Radian, Red Frances Orkeila and Sunray Shadow Skáskorinn. Top pools this week have been Midfosspollur, Fosspollur, Stuarinn, Sjávarhola and Spegilflúð.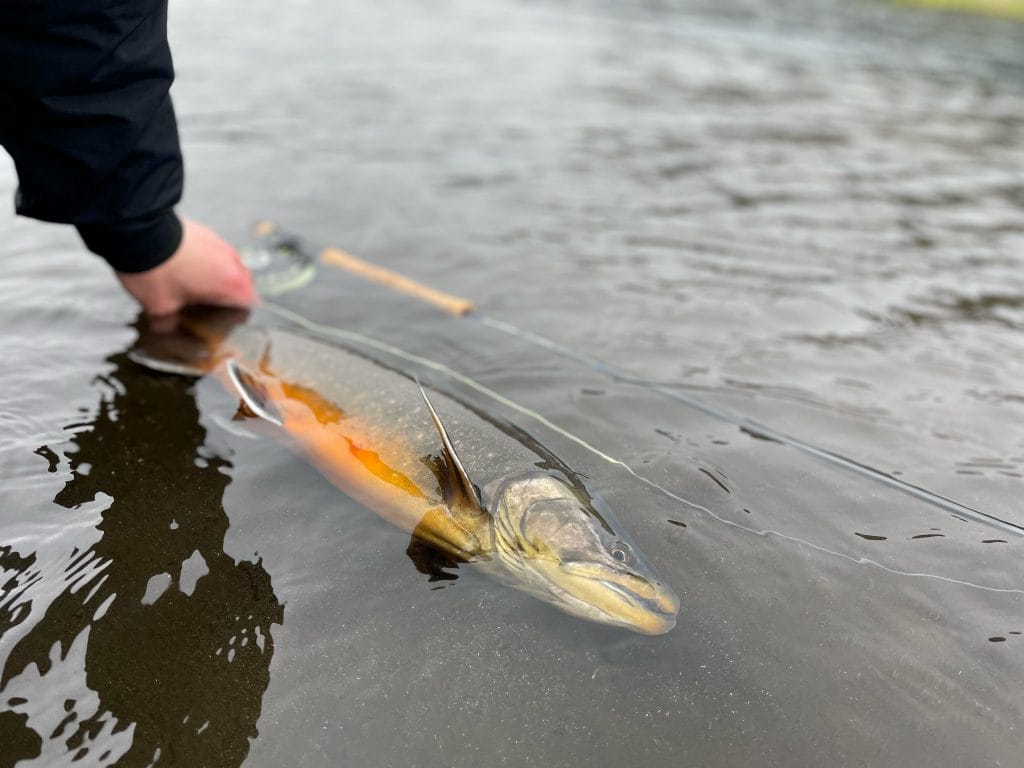 Alex's group are currently in the Highlands fishing the Kaldakvisl and Tungnaa for Arctic char and brown trout. Conditions have been tough with unrelenting wind, but in breaks of the weather fish have been rising to large hatches of midges. Fishing has mainly been focused on nymph and streamer techniques with some amazing fish showing, including numerous char over 50 cm and several brown trout of the same stamp. 
For more last remaing availability click HERE or for more details on fishing in Iceland please do not hesitate to contact Peter McLeod or Alex Jardine or call our office on +44(0)1980 847389.