As the salmon season in Iceland draws ever closer it won't be long before we are once again awaiting the first few silver fish to nose up the rivers of Iceland. At the first vestiges of spring arrive we feel the thrill of another salmon season upon us. There has been a huge uptake of fishermen to Iceland next year with not only those returning to take up their rods again, but also those who can't travel to other salmon fishing they would normally fish. There are still a few spots that we have complied for you. We are also delighted to see that all restrictions on travelling to Iceland have now been lifted which ill make for easy travel this summer hopefully.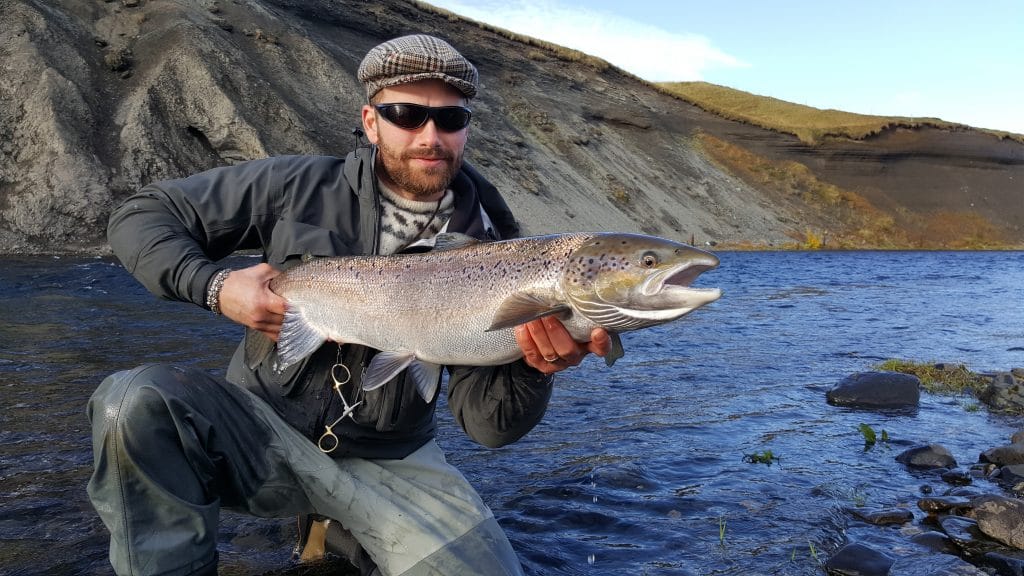 From next season 2022 we are delighted to announce that we will be adding the famous Stóra Laxá to our portfolio of rivers in Iceland. The Stóra Laxá has long had a reputation for its run of large multi sea winter fish amidst some of the most spectacular scenery in Iceland. The salmon that run the Stóra Laxá are not only big, they are exceptionally hard fighters as they have to ascend steep gradients to their spawning grounds. The season for Stóra Laxá is 30th June to the 30th September with prime time considered the beginning of July when the big fish start running through until mid-August. This season will be its first under the new leaseholder and with the restructuring of the beats and the building of a new lodge this is the ideal time to get prime space on this river at this introductory price.
30 June – 3 July: SOLD – £4,850
9 – 12 July: 1 rods – £4,850
15 – 18 July: SOLD – £4,850
18 – 21 July: SOLD – £4,850
5 – 8 August: SOLD – £4,560
Transfers included from Keflavik. Click HERE for a focus on Stora Laxa.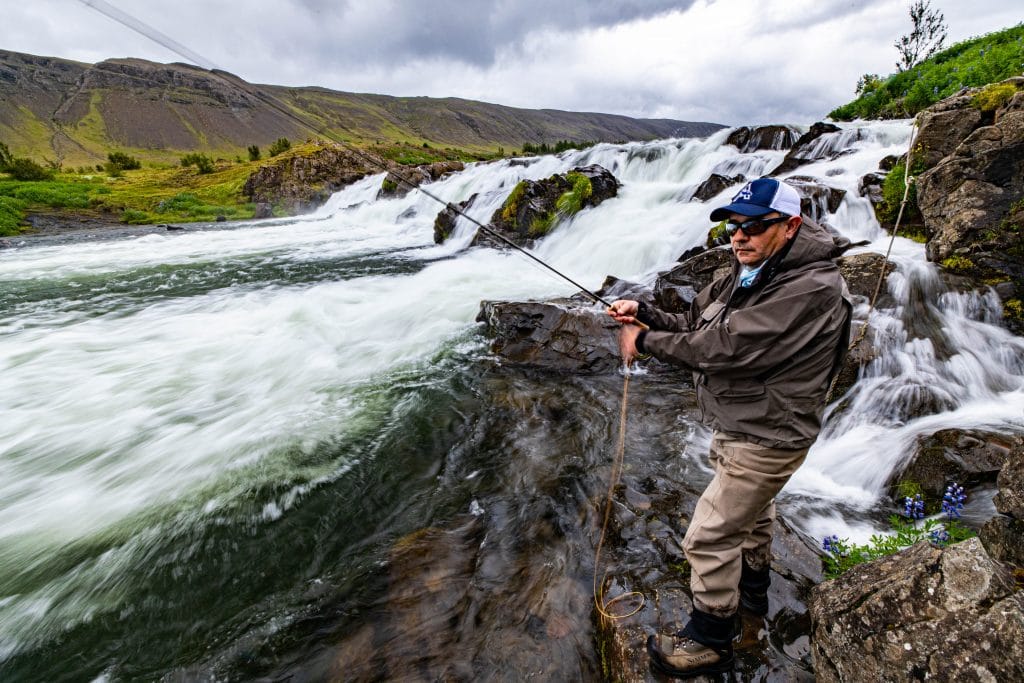 The river has one of the prettiest and most comfortable lodges in Iceland and sits overlooking the lower section of the river. The river itself is intimate and the fishing is more akin to trout fishing for salmon, a true hitchers' dream. Small rock pockets, canyons and open meadows are perfect for single handed fishing with tiny flies. The river also has some huge sea trout which run throughout August and add to the excitement, a small tributary called Bugda boasts good numbers of brown trout. Laxá I Kjos offers some very exciting sight fishing and hitch fishing opportunities for salmon.
8 – 11 August: SOLD – £4,260 per person
Transfers included from Reykjavik.
The Nordurá offers 65 km of fishing to its rods with well over 100 pools and again takes 12 rods. This time frame it prime time and the river lands over 2500 in a season. It has a huge variety of fishing to offer and they recently renovated the lodge adding a whole new room section, so the lodge is really lovely. The Nordurá is the first main river to open in mid-June and is often used as a benchmark to see how the season in Iceland will progress over all.

21 – 24 July: 1 rods – £6,490 per rod
24 – 27 July: 5 rods – £6,490 per rod
27 – 30 July: 1 rod – £6,060 per rod
2 – 5 August: 1 rod – £4,550 per rod
Transfers included from Reykjavik.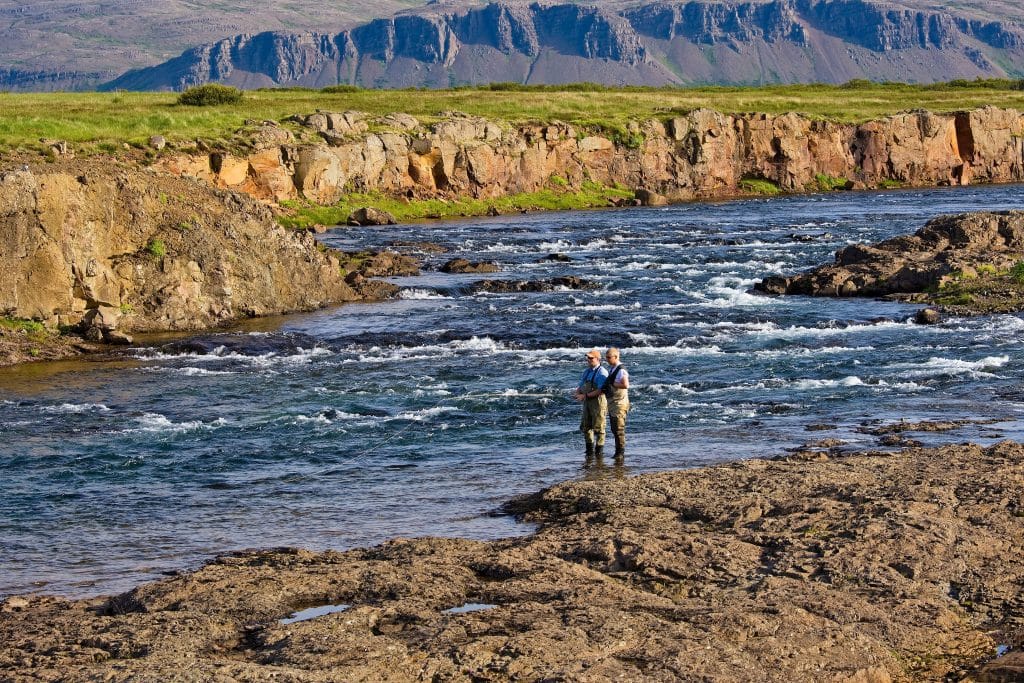 Langa, West Coast
Langa is a river that can be fished with relative ease with good access to the pools and is fished well with single handed rods, small double handed rods can also be used. It is much less susceptible to poor rainfall, unlike some of the other Icelandic salmon rivers, as it is lake fed. It has been extremely consistent even during very poor years and is the nearest you will get to a "Safe Bet". The runs are predominantly grilse and larger fish are seen occasionally through the season. The lodge is approximately 1 hour 20 minutes from Reykjavik and caters for 12 anglers.
24 – 27 July: 2 rods – £6,150 per rod
Transfers not included.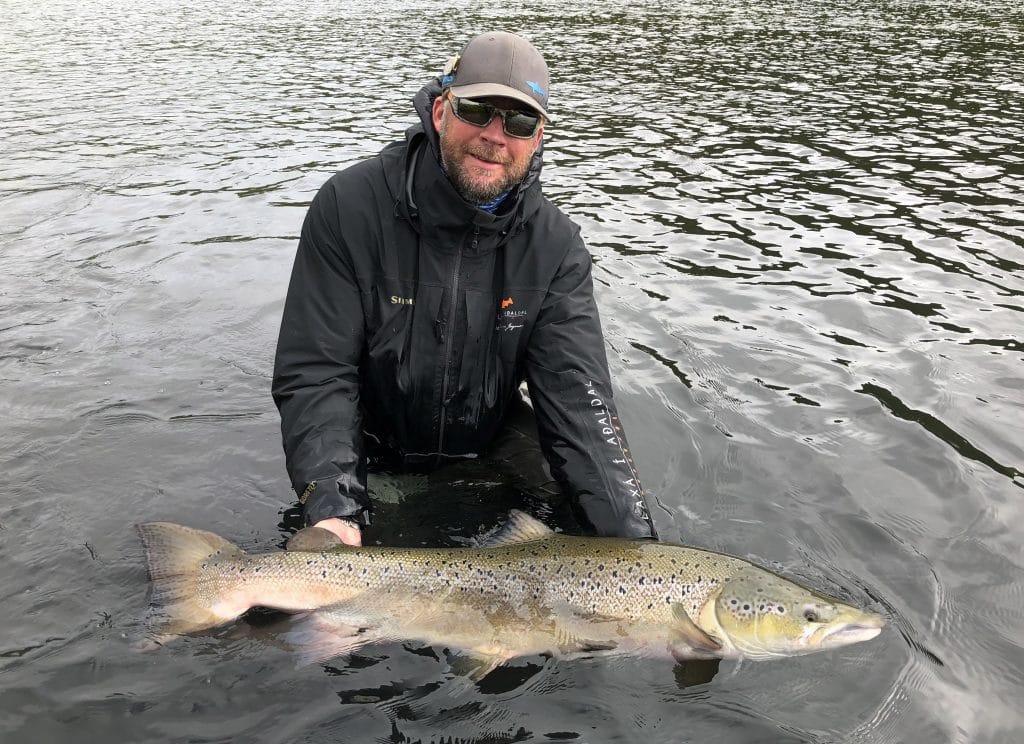 The river is large and wide as the name dictates. Pools for the most part are grass banked, wide, and with a relatively even bottom. There are the intermittent lava shelves that drop away, hidden from someone reading the surface in turn creating some excellent lies. The river is deceptively clear as the bottom in most areas is black lava sand giving the impression of depth and murkiness which is extremely misleading.
Therefore small flies are often extremely effective, and caution should be employed when approaching pools. There are some extremely dramatic beats such as the falls pool that features fishing from a cliff face on one side, allowing the angler to see the salmon moving to the fly before it goes over the lip. To fight a fish here requires steely nerves and determination either ending in elation of a fish successfully manoeuvred up the pool, or tears as it disappears over the waterfall along with your line and backing.
17 – 20 July: 6 rods – £4,200
20 – 23 July: 6 rods – £4,410
Transfers included from Akureyri, other dates available on request.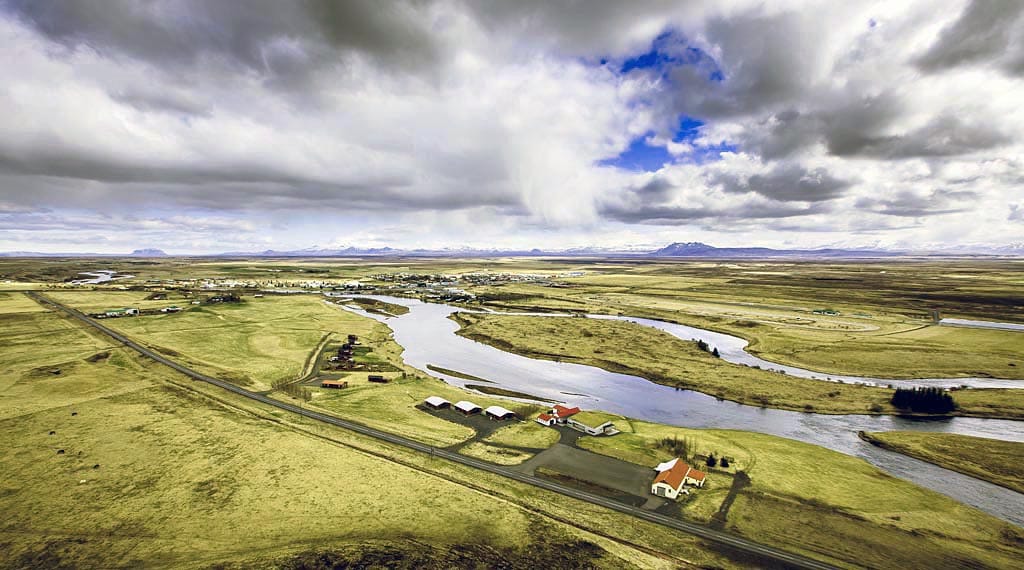 Located in the south of Iceland, West Rangá is one of the country's most famous salmon rivers along with its neighbour the East Rangá. Both rivers often feature near the top of the most prolific salmon rivers in Iceland each season, as well as numbers the river also boasts a higher average size of fish than the rivers on the west coast. The river has an average width of 50 metres, featuring wide long pools and smooth glides. The bottom is mainly made up of black volcanic sand making wading relatively safe and easy. The river is best fished with double handed rods and larger flies than other rivers in Iceland, it is often useful to carry some sinking line options as well. The West Rangá is an unusual salmon river in as much as there is very little in the way of natural spawning habitat and it therefore relies on a very successful smolt-releasing programme that began in 1989. The river sees consistent salmon runs throughout the season and fishes until the 20th October with good statistics right the way to the closing day.
Next season the fishing will be sold in 2,4,6 or 8 days slots:
20 June – 1 July (afternoon – noon) – 8 rods, 2, 4 or 6 days
1 – 4 July (afternoon – noon) – 5 rods 3 days
10 – 12 July (afternoon – noon) – 2 rods 2 days
14 – 16 July (afternoon – noon) – 2 rods 2 days
3 – 5 August (afternoon – noon) – 2 rods 2 days
9 – 11 August (afternoon – noon) – 2 rods 2 days
17 August – 20 August (afternoon – noon) – 5 rods 3 days
21 August – 2 September (afternoon – noon) – 5 rods, 2, 4 or 6 days
Please Contact us for more details and costs or click HERE to see daily prices.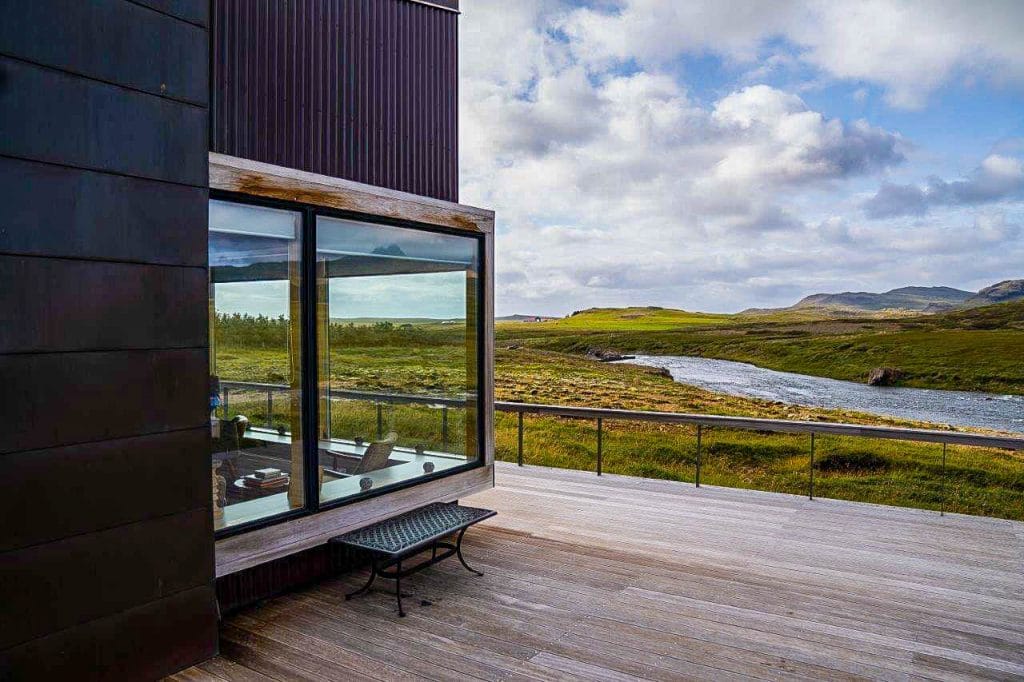 This unique river located up on Snaefells peninsular on the west coast of Iceland is one of the very few that offers a full service lodge to just four rods. The river itself has approximately 27 named pools divided into four beats over 12 km of fishing up to the Rjúkundi waterfall. Straumfjardara exhibits all the classic features of a great Icelandic river from the canyon section at the top to the fascinating rocky pools and holes to more open sections below.
Space may be available on request.
Costs are based on three days fishing with the lodge being taken by four rods and two rod shares with two guides along with transfers from Reykjavik. Additonal rodshares can be take for £590 per person and the lodge has a maximum capacity of 10. Ideal for an intact party. Click HERE for a focus on Straumfjardara.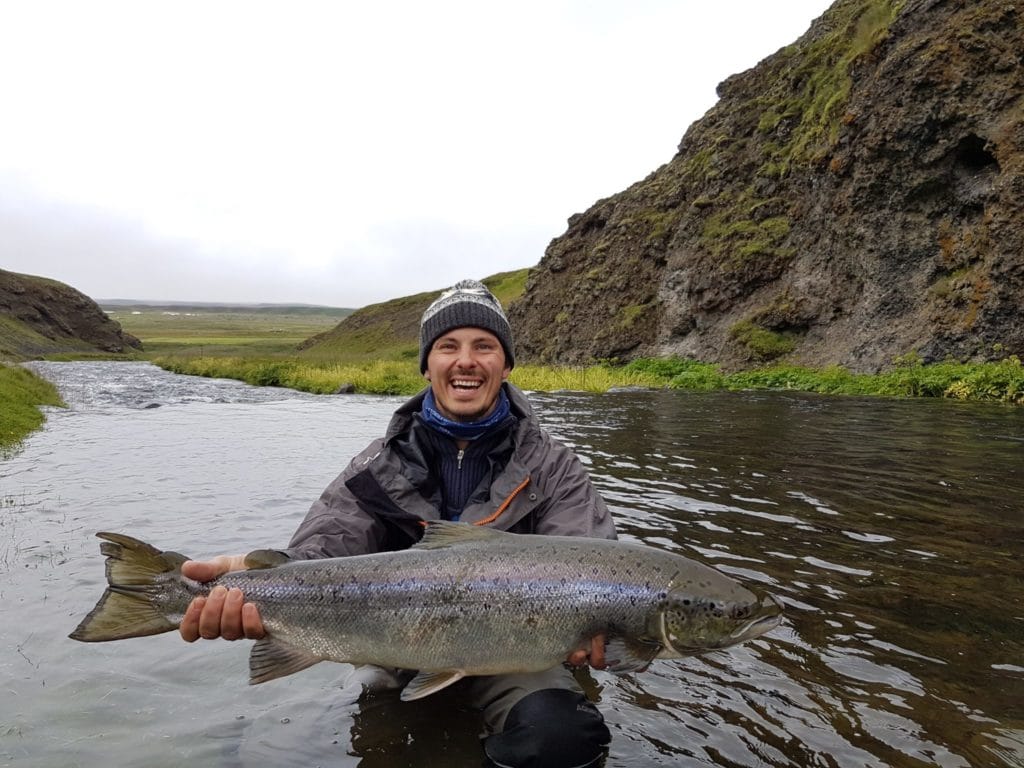 The Myrarkvisl is a very interesting river offering traditional pool and riffle water in the upper section, a canyon through the middle and meandering slow flows at the bottom. You can target good numbers of trout averaging 2 lbs with a few between 4-6 lbs. Dry flies and traditional nymphs work well and as the season progresses the chances of encountering salmon increase. Along with the river you also have access to a lake that has a good head of Arctic char (delicious eating if you want to take one or two for dinner). The river is limited to just four anglers.
9 – 12 July 3 days 4 rods £2,080 per rod (good trout and early salmon)
15 – 20 July 5 days 4 rods £3,550 per rod (good trout and early salmon)
For more details on fishing in Iceland please do not hesitate to contact Peter McLeod or Alex Jardine or call our office on +44(0)1980 847389.