Despite the heat wave we are experiencing here in the UK, the weather in Iceland has remained consistently cool, although warmer than last week. Air temperatures have remained low between 8 – 14 °C and at one point last week lifted to 17 °C briefly. It has remained overcast, which has been good for fishing, with some light rain to freshen things up sporadically. Most of the rivers, especially on the west coast are now reaching the peak number of their runs and we have seen some hectic action this week from our groups. Water levels have again remained pretty constant, and any warmer temperatures have been compensated with a little snow melt, although there is still plenty in the mountains.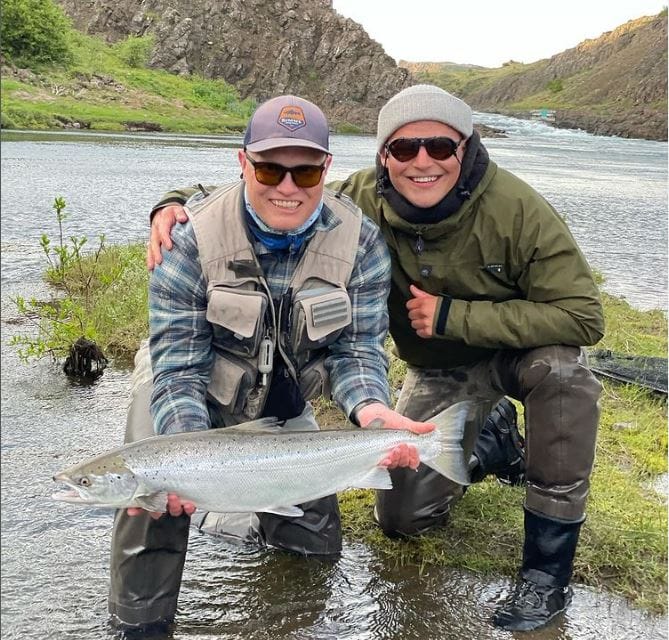 Nordurá had a solid week last week. The river landed a further 194 fish last week taking their total today to 655 and approximately the same as this time last year. The river is landing on average 32.3 fish per day with an average weight of 6.2 lbs. Yesterday they landed 32 fish the best day and the biggest of the week was a 17 lbs fish from Bælisfljót that took a hitched size 18 Haugur. Water levels remain at a comfortable level for this time of year. The top producing pools have been Eyrin, Bryggjur, Breiðan, Stokkhylsbrot and Stekkjarfljót and best fly patterns Sunray Shadow, Red Francis, Collie dog, and Haugur.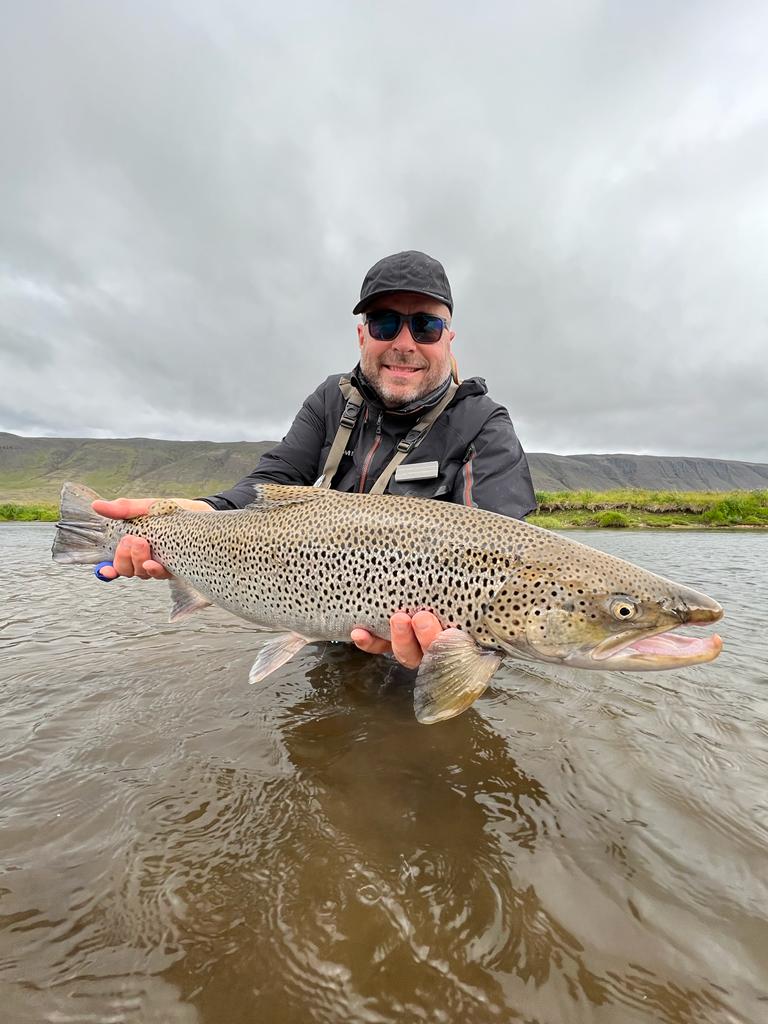 On Laxa I Kjos it has been an eventful week for one of our groups. We are still seeing a steady increase in catch per day with 97 salmon fish landed to the eight rods taking the total to 317. Their best day was the 15 July where they landed 15 salmon, but the big change has been the sea trout in the meadows as 22 were landed last week in addition to the 97 salmon. As the temperature has risen and the wind has dropped a bit, the big sea trout have come on the take in the meadows with Nick Sladen landing a magnificent 11 ½ lbs fish from Oseyri on a pheasant tail nymph. Top flies continue to be hitched Sunray shadow, Red Frances, Black Frances, hitched Sunray, and the Valbeinn but all small, between size 12 and 14. The top pools have been, Kvislafoss, Bollastadabreida, Laxfoss South, and Fossbreida.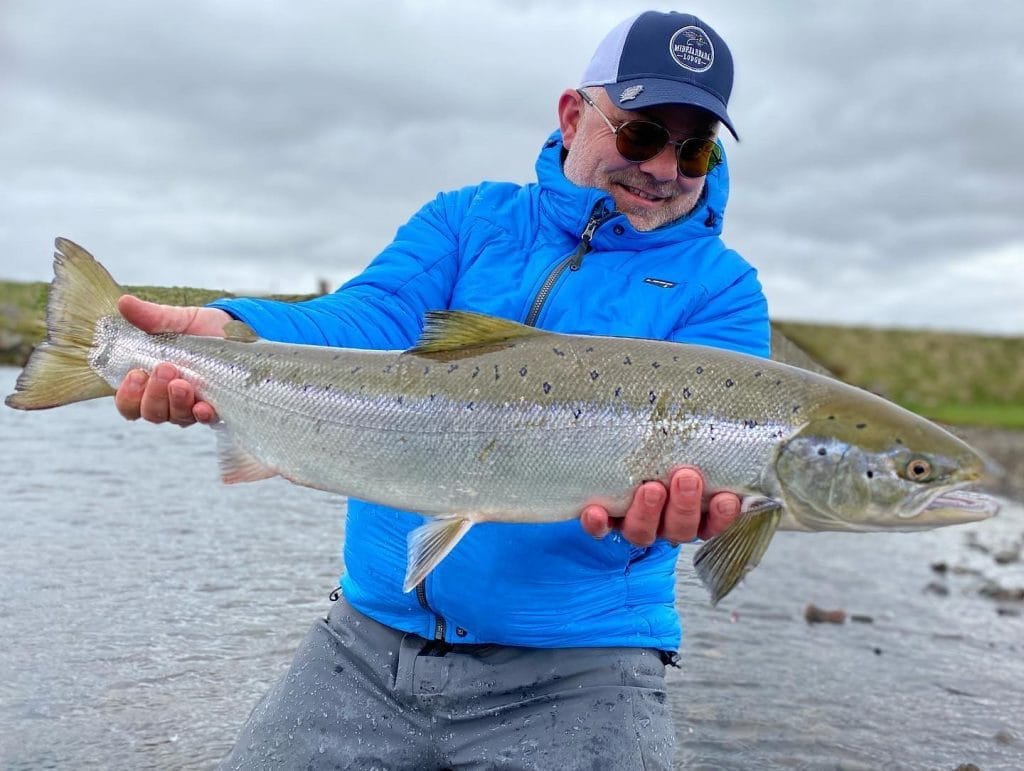 The Midfjardara has had a much better week as their number have continued to increase. This week they landed 115 fish taking their total to 299 fish for the season. Although many are being seen in the pools, they have been playing hard to get with their heads down running hard. There are some stunning fish being caught and we are still seeing a high proportion of multi sea wintered fish with an average weight of 9 ½ lbs. The best day was the 16 July where the group landed 21 fish. Top flies have been micro hitched tubes, Collie Dog, black sunray, and Sunray Shadow. The top pools have been Brekkulækjarstrengur 1, TT, Kambsfoss, Hlíðarfoss  and Túnhylur – Vesturá.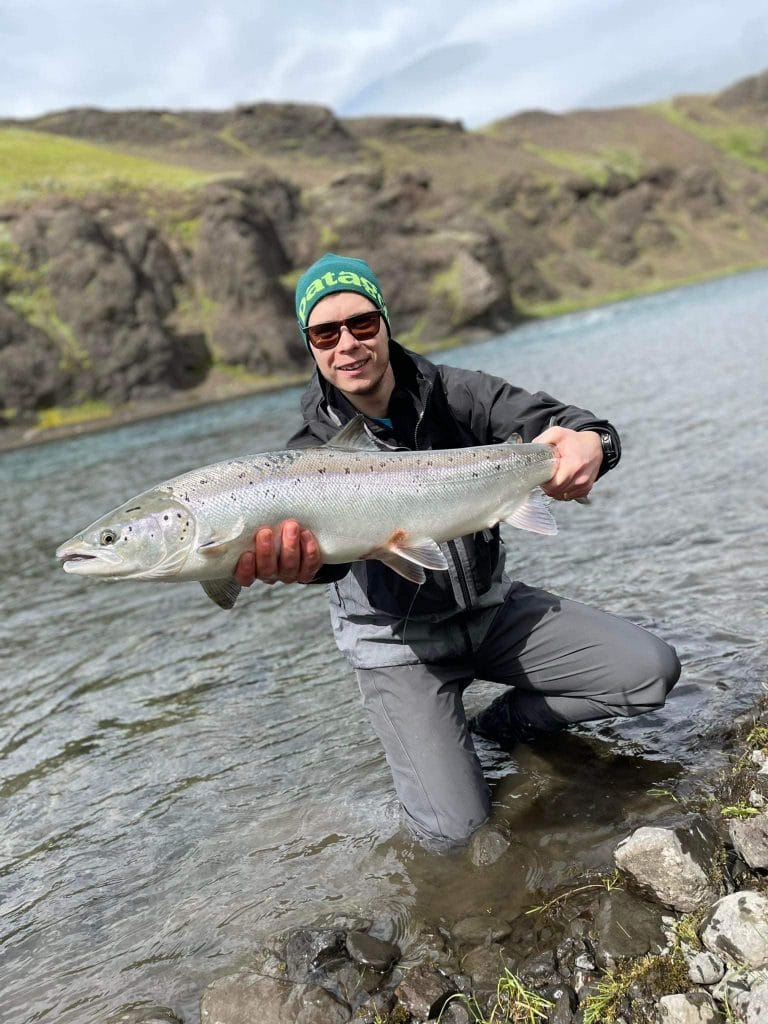 The Stóra Laxa has again had another fantastic week and has now made it into the top ten rivers in Iceland so far this season. With air temperatures between 9 – 14 °C the fish woke up a bit after their cold stupor of the previous week and have been a little more forthcoming. The best action is still on the surface as the water is clear so floating lines and small hitched flies have been the order of the day. One of our rods Michael landed two stunning fish of 15 and 16 lbs respectively.  The river is now approaching 230 fish, so they have landed over 70 in the last week, which still puts them way ahead of previous years. The improvements to the river along with a sustained guide team are beginning to really show what this river is capable of.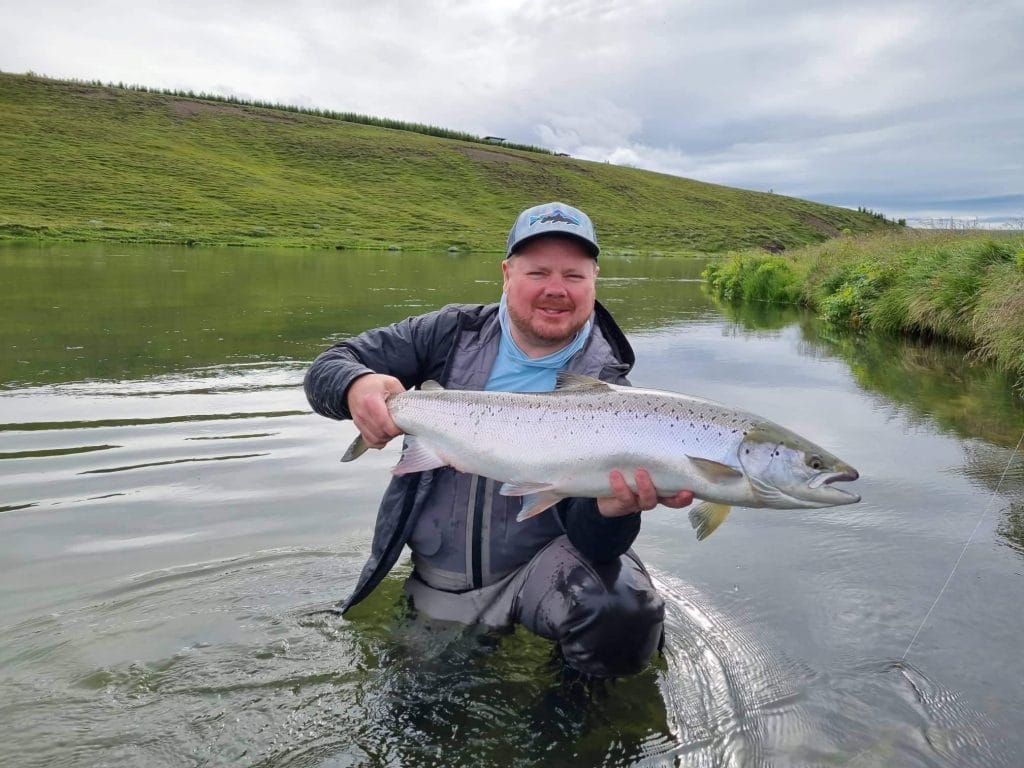 The Laxa I Adaldal in the North landed 40 fish last week taking their total 128 fish to date with the largest still being 102 cm and 23 lbs. Yesterday was a red letter days with the rods landing 13 fish culminating in a sold 17 ½ lbs from Skriðuflúð on a size 14 silver sheep.  The Average has been 11 lbs with a length of 75 cm and the top flies have been Sunray shadow, Radian, Red Frances Orkeila and Sunray Shadow Skáskorinn. Top pools this week have been Fosspollur, Midfosspollur, Stuarinn, Breiðan and Sjávarhola.
For more last remaing availability click HERE or for more details on fishing in Iceland please do not hesitate to contact Peter McLeod or Alex Jardine or call our office on +44(0)1980 847389.