We recall special fishing moments, memories that will remain with us for a lifetime. The one that got away, the cluster of errors that led to a missed opportunity that may never present itself again, the trophy that was landed when everything was stacked against us, the fish that took our first homemade fly etc.
These can be memories of our own captures, captures of a friend or just the experience of being in a given environment.
There is no doubt that an image can conjure these memories and bring them back to a vivid state. Images help us reminisce, reflect on amazing experiences that should never be forgotten. Indeed, reflecting on images after a trip can help deepen our experience and help us absorb what may have been a surreal experience that passed all too quickly.
There are many imaged I can reflect on over the years, and I am thankful that such experiences were presented in the first place. The following are, however, three that instantly spring to mind.
It was hard not to get excited ahead of my first trip to Bosnia, the intel I had and the pictures I had seen suggested it was going to be right up my street. Crystal clear rivers, large trout and grayling, small dry flies and incredibly picky fish. On arrival, all of those were proven true.
To begin with I had to battle with my heavily entrenched concept of dry flies presented upstream. I had gone through my usual adjustments for picky fish, dropping fly and tippet sizes, leader degreasing and long, long leader set ups. It didn't work. Working with the guides and moving outside my comfort zone, I began to present dry flies downstream. It paid immediate dividends. Over the course of the week this method proved wonderfully successful and accounted for a number of big trout and grayling on the surface rising to size 22 and 24 dry flies.
This image features one of good sized grayling that was offering a small dimpling rise midstream as the evening spread through the Ribnik Valley. Several fly changes and then it rose slowly on my offering.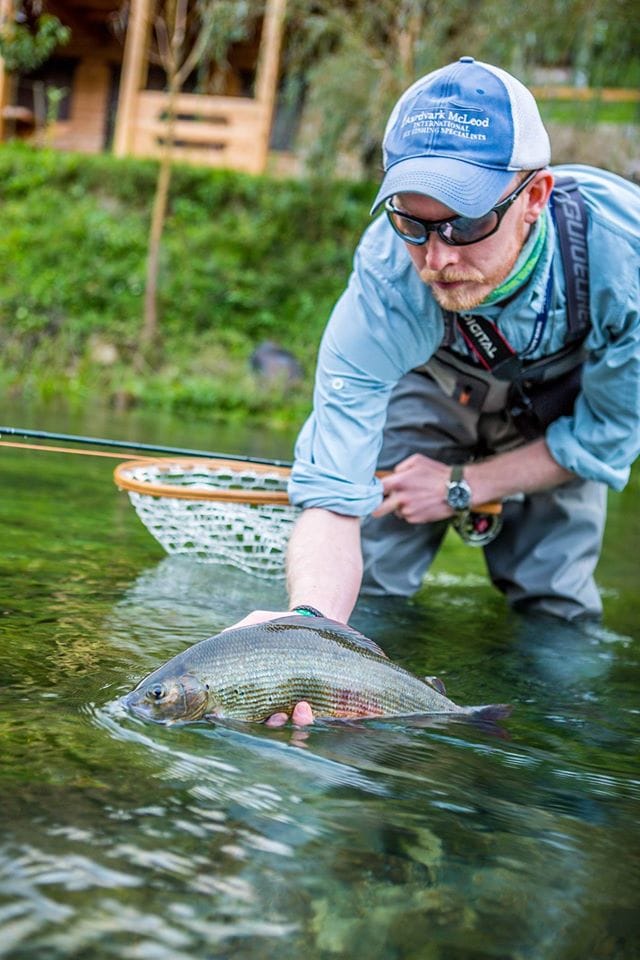 The wild brown trout fishing in Iceland has for a number of years form a permanent place in my heart, and it is easy to see why; giant trout and confident risers.
In August 2014, I headed to the Laxardal beats in the north of the country with Tom and his father. During the summer increased volcanic activity was being reported and I was watching the news like a hawk, desperate to get back to the river. On arrival conditions were peculiar, not their normal clean and fresh feel, more dull and murky. Rising fish were virtually non-existent and we worked tirelessly for 3 days for very few opportunites. With the only success coming on nymphs and streamers.
Tom and I were working the eastern bank along some of my favourite runs and pots. It is a big river and can be daunting but is very manageable when broken down. Out of nowhere I spotted the nose of a trout rise tight to the bank. Marking it with my rod, I went and grabbed Tom. In position, we began fishing with my favourite Icelandic dries. For half an hour or so we had no further sign that the trout was home, but on we persevered. Out of nowhere the fish nailed our offered and tore off on a blazing run. Our tireless work had paid off.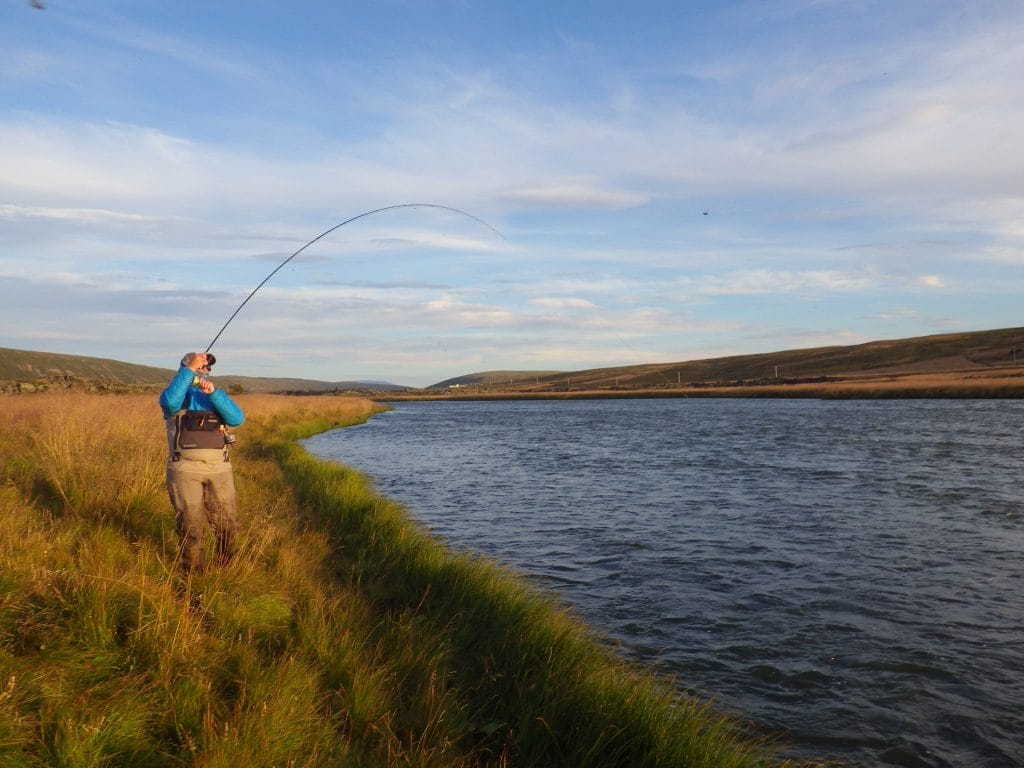 Norwegian salmon fishing is one of my relatively new found guilty pleasures. One where you have to be prepared for constant failure in anticipation of that one fish of a lifetime. There are dozens of images that I could have picked but the one below epitomises Norwegian salmon fishing.
In 2017, a group of friends and I headed to the delightful Winsnes Lodge on the mighty Gaula River. One of the group, Tim, had not yet landed an Atlantic salmon, and whilst I would not normally recommend Norway for new time salmon anglers this was a perfect group atmosphere.
On the third day we were fishing into the dying light as Tim called out, he had hooked into his first ever salmon. Not a monster but a grilse to get him started. That night over a wee dram Tim and Rob joked that they would wear button shirts and silk ties to respect the salmon the next day. Sure enough morning came and they emerge in full country dress. We all headed out for our various beats for the day, after a couple of hours messages began flying around the group, word was Tim was into another fish. Little was known until we returned before lunch for the beat rotation to find Tim and Rob tucking into a healthy whiskey, and boy did they deserve it. Tim's second ever salmon was estimated as healthily over 30 lbs.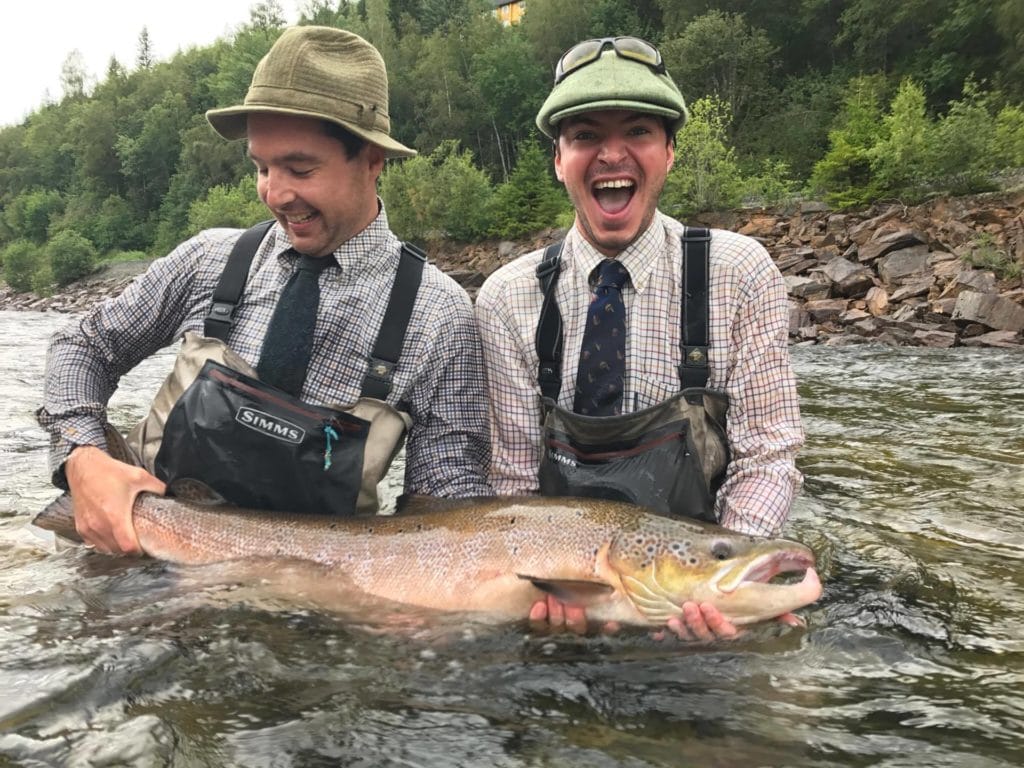 If you are interested in travelling to these or any other destination within our portfolio please contact us by EMAIL or call our office on +44(0)1980 847389.