FULLFILLING DREAMS – INDIA
It has been a long held dream of mine to go to India, but I obviously wasn't meant to be there until this year as despite being asked, it just wasn't possible for one reason or the other. Misty broached the subject once more last July and it finally seemed that the time was right. My annual hosted week to Alphonse is in March and Misty's dates were for the week after. Although it meant being out of the office for three weeks, the logical route was Dubai directly to Delhi. So why does the tale of this fantastic trip start in the middle?  It is because every trip starts with a dream and this was mine.

PART ONE – GETTING THERE
Why did I so want to go to India? Firstly because I love travelling and time in Nepal many years ago had given me the burn to see more of this part of the world. Secondly because I really wanted to catch something that the Peter, Alex and Steff hadn't. Knowing that I wouldn't have access to power while on the river, I bought myself a notebook and have to admit that I have enjoyed writing my thoughts down, rather than typing them. I looked out my old Zambian trip book when I got back and as you can see, not only has the book size quadrupled, my sketching ability has deteriorated over the years!
Leaving the humidity of the Seychelles behind, it was long day between Mahe and landing at Indira Ghandi International Airport; a gleaming expanse of glass, polished brass and acres of hoovered carpet. It is easy to navigate around and quick to get through. With three entry forms to complete before you land – Health, Immigration and Customs, there was much flourishing of stamps but all were handled very quickly. I had been surprised at how frequently my visa was scrutinised in London and Seychelles, with much cross checking on computers and whispered conversations between airport staff. Once there, it didn't even warrant a glance by the immaculate immigration officer …. I guess if you have made it that far, they assume you have all the necessary paperwork!
Having had my bags examined in detail when I left Mahe, I had a nasty moment when I couldn't see the Kis case anywhere, imagining it still sitting in the back room of Mahe's security zone. My worry was short lived and, having exhausted the goodwill of a United representative who was, I think, actually offended to be asked to help an Emirates client (he didn't have a badge so how was I to know?). I found the tube lurking behind a pillar and once loaded set off towards the exit.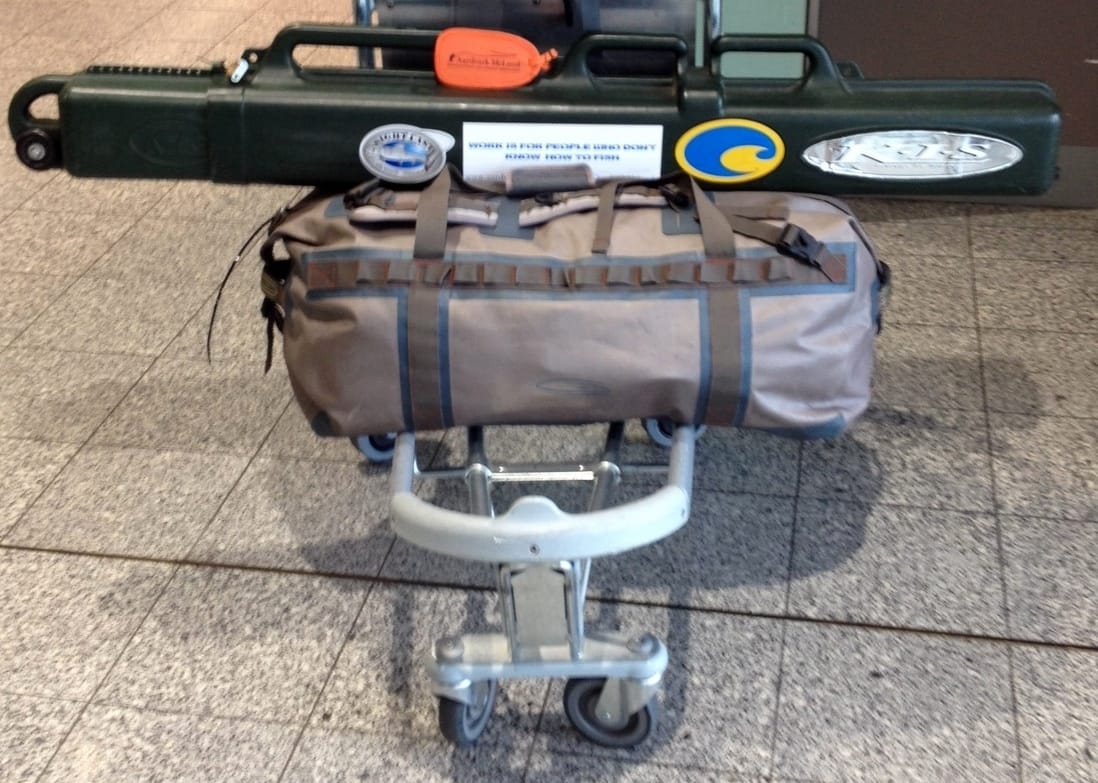 The Imperial Hotel staff who met me at the airport couldn't have been more helpful and my driver, Mr Dominic, responded to my endless stream of questions with immense patience. Set back from the road in the 'British' part of New Delhi, the Imperial Hotel feels hidden away and while there is little that surprises me about hotels now (yes, I know I am tempting fate with that comment), I was charmed by the hotel itself and can't remember ever being in one that smells so nice – whether they are Lilly or Jasmine diffusers I couldn't work out but whatever it is, it smells good. The rooms were large with plenty of storage, big bathrooms and acres of marble to be careful on with wet feet. Marble features highly in the hotel's design with long gleaming corridors that lead 'somewhere' – whether to a courtyard or a restaurant, to a terrace or to the pool. Harking back to the early 1900's, there are prints and portraits on every wall, bronze busts around every corner and gleaming elephants adorn the many hall tables and nothing is too much trouble for the always smiling staff.

Having arrived mid-evening, I met up with Andrew in the lobby, a brave soul who had decided to accompany me to the Saryu because he fancied 'something different'. Normally only found on saltwater flats, we were both heading into the unknown and had a quick catch up over a Kingfisher or three before heading down our very long, deeply carpeted, corridors and to bed.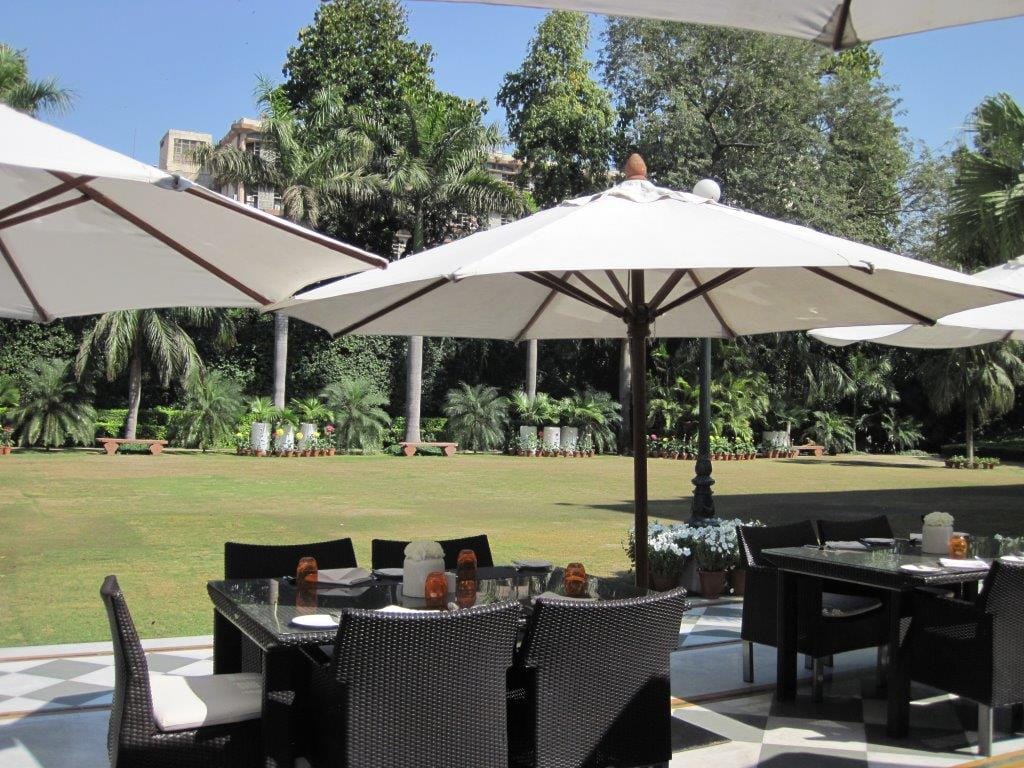 Breakfast on the terrace the following morning was truly pleasant; overlooking the immaculate lawn and with the occasional kite soaring overhead, it was hard to believe that we were in the midst of a bustling city. Having been warned by an old India hand that the kites used to dive bomb diners, I adopted a protective hunch over my breakfast only to realise that the umbrellas were a pretty good deterrent and all I was achieving was some odd looks. Post breakfast we set off with our guide to experience Old and New Delhi; adopting the tourist look without too much difficulty.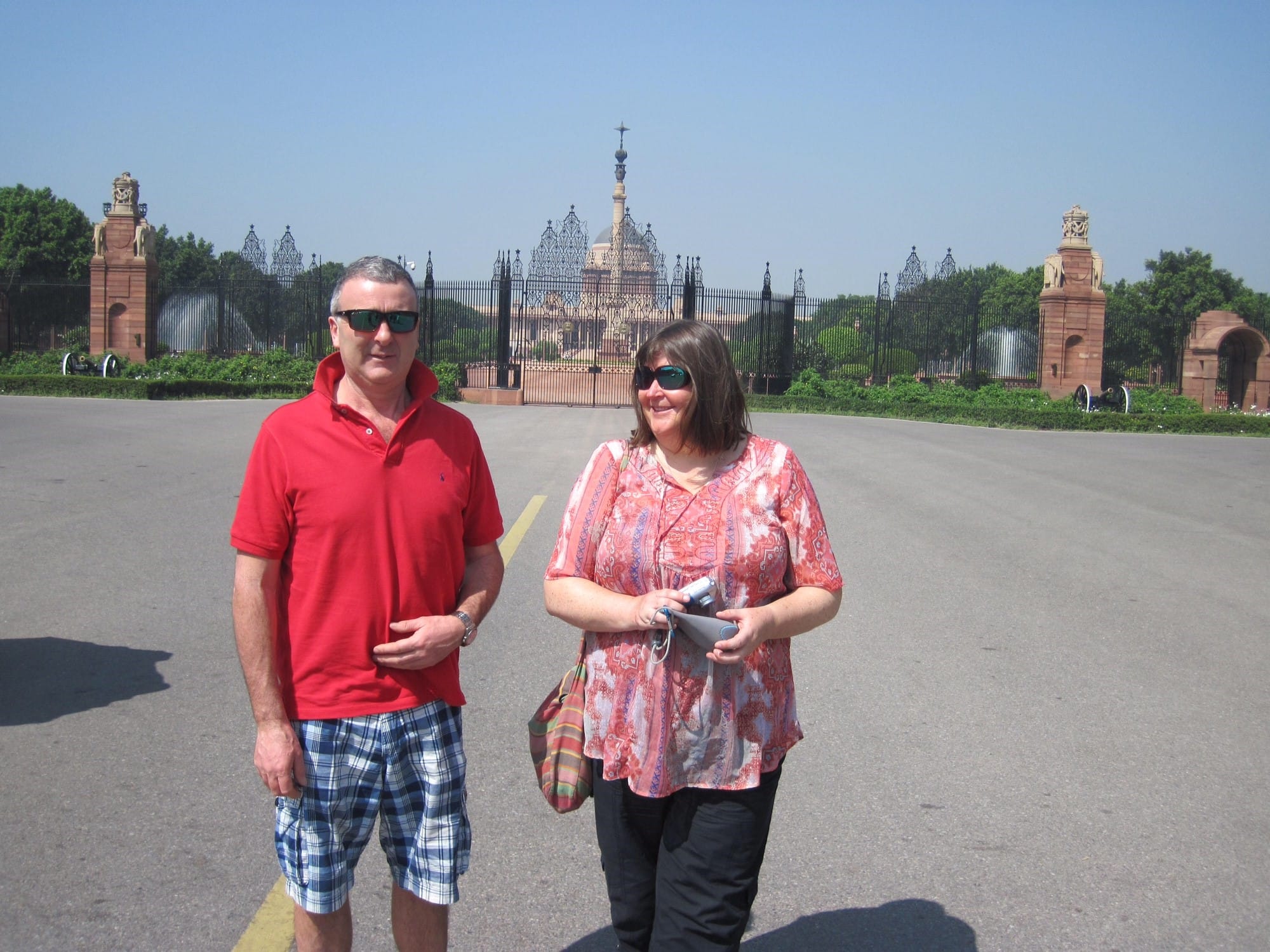 Starting off at the Palace and India gate, before moving on to mosques and temples, the biggest challenge was the traffic. The plinth behind India Gate that used to bear a stature of George V (he has been banished to the outskirts of the city) is still waiting for something to occupy it.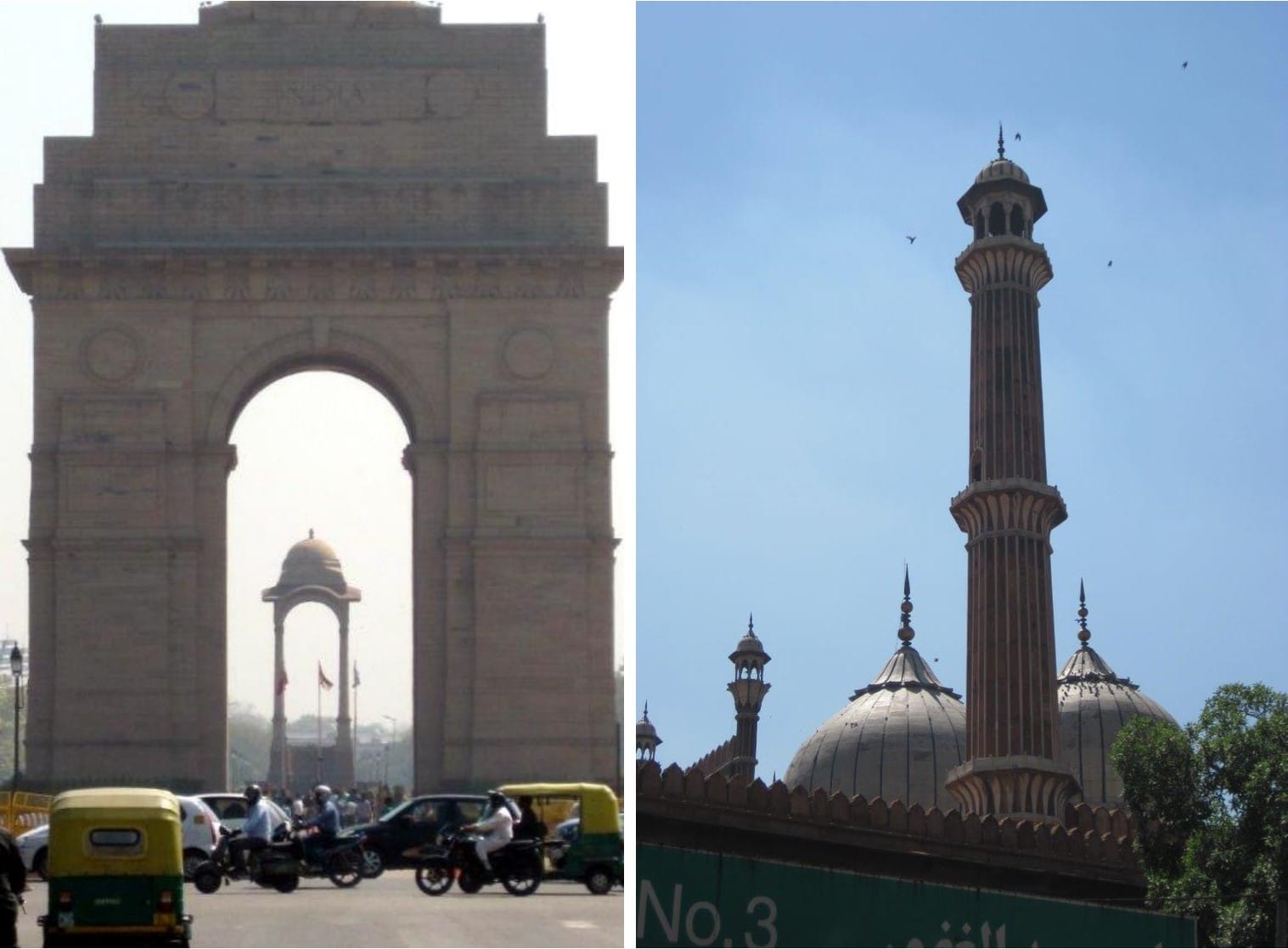 Our guide for the morning pelted us with questions about India's history; he's obviously not used to getting answers as when we did try, he carried on regardless. I found I couldn't look at Andrew as I knew I'd burst out laughing and truly didn't want to offend our enthusiastic chatterer. Our tour took us to Raj Ghat, a beautifully laid out memorial to Mahatma Ghandi. The gardens surrounding the memorial are beautiful and with the hustle and bustle of the main road behind you, it is incredibly peaceful. The perfume of the flowers on the breeze was delicate and the kites were soaring above in their dozens: I was humbled as I stood looking at the homage to a great man, thinking on all that he achieved.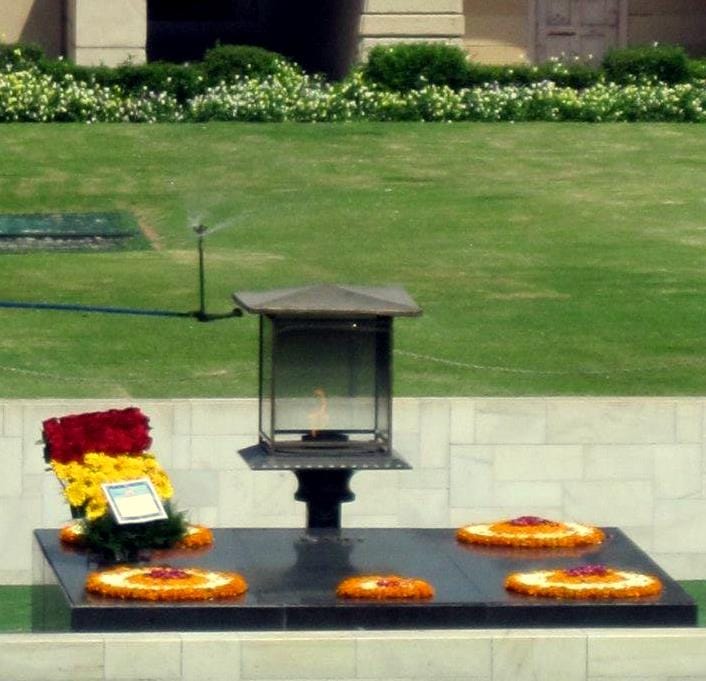 Sadly the Red Fort was closed (as it was Monday) and the closest we got was leaning over the wall looking at this stunning architecture, wishing we could get inside to walk around. Leaving the serenity (relatively speaking) of New Delhi behind us, we set off to explore the heart of the old city. Mad and bustling, it is a cacophony of sound and smells and humanity. What initially looks chaotic does have an order. Of a sort. Feeling incredibly sorry for my poor rickshaw man, we set off for a very speedy tour of the old town; barrelling past fruit sellers and carts piled high with produce of one sort or another. The roadside barbers were in need of trade but Andrew went conveniently deaf when I suggested he give it a try.
Eventually our ride brought us to one of the oldest and busiest markets in New Delhi, Chandi Chowk and from there to the Gurdwara Sis Ganj Sahib, one of nine historical gurdwaras in Delhi. Although a place of worship for Sikhs, people of all faiths are welcome and having respectfully covered our heads, we entered its very quiet but welcoming halls. Although a place of worship, teaching and reflection, it also has a langar where anyone can eat for free; all the food is cooked and served by the volunteers of the Sikh community and the food is vegetarian to avoid any offense to race or religion. Amidst the steam from the giant cooking pots, groups of women sat talking while making mounds of chapattis and behind them, the endless mountains of washing up were being tackled with smiles and good humour.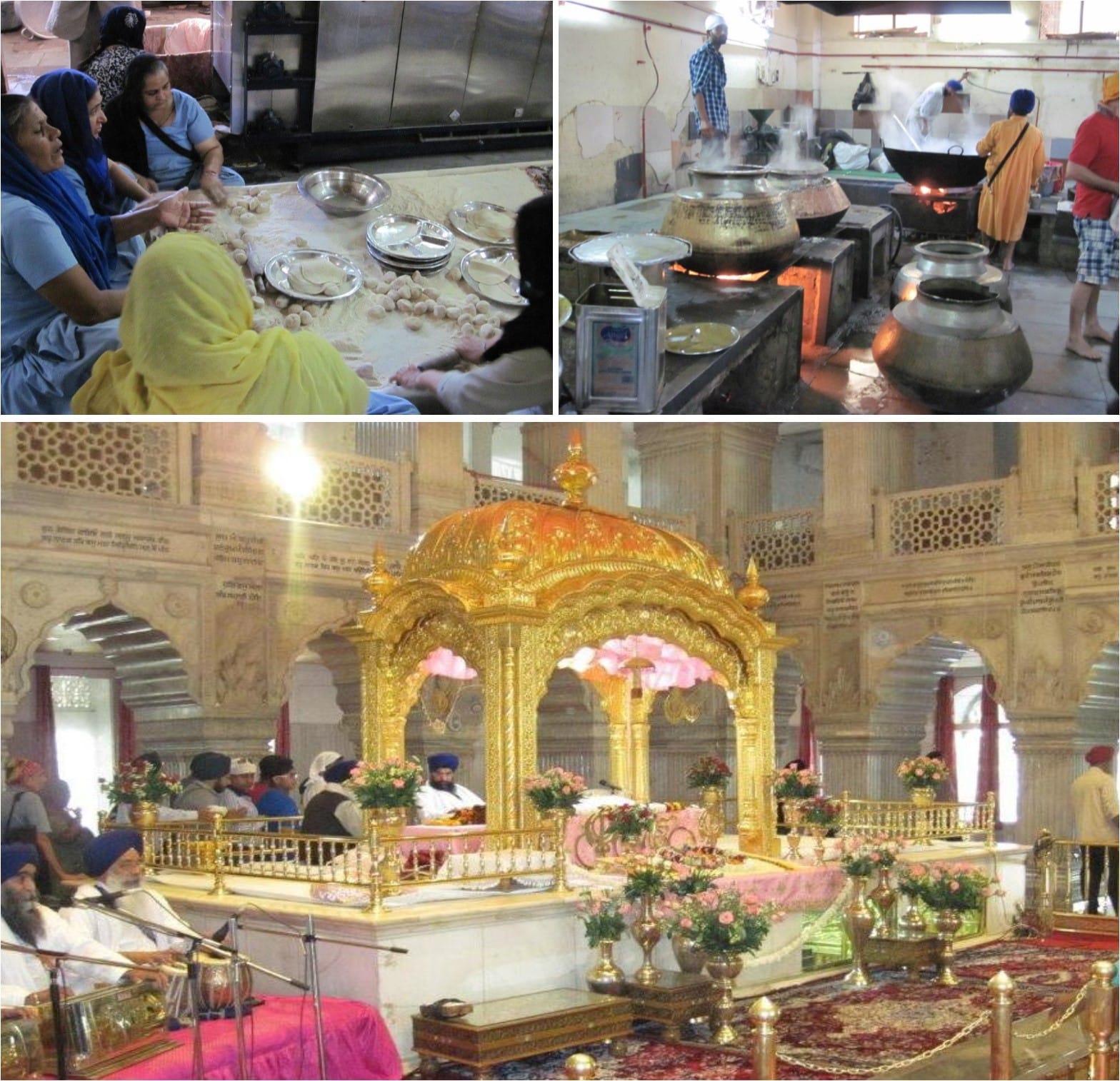 We ended our morning visiting the Lodi Gardens which spreads over 90 acres and is home to several tombs, the oldest of which is the tomb of Mohammed Shah, built c1444.  Started in the 15th century, the gardens are serene in their simplicity and are home to several mausoleums. The most striking of the buildings is Humayun's Tomb, memorable not just for its architecture and the beauty of its setting but for the fact that it was commissioned by a woman, Humayun's senior wife, for her husband. Reportedly the first garden tomb on the Indian subcontinent, this Persian influenced building is constructed of red sandstone while the tomb itself is made of yellow and black marble. Since being declared a UNESCO world heritage site, it has undergone a fair amount of restoration and you could be forgiven for thinking that it looks more like a palace than a tomb. It houses not only Humayun and his wife but also a high number of tombs of subsequent Mughal emperors and their wives. The influence of this beautiful building with its double dome, landscaped gardens and reflective water channels is seen in the Taj Mahal, built a century later by Humayan's great grandson, Shah Jahan, in memory of his wife Arjumand Banu Begum.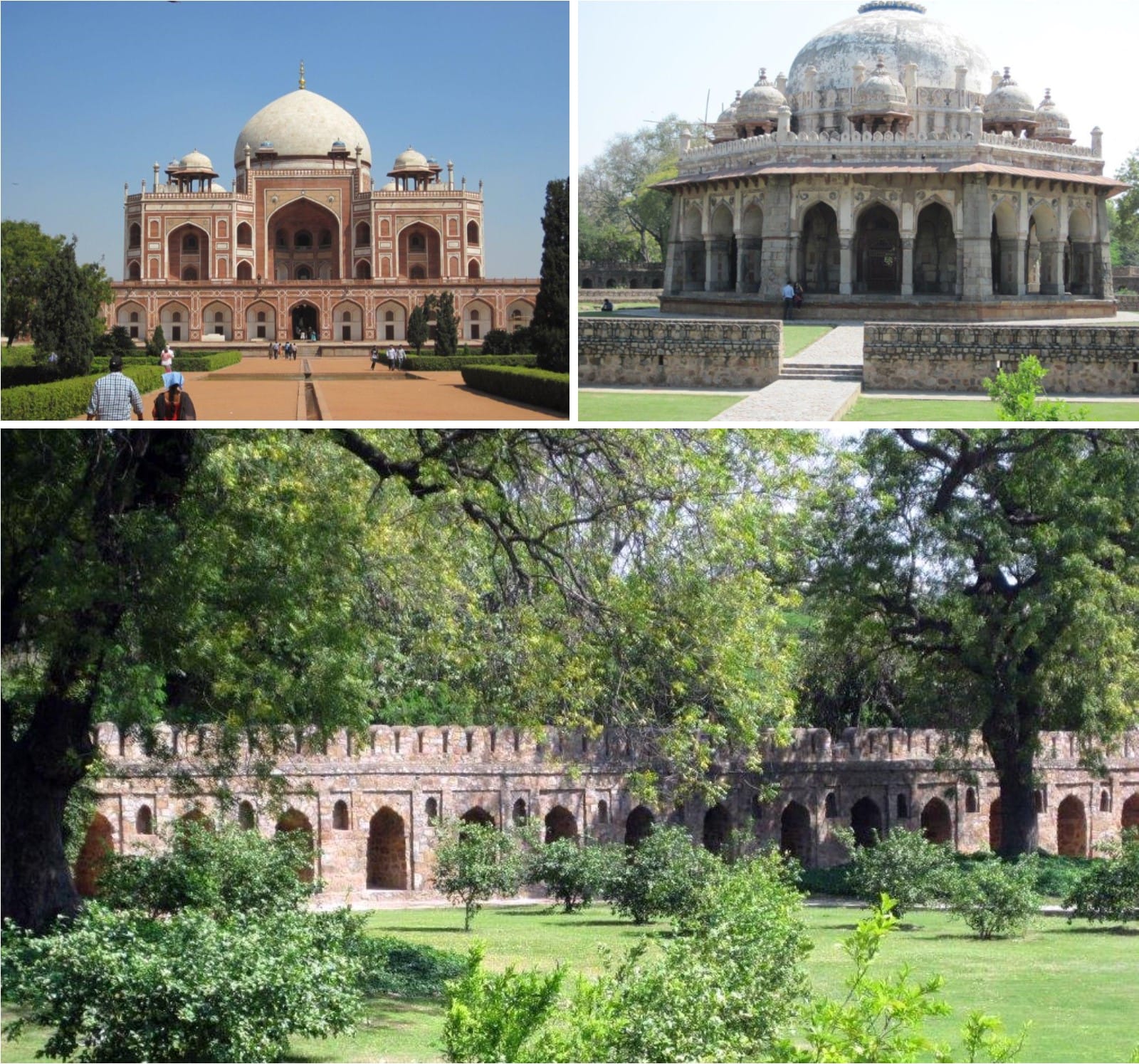 We called it a day at that point and retired to the peace and quiet of the hotel to sit by the pool (Andrew) or repack (me). Having eaten once more on the terrace, it seemed criminal to retreat indoors but no matter how long I put it off, I had to repack …. again. The Seychelles kit had to stay behind so the 9#, 11#, 12# and 14# went into the Kis case along with my flats boots (still slightly damp), Seychelles fly boxes, gravel guards and various other bits of kit that I wouldn't need on the Saryu. We knew we were in for an early start but it was still a shock to hear from David, one of Misty's brilliant co-ordinators, that he would be picking us up at 0430. Although much quieter than the day before, the streets still busy with tuktuks and scooters jostling for position on the ride to the train station. The station itself was a heaving mass of humanity and with bags put through the x-ray machine, it was a question of push to the front to grab it on the other side. Once through that maelstrom, all was quiet. The platforms full of people sleeping, surrounded by their luggage.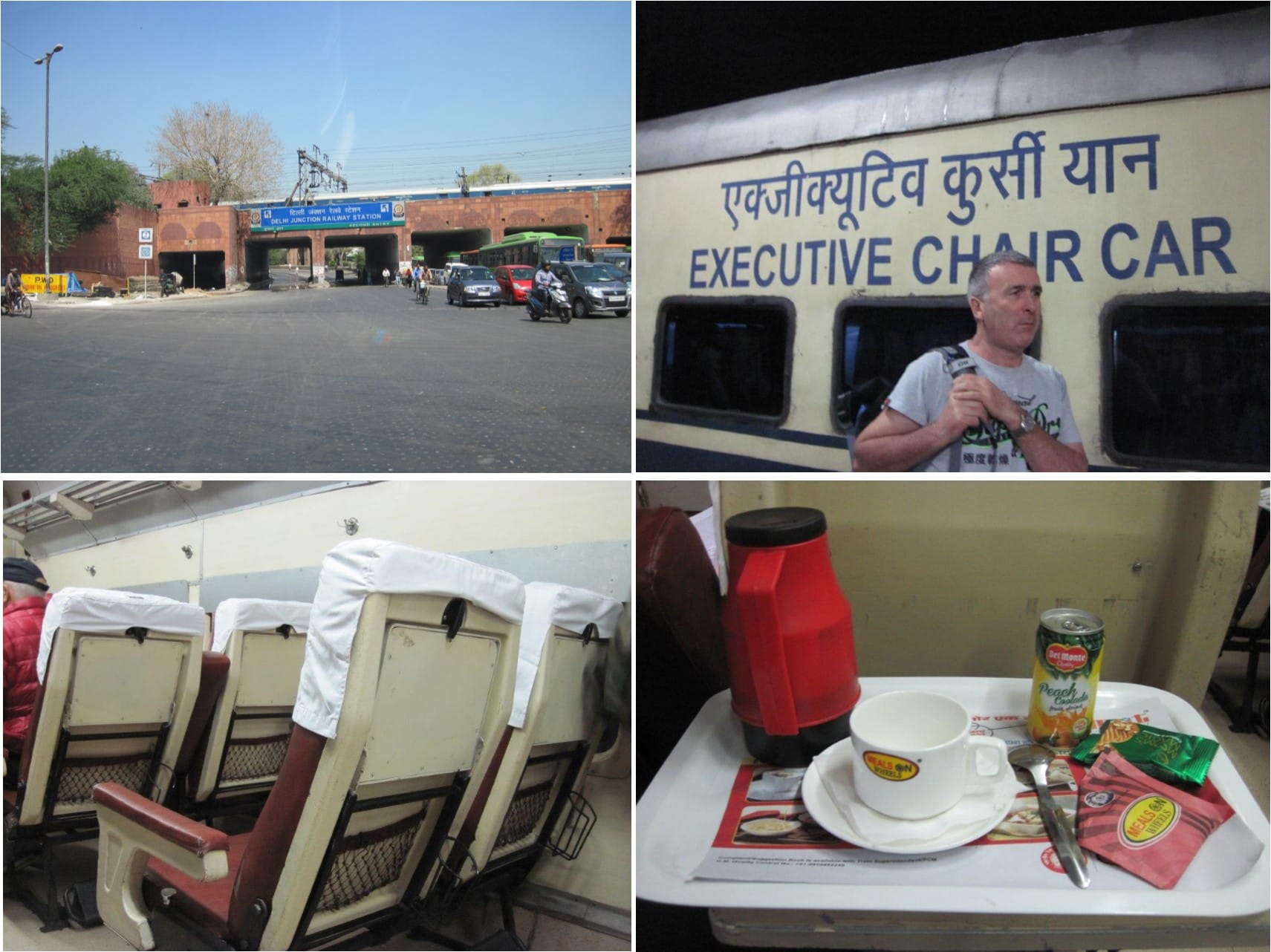 We were on the move, in our first class carriage by 0615 and although reminiscent of the 1960's dentist's chair in Malawi that still haunts me, the seats were very comfortable with plenty of leg room.  Bags were stored overhead and the carriage has A/C with fans to fall back on if it conks out. The Orient Express it isn't, but it was clean and comfy. The advice given over the tannoy to 'mind your mobile telephones when using the lavatory' made me wonder how many had been lost down the bowl. And why. There's no way you'd want to retrieve your phone – even if you could – if it took a dive down the bowl (which I reckon was big enough to swallow an iPad). Throughout our journey hot drinks, breakfast and a later snack were provided by 'Meals on Wheels and five hour journey took us through fields landscaped by barley, rice and wheat. At journeys end, David handed us over to our driver for the trip up to Ramganga River Lodge, Misty's base camp and home.  We were met at the trail head by Matt and Dinesh, loaded ourselves and bags into the jeep for the short journey up to the trailhead and down to camp.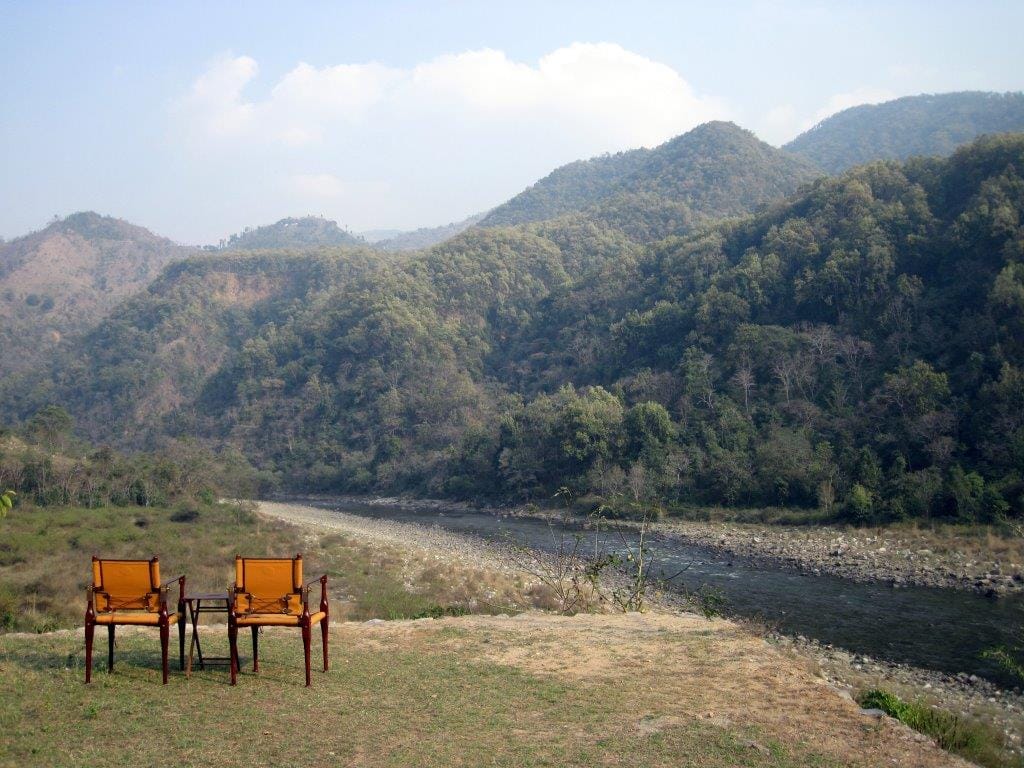 Set high on a bluff overlooking the Ramganga, the camp has beautiful views in either direction. The opposite bank of the river is part of the buffer zone of Corbett National Park. There is a very cosy, open sided, central area and while simple it is very elegant with some fantastic J&R Guram safari chairs that are  are amazingly comfortable. The rear wall is covered with photos and there is even a Topi sitting on top of the coat rack. The rooms themselves are mud clad which works to keep the rooms cool in the hotter months and all are individually decorated on their exterior walls. As the walls are plastered after every rainy season, so the paintings change as do the artists. There are eight rooms, some single buildings and some duplex all with twin beds, flushing loos, bathroom sink and beautiful brass buckets and scoops for the daily ablutions and hot water is delivered for you to mix up to the required temperature.  As Misty was up on the Saryu, his wife had us organised and briefed in very short order and we soon sat down for a fantastic lunch before heading to our rooms to get tackled up to fish a few hours before supper.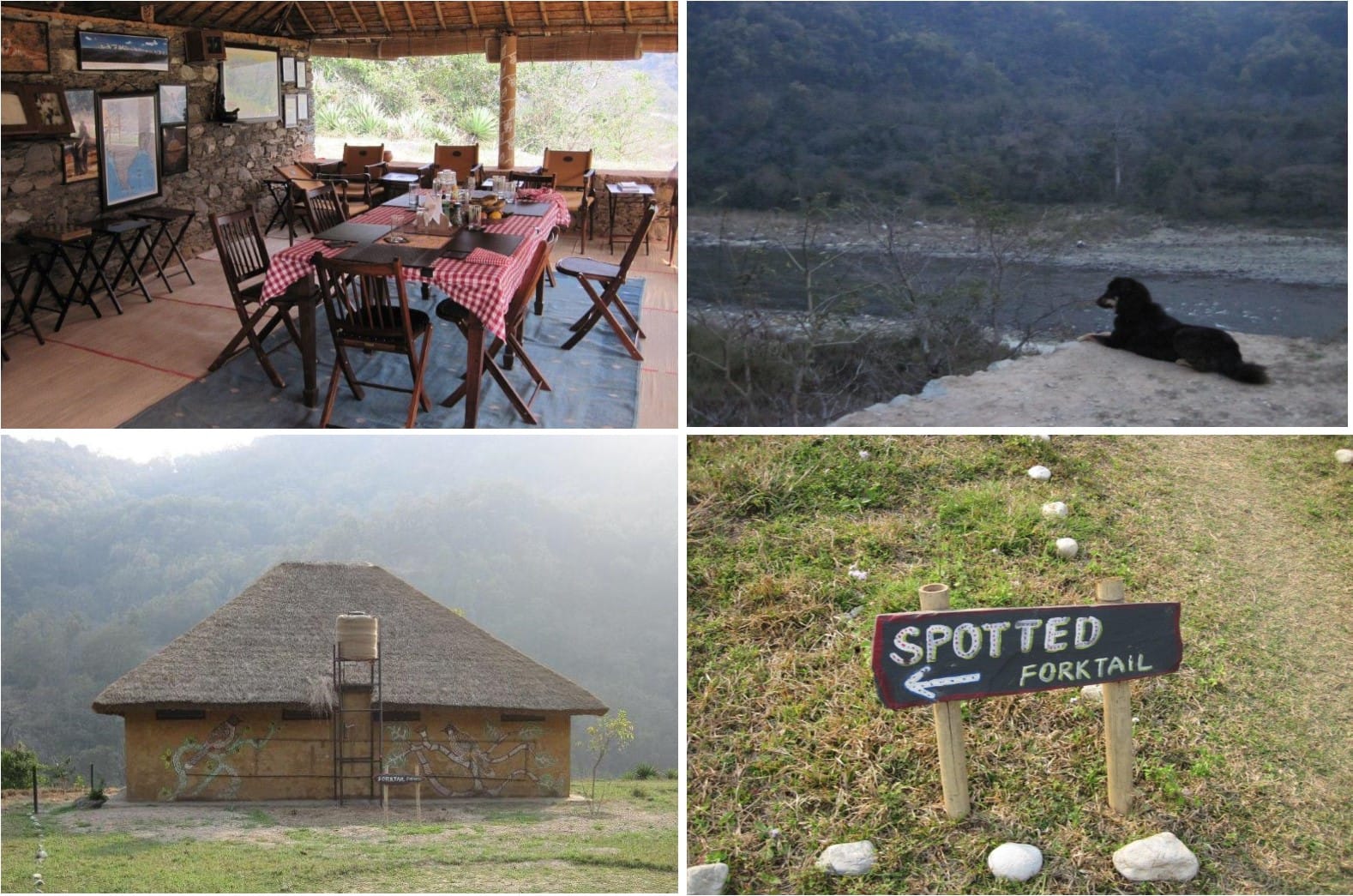 Floating lines and lighter flies were the order of the day and although we had been warned that sight fishing for mahseer is a tough game, we made our way down to the river, past the temple (offering a short prayer as I passed) and across the boulders to the clear waters of the Ramganga. We could see the mahseer but they weren't interested in anything I presented to them; stripping fast or stripping slow didn't entice them at all as we worked our way down the bank. We saw several fish rise and one very chunky fish jumped at one point but with the light beginning to fade, Andrew and I met up and, both bearing tales of empty hooks and made our way back up to the lodge. The dogs were returning from their afternoon rambles to have their leopard collars fitted for the night and we headed off to shower before dinner.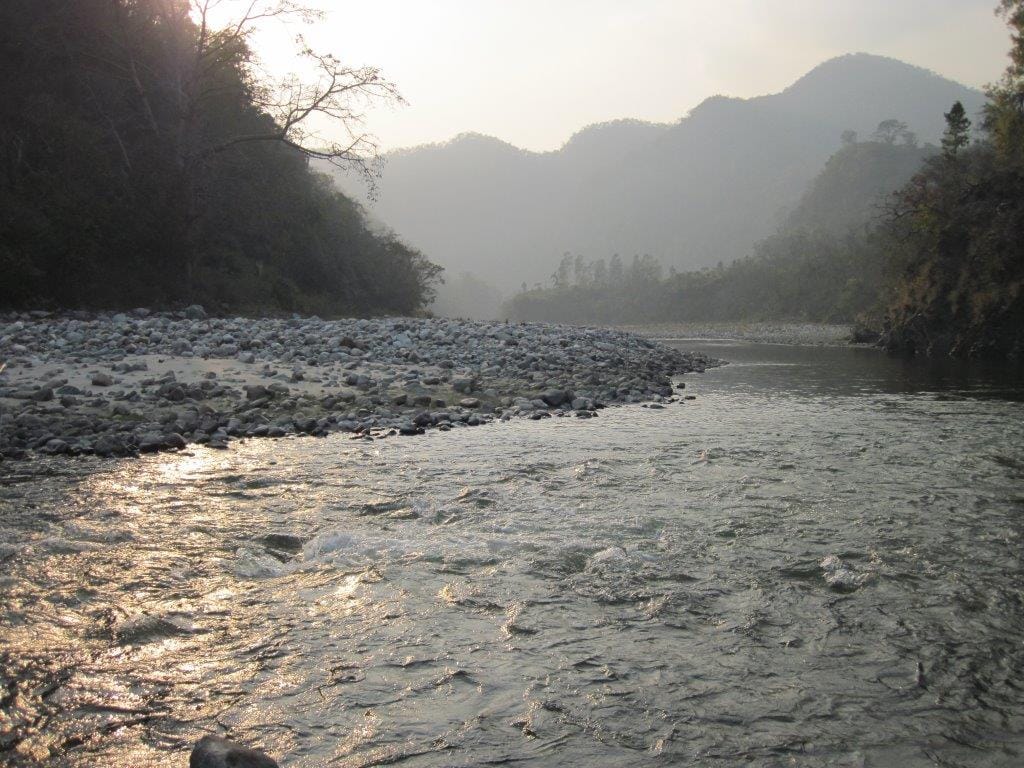 I am clumsy; I fall in and out of boats on a pretty regular basis and if there is something small to fall over, or a hole to fall in, I normally do.  The 'nice' mugs in the office are kept far away from me,  scissors live on other's desks in case I inadvertently stick them in me.  Imagine then if you can, my worry when confronted with a beautiful, heavy brass bowl (minus handle) to use for my evening 'shower'. I wasn't worried about the bucket bath – in truth I have bathed in some very unusual places in my travels – but I was terrified that I'd drop the heavy bowl onto the beautifully laid and decorated tiles in my 'shower' and smash them. Or my toes. Never in the history of bucket baths has anyone been more careful sluicing water around with soapy hands.
Sitting round a fire and chatting is a such an easy pleasure and with the clear night sky above, a crackling fire in front of me I finally felt that I had 'arrived'.  Nibbles and French onion soup around the fire started off the evening meal before we headed in to the table to sit down and enjoy a veritable feast which culminated in the best rice pudding I have ever had the pleasure of eating. As Andrew doesn't 'do' puddings, I had his helping as well before staggering off to bed knowing we had another early start ahead of us.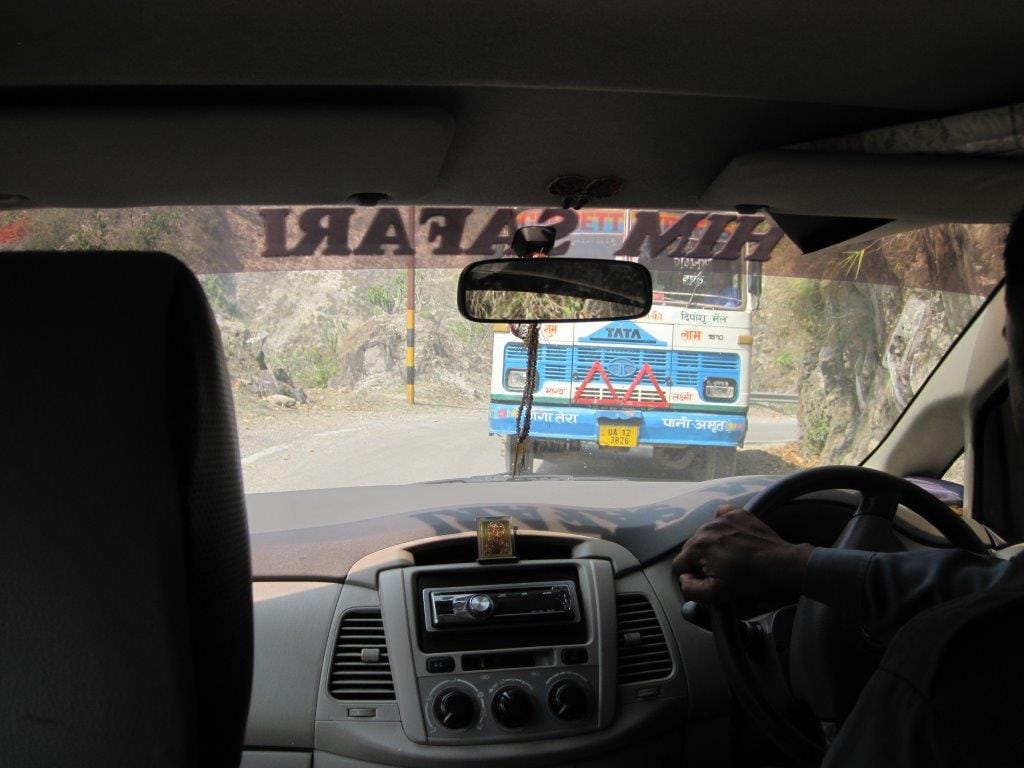 Up and off at 0530, we took a packed breakfast with us, walked back up to the jeep (rather regretting my over indulgence of the pudding), drove back down to the main road to meet up with our driver. Once loaded, we set off back the way we had come, heading to Corbett National Park, about 45 minutes away. It was a steep and winding road with stunning views and even worse driving than encountered in Delhi. Once at the park gate, with overnight bags only, we met with Ritish and Nando who were to be with us for the duration of our stay in Corbett.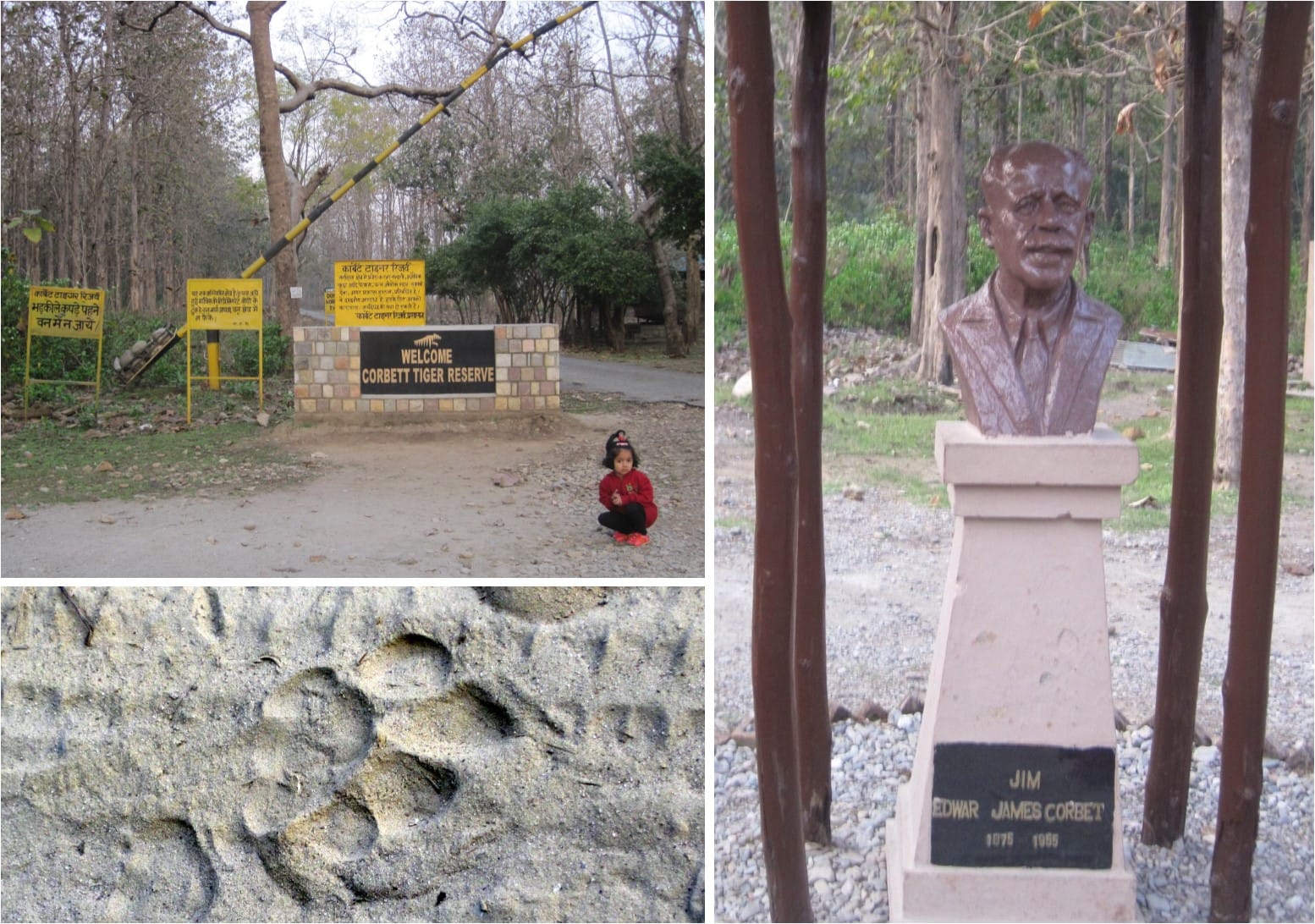 Jim Corbett National Park is India's oldest park, established in 1936 to provide a safe haven for the endangered Bengal tiger. It is very diverse; in part hilly and heavily forested. In part marshy with riverine belts and with open grasslands surrounding an enormous lake. Jim Corbett was born in India of British parents and had an innate love and understanding of the country and its people. He risked his life to  track and kill man-eating cats but never killed until he was confident the animal was indeed a man eater. In the foreword of Man Eaters of Kumaon, Corbett writes:
'The wound that has caused a particular tiger to take to man-eating might be the result of a carelessly fired shot and failure to follow up and recover the wounded animal, or be the result of the tiger having lost his temper while killing a porcupine'.
Deeply concerned about the fate of the tigers and their loss of habitat he played an important role in the establishment of what has become Corbett National Park. His is a fascinating story and I am indebted to Rob who fired my imagination about this remarkable man as we sat chatting in the Seychelles the week before I arrived in India.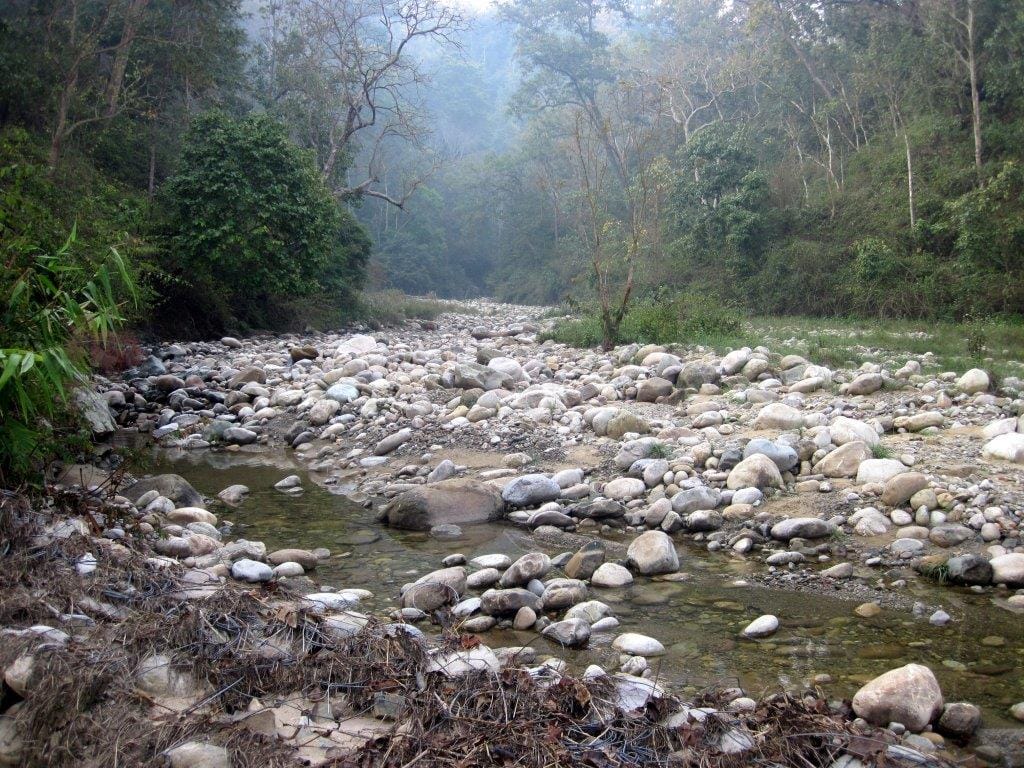 We stopped for breakfast at Sarapduli, one of the small national park bungalows before moving on to explore the park. Our base of the night was Sultan, another of the small bungalows within the park and now the only unfenced accommodation within the park ….. probably why I liked it so much. Built in the late 1800's, the building is in need of some love and attention but has a unique character with its thick wooden doors and high ceilings. The evenings are chilly and the hot water bottles tucked into the beds at night were very welcome. The mattress didn't  have a lot of 'give' though and when we met at breakfast the next morning Andrew and I were both walking a little stiffly!
In our time in the park we saw an astonishing number of birds and while we heard plenty of alarm calls, spoor and scat we sadly didn't lay eyes on the lord of the jungle. The lantana, an invasive species of shrub is so dense that his lordship could have been lying six feet away from us and we wouldn't have seen him. In the areas of the park where lantana hasn't been able to get a toe hold, it is easy to see how well the tiger's stripes camouflage them in the leaf covered, dappled shade of the towering trees.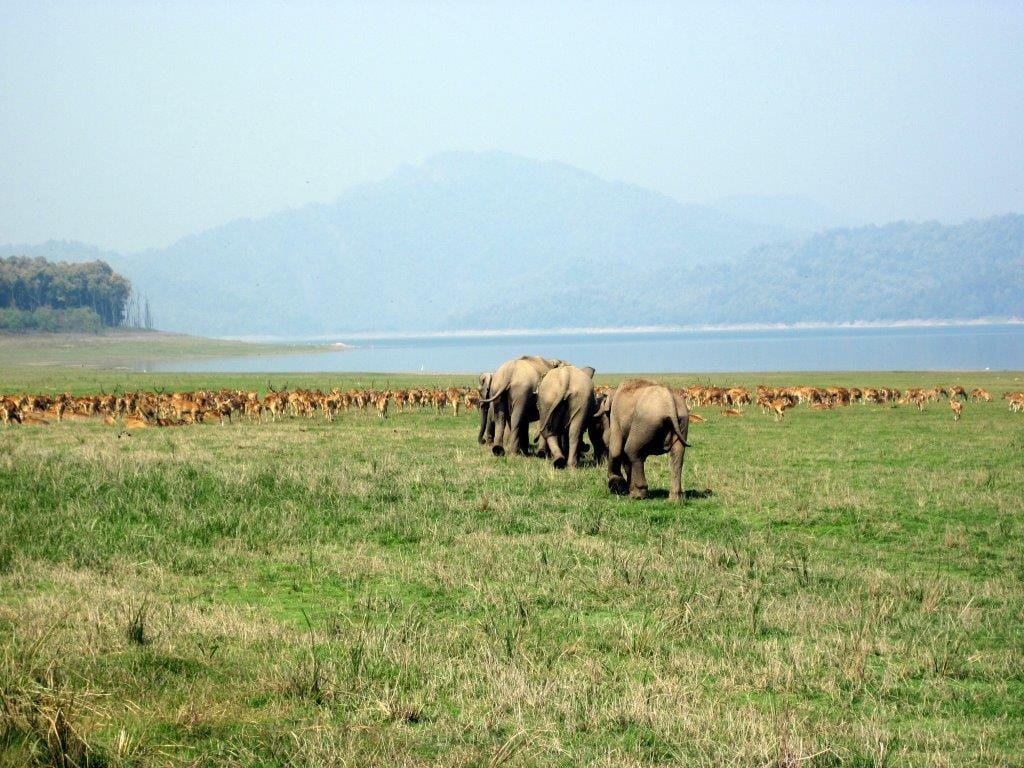 On the grasslands by the lake, we saw a herd of elephants moving slowly down to the water, protectively huddled around a very young calf – small enough to hide right under the mother's belly. On the same stretch of grassland was a vast herd of male white spotted deer, about 200 strong. As we paused on a riverbed to scan in either direction, an enormous male sambar walked calmly from the shade, across the road and with one last disdainful flick of his tail, vanished as quietly as he had come.  While the tigers were conspicuous in their absence, we saw female sambar, female white spotted deer, golden jackals, wild boar, black faced languor's, rhesus monkeys and plenty of leopard and tiger spoor.

One the riverbanks were the uniquely snouted fish eating gharials (Gavialis gangeticus) – log like from a distance and much larger than I thought they grew. From our vantage point above the river, the crystal clear water did nothing to hide the enormous gooch lying just off a sand bar and several trophy sized mahseer hanging in the deeper pools. We also had the pleasure of watching an otter sunbathing on the sandbank, rolling in the hot sand before slipping back into the water and heading downstream.  We watched as he worked his way back and forth across the river and then, to my utter amazement, goosed a muggar crocodile (Crocodylus palustris). Clear as a bell, I saw the otter swim straight at the muggar, turn and flick it with its tail and then scoot out of reach. The muggar swung around, and lunged at the otter, water flying everywhere and while the scaly beast tried to recover its equilibrium, the otter was busy chasing fish the croc had set afleeing. Dangerous but clever.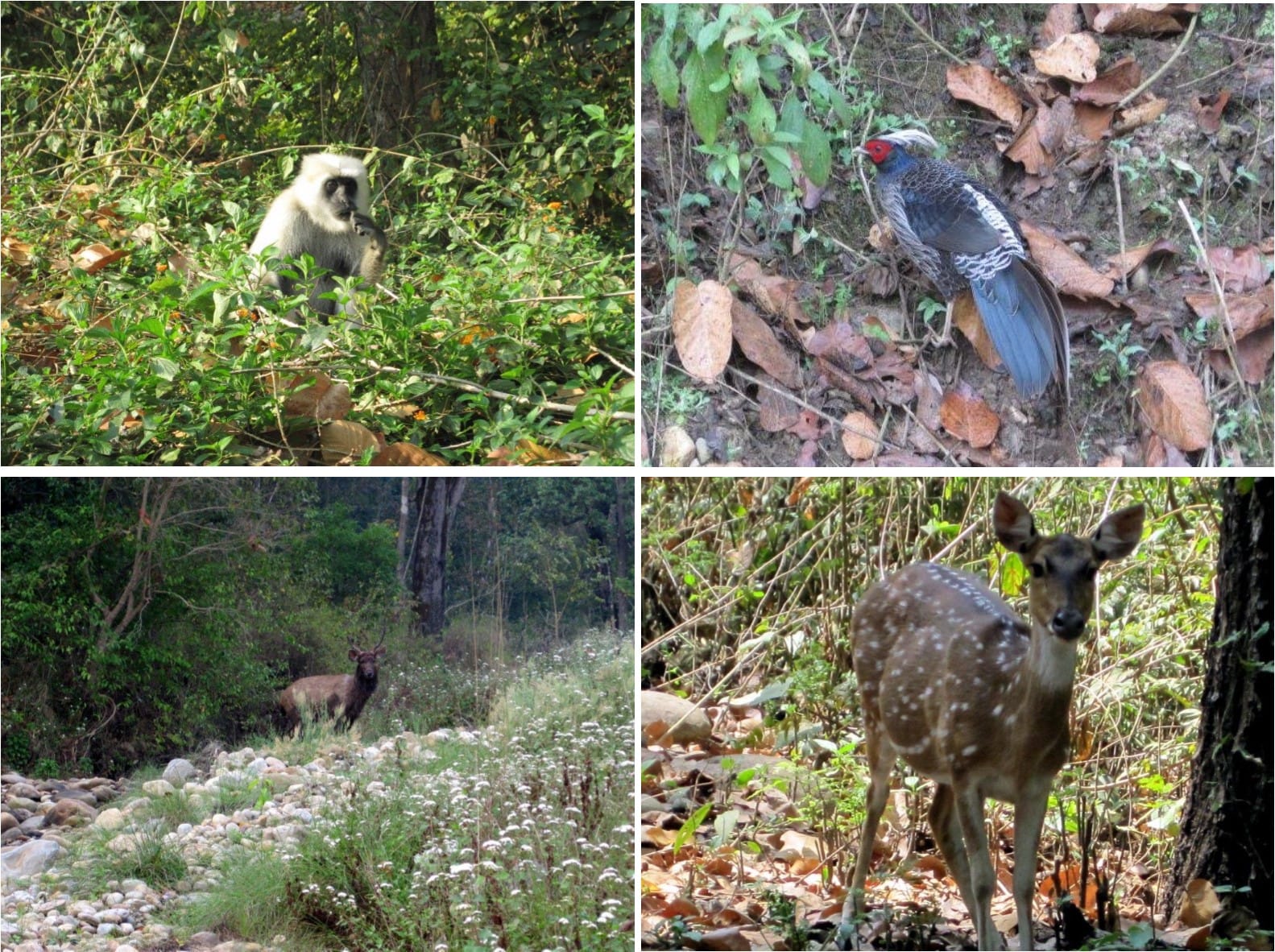 The forest was alive with birdsong and while I tried to keep a list, I was woefully hopeless but amongst those we saw and heard were pied kingfishers, barbetts, sunbirds, woodpeckers, black drongos, Pallas's fish eagle (including several juveniles), serpent eagles, peacocks, red jungle fowl and Kalij's pheasant.  In one fantastic display, we had several male peacock in the road in front of us, all displaying their magnificent tail feathers as they ponced along the road, determined to outdo one another.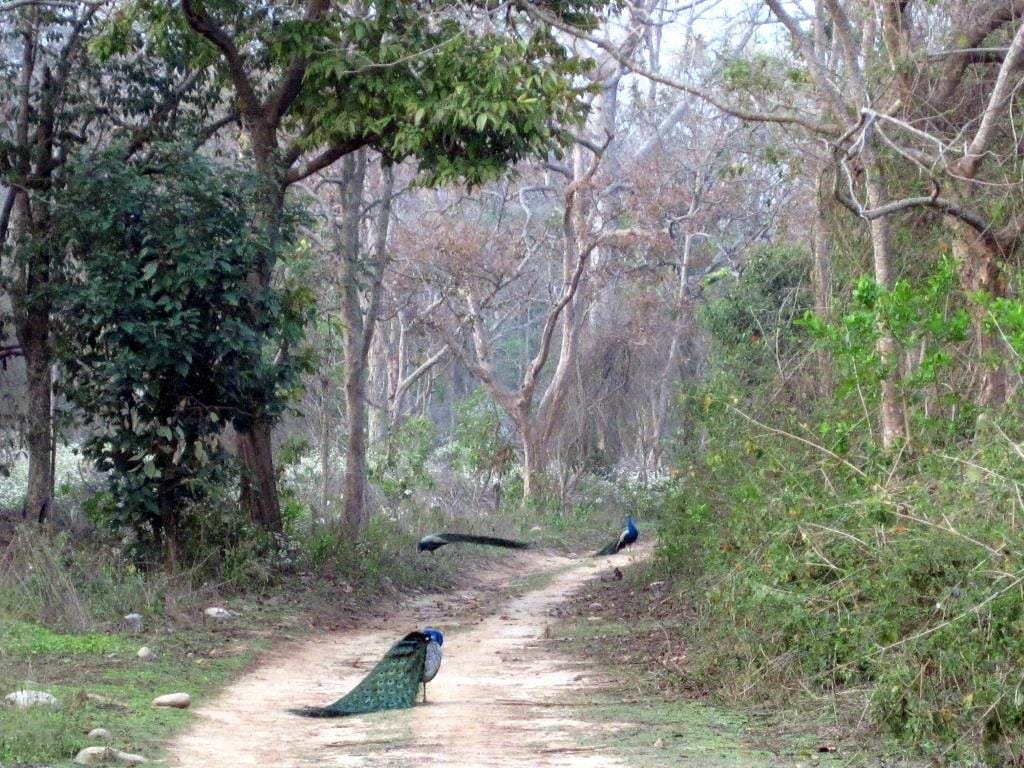 With one last, slow game drive we were lucky enough to spot an elephant just to the side of the road. It took a while before she was willing to come out and she wasn't happy with us being there. Eventually she settled and was followed out by a tiny calf; so young it still hadn't worked out what to do with its trunk. It was absolutely tiny and we were only offered a fleeting glimpse before she hustled it back into the safety of the undergrowth. Leaving the elephants and the elusive tigers behind, we headed to the park gate to say goodbye to Nando and head off on the next stage of our journey.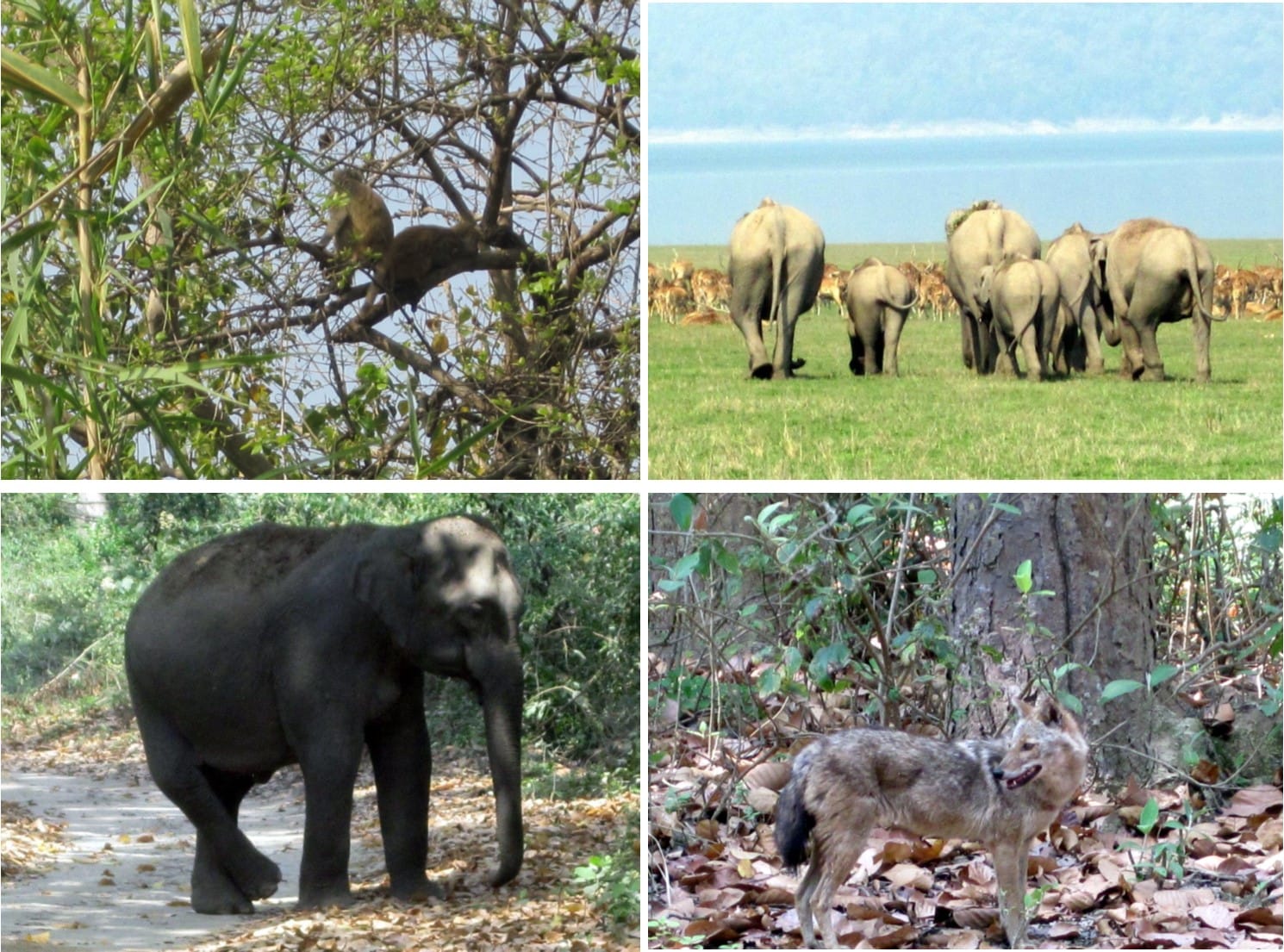 On the steep and winding uphill section out of the park we passed an incredibly overloaded tuktuk. There had to be at least 20 people squashed in it and it could barely move. Arriving into town on the other side of the hill, the tuktuk came flying past us, sari's flapping out of the sides as it used its excess weight to gather momentum before the next incline and make up for lost time. We met up with Matt and a South African couple who were heading to Corbett. Over lunch we picked their brains about flies (use what Misty gives you), tactics (there are none), stripping methods (try everything) before loading everything into the car and setting off for the long drive to Dhanachuli. Sunder, who is the master of all in camp, was travelling with us and basically we packed around him as he had the back seat. All I could see was a big smile from amongst the bags; I was slightly worried that heavy braking might see him squashed but this is India …. There's lots of braking, but none of it is heavy!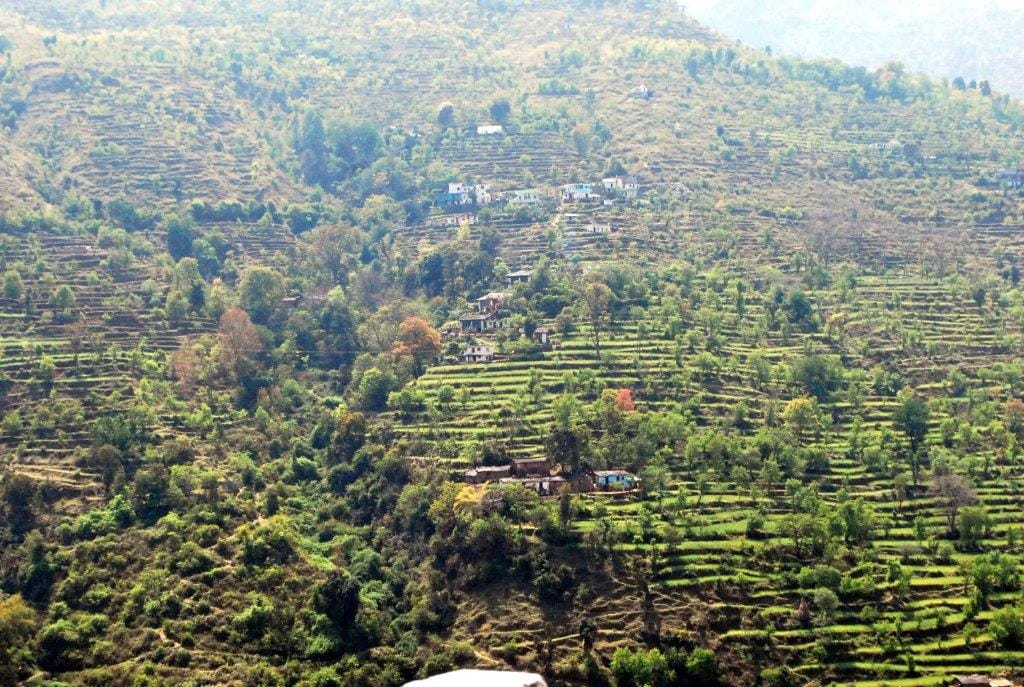 We climbed up, we climbed down. We wound around and around, amazed by the vertical cultivation that must have taken generations to achieve. Used to a relatively flat Hampshire, I was absolutely fascinated by the terraces, growing everything from wheat, millet and barley to rice and potatoes.  Wild cherry trees, apple and apricot shared space with wild mangos. The terraced hillsides eventually gave way to hillsides covered with towering pines, mainly Scottish pines introduced by the British both for lumber and to prevent erosion … after they had stripped the hillsides of its native cover. Rhododendron trees towered amongst the pines, covered in deep red blossom and as we climbed we were aware that the air was getting cooler.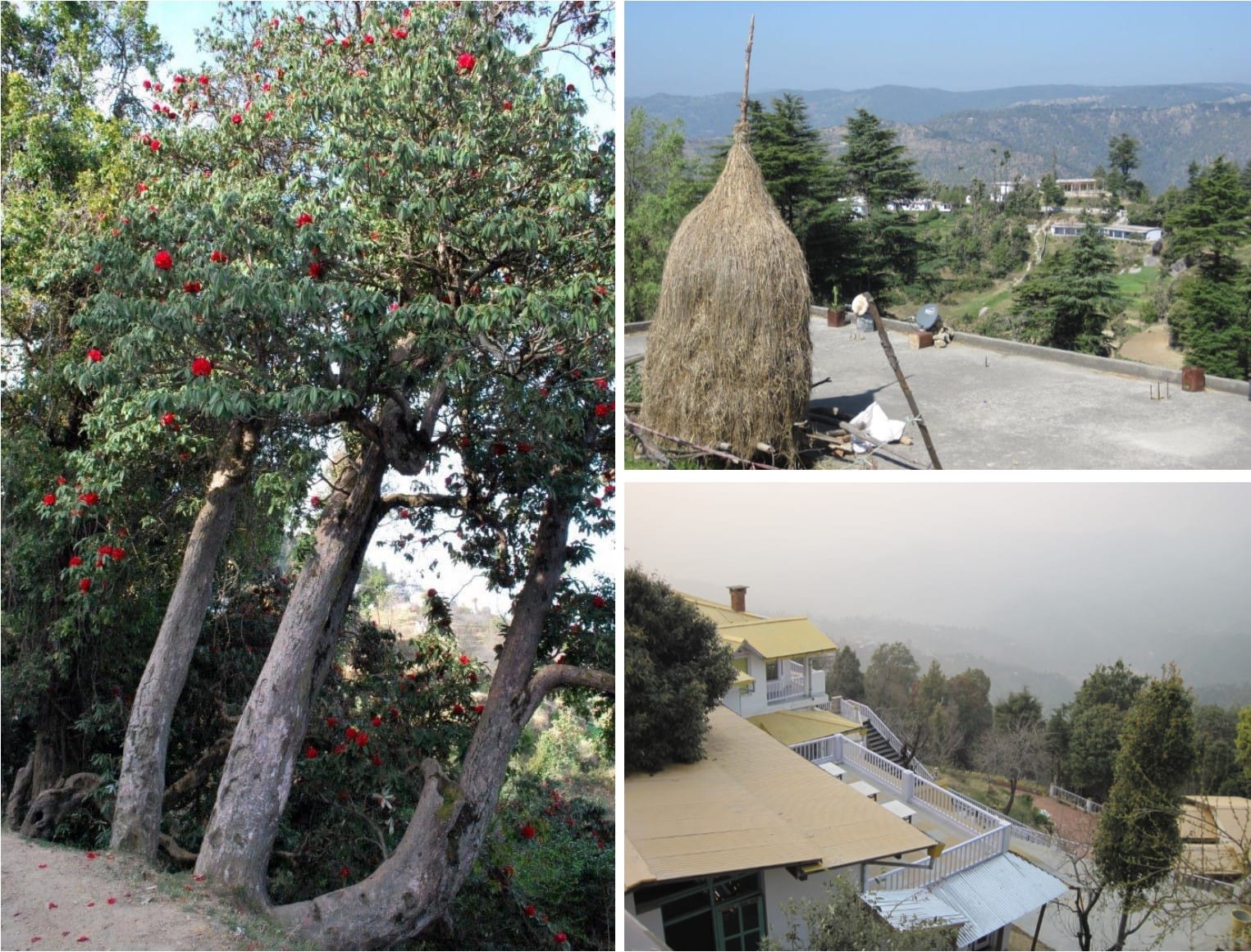 Arriving at our hotel, we climbed up to reception to be greeted with a local drink made from Rhododendron flowers before climbing again up to our rooms. This too is vertical living. There are ten very individual rooms, in fact the whole place is very individual and querky – where else would you find a Vespa in a display case as part of the external buildings? Hot water bottles and fan heaters very necessary here as you are so high. We met with Derrick and Kevin, two other Brits who would be joining us on the river, enjoyed some excellent red wine by the fire courtesy of the owner – I think we were all surprised to learn that it was Indian wine and it truly was delicious. Rich and smooth, I wish I had thought to photograph the label!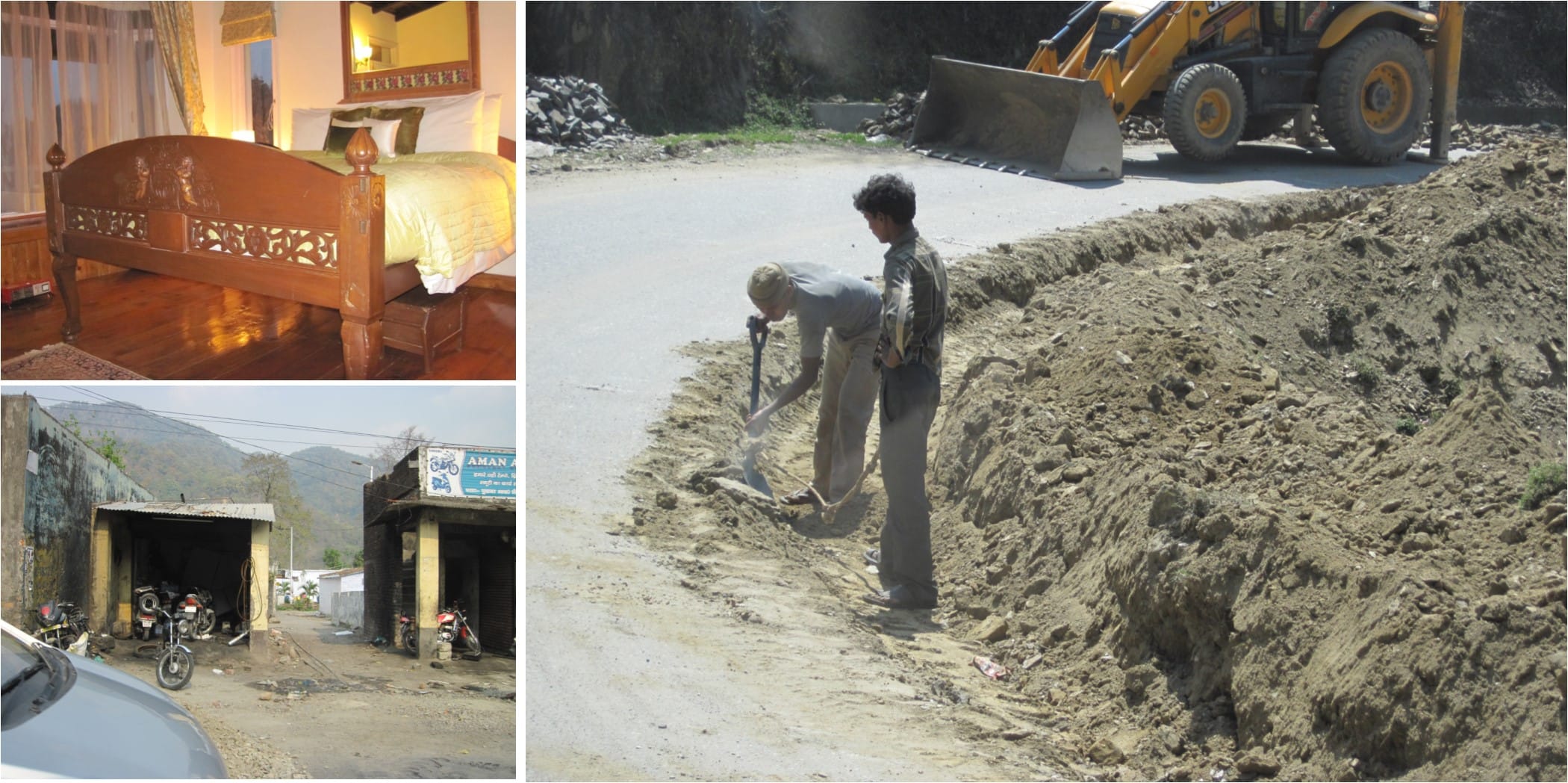 An early night had by all as another early start was planned for the next morning. At one point in the night I heard a loud bang from next door; Andrew's bed was so high he had a step to get in it and I did wonder if he'd managed to fall out. I forgot to ask the next morning as we set off once more but there weren't any visible bruises. This leg of our journey was towards warmer climes and the reason I was here – the beautiful, armour plated Golden Mahseer of the Saryu and Mahakali.

Part II of Charlotte's journey can be found here.
Please contact Charlotte Chilcott or call +44 (0)1980 847389 if you would like further details or to chat through options for a multi-centre trip in India.
About the author:  Charlotte Chilcott