The grand slam or super grand slam is something that all saltwater fly fishermen aspire to. Its definition has evolved over the years as fisheries in different areas of the globe have added their version of it. Originally it was coined in the Caribbean to mean the capture of a bonefish, permit and a tarpon all on one day. The addition of a snook converts it to the fabled Super Grand Slam; either one a lifetime achievement. If you are keen to reach this milestone in your fishing career then there are a few of our operations that should be on your radar.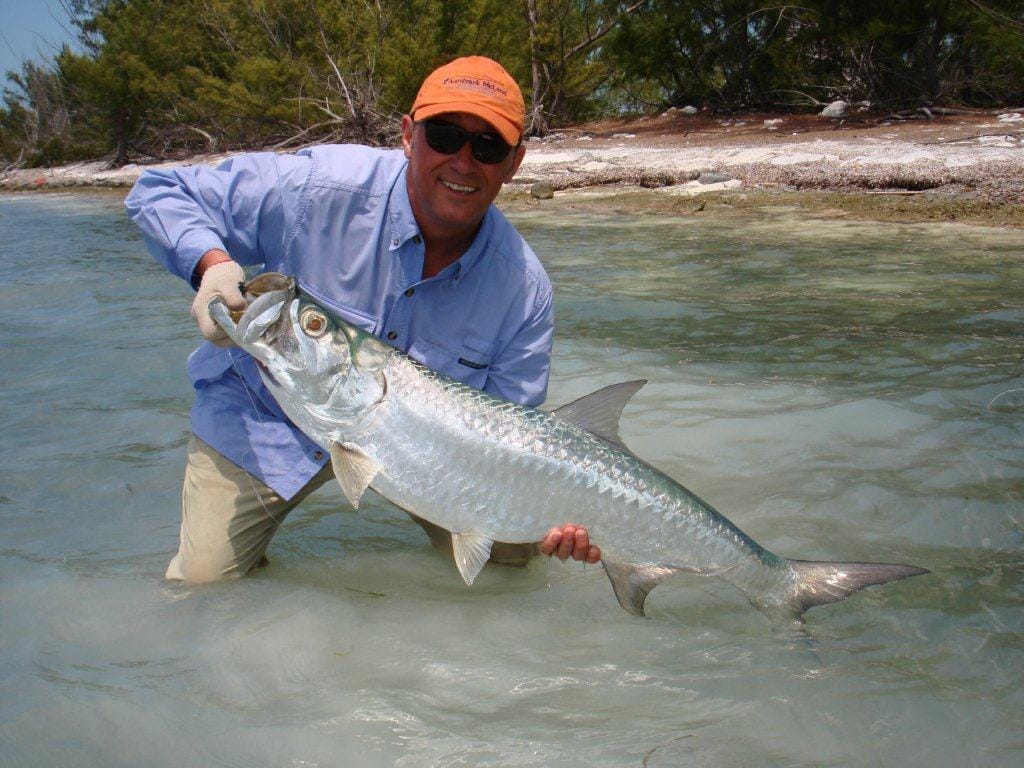 The Canarreos Archipelago to the south of Cuba's mainland comprises of 350 islets and is almost the same length as the Florida Keys. Within the archipelago sits two of the country's best known destinations; the Isla de Juventud (Isle of Youth) and Cayo Largo. During the spring season these destinations are fish separately but from July to February each season one mothership will cover the full archipelago in what is one of the most exciting new operation in Cuba, Canarreos. It offers anglers the perfect combination of great fishing for bonefish and tarpon, along with tailing permit, cubera snapper and other flats species all from a comfortable liveaboard vessel.
The cays of Cayo Largo are uninhabited and apart from those you fish with, the only people you will see are a few commercial lobster fishermen. It is therefore an ideal habitat for bonefish, tarpon and permit. The flats tend to be white sand interspersed with turtle grass, ideal for those who want to wade. Most days you will have the option of either fishing from the skiff or wading. Through the flats and cays you find deeper channels that provide perfect areas for tarpon to feed on the bountiful shoals of sardines. On the slightly deeper parts of the flats you will see schools of permit and will feel that a Grand Slam is seemingly moments away.
Don't miss our 2023 Canarreos hosted trip here.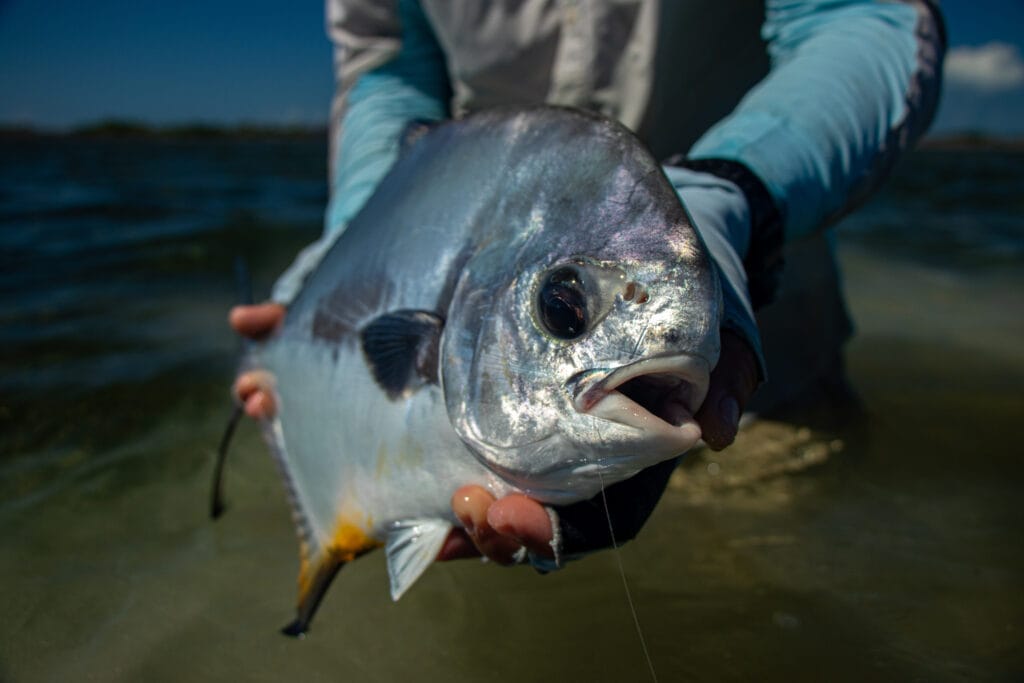 Named the Queen's Gardens by Christopher Columbus, the Jardines de la Reina is a pristine chain of islands that run more than one hundred miles along Cuba's south-eastern coast. This vast marine park, bigger in size than the Florida Keys, is ideal for fly anglers who wish to live and experience fishing from dawn till dusk aboard a series of purpose built liveaboard vessels.
The average sized bonefish is perhaps a solid 3 to 5 lbs, but there are opportunities for fish in the 7 to 10 lbs class every day. The huge variety of species available here is an added bonus with everything from mutton snapper on the flats to wahoo and giant Cubera snapper on the drop offs. The flats environment here is a fantastic combination of shallow turtle grass and deeper coral flats that are accessed by skiff, wade fishing is limited but possible at certain tide stages. Tarpon are prolific with many "baby" tarpon – fish in the 10 – 40 lbs class in the channels. During the spring season the average size of tarpon on the flats grows to 45-80 lbs with some specimens growing to 120-130 lbs in the deep ocean channel. Permit are also found in good numbers, and many of these fish will be in the 20 to 30 lbs class, with a few well over thirty. For anglers that land a permit, there is an excellent chance of completing a Grand Slam the same day. Tarpon can be found at just about any time and tide level as can bonefish. Over the years, there have been numerous Grand Slams caught by fly fishermen.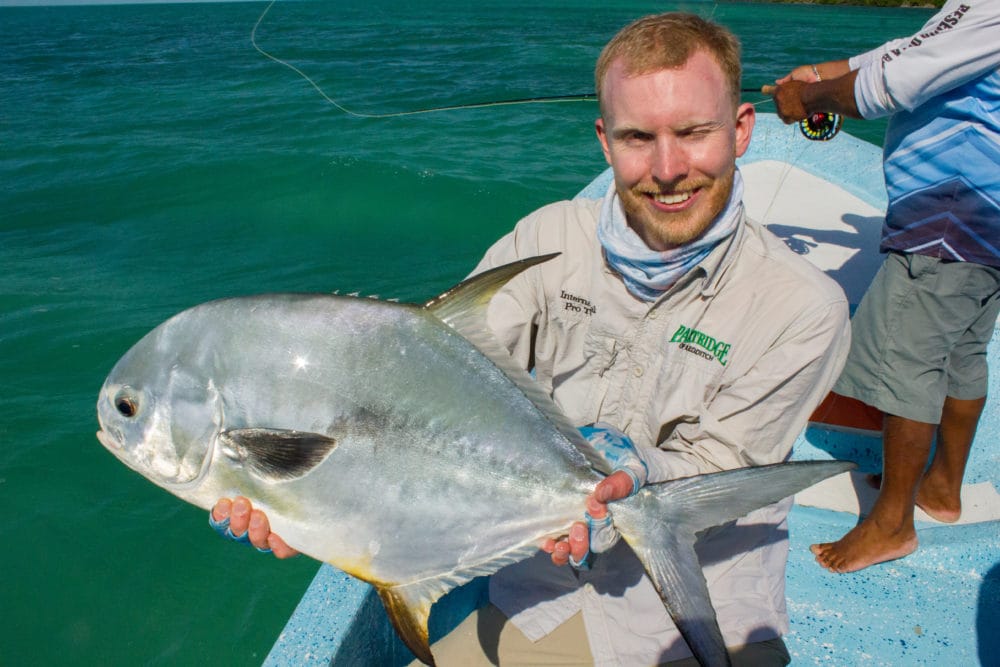 The lodge sits in the Heart of Ascension Bay and the small fishing town of Punta Allen, one of the Caribbean's most productive flats systems. The bay features miles and miles of shallow flats, a perfect breeding ground for crabs, the cherished delicacy of permit, and the reason permit grow to world-record sizes here. The bonefish are plentiful, so your opportunities for landing these fierce fighters are numerous. Ascension Bay is world-renowned for its seemingly endless saltwater flats and fishermen come here primarily seeking the challenge of the elusive permit and bonefish, plus the chance to achieve a Grand Slam.
The lodge comfortably houses 6 to 8 anglers at a time in well-appointed twin rooms. Accommodation is shared but there are two rooms that can be taken on a single occupancy basis. Non-fishing guests are welcome, there are a limit range of activities that can be done including eco-tours and visiting Mayan ruins, but please note that Punta Allen is a small quiet fishing port with nice beaches.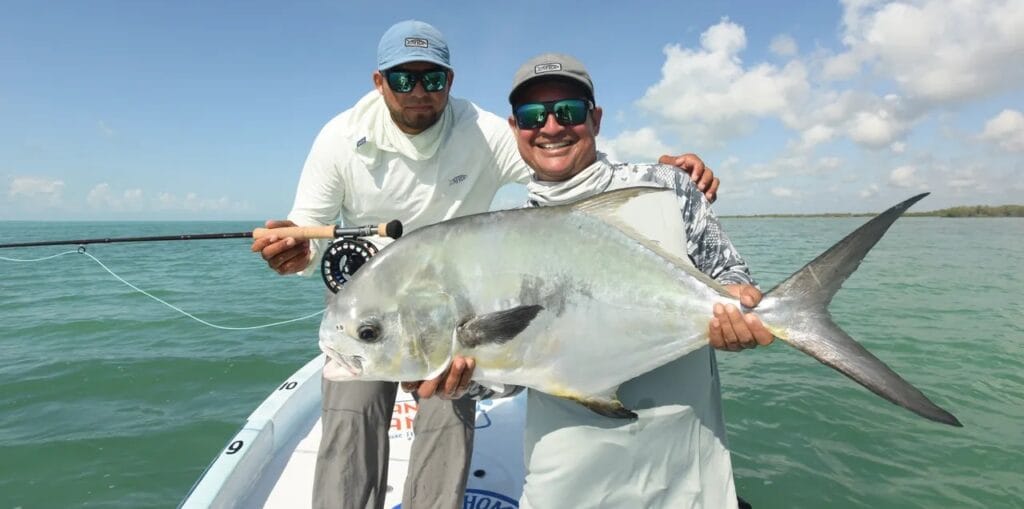 The lodge is situated just north of the small town of Punta Allen offering good access by both road and boat from Cancun whilst maintaining a remote sense of freedom. The lodge has access to endless flats hosting some of the biggest permit in the world and enormous schools of bonefish. With tarpon and snook on hand too it forms one of the world's best places to go for a Grand Slam or Super Slam. With all these fish around, it is evident why GSL's wall of fame is filled with so many delighted Grand Slam anglers. It fishes all year round with prime time being February to early July and then again late October to early December.
The lodge has been designed primarily for anglers but it offers a very comfortable and relaxing experience for non-fishers too. Various day trips can be arranged for those who would like to explore the local area, try snorkelling or visit Mayan ruins or simply relax by the lodge pool. There are no fixed entry and exit days so trips can be tailored to suit.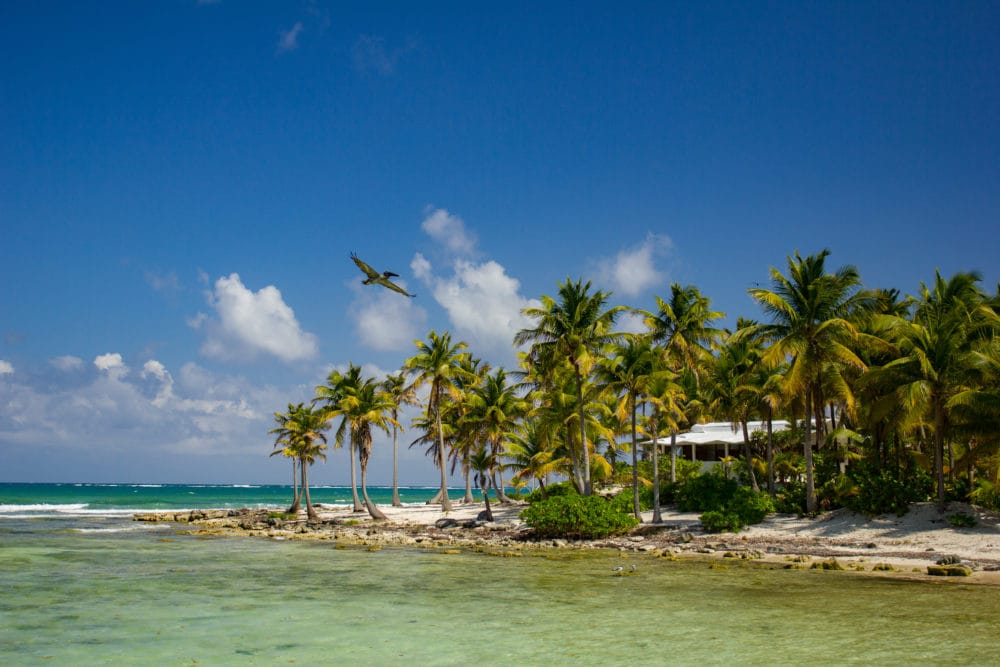 Casa Blanca is located on northern tip of Punta Pájaros, on the southern side of Ascension Bay and built right on the water edge overlooking a beautiful flat. Due to its location it offers access to a very different part of the bay to the lodges in Punta Allen and Grand Slam Lodge on the northern side. This side of the bay also offers some of the finest Caribbean flats permit fishing along with bonefish and tarpon. The fishing is predominantly done from skiffs rather than wading.
All rooms are spacious and well-appointed with remarkable ocean views, air conditioning, tile floors and mahogany shutters. Casa Blanca has ten seaside rooms and can accommodate 22 people comfortably. Whilst fly fishing is the main activity this pristine slice of paradise has much more to offer. Snorkelling and kayaking the turquoise waters, hiking and biking along 25 miles of private beaches and coves, touring the mangrove lagoons and the Mayan ruins, or simply indulging in a massage and a day of relaxation are just a few possibilities.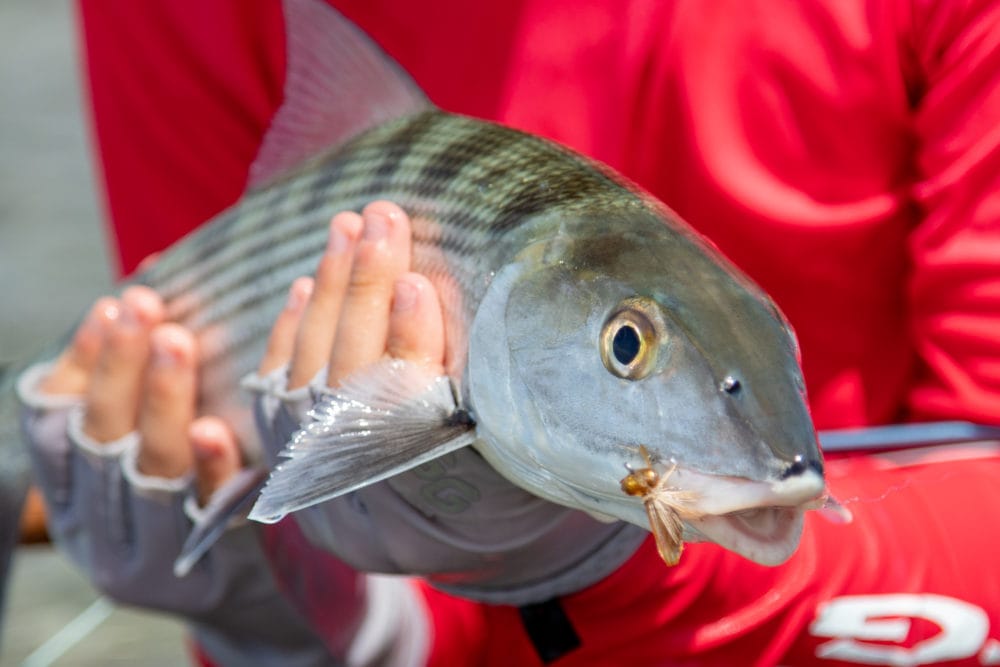 Turneffe Flats Lodge is located on a private island and leans more towards being a fishing lodge. Having said that, it has far more creature comforts than you would expect to find in a fishing focused lodge. It the perfect place for anglers wishing to chase bonefish or permit on the shallow turtle grass flats and sandy cuts. It offers simple but very comfortable accommodation and is perfect for groups or couples looking to combine fishing, diving and kicking back and relaxing. Sea facing cabanas along the beach and two private houses work well for families or small groups of friends. For those not fishing, the more informal atmosphere is perfect for relaxing and unwinding. Kayaking, snorkelling or exploring the atoll are all available options. The surrounding reef and coral heads are a divers paradise as is Belize's blue hole.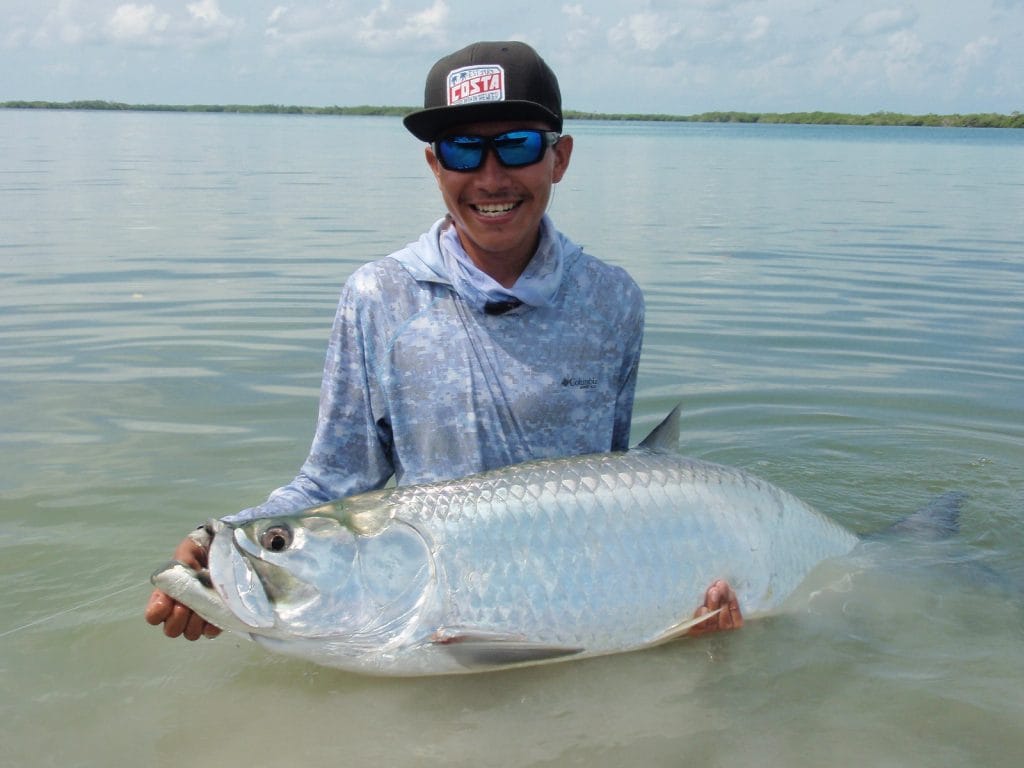 A little closer to the mainland, Ambergris Cay is no more than a 15 minute hop in a Cessna. This long cay runs all the way up to the old Mayan channel which was dug centuries ago, from here it carries on all the way to the Mexican border. El Pescador is a longstanding favourite of ours and is one of the first fishing lodges in the area. The lodge is still owned and run by the same family and has a combination of lovely lodge rooms and private villas. The bustling town of San Pedro is close by for non fishers. For fishermen, Ambergris Cay is one of the best areas to target migratory tarpon in Belize from July through to September. For those not fishing, there are three saltwater pools to relax in and a variety of activities to choose from. From snorkelling and beach picnics to the mainland ruins of Altan Ha and Lamani. From ziplining through the rainforest to searching for the endangered West Indian Manatee, there is something for everyone.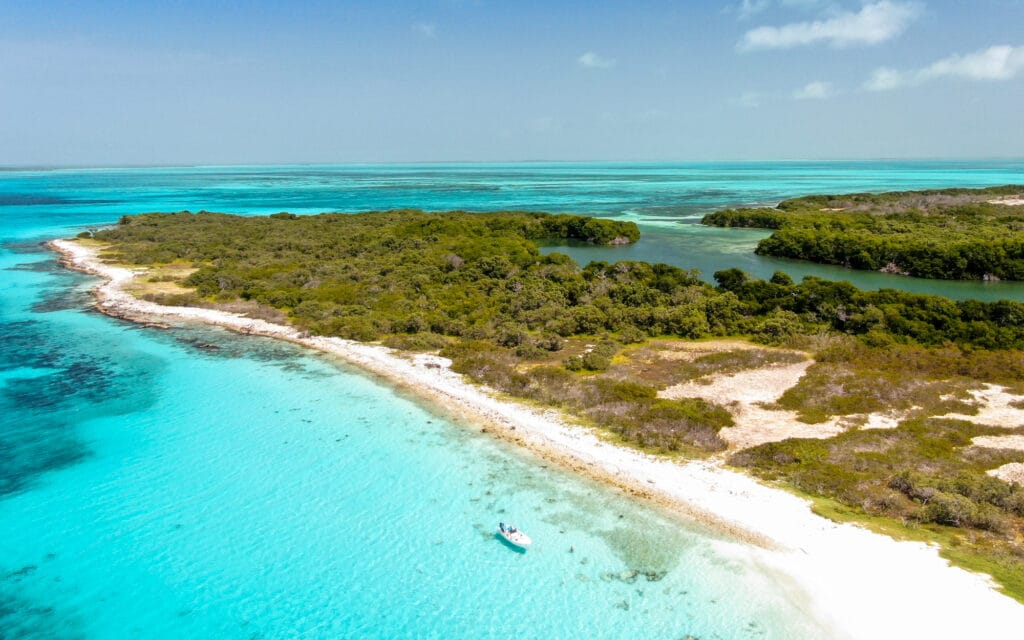 The island of Grand Roque is the largest of the Los Roques archipelago and has the feel of a Caribbean island, far removed from the Venezuela portrayed in the media. The azure waters and golden sandy beaches surround lots of islands and small cays offering great fly fishing, swimming, snorkelling and kite surfing. The sand streets and relaxed pace of life offer the perfect refuge from the busy outside world. Whilst daily activities are limited for those not fishing this is a great destination for those looking to relax by the sea. For anglers, Los Roques offers some of the finest wade fishing for bonefish found anywhere in the world and also chances of tarpon and permit. It is also possible to fish unguided around the main island and a couple of the smaller cays located near to the main island.
For more information please contact Aardvark McLeod or call +44 1980 847389.