Laxa I Kjos, Iceland July 2022
29th July – 2nd August 2022
Peter McLeod will be returning to the Laxa I Kjos river in Iceland in 26 to 29 July and 29 July to 2 August 2022. A river that can turn even the most passionate of trout anglers into a devout salmon hunter, its fast pockets, alluring canyons and sweeping meadows create a fishing paradise. Using a single handed 7# to flick out a size 16 hitched Red Frances to a pod of silver fish on the Laxá I Kjos is something truly special. The water is so clear it is often possible to see the fish in the river, see their behaviour towards the fly, and often the moment that the fish commits to taking it.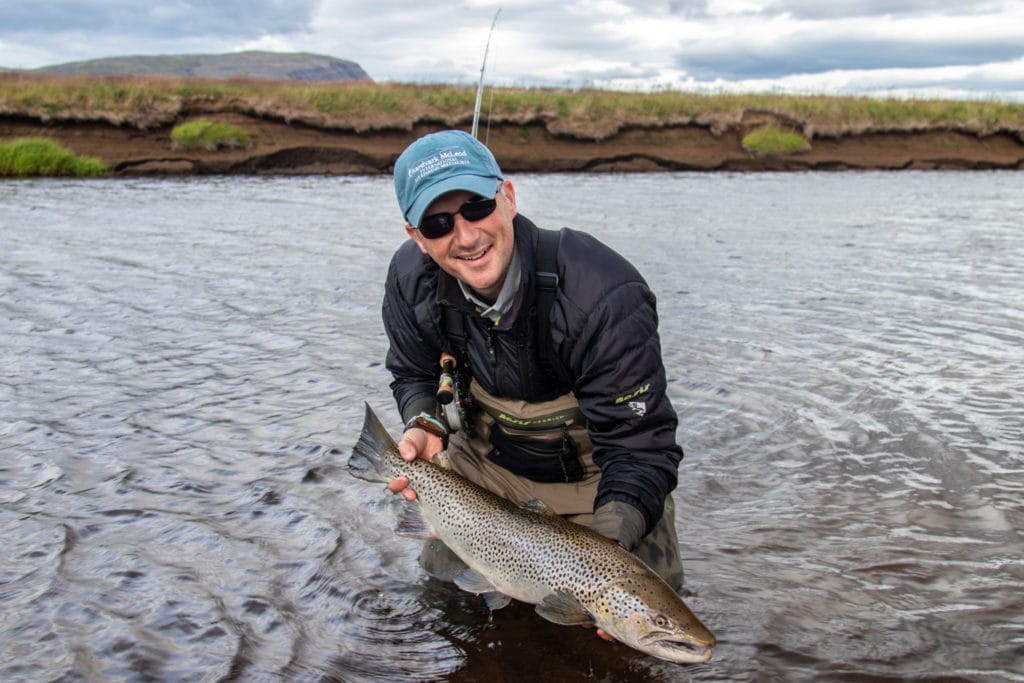 This package based from one lodge offering fishing on the whole Laxa I Kjos system including its main tributary, the Bugda.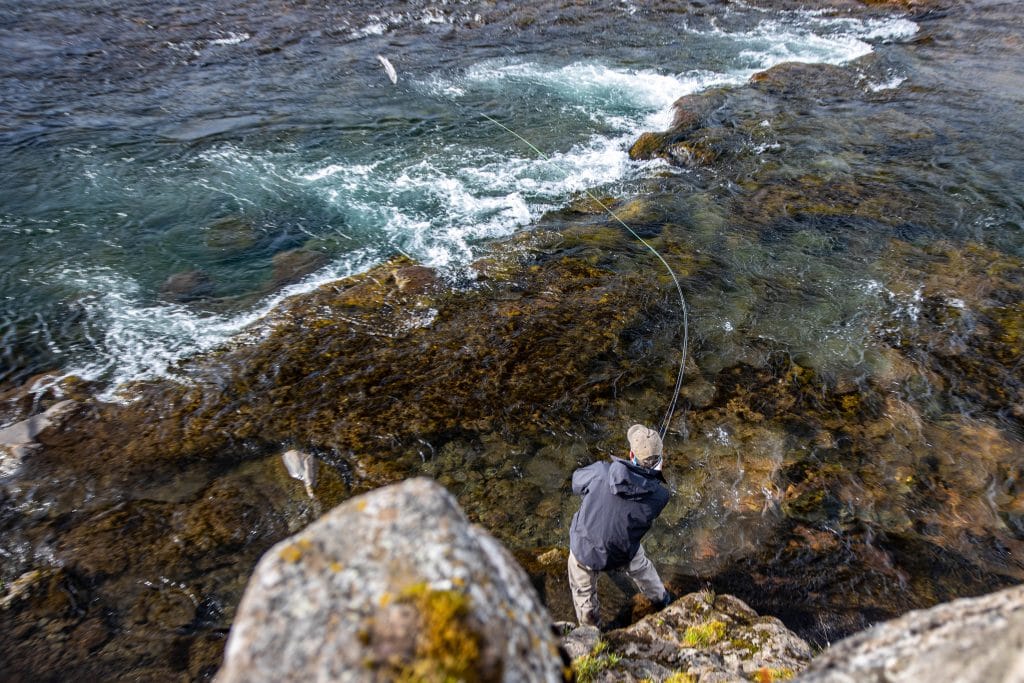 The river itself is intimate and the fishing is more akin to trout fishing for salmon, a true hitchers' dream. Small rock pockets, canyons and open meadows are perfect for single handed fishing with tiny flies and it offers some very exciting sight fishing and hitch fishing opportunities for salmon. The river also has some huge sea trout which adds to the excitement. The lodge is just 30 minutes from Reykjavik and caters for 8 anglers in the early and late part of the season, and between 8 & 10 anglers through mid-July and August.
You can see a short video on the river here.
The Lodge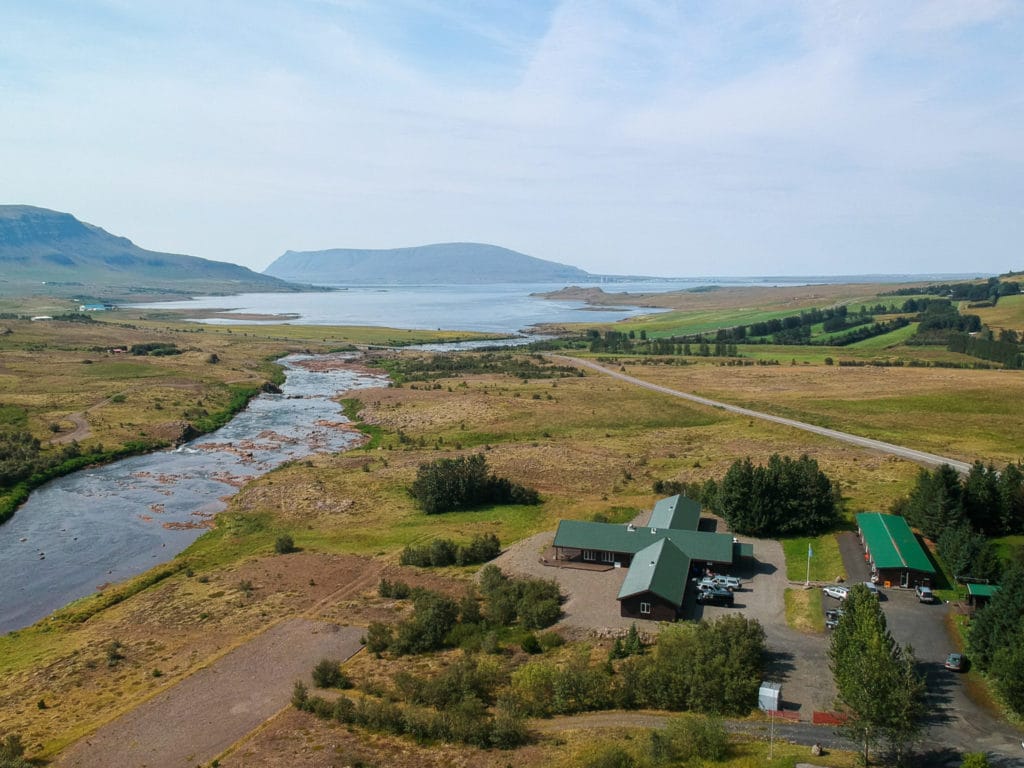 The lodge, overlooking Klingenberg pool is simply one of the finest in Iceland and is more akin to a boutique hotel than a fishing lodge. The large wooden dormer opens out on to a veranda that allows a view straight down the river. Fishermen are accommodated in their own rooms with en-suite bathrooms, and in true Icelandic style there is a second bed for those wishing to rod share. There is a large drying room also on hand for making the early start warm and comfortable. Top quality chefs from Reykjavik prepare fantastic food and the service is exceptional.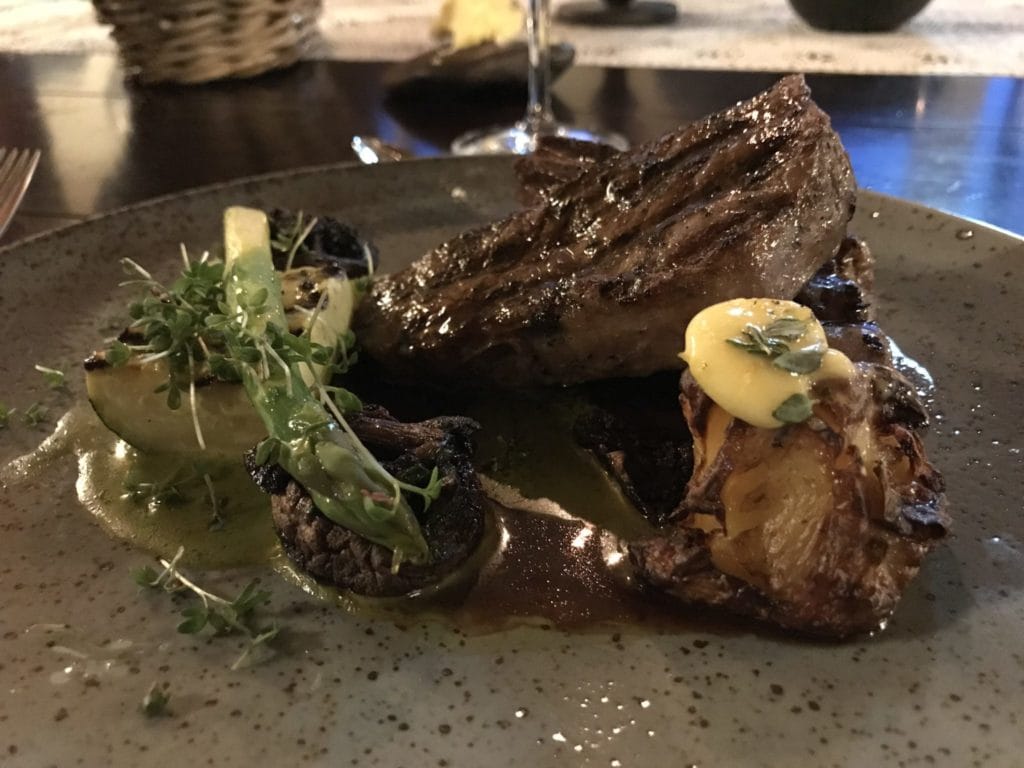 Why Peter wants to visit this destination:
Peter has been hosting trips to Iceland for 22 year, in that time he has visited lots of different locations and targeted all of the countries main fly-caught species. As always, there are venues that Peter loves returning to, one of which is the Laxa I Kjos.
There are numerous reasons why Peter loves returning to Laxa I Kjos, so we have compiled a few of the main ones:
The Laxa I Kjos and Budga offer the classic clear water sight fishing for Atlantic salmon with light tackle. Being a small river you are often close enough to spot and cast to the fishing you want to catch. Best yet, these fish are usually aggressive and will freely take a skated hitch fly or micro tube from the surface just a matter of yards from your feet.
As with most things in life, timing is everything. Peter hand picks his hosted trip dates to coincide with both the great runs of salmon but also the fresh big sea trout entering the system. It is the unique approach of targeting big sea trout in the meadows section that really pulls Peter back each season.
The lodge at Kjos also boasts one of the most experienced and forward thinking guide teams in Iceland. The mix of Icelandic and international guides have really pushed the boundaries of modern Icelandic salmon and sea trout tactics and continue to do so.
Trip Itinerary:
Friday 29th July: Arrive in Iceland and transfer to the Laxa I Kjos Lodge. Fish the afternoon session.
Saturday 30th July to Monday 1st August: Three full days fishing the Laxa I Kjos for salmon and sea trout.
Tuesday 2nd August: Fish the morning session. Transfer to Reykjavik and overnight
Wednesday 3rd August: Depart Iceland.
This is a great week for all trout and salmon anglers looking to experience Iceland salmon and sea trout fishing.
For more information and an itinerary please contact Peter McLeod or call our office on +44(0)1980 847389.