Alphonse Island, Seychelles – November 2024
16th November – 23rd November 2024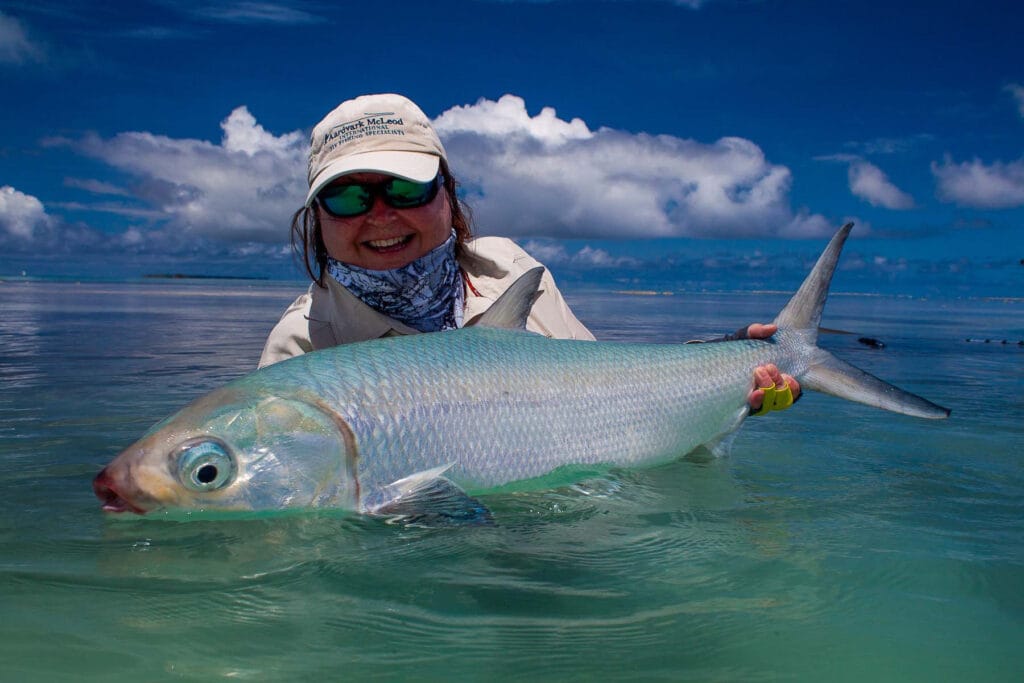 Charlotte will be returning for her regular trip to Alphonse Island in November 2024. This wonderful fishery continues to be super consistent – both in terms of the angling and the operation itself. With the continuation of the popular blue water fishing, it is possible to target pelagic species on the fly as well as the plethora of species found on the flats of both St Francois Atoll and around Alphonse Island.
Alphonse Island – Some of the finest saltwater fishing on the planet
Alphonse Island is one of those rare fisheries suitable for all anglers, whether you are targeting bonefish, giant trevally, milkfish, permit and a whole host of other reef and flats species. It is one of the best known saltwater destinations in the Indian Ocean and while famous as a prolific bone fishery, the sheer diversity gives anglers the opportunity to target a myriad of different species. The hard white sand flats teem with bonefish, with huge schools ghosting across the flats and large singles and doubles feeding along the drop offs. GTs and triggerfish cruise the coral edges and finger flats while milkfish feed in the channels and weed lanes around the outside of atoll. The majority of fishing takes place on the flats of the St Francois Atoll which is a 40 minute boat crossing from Alphonse. The guide team rotates every day allowing anglers to explore this wonderful fishery in expert company.
Why Charlotte wants to fish this destination:
It's an easy place to day dream about and Charlotte does drift off, back on to the flats, quite often writing herself notes about flies to tie. Of particular interest on the fly tying front are the surgeons, parrotfish and little Indian triggerfish that have eluded her so far. That is the attraction of Alphonse and the St Francois atoll. Variety.
It is without doubt one of the best, if not the best, bonefishing destinations in the world with consistently high numbers of bonefish to target, an average size in the 3lb plus range and fish over 60cm landed regularly. If the winds and tides are in your favour, you may see milkfish in huge numbers, following their food source north and these beautiful fish will give you a workout that is seldom forgotten.
GTs may take the lion's share of the glory, permit are responsible for many a clammy palm and triggerfish (which Charlotte would happily spend all day targeting) are there to be tricky. A day or half day out on the bluewater boat takes you into the realms of sailfish, wahoo and tuna on fly.
Away from the fishing, Alphonse Island is simply a great place to stay. Convivial and comfortable it's one of those places you return from feeling like you've had a proper holiday. Diving, snorkelling, paddle boarding and tennis are all available to be enjoyed but so is the pool, and the beach, the hammocks and the palm trees. Spend time with the ICS conservation team and discover more about this tiny piece of Indian Ocean paradise.
Trip Itinerary 2024:
Saturday 16th November: Fly Mahe to Alphonse Island
Sunday 17th November to Friday 22nd November: Six full days guided fishing
Saturday 23rd November: Fly Alphonse Island to Mahe
These weeks are great opportunities to head out with Charlotte and find out just why she loves to come back here time and time again.
For more information and an itinerary please contact Charlotte Chilcott or call our office on +44(0)1980 847389.